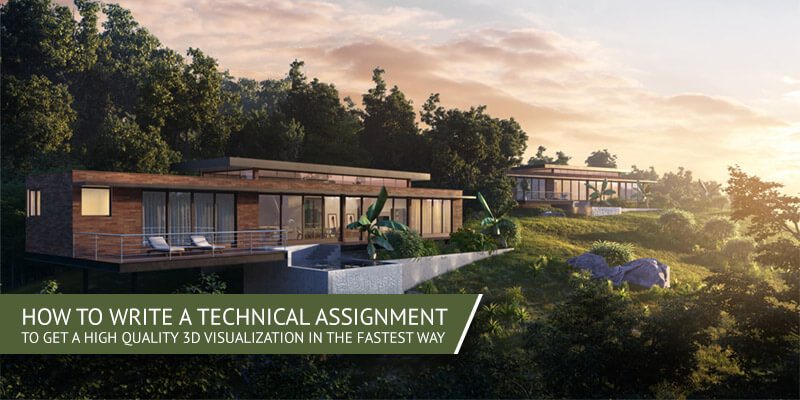 Architectural renders need utter precision. Therefore, architectural 3D modeling is not an easy process. The proсess envolves at the same time the end customer, 3D artist, designer and architect. 3D artist happens to be the last link in this chain, so the information he gets can sometimes be distorted or unsufficient, and he will have to invent the details by himself. If 3D artist doesn't understand what he must do, he's unlikely to create architectural renders that the customer will be satisfied with.
And what will be the result of such approach to ordering a render? It might just turn into a disaster. The drawings won't be ready on time, and the architect-designer will be forced to postpone the meeting with the client. For how else can he present his concept, if the render doesn't reflect it accurately? He might also need to assign an additional meeting to get more details on these drawings. Obviously, the missed deadlines or poor performance will not make the client happy and he may ask for a discount or even cancel the order altogether. Which is perfectly logical, as no one likes to pay for unsatisfactory results.
Furthermore, unfinished or faulty renders won't have a positive impact on the architect's reputation. Customers often share their experience with friends and colleagues, so a project failed once can not only produce a negative impression on the current client, but to scare away some potential ones as well.
How is it possible to get the perfect architectural renders from the first time? Without having to pay for multiple modifications to the 3D model preferably…
A well-written Technical Assignment can do that!
Writing a comprehensive technical assignment can help to avoid lots of problems during the working process and get a high quality visualization within the shortest possible time. Therefore, it will ensure about 50% of success of the project and save your money when seeking professional 3D modeling services.
Rendering process: cost of mistakes
Let's take a look at this issue from the point of view of 3D artist. In order to make changes in 3D model, he needs to spend more time. So it's little wonder that the artist will charge extra for the additional work. Most noteworthy, the project will have to be re-rendered. No big deal if our, say, architectural renders consist of one view, as it will take only a couple of hours. But what if it consists of 20 views? Re-rendering might then take from a few days to a few weeks.
Moreover, all renders must undergo the post-production phase. Despite the efforts of 3D artist to get the best quality picture possible right after the rendering, in most cases it will require further work in the graphic editor.
So, what is the right way to submit the Technical Assignment? What should we include and what could be omitted and left to the visualizer?
Let's look at some typical tasks for 3D visualization – interior visualization, exterior visualization, as well as 3D visualization of product models.