Architects spend a lot of time outside their offices now, which is why staying mobile and connected is crucial. Nowadays, thanks to the variety of devices and digital apps (email, messengers, calendars, notifications etc.) you can stay online practically everywhere in the world. The number of apps available not only helps you stay in touch, but also make your work simpler and more effective, providing many tools for a great variety of tasks. Also, since architecture requires creativity, many of these apps provide inspiration and access to a network of creative professionals. We've made a list of 15 must have apps for architects who want to follow the hottest trends and stay ahead in business.
# 1
.
Paper by FiftyThree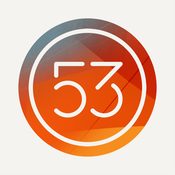 Free
A multifunctional application that allows drawing sketches, making notes, selecting areas on photos, and even creating masterpieces! Paper can make working on architectural projects (or any other ideas you have) much easier. In order to access all unique functions of the app you might need a specifically designed stylus (price: $59,95). The app works best on iPad and is currently available only for Apple devices. Check it out:
# 2. Concepts
Free
A convenient app where you can draw sketches. It can be used for projects of buildings, furniture, design objects or artworks. Benefits include endless canvas, up to 5 layers, ability to work with CAD, SVG, PSD files, and in-app purchases.
# 3
.
AutoCAD
360
Price: free (demo version), $4.99 and up (Pro version).
This architecture app allows working with 2D and 3D drawings (DWG files) outside your office – basically wherever you need it. It can be extremely useful for many architecture tasks.
# 4.
BIMx