When it comes to collaborating on apartment projects, the language spoken by the designers and their customers differs dramatically. The clients do not know professional terms and cannot read drawings and sketches, which results in a lack of mutual understanding with the specialist. So, even when the designers do their best at a presentation, they may fail in communicating essential aspects of the project and thus lose prospective customers.
Due to this "language barrier", creating a perfect design is not enough to win over prospects. It is also vital to convey the designer's ideas to them simply and effectively. 
The best means to do so is to employ an architectural rendering company to create 3D visualization of what the design specialist has in mind. Apartment renderings are a perfect tool to align the visions of the architect and the customers. They help show architectural projects at their best, swaying prospects to seal the deal. Let's check out 5 ways CGI can help turn a design presentation into a successful sales pitch.
#1. Apartment renderings help designers and customers speak the same language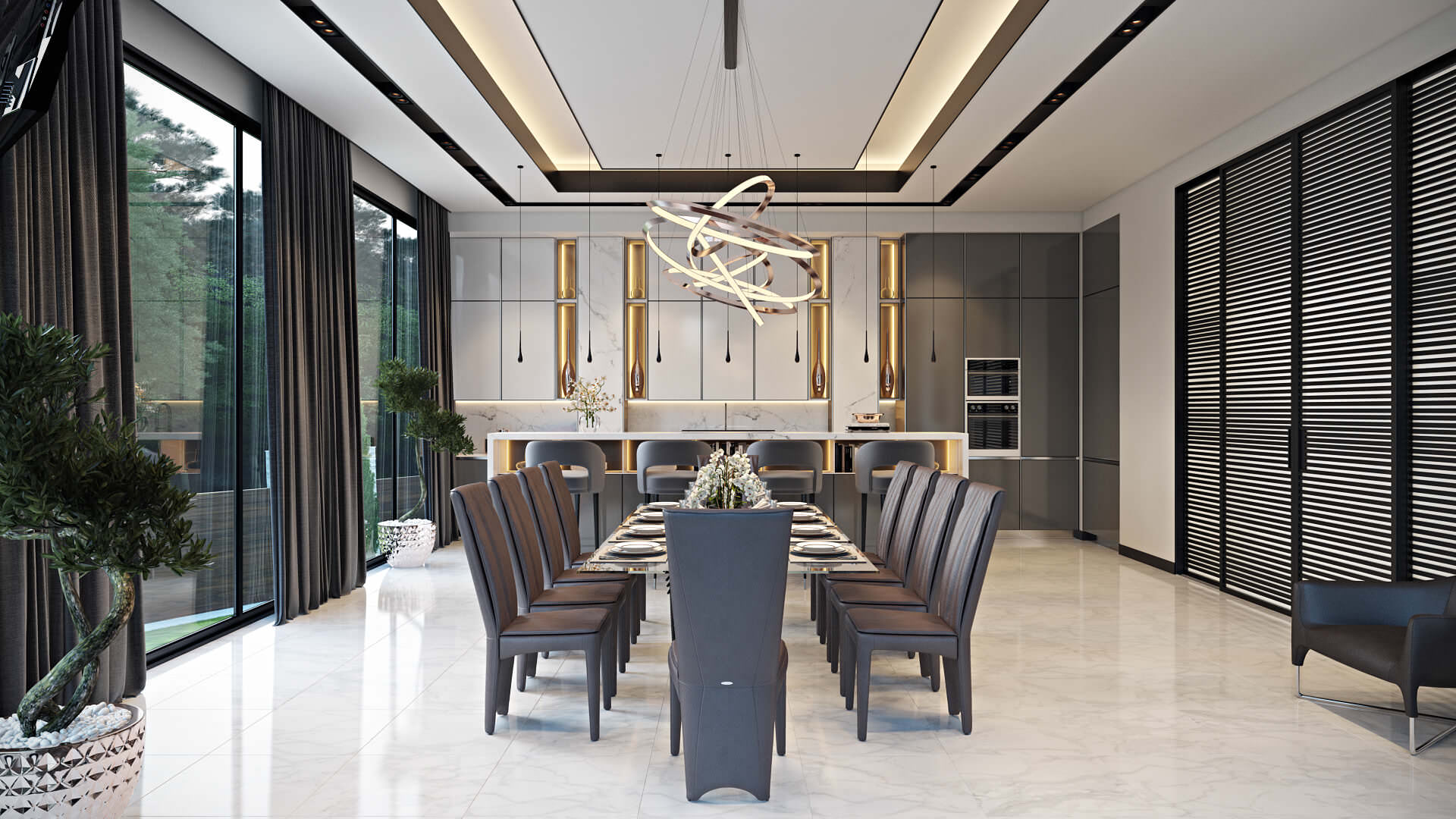 3D visualization enables both the designer and the client to communicate in the same language, which is the visual one. This way, CG images serve as a "translator" which breaks down barriers on the way to understanding. As the vision of the architect is recreated precisely on 3D apartment renderings, there is no more need to depend on sketches, drawings, mood boards, and the clients' imagination. With the help of CG images, the customers see the future result of construction in photoreal quality and understand the ideas of the design professional easily.
To obtain apartment 3D renderings, the designer should contact a 3D visualization studio and fill in the brief. After that, skilled 3D artists will create photoreal imagery for the future presentation.
#2. CG renderings help to engage clients emotionally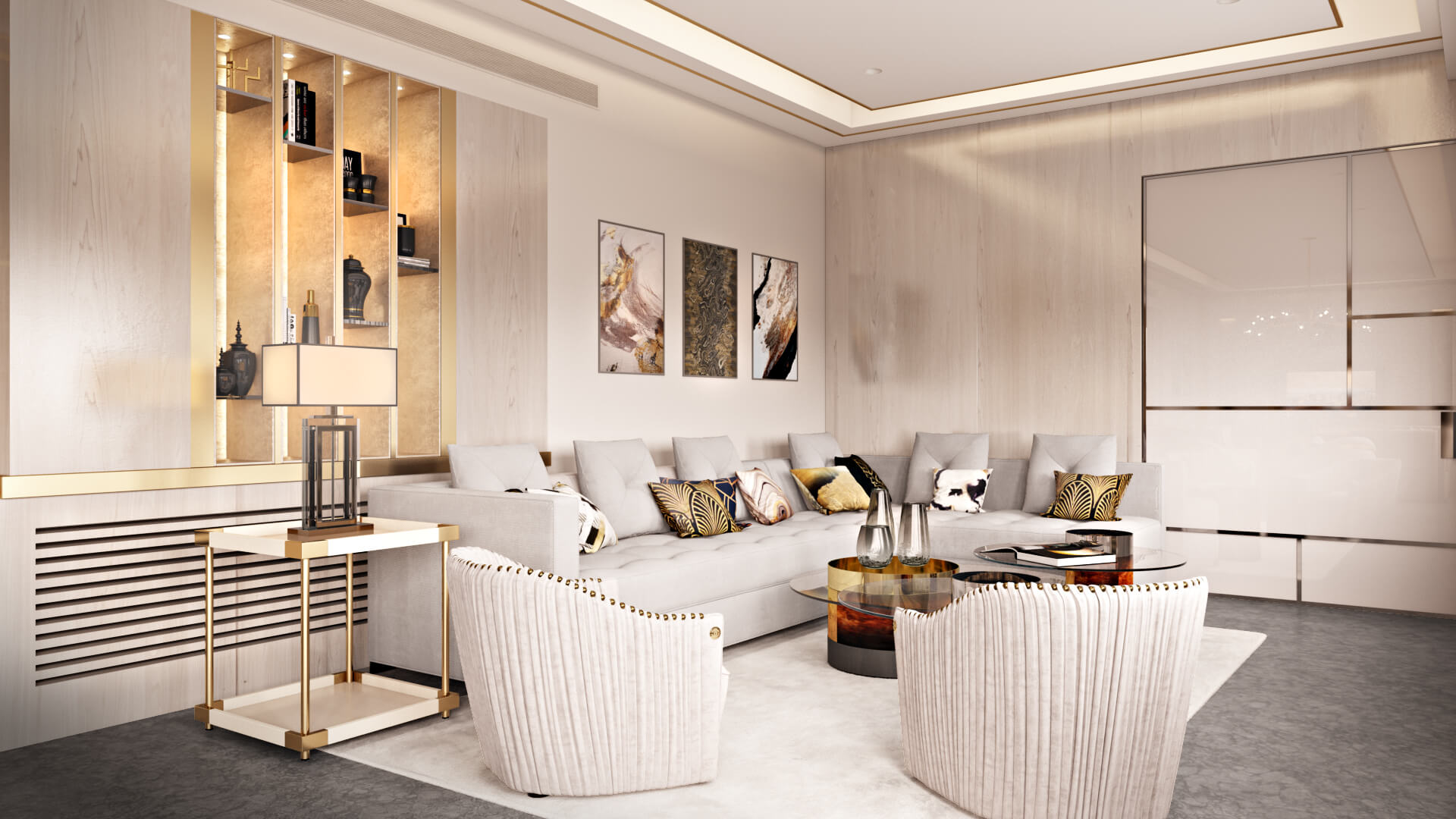 When it comes to decision-making, the emotional response has more weight than rational arguments. So, if the audience feels an emotional connection with the presented project, they will be more likely to approve it. But the problem here is that it is impossible to tap into a customer's emotions using drawings and sketches. These materials show dry facts and schemes, addressing the rational mind only. 
And this is where CGI comes in. Apartment renderings are useful in this scenario because they can communicate the emotional aspect of a future design. For achieving such an effect, 3D artists in CGI studios add special details to the computer-generated imagery. Contextual lifestyle elements like decor, household items, food, and drinks can work wonders in conveying the atmosphere and mood of the future space. Oftentimes, 3D artists also add figures of people to the CG visuals of apartments. This helps to give spaces a cozy lived-in look.
Take your design presentation to a new level with interior rendering
#3. Apartment renderings show not only features but also benefits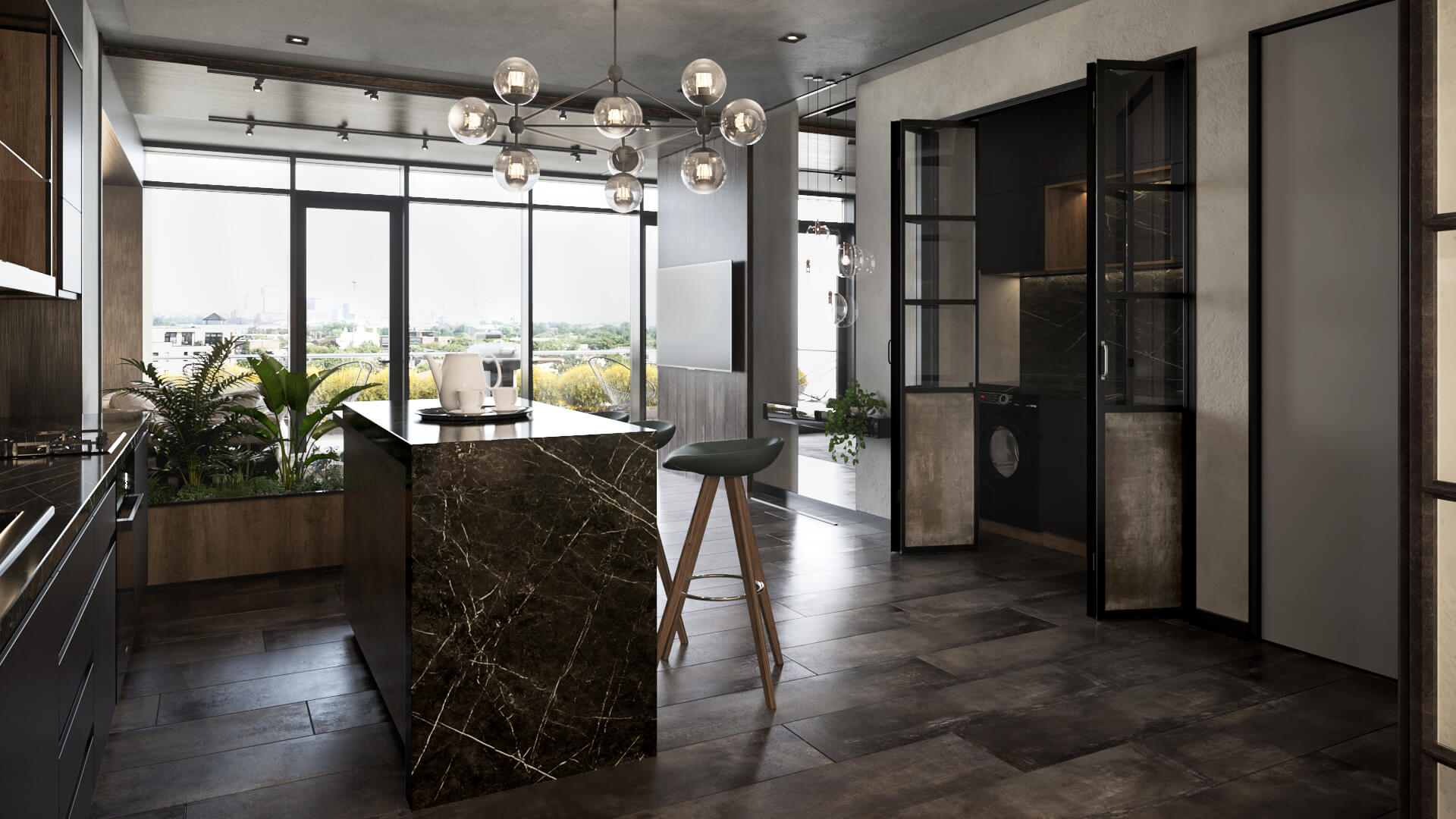 Explaining the architectural design's features is not enough to convince a client to invest in a project. It's also essential to demonstrate how those features will be beneficial to the future dwellers' unique needs and wants. Residential rendering can do exactly that.
For instance, if a designer simply tells the customers about panoramic windows or show this solution on a drawing, it is not likely to be impressive enough. This is because it is just a feature, but not a benefit yet. But once the audience sees these windows in apartment renderings, they will instantly understand how this attribute will be of use to them. Namely, such a window lets so much light in, allows for seeing a breathtaking view, and makes space look larger. 
#4. CG renderings tell stories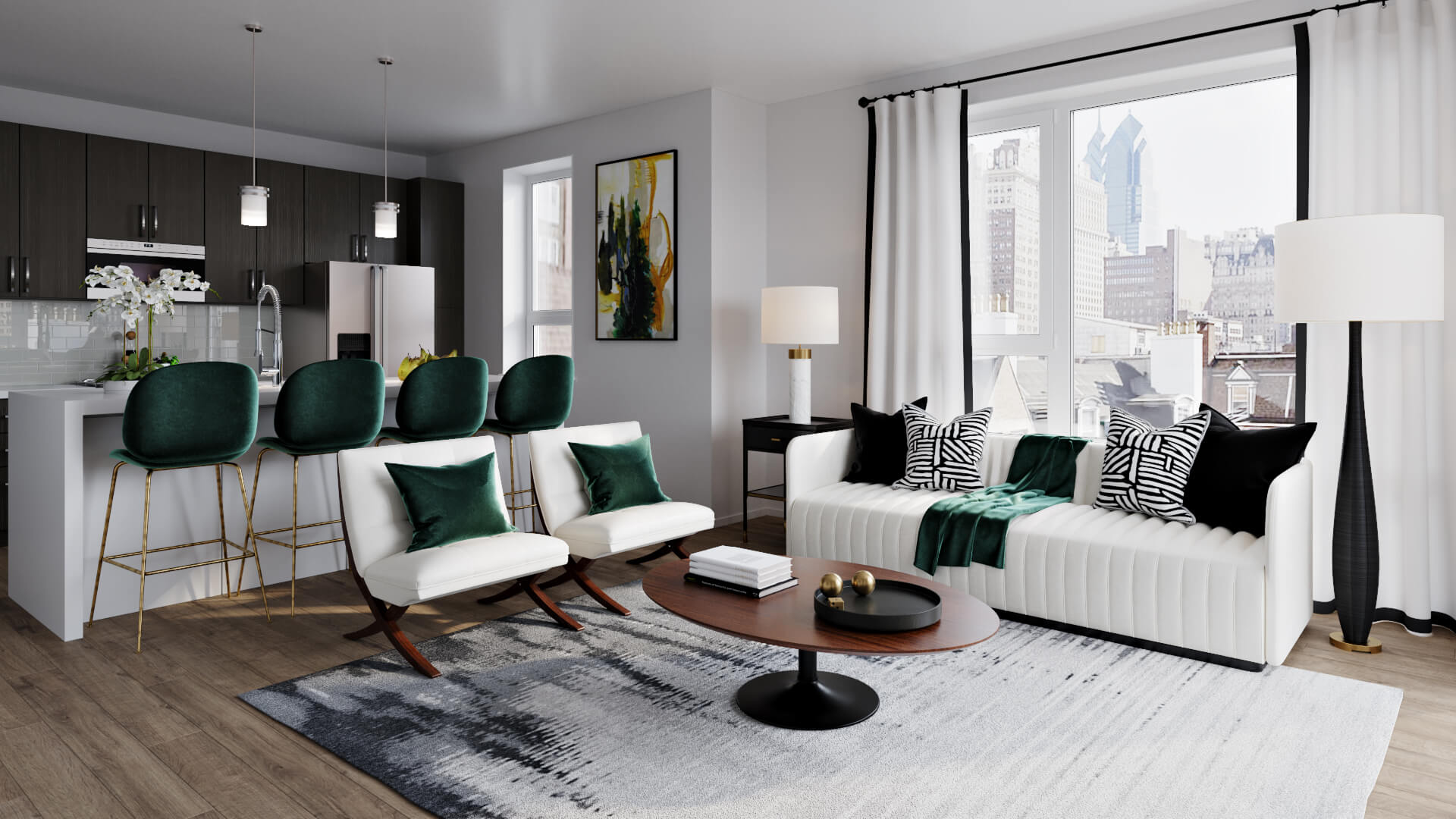 Unlike schematic drawings and sketches, apartment 3D renderings can be used as an effective storytelling tool. The use of stories when pitching designs works wonders, so it is a good decision to hold onto it.
Making use of apartment 3D renderings, especially in the form of 3D animation, makes it possible to tell an enticing story of a future life in a presented dwelling. A CG movie with an interesting scenario helps "guide" the viewer through all the spaces and highlight the most important selling points of a project. This way, apartment renderings transform a design presentation into a bright unforgettable experience for the viewers. Which makes them more likely to sign a deal with the author of the project.
#5. CG visualization retains the audience's attention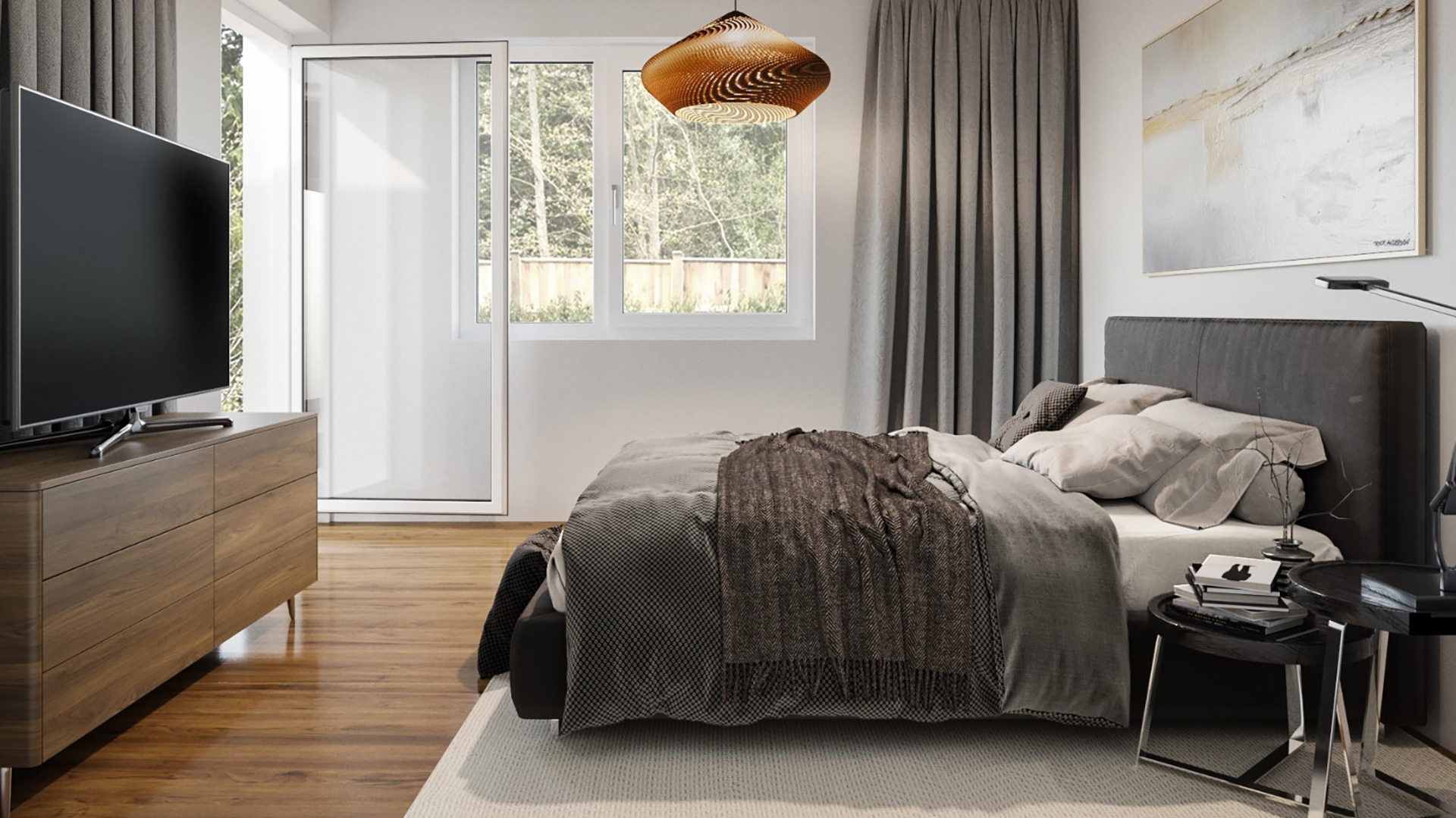 When presenting a design, it is crucial to retain the customer's attention. But when looking at traditional presentation materials, such as drawings, and listening to the architect's lengthy explanations, the audience can start losing concentration and miss essential information about the project. And that's not because the drawings are incorrect or the specialist tells wrong details. The real reason is that prospects are not well-versed in the technicalities. And it is really difficult to concentrate on something you do not understand. 
By opting for apartment renderings created by a CGI company, the architect can avoid potential issues in understanding and assimilating details of the project. Stunning realistic visuals ensure that the customers never get bored or distracted from the presentation. Quite the contrary, the viewers really enjoy examining beautiful accurate exterior and interior renderings and 3D floor plans. 
What's more, there are apartment renderings that allow a viewer to interact with them. These visualizations are called virtual tours. With this kind of CGI, the viewers can use a mouse or a touchpad to "walk" through the virtual space, exploring every corner of it and zooming objects that are of particular interest. Such an interactive experience guarantees the customers' attention through the course of the project presentation.
Apartment CG renderings are an asset for selling design ideas. CGI helps clients and designers speak the same language, evokes emotions of the customers, and highlights both the features and benefits of the project. 3D visualization is also effective for telling stories and harnessing the attention of the audience.
Want to learn how much your project costs? See how we evaluate 3D rendering projects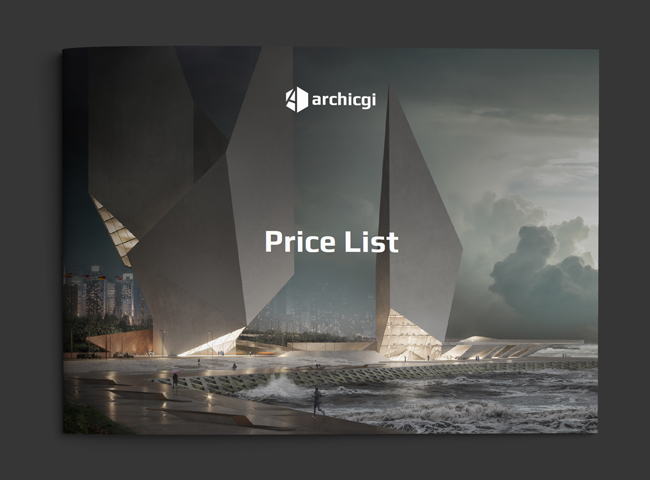 Got an architectural project that requires apartment renderings? Our company is ready to help. Contact us for our professional 3D visualization services and see your vision come to life!
---
Catherine Paul
Content Writer, Editor at ArchiCGI
Catherine is a content writer and editor. In her articles, she explains how CGI is transforming the world of architecture and design. Outside of office, she enjoys yoga, travelling, and watching horrors.