3D retail rendering services allow architects to present their designs with previously unattainable impact and accuracy. This helps to reach a mutual understanding with stakeholders at project presentation and development stages easily.
While with traditional means, such as drawings and sketches, it becomes a challenge. The problem is that these materials do not allow stakeholders to visualize the future outcome clearly. As a result, they doubt every idea of the architect and ask a million additional questions. Which leads to long discussions and delays of works. In the end, all members of the project get exhausted by endless meetings and debates, but still cannot align their visions.
That's where 3D retail rendering services come in. 3D visualization technology allows architects and investors to speak the same language — the visual one. CGI is able to explain every aspect of the future retail design, be it exterior, interior or both, with help of photoreal still 3D imagery, floor plans, digital virtual tours, and animations. All these and more options provided by a creative 3D visualization studio help architecture specialists to exponentially improve their retail projects and obtain a competitive edge. So how exactly can 3D retail rendering services benefit both architects and their clients? Read up and find out!
#1. CG Retail rendering allows showing the layout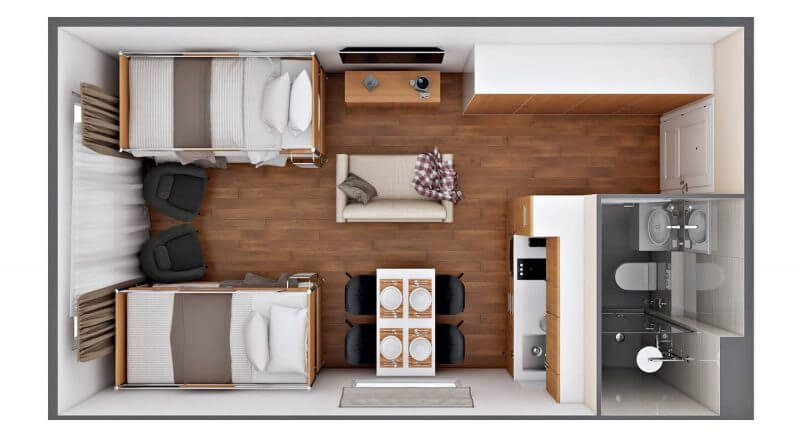 The layout is critical because it helps seeing how a customer will make their journey through the shop — from the entrance to the shelves with products and then to the cash register. And the success of a retail shop depends heavily on how comfortable and fun future customers will find this way. Bearing this in mind, the stakeholder does not think it's enough to simply view a set of blueprints — because they are schematic and do not help to paint a clear picture. So the architect will have to spend an inordinate amount of time explaining every aspect of the layout in words, trying to help the audience visualize the outcome.
3D retail rendering services become useful in this scenario, especially in the form of 3D floor plans. This is a type of 3D visualization that allows seeing the property in section from a bird's eyes view. With such a 3D visual, the stakeholders can instantly understand the layout, as 3D floor plan clearly shows all heights, proportions and relative placement of the objects inside a shop.
Obtaining 3D floor plan or other kinds of 3D retail renderings is easy. For this, the architecture specialist just needs to contact a CGI services company and fill in a brief. After this, all the works will be done by 3D Artists who will create photoreal images of a future retail design.
#2. CG Retail visualization conveys the atmosphere of the place
The atmosphere is one of the vital selling points of brick-and-mortar stores. This is what gives them a great advantage over e-commerce ones. The thing is that if the shopper feels comfortable inside the space and likes its vibes, the likelihood of the purchase grows. That is why allowing a stakeholder to feel a store's atmosphere is an essential aspect of any architectural presentation.
But conveying vibes with drawings or verbal explanations is impossible. And this is exactly where 3D retail rendering services can help. Conveying a shop's ambiance and mood through 3D visualization proves to be far more effective and time-saving than through reference images, sketches, speeches, or mood boards.
CG architectural imagery is perfect for conveying a future shop's atmosphere, by getting 3D artists to display each and every element that contributes to its creation in photoreal quality: a lighting system, colors, and textures, windows displays for both exterior and interior, decor elements, and so on. What is more, 3D retail rendering services allow viewing what the store would look like with people inside — a seasoned 3D Artist can add 3D models of both customers and the staff to the images. This will liven the picture up and help imagine an ordinary working day in this shop.
Make sure your exterior design project takes your clients' breath away
#3. CG retail rendering services allow for flaw detection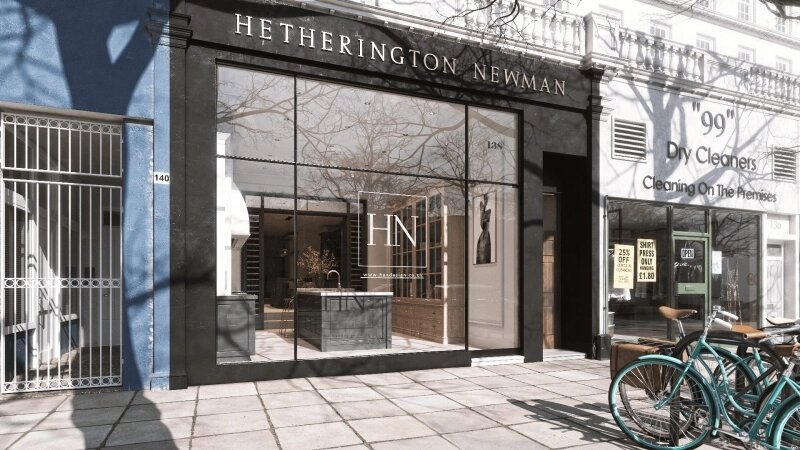 The retail project has to be developed in close cooperation with stakeholders because ultimately, nobody else knows their business better than its owners. So, before the construction begins, they need to be completely sure that the future store will be exactly what they and their target customers want.
And there is where photorealistic architectural render can help, allowing the author of the project and the stakeholders to stay on the same page while working on a project. With 3D retail rendering services, the architect can show the place in photoreal quality. Therefore, if the stakeholders notice some flaws in the design, the architecture specialist will be able to have adjustments made according to the retail owners' liking — before the construction begins.
#4. Retail rendering allows showing multiple design variations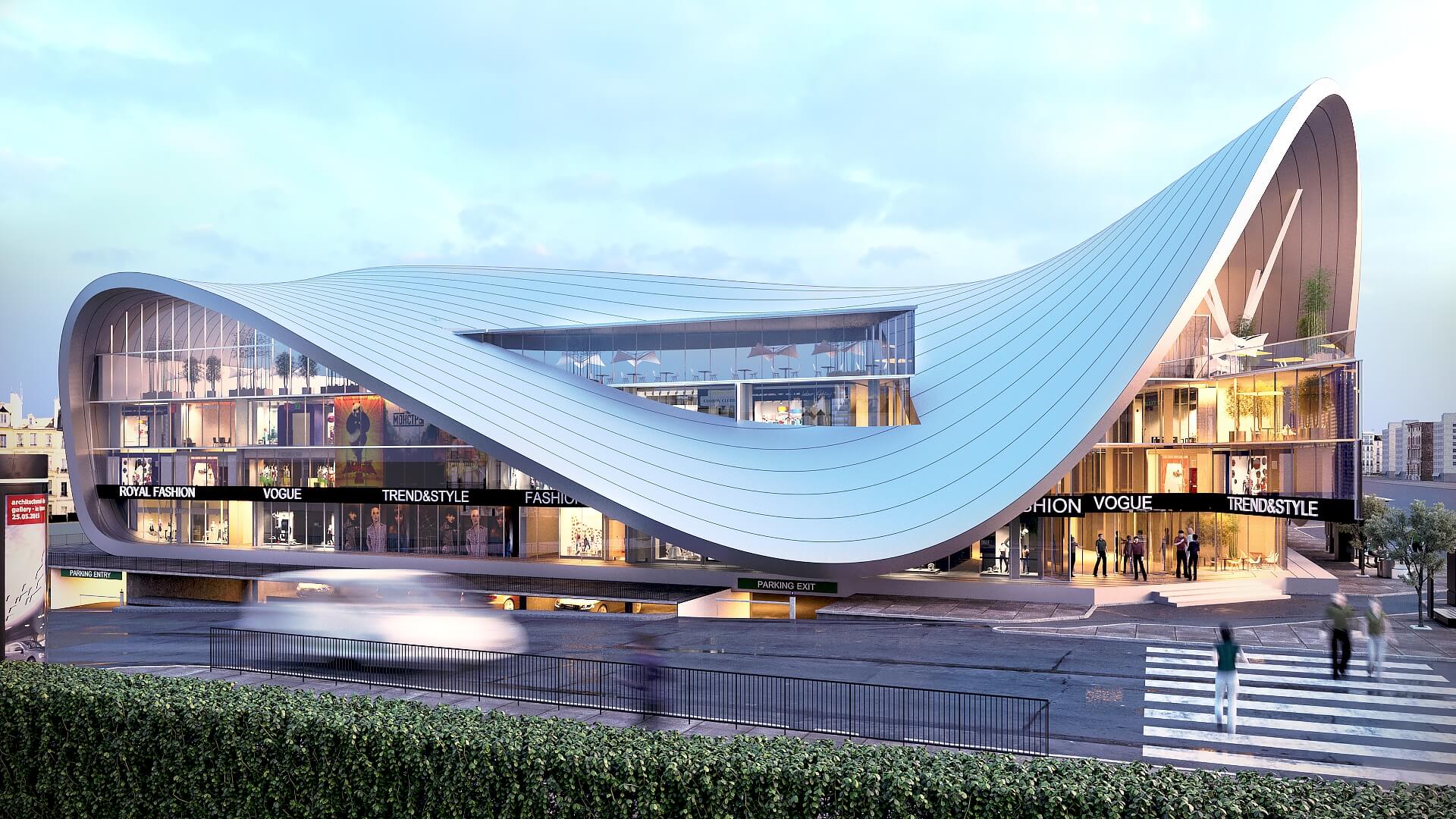 Coming to a final decision about a retail architectural project takes time. The stakeholders may struggle to agree on some elements of the future retail shop design such as window displays' shape, wall colors, flooring materials, and so on. Which delays the start of construction works.
But the discussion won't take long if the architect opts for 3D retail rendering services. With CGI, it is possible to show every option shown in the context of the future store and in photoreal quality. This way, the owners will easily choose what suits their vision best.
#5. CGI retail rendering makes for excellent marketing material
Creating a perfect design is not the only part of an architect's job to convince stakeholders. The architecture specialist has to also present that project in an appealing way that shows that all the wishes and requirements of the shop owner were incorporated seamlessly.
One of the best ways to do so is to show the shop owners 3D animation or a virtual tour presenting the future store not only in high detail but also in motion. These 3D rendering materials can literally take viewers on a virtual excursion, showing them the exterior design and then guiding throughout all the spaces of the future shop. The viewers will look at the space through the eyes of a potential buyer, and therefore will get the most comprehensive understanding of the retail design.
Ultimately, 3D rendering services are a goldmine for architects looking to establish their project's reliability in the eyes of stakeholders. 3D retail visualization allows displaying the layout and atmosphere effectively and address any modifications or changes before the start of construction works. 3D retail rendering services also help stakeholders make effective decisions by presenting choices and variations and give them the feel of walking through the store and experiencing it using 3D animation and virtual tours.
Present your architectural project like a work of art with AI-powered CGI
Want to dazzle potential clients with expertly done retail designs and sign more deals? Contacte our architectural visualization company for professional architectural rendering services.
---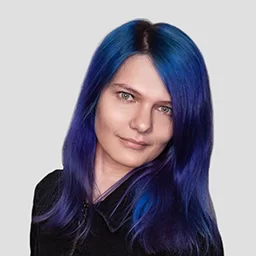 Catherine Paul
Content Writer, Editor at ArchiCGI
Catherine is a content writer and editor. In her articles, she explains how CGI is transforming the world of architecture and design. Outside of office, she enjoys yoga, travelling, and watching horrors.