How to make an architecture project presentation impressive? This is an issue that architects constantly deal with. It is barely possible to dazzle potential clients or stakeholders with rough sketches and schematic drawings. And making a physical representation of a structure is not always a solution as well. It requires too much time and it is tricky to make any changes to the model after it has been built. Also, physical prototypes are very fragile and can get damaged easily. 
Luckily, now it is possible to make a favorable impression on prospects and investors by adding CGI for exteriors to presentations. The ultra-realistic renderings of designs make getting project approvals and securing additional investments easier than ever before. Moreover, CGI assists architecture experts in preventing costly mistakes. It allows them to see the results of construction before it begins and carry out any necessary adjustments. 
All that architecture specialists need to do to get such an asset is to send blueprints and sketches of exteriors to an architectural visualization company. After that, skilled CGI artists will create photoreal renderings of the future construction that will make for outstanding pitching. Wondering how exactly CGI for exteriors takes architecture presentations to the next level? Read up to find out!
#1. Photorealistic 3D renderings help the audience grasp the feel of a place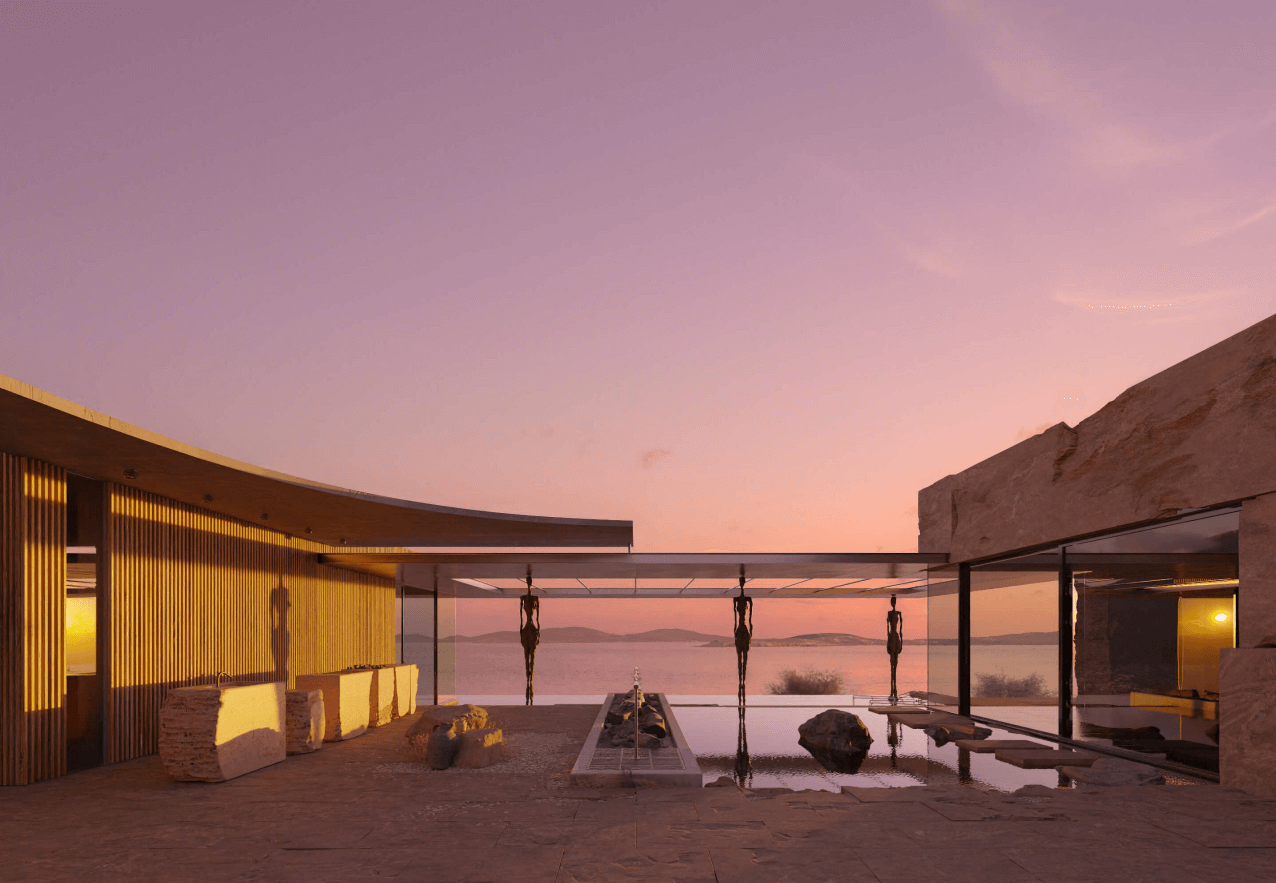 When pitching a project, its author has to know how to present the entire concept of the design. Which includes not only explaining technicalities but also showing the aesthetics of the building and surrounding area. It is impossible to accomplish this with schematic drawings. And hiring a photographer isn't even on the table yet, since the building does not exist. What should a specialist do in such a situation? The answer is simple — to opt for computer-generated imagery.
Accurate CGI for exteriors can help potential clients and investors eliminate guesswork, conveying the ambiance of the future building and the area around it. Seasoned 3D artists can add contextual elements to the visuals to set a certain mood. 3D exteriors can feature details such as people, animals, plants, vehicles, and so on. For instance, a render above includes a Christmas tree bathed in the warm light inside the house. This element makes the home look especially homey and inviting in the winter evening. In such a way, CGI for exteriors can impress the viewers, approaching their emotions and imagination. Which is one of the keys to getting project approval. 
#2. CGI for exteriors present the house in the most appropriate setting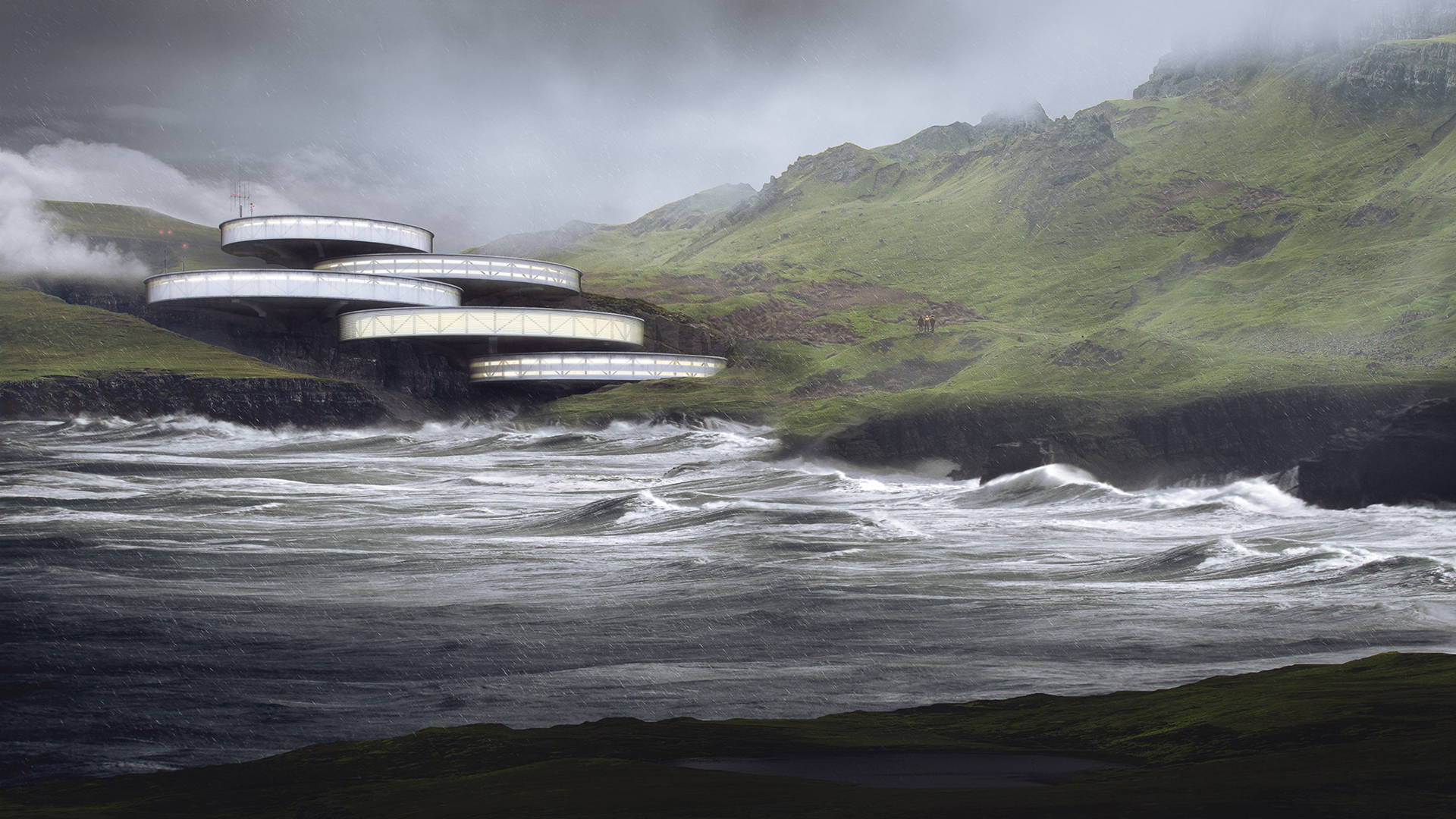 When presenting an architectural project, an author wants to show off its unique charm. And for this, they need to demonstrate exteriors in the most suitable settings that highlight their benefits. For example, a hotel on a seashore would look best on a hot summer day, when the sky is clear and the sea is calm. And to emphasize the unusual beauty of a futuristic design on the CG visual above, it was needed to show it under the heavy gray sky, surrounded by fog, by the storming lake. 
Skilled CGI artists can recreate any setting, time of the day, season, and weather. So, the authors of architecture projects can be sure that their masterpieces will be shown in the best light. Also, there is an option of ordering several CG images of exteriors, each showing the structure in a particular season or time of the day. This way, the potential client will get a more comprehensive understanding of a project.
Make sure your exterior design project takes your clients' breath away
#3. CGI shows if the exteriors match their context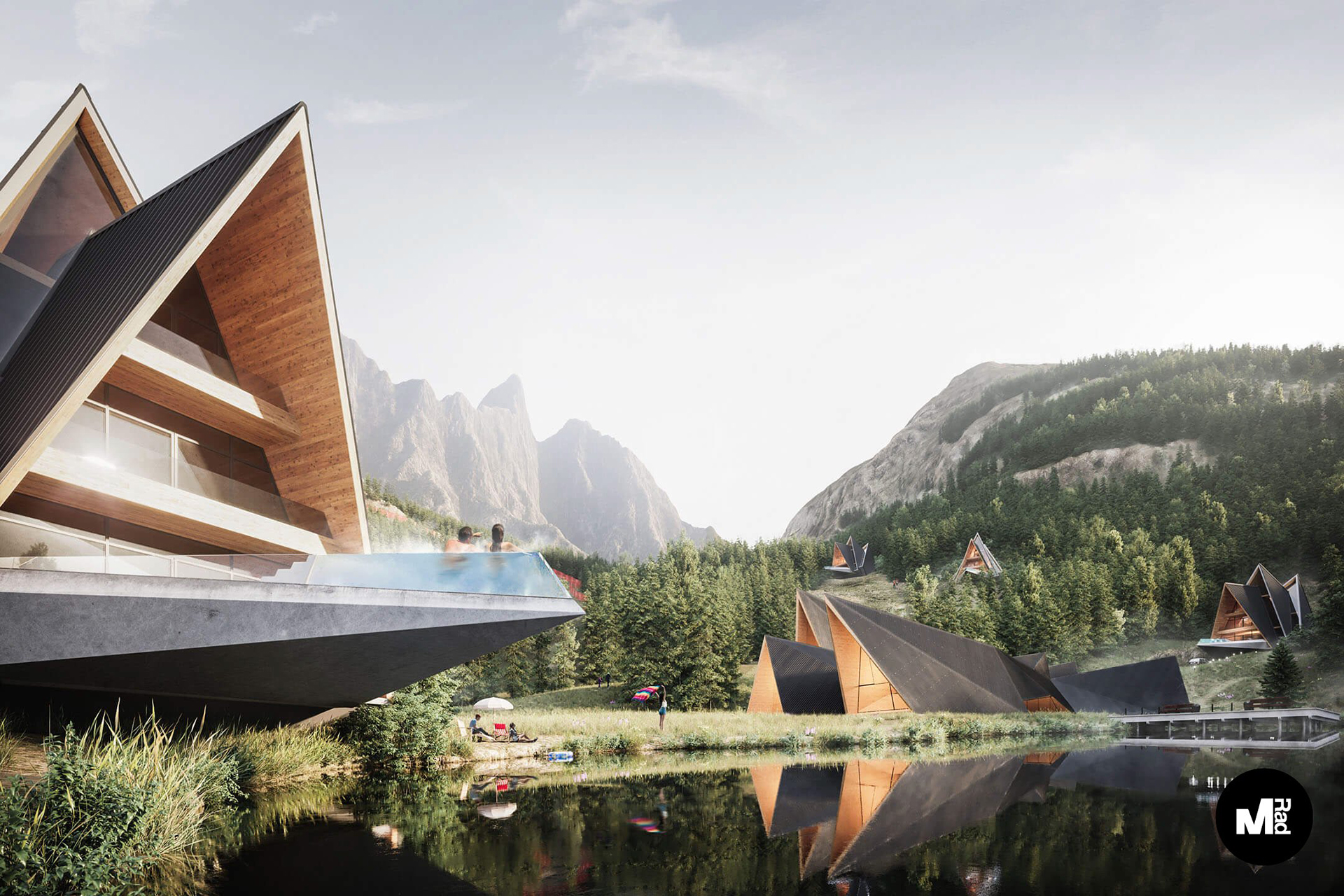 A new building cannot be considered separately from the things that will surround it. It must perfectly match its environment, be it a noisy city, a calm village, or a forest deep in the mountains. But there is no way to show exteriors in context with the help of drawings or sketches. Of course, an architect can give a long speech, explaining that a building will be the right fit for its neighborhood. But wouldn't it be better to not only tell but also show? 
And here computer visualization comes in handy. Seasoned 3D artists can digitally recreate any surrounding in photorealistic quality and show the future architectural object within it. This way, exterior 3D images help the audience make sure that the building looks good at the expected location. Which makes them more likely to sign the deal with the architect. 
#4. CGI for exteriors can present the future property in already existing surroundings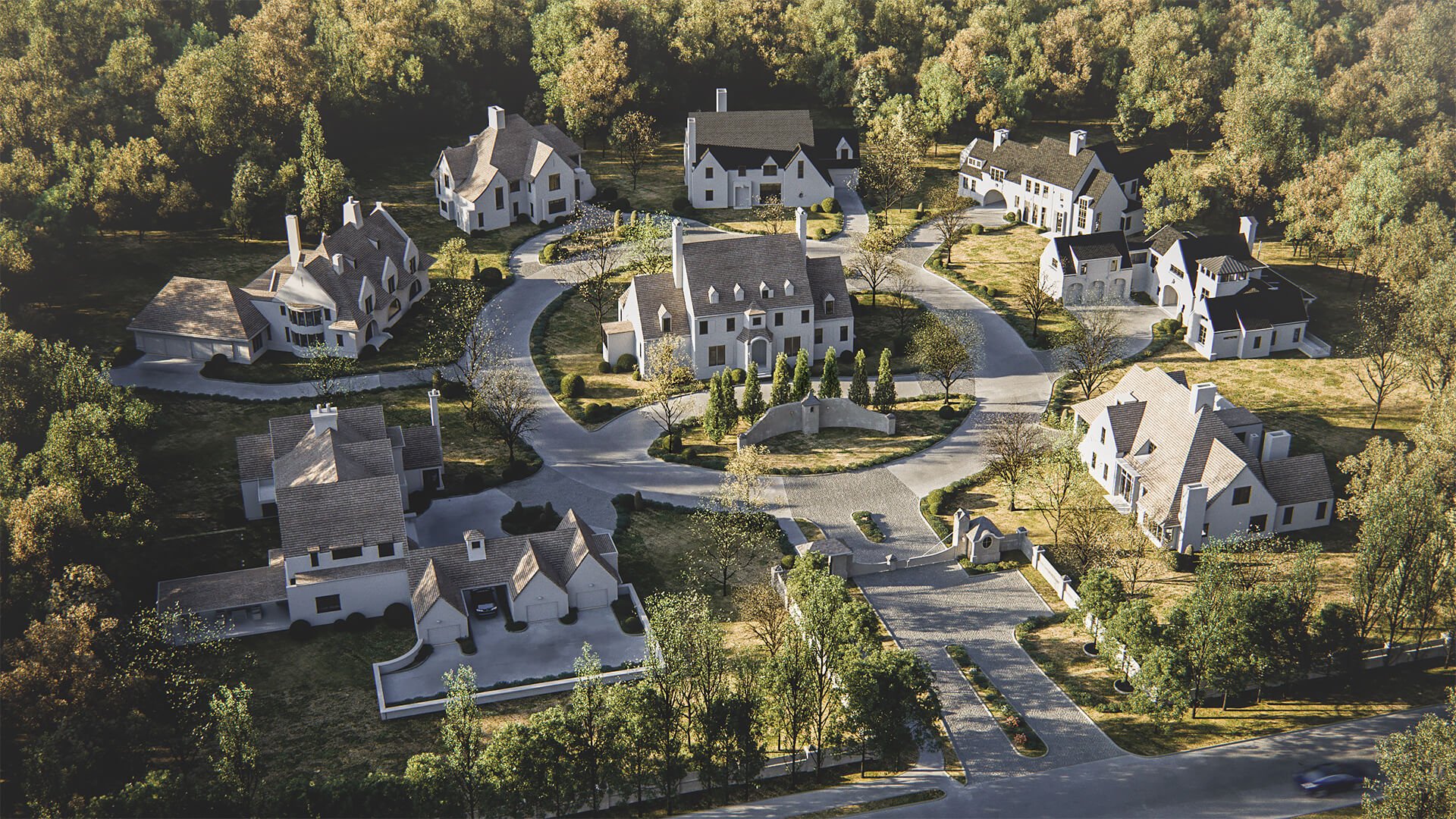 Showing architectural designs in photoreal computer-generated surroundings is a good option, but not the only one possible. What about showcasing future exteriors in a real place? Though it sounds like something from a sci-fi movie, 3D visualization can make this come true! How so?
Luckily, architects don't need a time machine to present the future exteriors within the existing location. They can contact a CGI studio and get 3D renders showcasing the future masterpiece in the already existing context. For this, an architect has to get photos or a video of the place where the project will be built and send it to a CGI studio together with a brief. Then 3D artists will create a realistic 3D model of the future property and add it right to the photos or video of existing landscapes with the help of special software. This way, it is possible to get visuals that look like pictures taken in the future, when the construction is already complete. The techniques used to achieve this effect are called photo matching for static images and matchmoving for architecture 3D animations. They help architects to get the most realistic CG visuals. Which assists in convincing investors that the building is a perfect fit for the neighborhood.
#5. CG renderings of exteriors show the main selling points of a house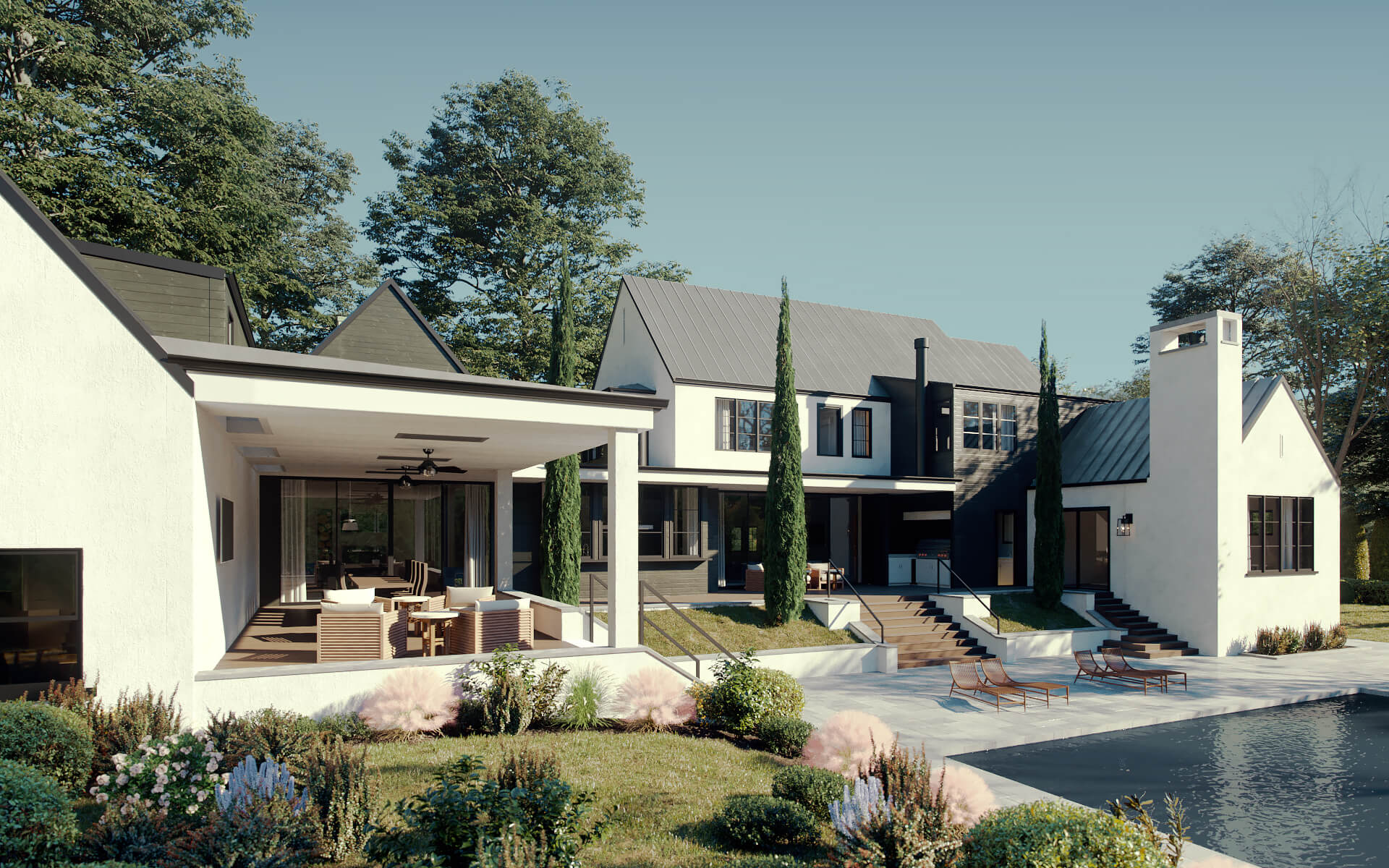 Neither stakeholders nor potential clients make decisions in the spur of the moment. They need to find out as much as possible about a project before investing in it. And it is the architect's job to communicate the value of the designed exteriors to prove that they are totally worth investment. But how to do that without spending hours in exhausting discussions of every detail?
In such situations, CGI for exteriors comes to the rescue. These dazzling 3D visuals can showcase and highlight every selling point of an architecture project. For example, they can demonstrate the visual impact of high-class materials that will be used to construct the building. Whether it is metal roofing, masonry, solar shingles, or anything else, there is nothing that CGI imagery cannot demonstrate in photorealistic quality. Moreover, 3D artists know how to make every selling point of the project emphasized in the imagery so that the viewers will instantly notice it. So, thanks to 3D exterior renderings services, an architecture expert can easily show and explain the main advantages of the design and sway potential clients to seal the deal.
Creating a compelling and informative presentation is never a child's play for architects. However, with the advent of CGI technology, it has become much easier. This tool assists in presenting a project in all its glory even before the first brick has been laid. 3D artists can create realistic renderings of property exteriors with any atmosphere and in any setting. CGI can highlight the house's selling points and prove that it will be in visual harmony with its surroundings. So, with professionally made CGI for exteriors, architects can be confident that their presentation will win the audience's hearts and minds.
Get your project estimated in just 1 hour - fill out this brief!
Want to convince clients and investors to sign contracts with you easier than ever before? Contact ArchiCGI for top-class 3D exterior rendering services for your projects!
---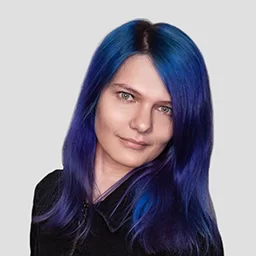 Catherine Paul
Content Writer, Editor at ArchiCGI
Catherine is a content writer and editor. In her articles, she explains how CGI is transforming the world of architecture and design. Outside of office, she enjoys yoga, travelling, and watching horrors. 
What is architectural CGI?
Architectural CGI is the product of 3D visualization. The latter is the process of creating visuals of architectural designs with the help of computer software. CGI allows architects to show how their projects will look in the future in realistic quality.
How do architects make use of 3D visualization?
3D visualization has multiple benefits for architecture professionals. It can enhance project presentations and helps create extensive portfolios. It also assists in creating highly effective promotional materials.
What kinds of CGI renderings for architects are there?
3D rendering allows architecture professionals to showcase the upcoming results of projects in numerous formats. These include photorealistic still renderings of exteriors and interiors, digital animations, 3D floor plans, interactive virtual tours, and visualizations made with AR and VR technologies.
What software is used for architecture 3D visualization?
The most popular programs for creating architectural CGI are 3Ds Max, SketchUp, Autodesk Maya, V-Ray, Blender, Autodesk Revit, Lumion, Corona Renderer.