3D real estate tours give professionals in the industry a strong competitive edge on the market. They allow for promoting unfinished properties as effectively as ready ones, help to engage prospects, and make listings stand out. So, what is a 3D virtual tour? It is an interactive simulation of an existing or yet to be built property created using computer software. CG tours are made of still photorealistic renderings. When shown in a particular order, these images create the illusion of movement. Viewers can interact with 3D tours by clicking on them. They can choose the direction to go as well as zoom in and out specific areas and objects to take a closer look at the materials, elements, and so on. 
This way, virtual tours allow prospective buyers to get the most comprehensive understanding of a place. Which is why this type of content is considered better than even high-quality photos. Stats show that 54% of real estate buyers are more likely to physically visit houses that are presented with the help of 3D virtual tours. The effectiveness of this type of content is also seen in the fact that property listings with CG tours have 87% more views than those without!
So, how can a realty expert get such an asset? For this, they should contact a 3D architectural visualization studio and send them drawings and other information about the property. A 3D artist will then use these materials to create a virtual tour of the place digitally. As easy as that! 
Wondering how exactly can such a presentation help realtors sell a property? Let's check out 5 major advantages of 3D tours for realty businesses!
#1. CG Real Estate Tours Enables Prospects From Any Country View the Listings at Any Time
The internet has opened ways for realtors to showcase their listings to an international audience. Which optimizes their workflow to a great extent. That is because it may not be economically viable for an interested individual to fly into the country where the property is located to view it. This is where 3D real estate tours come in. All a prospect needs to do to visit a house or an apartment virtually is to run a 3D tour on their gadget. This way, they can view the property in an interactive manner, just as if they were personally present there!
A 3D virtual tour allows prospective buyers to see interiors of all rooms in photorealistic quality. They can explore the layout, check the materials and furniture used in the design, and so on. This information is complete and enough to help them decide whether they want to know more about the listing. And they can view it from any part of the globe 24/7, which is very convenient. When the properties have this level of international exposure, the realtor is more likely to get lots of successful deals. 
#2. CG Tours Reduce the Bounce Rate of the Website
Let's specify what is bounce rate in the first place. It refers to the number of people who only view one page on a website and then leave it. Having a high bounce rate is detrimental to a site's success because the bounced visitors won't take the time to view the property, and thus, they wouldn't develop the interest to buy it. What's more, Google considers such websites as ineffective ones and exclude them from the top of search results. So, why does it happen and how to prevent it with the help of 3D real estate tours? 
Often, users leave a website because its content is too plain and not engaging. 3D tours can change the situation drastically. They keep people looking at web pages 5 to 10 times longer than they would otherwise do! This is because CG real estate tours are interactive and allow the user to see the listing in greater and fascinating detail. This translates to more time spent by visitors on the realtor's site. Which, in turn, increases the possibility of the prospects contacting the realty expert for more information.
Reducing the bounce rate also helps to improve a website's ratings. Google's algorithms identify sites where people spend more time as useful ones. They, therefore, give them a higher rating. Once a website is highly rated, it can be easily found in search results, and more people get to see the properties listed on it.
Immerse clients into your design projects with a 3D animation
#3. CG Real Estate Tours Enhance Social Media Marketing
Social media marketing has become one of the most powerful ways of promoting real estate. SM platforms are among the places where people spend most of their time, and at least 51%  of all potential owners find the home they will buy online. It, therefore, makes great sense to market property in social media. But any SMM campaign cannot bring good results without engaging content.
So, how can 3D real estate tours help here? The thing is that social media adverts with videos are 95% more likely to be remembered than those without. This means that a virtual 3D tour, which is actually an interactive video of the property, will make the latter more memorable and therefore more likely to be bought. Also, posts with contents that have many views make the page more discoverable in social media. And videos are the most popular type of content on SM platforms. Therefore, sharing virtual 3D tours increases a realtor's profile visibility on social media.
#4. Digital Real Estate Tours Engage Viewers
By their very nature, 3D real estate tours are highly interactive. They enable the user to  'walk through' different rooms and zoom in all nooks and crannies. The audience can see the layout, take a look at materials used, furniture, decor, lighting fixtures, and everything else in the house or an apartment in photorealistic quality and motion. This way, digital tours provide the viewer with clear and full information about the property.
Also, besides getting accurate details about the listing, a prospect is likely to be amused by interacting with CG real estate tours. That is because exploring the location digitally is not only informative but also fun and engaging. This ensures that the prospects have positive feelings about the viewed listing. Which increases the possibility of them moving to the next step towards a possible deal.
#5. CG Real Estate Tours Help Viewers Build an Emotional Connection with the Property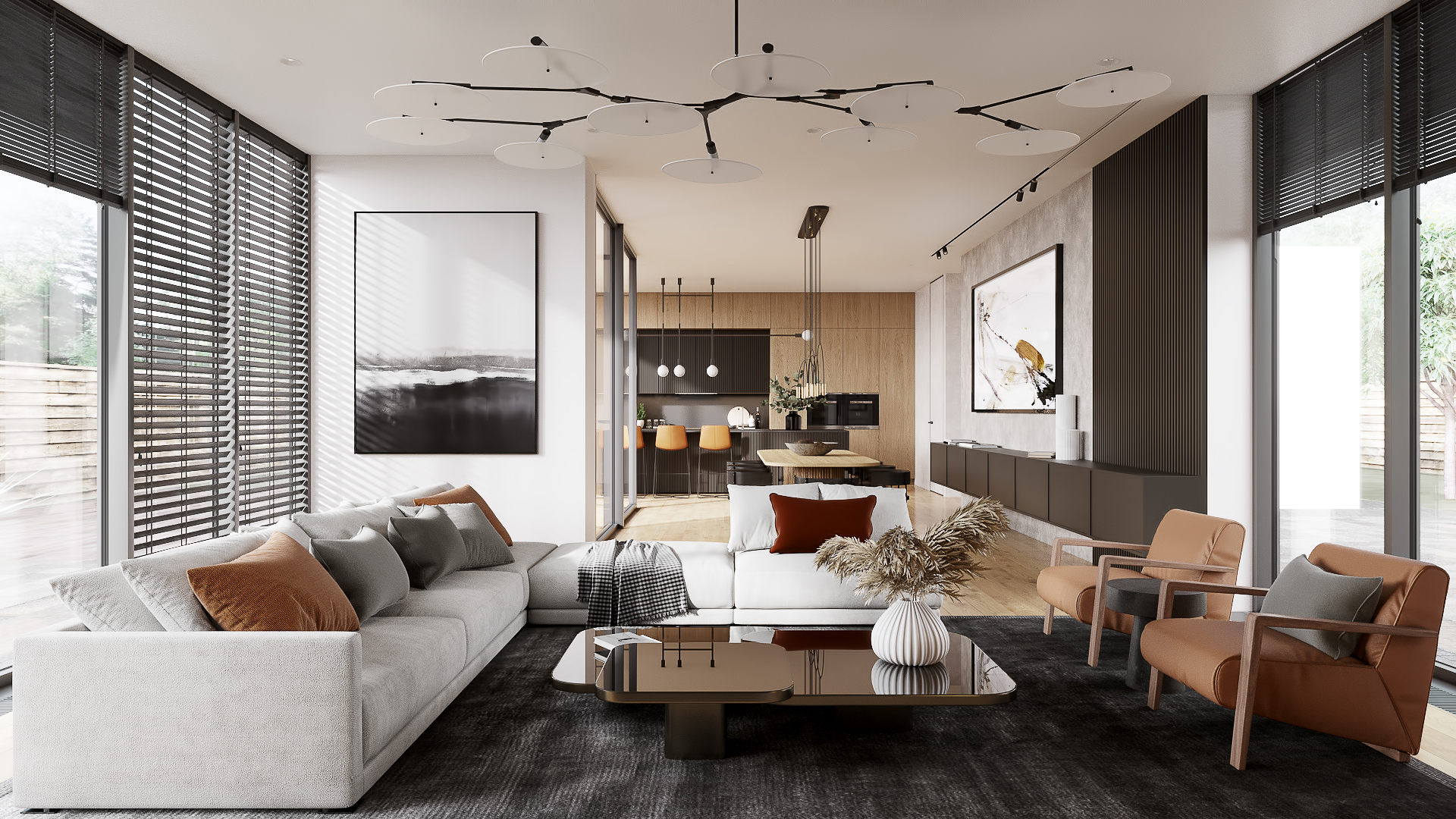 One of the most important goals of a successful marketing campaign is to make the prospect relate emotionally to the offer. 3D real estate tours can do just that. They help a prospect to see the offered house as their homes. How so?
Virtual tours can evoke the emotions of the viewers by showing the right contextual elements. For example, a 3D tour through a brand-new apartment might feature stylish furniture, elegant decor, as well as plenty of meaningful details such as toys, posters, home plants, and other things that a viewer can relate to. When looking at them, a person feels the cozy atmosphere of the place, and easily imagine their future life there. 
CG real estate tours are a true boon to a realty business. They enable prospects to visit the offered house virtually at any time and from any part of the world. This type of presentation also reduces the bounce rate on the realtor's website and make social media marketing more effective. CG tours are interactive and, therefore, more attractive to the viewer. On top of that, they help prospective customers connect with a presented listing on an emotional level. 
Get your project estimated in just 1 hour - fill out this brief!
Want to sell more properties than before with the help of high-quality 3D real estate tours? Contact us for professional 3D visualization services and do just that!
---
Catherine Paul
Content Writer, Editor at ArchiCGI
Catherine is a content writer and editor. In her articles, she explains how CGI is transforming the world of architecture and design. Outside of office, she enjoys yoga, travelling, and watching horrors. 
What is a 3D virtual tour for real estate?
CG real estate tours are interactive digital simulations of existing or yet to be built houses and apartments. They allow viewers to 'walk through' the presented property and explore it by clicking the mouse or touchpad.
How to create a 3D real estate tour?
To make a 3D virtual tour, 3D artists create many still 3D renderings of a place first. These images show the place in photoreal quality. Then, these visuals are compiled into an interactive 3D walkthrough using special software. In such tours, renderings are arranged in a particular order to simulate the effect of movement.
What are the benefits of 3D real estate tours for realty businesses?
There are multiple benefits of 3D tours for realtors. This type of content provides the audience with the fullest understanding of listings by showing them in photoreal quality from all angles and in motion. Virtual real estate tours are engaging, make listings stand out, and help promote unfinished properties as effectively as ready ones.
How does a 3D real estate tour work?
CG real estate tours are digital simulations of a house or an apartment. They consist of numerous photoreal still renderings that are jointed in a particular order with the help of special software. 3D virtual tours are interactive. When a person clicks on them, they can choose a direction to 'go' and also zoom particular areas to take a closer look at the details.