3D modeling software is a key to success of a professional modeler. Working in this field, you must choose tools meeting all your needs. Then, you should be good at operating it. If you are new to the 3D modeling sphere, you might be wondering what software to begin with. And even if  you already have a vast experience, you need to keep your eyes open for latest news of the market. First of all, new software makes you more competitive and gives new possibilities. Secondly, programs are constantly being improved. It is important, because these new features can optimize your working process a lot. Make it faster and easier, for instance. I mean, look at the open render libraries. Due to them, you don't have to render every single object any more!
And there are so many products and versions on the market nowadays. It's good news, but it can make your head spin. So, what should one pick to create good 3D models in minimum time? And with accuracy? To help you make a choice, here we present top 5 most popular 3D software applications. Any of them can become your personal favorite, whether you are a novice or professional. It's up to you to choose!
Suggestion 1: SketchUp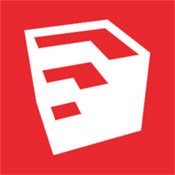 This 3D  software application is available in both free and paid versions.
It runs on Microsoft Windows and iOS.
File extension – STL.
SketchUp – Learning Process
To begin with,  SketchUp has a user-friendly interface. It is quite an easy piece of software.
However, it has some peculiarities that are not obvious, so it's not easy to learn. But once you get used to them, the program is easy.
Spheres of Use
Modelers use it for 3D Visualization in Interior design, Building design in AEC (Architecture, Engineering and Construction), Product design, Landscape Design, Outdoor Advertising, 3D modeling for 3D printing, Entertainment industry and Editorial Illustration.
And we also should mention Virtual Architecture. SketchUp is popular there for recreating buildings that no longer exist.
With SketchUp, you can create 3D models of all kinds of products. Furniture, for example. As well as that, SketchUp helps create animated walkthroughs and flyovers. Moreover, it is also a good tool for creating environments in gaming.
Special Features
As for special features, there's Photo Match. It will let you enrich the design with all kinds of embellishments and features.
Moreover, SketchUp allows to work on 3D models created in other programs, because it supports all the formats. When the 3D model is ready, you can test it: turn around, look from different perspectives, get a virtual walk through the scene.
And there's also the LayOut feature. It allows to create detailed colorful presentations with styles, measurements and views of a model. When you modify the file, presentation automatically updates the data. Finally, there is also SketchUp WareHouse. It stores a free library of 3D models. That can make your work easier. This way, you don't have to create your models from scratch!
Suggestion 2: Rhino3D