Architecture rendering is a solution of an unparalleled impact when it comes to project presentations. It saves loads of time and effort, and delivers a tangible result – a client excited to work with the company. So, when the stakes are high, and the cooperation will bring an eternal glory to the author of the chef-d'oeuvre, and millions of dollars – to his company, Architects start to look for something special. Something that will make all other presentations pale by comparison.
Then Architects find out that Architectural Visualization can be not only realistic, but also artistic: such as watercolor, halloween, nature-oriented images etc. And these new styles bring in an additional character and surreal beauty to a design. Maybe, this is exactly this special something that will make the presentation stand out?
We've faced this dilemma many times over 5 years of work. And each time we've given a different answer – depending on the needs of a particular project. So we've worked with both types: photoreal and artistic – watercolor, super-green nature-oriented, Halloween and many others. We've analysed the impact, asked questions on the results and know the pros and cons of each type. But most of the time, we advise clients to use photoreal architecture rendering. And we have good reasons for that.
5 Reasons Why Architects And Designers Are Well-Advised To Use Photoreal 3D Rendering
#1. It Is True To Life
Artistic 3D Rendering shifts the attention of viewers from the real design to the secondary – the extraordinary shine of metal, or the retro feel of cozy digital watercolors. The main point of presentation is to produce an impression speaking real facts and advantages. And even though you name all the features while showing on the screen of the ipad using one of those architectural apps – they will be difficult to prove. For the images will only remotely remind of the reality.
In contrast, photorealistic architecture visualization is about both impact and accuracy. The viewer will easily see himself swimming in the marvelous pool, but like in a reality show – not a cartoon or science fiction movie.
#2. Wisely Invested Time And Money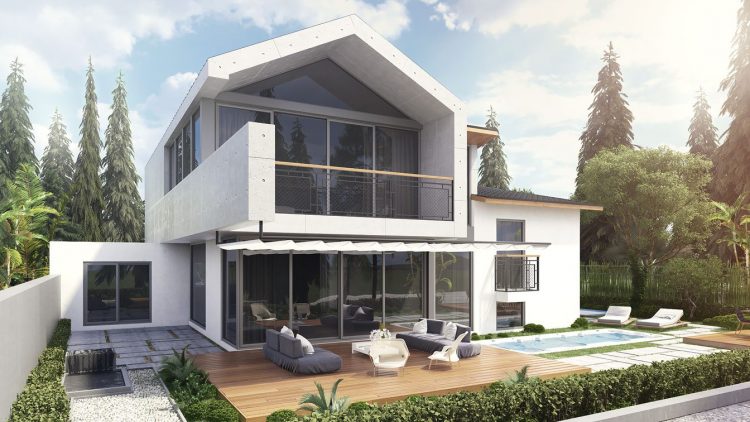 Investors speak facts and figures, and naturally prefer people that save their money. So when looking at the gorgeous halloween style image, with its spooky lighting and desaturated colors, they will wonder what good it brought them. For at the end of the day, they will be the ones to pay for the 3D masterpiece. So, does this cooperation look like the most beneficial financially from the very beginning? Probably not.
Meanwhile, the realistic Architecture Visualization will showcase each and every benefit of the project. It will give the visual facts Investors will respond to and assure them as to what they will get. They'll see the Architect as a practical person that understands their needs and is easy to communicate with. A great beginning of an effective cooperation!
Take your design presentation to a new level with interior rendering
#3. Real Advertising Effect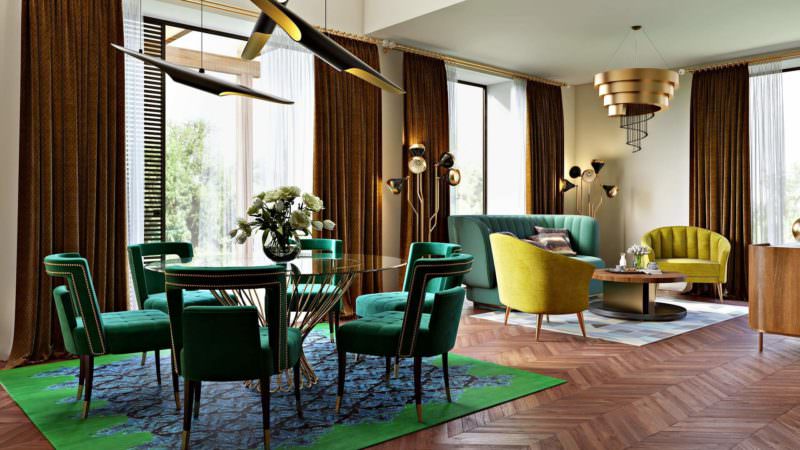 Any marketer knows that creative doesn't necessarily mean the one that sells. Advertising masterpieces that win their creators a name and Cannes Lions are rarely aimed at sales. Most of the time, their goal is to raise awareness or increase customer loyalty. The same stands for artistic architecture rendering. It is a great way for a 3D Artist to showcase the skills and get a life-changing award, but not an effective way to sell. When you need to show off the design, high-quality photorealism is way better. It immerses the viewer into reality of the project instead of competing with it.
#4. It Allows Only For Pleasant Surprises
Even if the client is besides himself upon seeing the building smothered in the surreal greenery of jungles, beware. The danger is, there won't be any jungles when the project is brought to life. As a result, it will have a different look and feel about it. And will it please the customer? If it doesn't, he will feel cheated, even though the Architect has done everything for the project success.
While with photoreal 3D visualization, the client gets the exact atmosphere of the interior or exterior. And there's no need for jungles or zeppelins for that. Instead, the 3D Artist will add a smart piece of decor – a bowl with juicy green apples to offset the strict elegance of black-and-white interior. Or, perhaps, a thick tartan wool blanket for a more bohemian atmosphere …  As well as that, the 3D Artist can add to objects these perfect imperfections that make them look real – scuff marks on the velvet sofa and antique wood, or even dents on the cushions. Or, better still – place a gorgeous self-satisfied cat on the armchair. That will showcase the reality without distortions and allow for a better understanding.
#5. Communication Is Easy
This is a subtle trick one can easily miss at the beginning of communication. 3D Artists dealing with artistic architecture rendering see themselves more like free-spirited Painters or Poets rather than servants of Architecture Designs. Which is why their attitude to the reality can be peculiar. For instance, they might neglect the accuracy and sacrifice it if that contributes to the impact of the image. As a result, the renders will give a false impression. And the Architect will have a hard time explaining the 3D Artist why he must edit his work.
In a nutshell, artistic and photoreal 3D rendering serve different purposes. It's like with high fashion and prêt-à-porter: the surreal art is destined for professionals and competitions, while the second one benefits real customers. Use artistic visualization as an eye-candy for the portfolio, to showcase the projects that were not realized. For great presentations, choose photorealistic architecture rendering and be sure that this investment will certainly pay off, owing to its accuracy and style. Want to go further? Opt for such advanced 3D products as panoramas, animations or Virtual Reality. Such content looks splendid and showcases all the advantages of the design.
Present your architectural project like a piece of art with AI-powered CGI
For high-quality architectural rendering services contact ArchiCGI. We will make sure that your design looks breathtaking and produces the right impression on the client.
---
Irma Prus
Content Writer, Copywriter
Irma writes articles and marketing copy for ArchiCGI. Her dream is that more people discover the power of CGI for architecture. Irma is into neuromarketing, ruby chocolate and Doctor Who series.