Want to make your architectural renders particularly impressive and memorable? Try leveraging the charming aesthetic of fall. As the season begins, one can't help but notice its naturally stunning features. They make us instantly forget the summer and set a completely different mood — calm, thoughtful, dreamy. So, how about bringing all that into your work with gorgeous fall 3D rendering?
At our architectural visualization studio, we are constantly exploring ways to create more impactful visuals. And we'd like to show you how the vibrant colors of fall, paired with its soft golden sunlight, can help you achieve a variety of goals that go beyond efficiency. Those may be making clients fall in love with your projects, dazzling the jury in contests, or winning over admirers on social media.
Now, let's take a look at some of the best fall-themed renders made by our team!
#1. A Moment Worth Capturing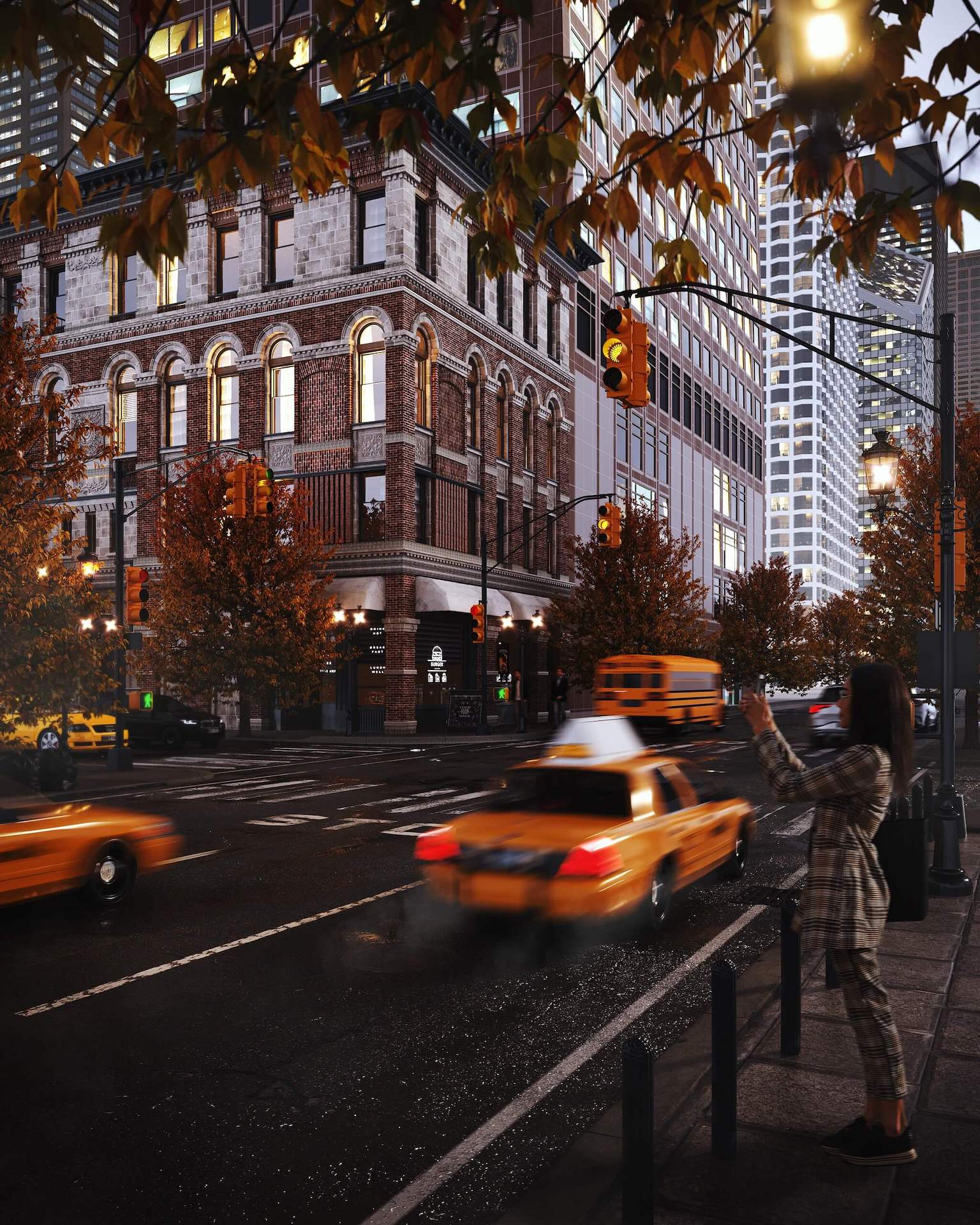 This fall 3D rendering depicts a moment we've all experienced. It's stopping to appreciate something beautiful amidst the bustle of daily life. The feeling is conveyed perfectly through the contrasting combination of dynamic elements and the still figure of a young woman who stopped to take a photo. On top of that, the rich colors of fall make this rendering all the more atmospheric. And that is why it has won one of the top spots in our studio-wide CGI contest.
#2. Fall in the Mediterranean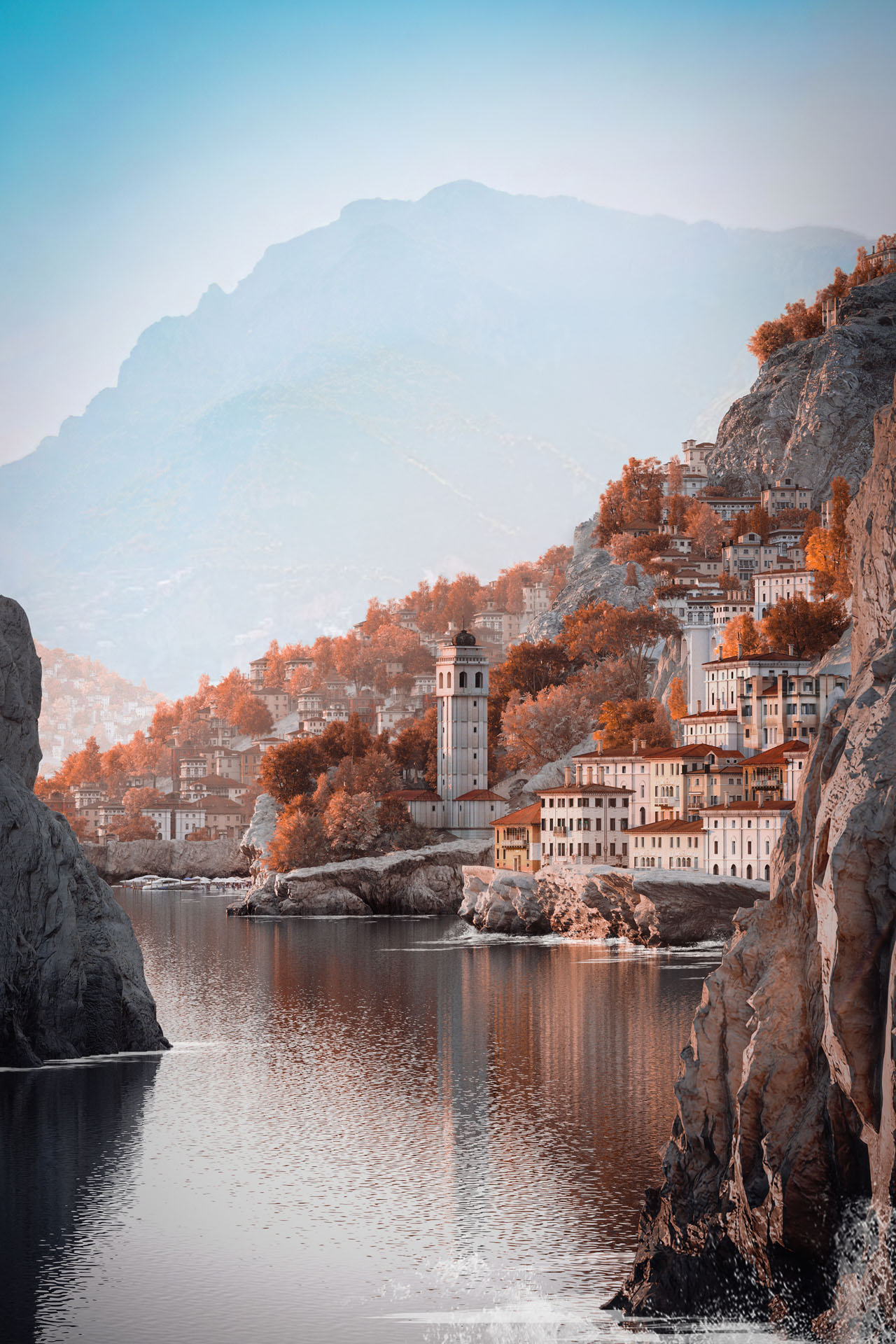 Inspired by the historic coastal cities of Southern Europe, the place in this 3D rendering looks almost magical with its curated color palette. It emphasizes the harmonious coexistence of nature and architecture that, in reality, is an incredibly rare sight. A visually striking rendering like this would be a valuable addition to one's creative portfolio or social media, as it instantly draws attention.
#3. Sunny Day in a City Park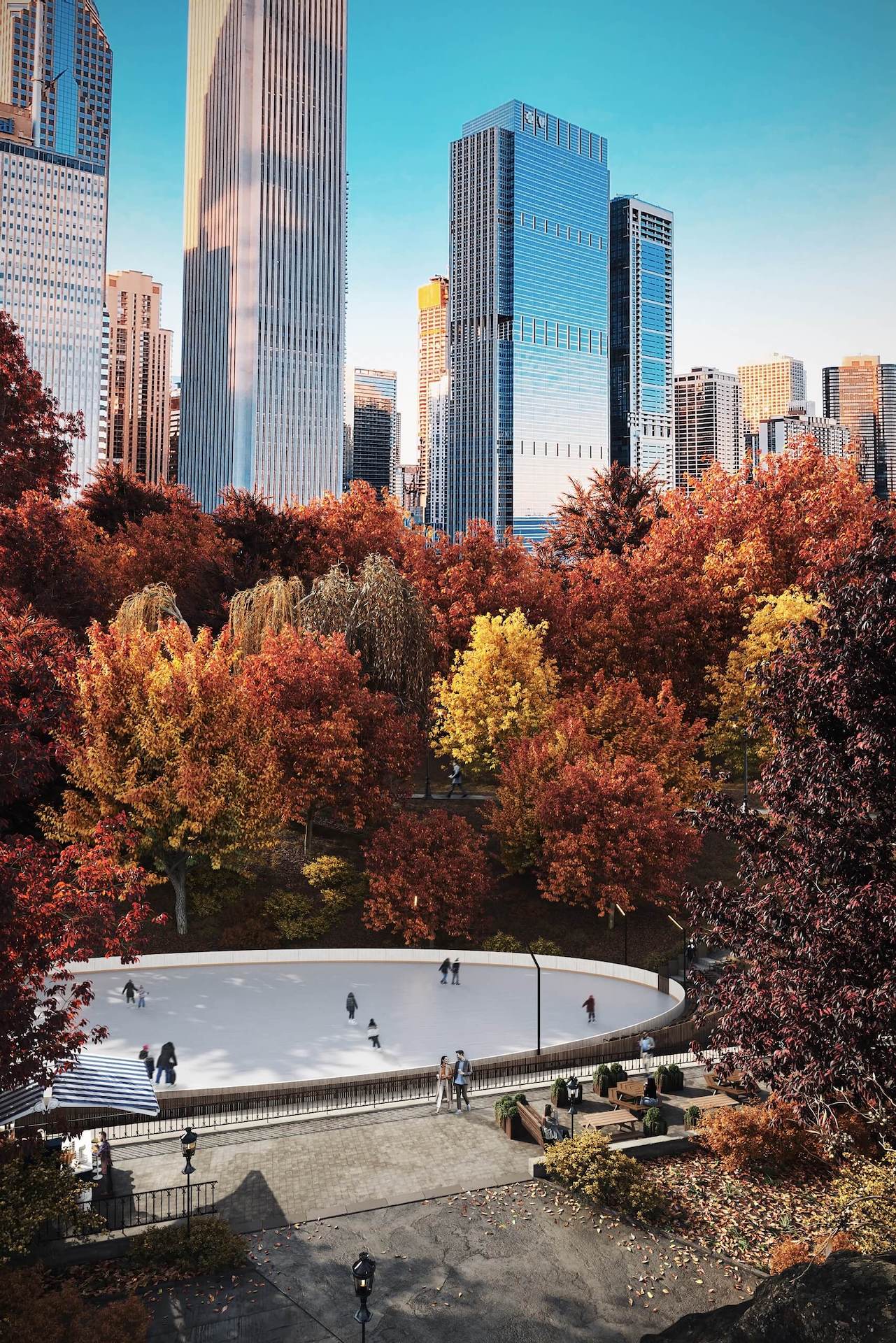 Escaping the fuss to enjoy the beauty and serenity of nature is a truly special treat for those of us who live in big cities. The fall 3D rendering above is a perfect demonstration of that. It shows people having a great time in a park, while the high-rise office buildings in the background remind us of all the things they'll be returning to once the weekend is over. This storytelling power, along with the stunning fall setting, helped the image become one of the winning contestants in our studio's 3D rendering competition.
#4. Tranquil Residence on a Fall Afternoon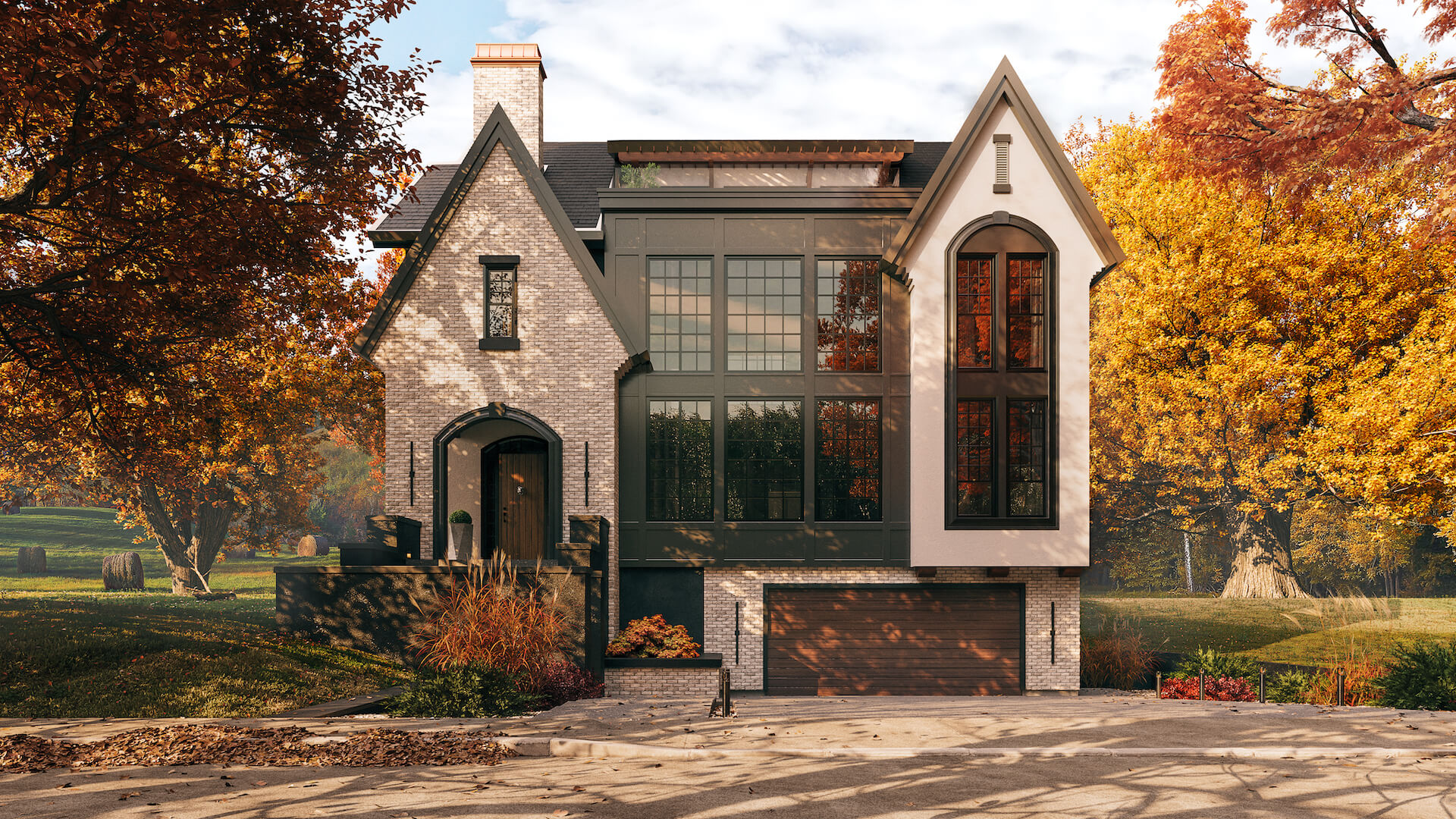 Even when presenting a timeless architectural design, it might be wise to reflect the current trends and changes in the visuals. For instance, this rendering for a house exterior was used in a presentation that took place in fall. Therefore, choosing this particular setting, where the residence is surrounded by red- and yellow-leaved trees, was a nice, thoughtful touch. It spoke to the client's mood and allowed them to see what their house would look like if it already existed right at that moment.
#5. Sunset After the Rain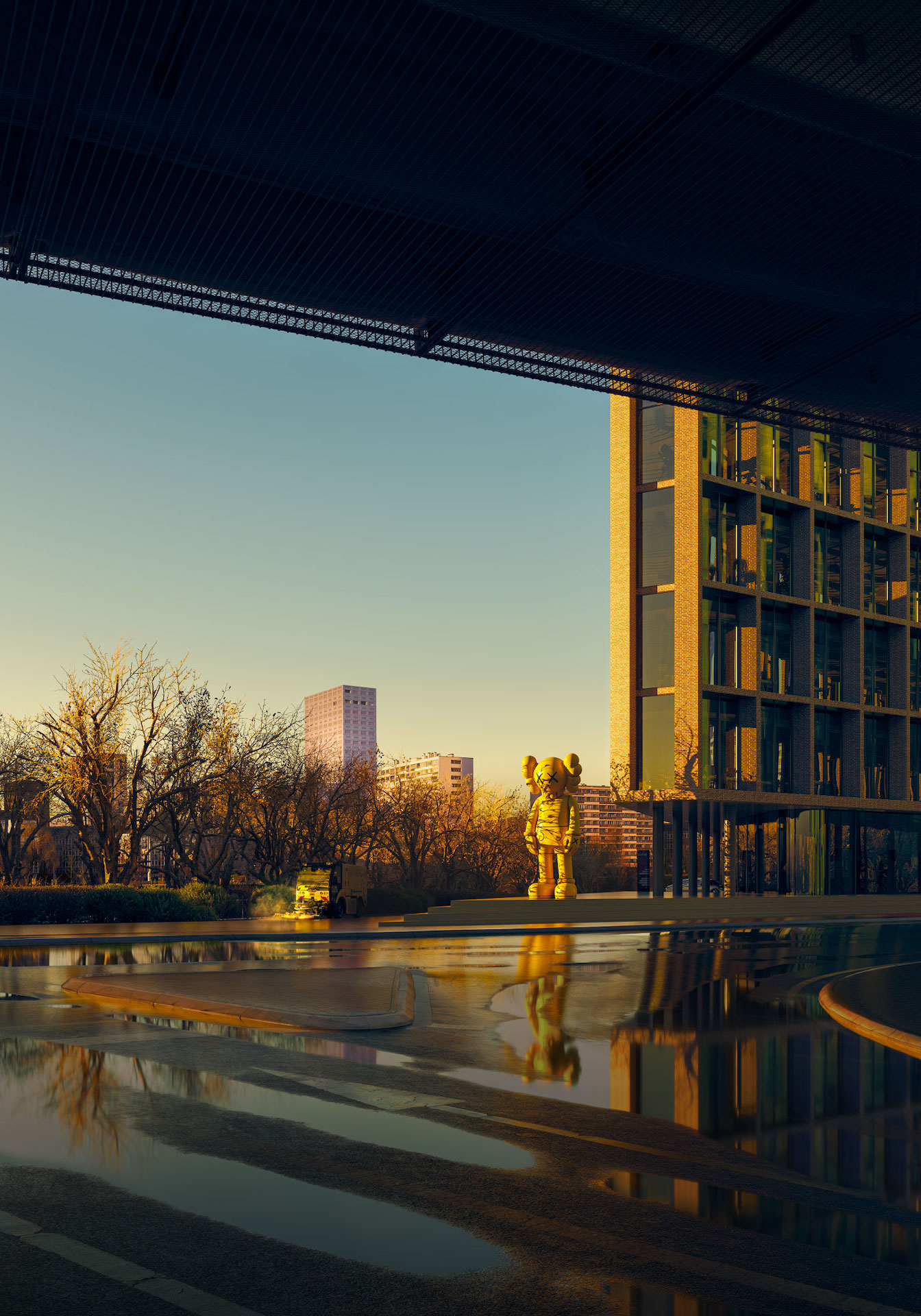 This fall 3D rendering excels at capturing the viewers' attention for a long time. The first thing we see here is the world-famous KAWS figure standing melancholically in front of an empty office building. The other thing we notice is the sublime golden sunlight indicating that the sun is setting, having appeared for a moment after a heavy fall rain. Together, those elements create a quiet, bittersweet feel. For an architect, a rendering like this would work great as an additional view in a project or a standalone conceptual artwork.
#6. Nostalgic Old Photo Aesthetic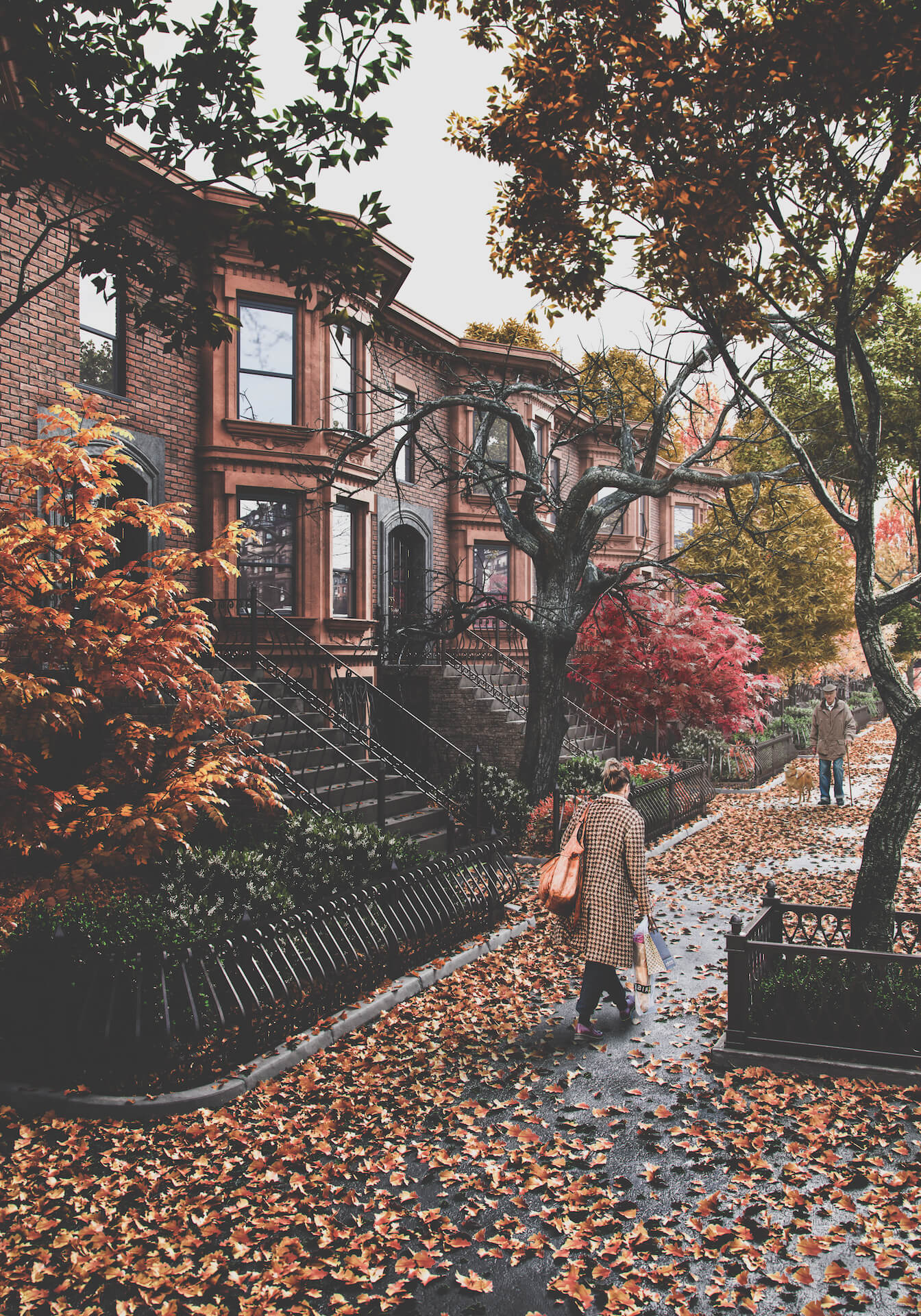 Here, the 3D rendering has the atmospheric feel of an old photograph taken on film. The composition, low contrast, and exceptional photorealism all help achieve that nostalgic look. This is a great example of how one can develop a unique visual style that would set their works apart. Moreover, it might help attract like-minded clients and collaborators who share the love of the same aesthetic.
Present your architectural project like a work of art with AI-powered CGI
Are you now convinced that fall 3D rendering has a special power? We'd be surprised if you weren't. Hopefully, our article helped you find inspiration to get some outstanding season-themed visuals for your next project.
Looking for professional 3D rendering services? Contact us at ArchiCGI and schedule a free personal consultation with one of our managers!
---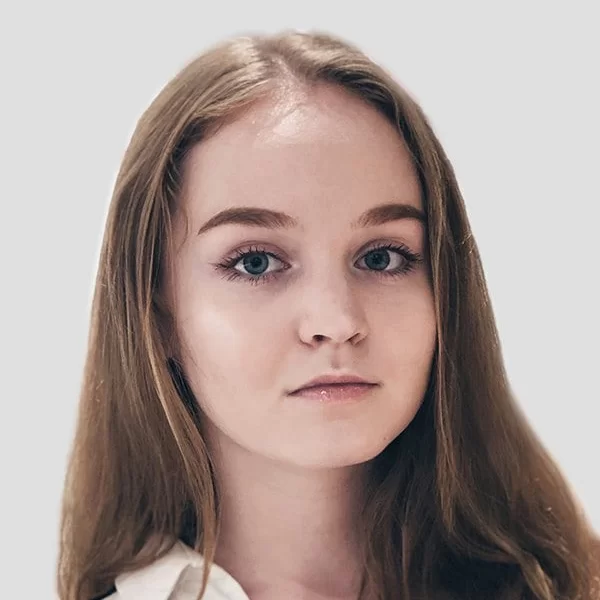 Ana Wayne
Content Writer, Copywriter
Ana is a content writer for ArchiCGI. She has a passion for design and architecture - and for talking about it. Outside of work, she is a fan of sci-fi movies and a street food connoisseur.