Advertising in architecture is a necessity, given the fierce competition in the industry. To advertise their services with success, professionals in the field need to use the most powerful promotional tools. One of these is undoubtedly high-quality rendering. So, how did this come to be?
Before the advent of CGI, an architect would need to wait until the project was fully completed to obtain dazzling images and videos of it. This meant a delay in launching advertising campaigns and a loss of great business opportunities. But now with high-quality computer visualization, this and other challenges can be easily solved. A professional 3D rendering company can provide architects with promotional options that they couldn't even dream about before. So how exactly does CGI help in architecture advertising? Read up and find out!
#1. CG rendering helps set the right mood in promotional visuals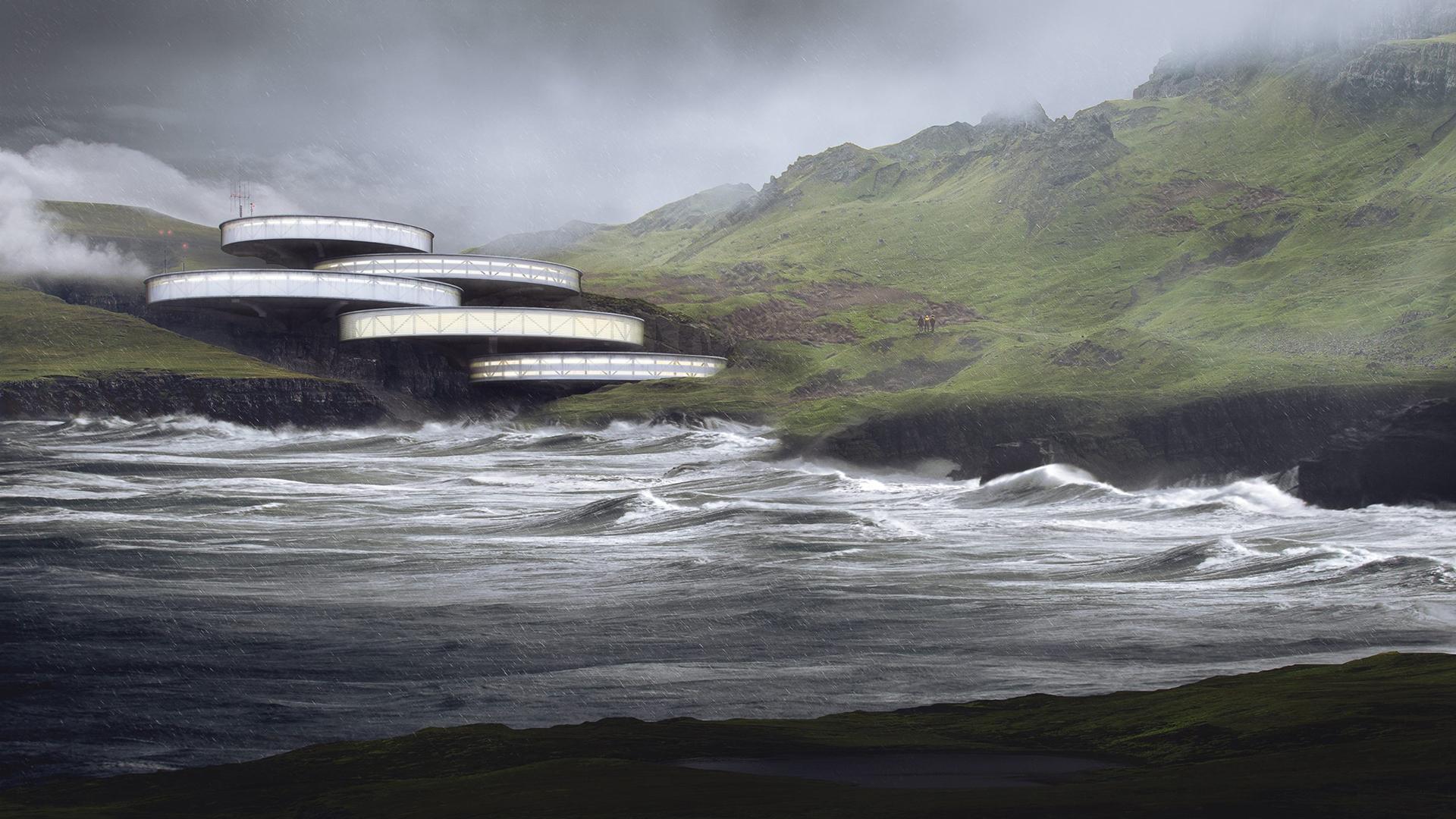 When potential clients or stakeholders are considering an architecture project, they are interested not just in the property itself. They also want to see the aesthetics of its surrounding area and get to know if the future building fits it. But how to explain this aspect of the project to the audience? Here is where CGI comes to rescue. 
When creating high-quality rendering, 3D artists can set any mood for the visuals. The structure can be shown at any time of day, season, or weather, with or without cars, people, and other contextual objects around. The right use of visual effects and post-production techniques can make promotional materials look on-brand. Which helps the architect stand out amongst other professionals. 
#2. High-quality rendering gives a look into the future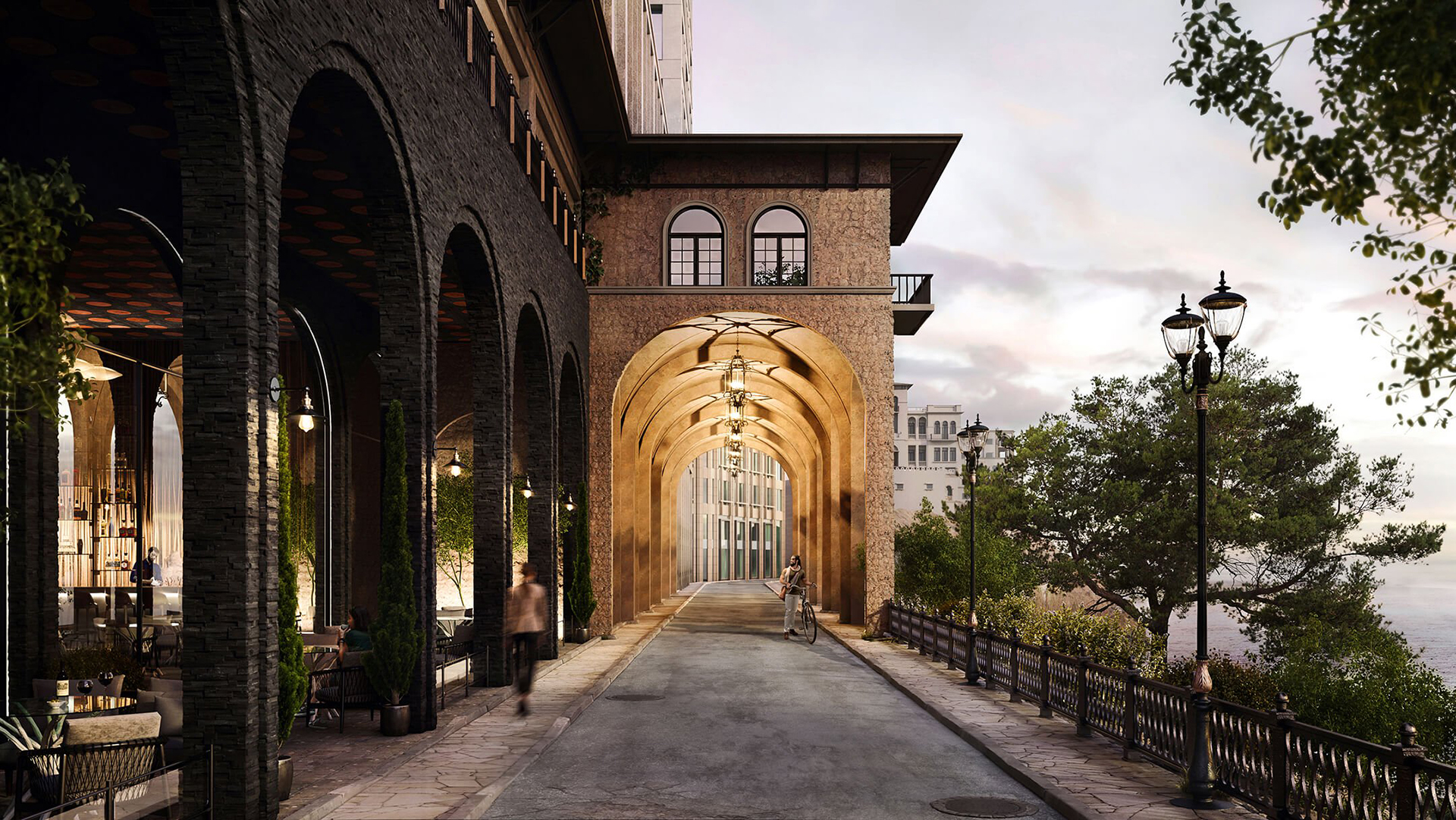 When it comes to architecture advertising, the experts face a typical problem. Most of the projects are either yet to be constructed or in the building stage. Obviously, one cannot market a property with its drawings or pictures of a construction site. With these materials, a viewer just cannot imagine what the structure would look like once it is complete. 
Luckily, high-quality rendering allows architects to get photoreal visuals of their masterpieces before they even exist in reality. All they need to do for this is to send the drawings of a building to a CGI company. Based on them, skilled 3D artists will create high-quality visualization that will show the expected result of construction at its best. With such visuals, the audience is likely to get impatient to see this beautiful structure brought to life. If CGI shows commercial property, like malls, restaurants, hotels, or resorts, the viewers will instantly imagine visiting them. And if CG imagery showcases a residential design, the viewers will probably get encouraged to live this beautiful home. 
Make sure your exterior design project takes your clients' breath away
#3. Computer rendering help capture views that photography cannot show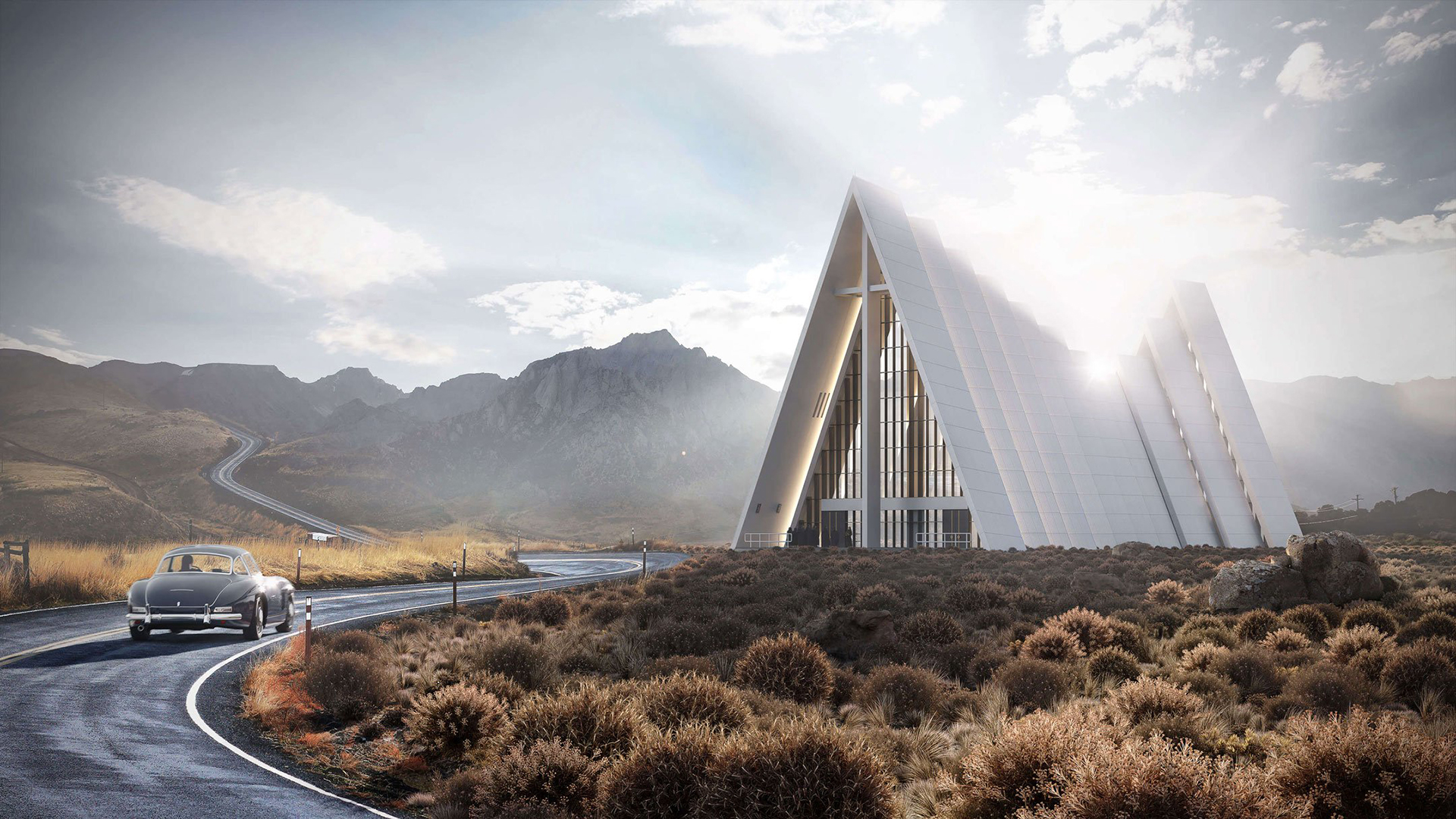 Sometimes, making fancy visuals of architectural structures through photography is tricky. This can be due to the large size of the building, distracting city surroundings, natural lighting conditions, and so on. Not to mention the cases when the project is not fully constructed. 
But with high-quality rendering, all these problems get eliminated. It allows to add and remove any elements and set the lighting in the visuals as per the client's requirements. For instance, the picture above shows the realistic visualization of the church in the natural setting. But in reality, it is in the city! So, CGI allows to get creative and show the building in the best possible light. This way, CGI provides excellent materials for architecture advertising, especially for content marketing for architects. 
#4. High-quality rendering can highlight outstanding features of the design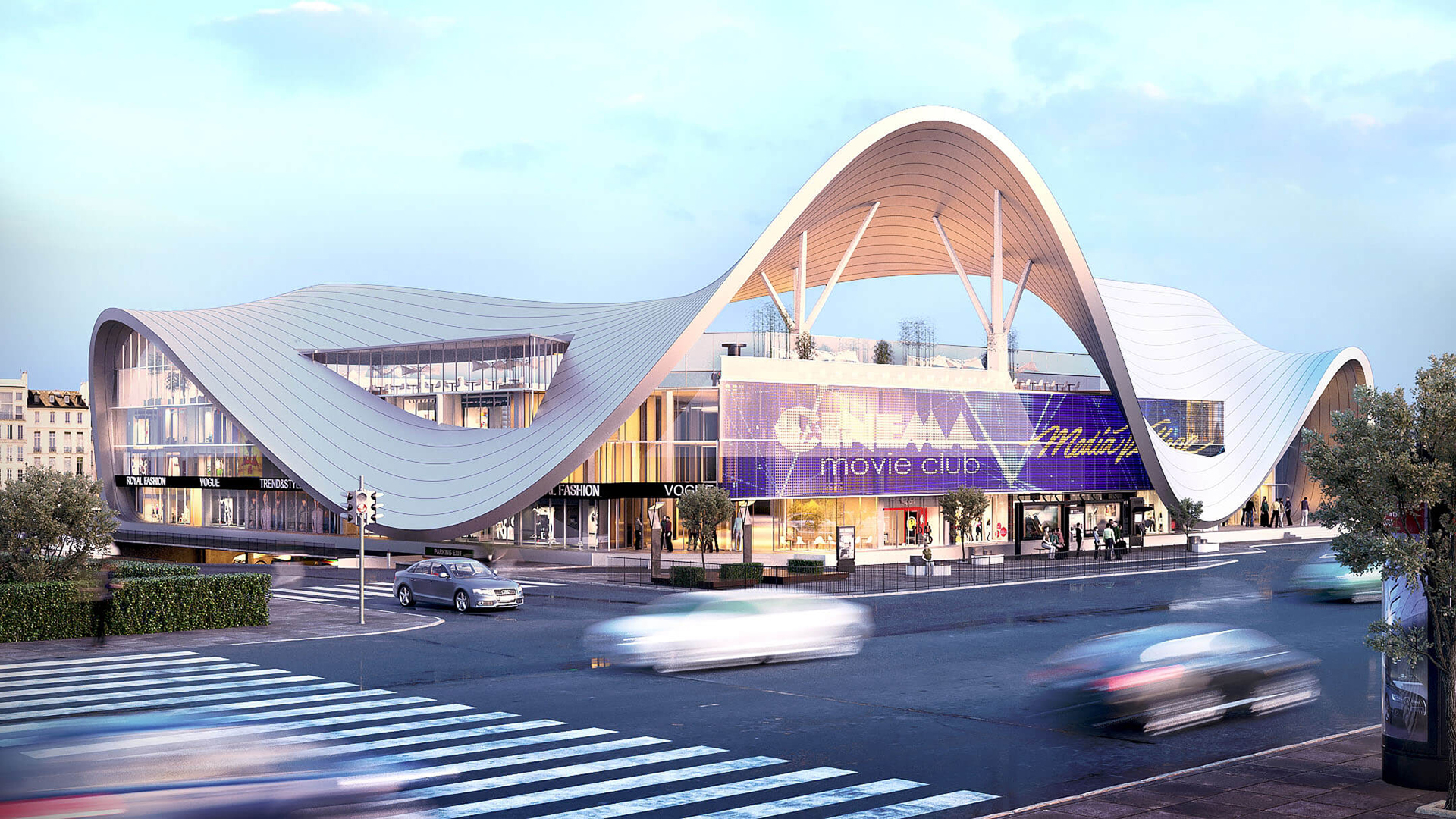 When a stakeholder considers investing in an architectural project, they need to know far beyond its look. They will consider aspects like the types of materials used in building and whether they are innovative and sustainable. They will also be interested in unique functional solutions and features that sets the design apart from other structures. 
By using high-quality CG rendering, the architect can market their projects by showcasing these details. Seasoned 3D artists know how to simulate all the materials and specific features of the design in ultra-realistic quality. They can also make sure that the focus in the visuals is directed towards these details. This is sure to dazzle a potential client and encourage them to take more interest in what the professional has to offer.
#5. Digital rendering tells stories about designs through photoreal CG videos
The most vital aspect of marketing is to tell a story that will help a prospect build an emotional connection with the promoted object. And a high-quality video is the best medium to do that effectively. Unlike 2D imagery, which is static, footage is dynamic and provides a life-like experience. The effectiveness of videos in promotion is proved by numbers. According to the survey conducted by Hubspot, 54% of consumers prefer seeing video content from a business they support. Also, Insivia found that 100 million users watch at least one online video daily. So, video storytelling must definitely be used in architecture advertising.
But marketing an architect's services in such a way might be a challenge. That is because most of the time, many projects are yet to exist in reality. In this case, there is just nothing to film. But there is a type of high-quality rendering that can solve this issue. It is called architectural 3D animation, or walkthrough — a photoreal video showing the future building in motion. It allows the viewer to picture the property clearly in their minds and build an emotional connection with it. A well-made architectural 3D animation lets the audience grasp the feel of what it would be like to spend time in the future house. Such an asset can help promote architects' services with outstanding success. 
High-quality rendering is a boon in creating irresistible architecture advertising. CGI helps set the atmosphere in the visuals and gives prospects a view of how a property will look once the construction is complete. It also allows to show views that photography cannot capture. What's more, 3D visualization can highlight the unique benefits of design and help architects make use of video storytelling.
Want to learn how much your project costs? See how we evaluate 3D rendering projects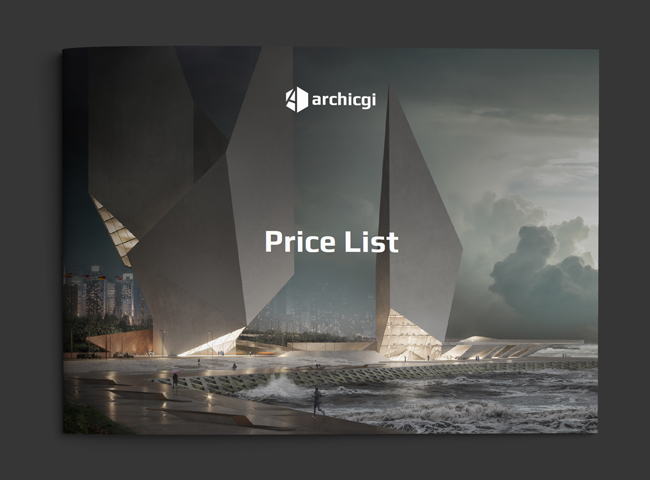 Want to advertise your architecture services more effectively than ever before and get more clients? Contact us for high-quality 3D rendering services and we'll gladly help you achieve it!
---
Catherine Paul
Content Writer, Editor at ArchiCGI
Catherine is a content writer and editor. In her articles, she explains how CGI is transforming the world of architecture and design. Outside of office, she enjoys yoga, travelling, and watching horrors.