3D Architectural Render is a crucial element that makes or breaks both Interior and Exterior Design presentations, so it's vital to leave no room for imperfection. Lots of reasonably priced professional software is out in the market and with little digging around the Net you can find online courses that promise to make you a competent 3D Artist in no time. This begs the question – should you go DIY or is it still better to look for a prolific architectural rendering company? Let's find out by examining the pros and cons of each approach!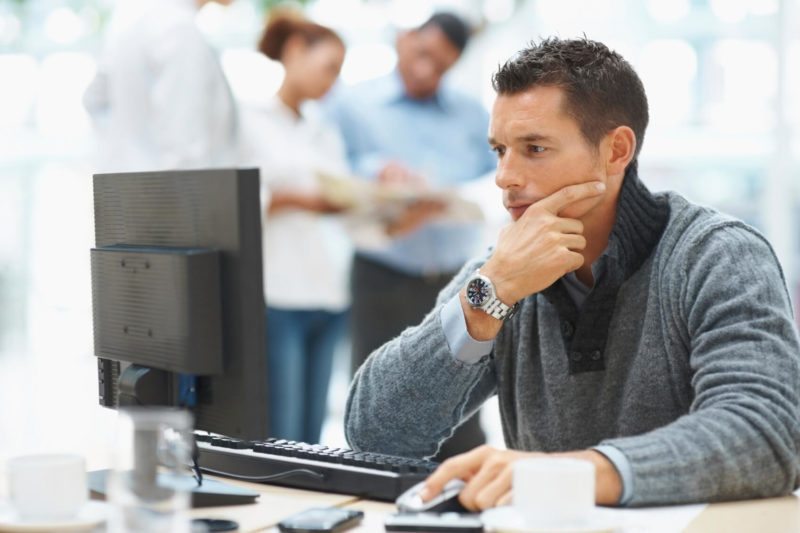 Cons
You have to learn it first. Yes, 3D Rendering is a skill that can be learned, but how much does it take to do this? Bad news – several years! And couple it with the fact that you have to earn money in the meantime. But if you really want to combine work and study, we would suggest googling a way to get rid of the need to sleep and eat.
You have to pay more after getting the basics. So, you have bought a PC or Mac and software like 3DS Max or Vray. But there's more – you need to spend extra money on licensed models for your Architectural Render. Certainly, not the cheapest of activities!
You are doing it by yourself. Okay, everything is set! The menu screen is open and you…work for hours or even days creating the Render, adjusting lighting, applying textures, et cetera. The skill mastery will wait, but clients definitely won't.
Pros
You set the costs.  In order to create a 3D Architectural Render, you need a couple of things: a computer and modeling plus editing software. You don't have to pay for service.
You control the process directly. This one is a no-brainer – you are the one creating the Render, the Boss and the Employee at the same time!
You have several specialisations. Managing to learn several difficult skills is worthy of respect and improves prestige in the eyes of clients. Sell both ideas and Renders – two birds with one stone!
Make sure your exterior design project takes your clients' breath away
Professional 3D Architectural Render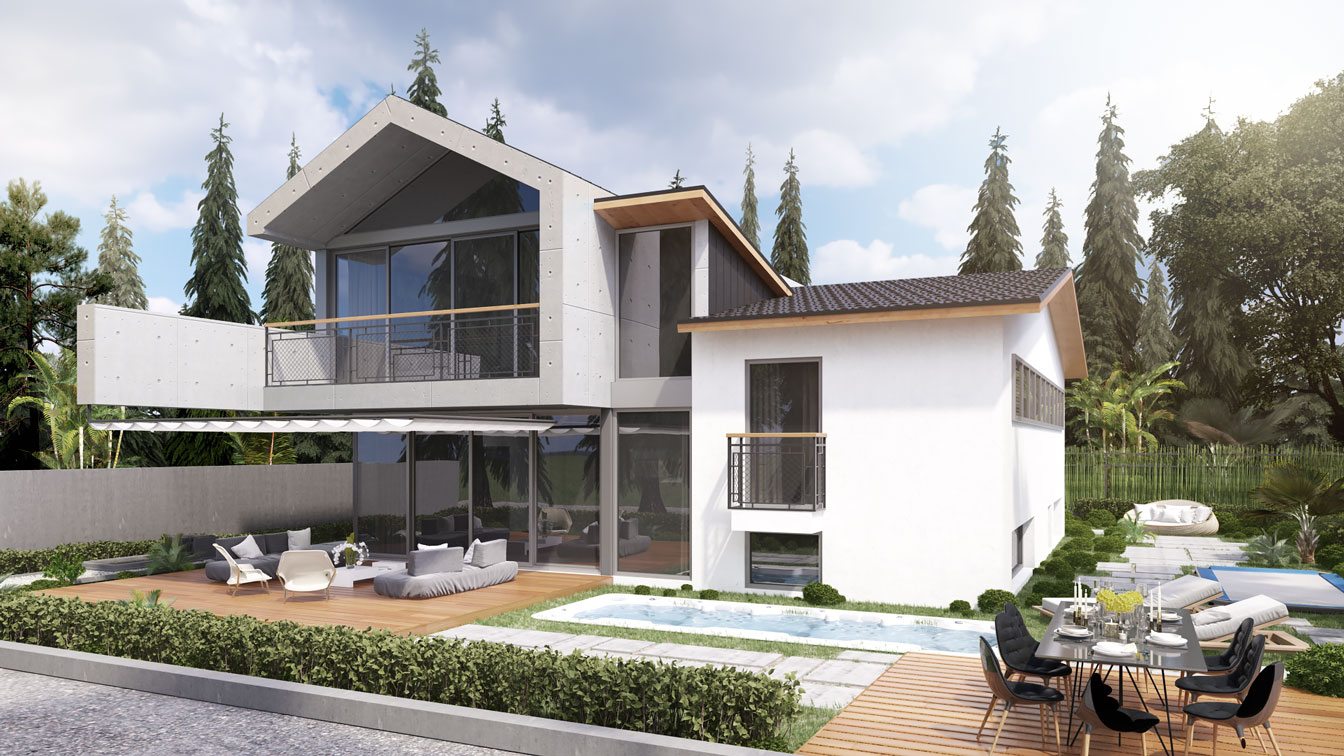 Cons
There is always a possibility of miscommunication. All civilized world speaks English, so outsource companies can understand your demands clearly. But there is one issue – time zones. Sure, online feedback is available 24/7, but if you and the company are located on opposite sides of the globe, catching each other will be complicated. But the usefulness of the service makes it a minor setback. The solution would be to prepare tasks during day and see the changes next day in the morning.
Possible confidentiality issues. Sadly, no industry is safe from scam, so if you need to provide confidential information, consider signing NDA. Business requires mutual trust, but it's better to protect yourself from falling victim to thieves in advance. But in current stiff competition, it is in company's best interest to provide you with the best results is shortest period of time possible.
Pros
They have years worth of experience. The people you turn to are called Professionals for a reason – they have invested lots of time in learning and perfecting their three-dimensional rendering skills. If you have doubts, check their portfolio to see the quality of their visualizations.
Their prices are fixed. 3D Artists' services are expensive, but you always pay once. Contact a company, state what you want to be made, spend some money and receive high quality architectural renders. It's really as simple as it sounds.
They have pre-made item libraries. Even an average 3D Rendering Studio has a library of houses, rooms and individual furniture items numbering in tens of thousands. You'll surely find something to your liking!
You can still monitor the process. Well, there is no way you can breathe down 3D Artist's neck while they do their work. Yet, there are online feedback and project management services to observe the process in real time, making changes if necessary.
They complete projects faster. Since entire teams can bring your ideas to life simultaneously (depending on how difficult the task is) , work takes significantly less time than doing it all alone. Complete 3D Architectural Renders come in a couple of days, at most!
Professional 3D Rendering Or Not? Final verdict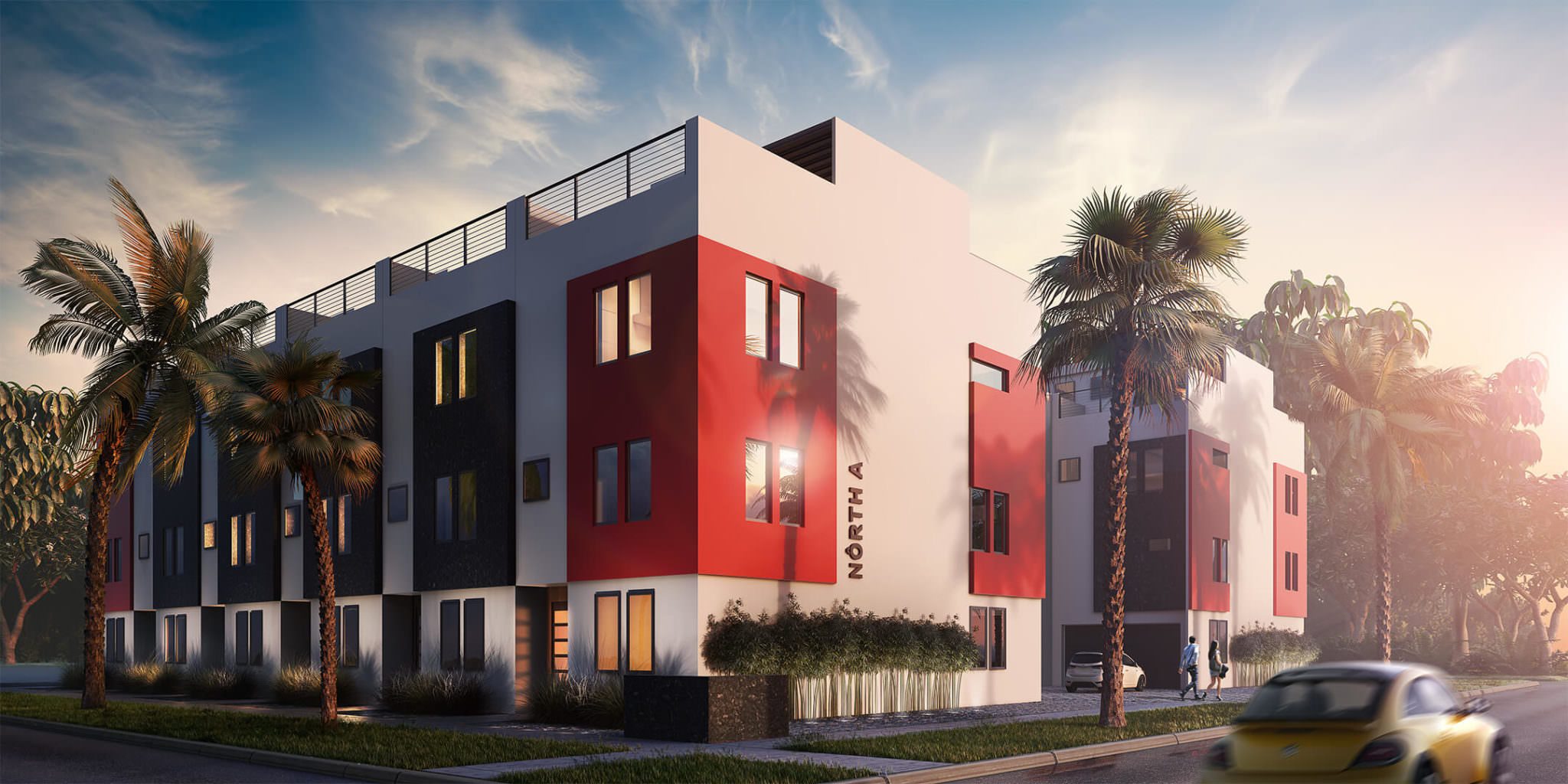 In the end, what is better? Well, the winner is obvious and for good reason. Diversifying skill set is important, but being decent in various things is worse than great in one. And if you are a good Designer, let it be that way – focus on what you excel at, be it Architecture or Interior/Exterior Design.
Present your architectural project like a piece of art with AI-powered CGI
Architectural Design can be made profitable only when you focus on ideas. Their realization should be left to those who devote their life to perfecting their craft. Get your own masterpiece of product presentation by using our architectural rendering services today!
---
Catherine Paul
Content Writer, Editor at ArchiCGI
Catherine is a content writer and editor. In her articles, she explains how CGI is transforming the world of architecture and design. Outside of office, she enjoys yoga, travelling, and watching horrors.