A 3D visualization studio can help architects succeed at the stage of pitching a project to a serious investor. Which is a critical moment for any architecture specialist. They need something truly outstanding to ensure that the stakeholder's decision will be a positive one. But it is hard to achieve it with traditional presentation materials. No matter how accurate and detailed the drawings and sketches are, they might be of little use if investors have no architectural background. In such a case, they will be probably unable to grasp the concept of the design with the help of these materials. So, this way, stakeholders may end up rejecting an exemplary project. Which will be a disappointment and a loss of business for an architect. Is there any way to prevent such an outcome?
Fortunately, CGI can step in to save the day. 3D images made by a professional architectural visualization studio can display the expected result of construction in photorealistic quality. And this is not the only benefit — 3D rendering has much more useful options up its sleeve! It can provide architects with powerful tools that transform an ordinary pitch into an immersive and exciting experience for stakeholders. This way, CGI can drastically increase the chances of them signing a deal with an architecture expert. So, what are these amazing tools? Join us to find out how a 3D architectural visualization studio can help architects turn a design pitching into a breathtaking experience for investors!
#1. Showing a project in a spectacular 3D animation
We live in a world where things keep moving and changing. That is why the most impressive presentations are those that reflect this dynamic nature of reality, giving the viewers a life-like experience. Schematic sketches and drawings are not even close to it, and even still photoreal 3D renderings are not always the right tool for the job. 
Here is where architectural 3D animation comes in handy. Static sketches, drawings, and still images lack dynamism but seeing a house in realistic quality in a CG video is a whole different ball game. A 3D animation made by a professional 3D architectural visualization studio can show the future property in a photoreal mini-movie with an interesting scenario, specifically chosen soundtrack, and exciting visual effects. The viewers will be able to view the house from many perspectives, examine its interior and exterior, maybe even see the building in different seasons and times of the day. That way, they will not have to rely on their imagination. All will be right there on the screen, in a beautiful 3D animation. With such a presentation, the audience will be enthralled enough to make a positive decision about a project.
#2. Taking viewers for a journey using an interactive 360 walkthrough
A 360-degree walkthrough is definitely one of the best presentations tools one can obtain from a 3D architectural visualization studio. This is an interactive virtual tour through the future property, in which the viewers can choose where to go and what to see. All a person needs for this is to click on a mouse or a touchscreen to change the point of view and zoom objects. 
Ordering a virtual tour from a CGI studio is a wise choice because it allows the client to get a better understanding of a project, as compared to seeing 2D drawings, sketches, and even still 3D images. Also, such an interactive experience guarantees the viewers' attention through the course of the presentation. So, with this kind of architectural design visualization, an architect can be sure that the audience won't miss a single selling point of the property.
Immerse clients into your design projects with a 3D animation
#3. Wowing the stakeholders with AR-based visualization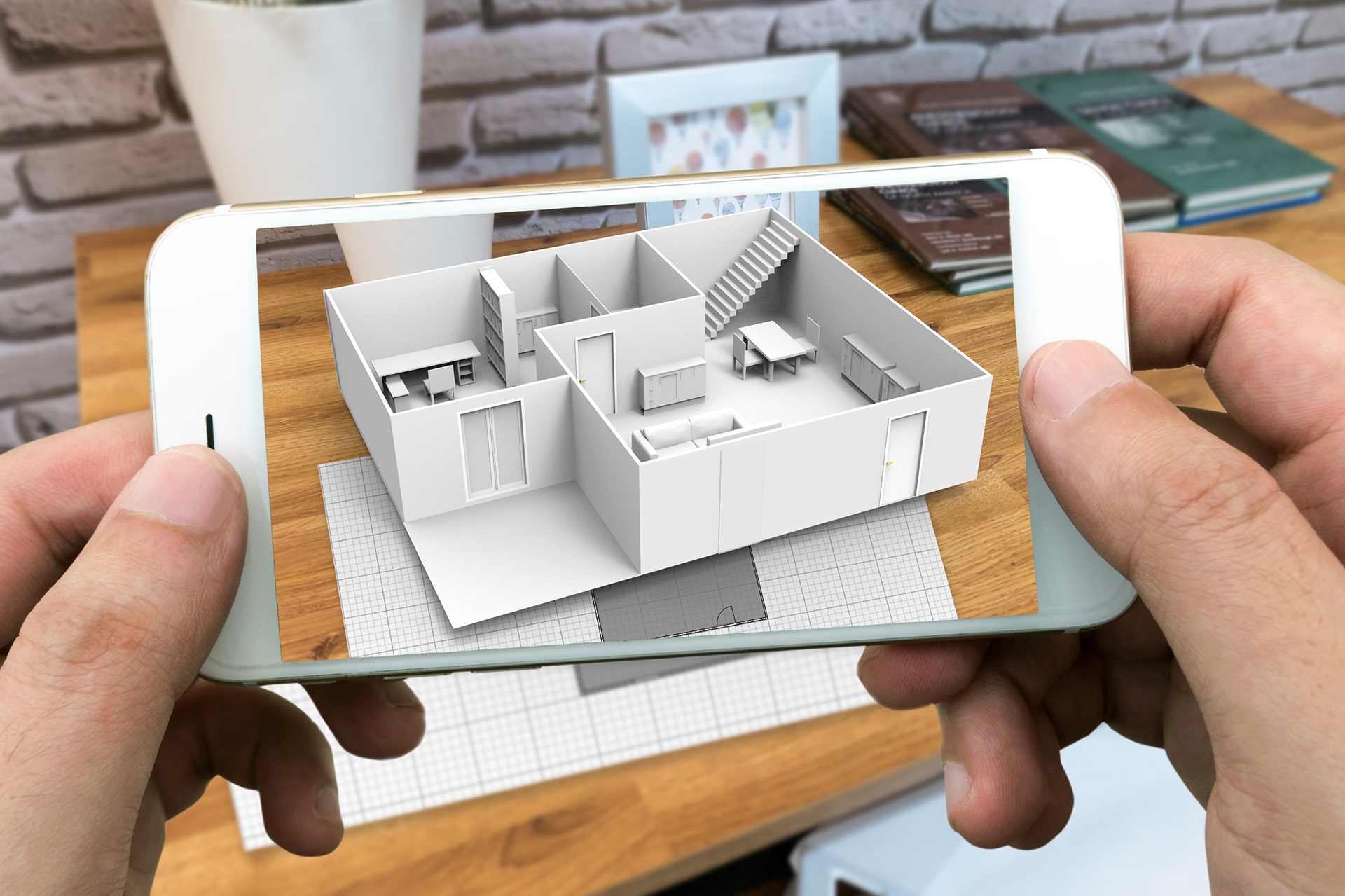 Augmented reality technology allows projecting a scaled or full-size realistic 3D model of a building onto an existing environment. All that a person needs to do for it is to scan, with a smartphone or tablet, the drawings created by the architecture expert. The application will then generate a 3D model of the structure and 'place' it into a physical environment. 
After that, the viewers will be able to examine the digital model of the house from every angle, zoomed in and out, and even take a close look at the interior and exterior. AR is an ultra-useful tool that helps in impressing a prospective investor and keeping them rapt through the presentation. What's more, it allows them to explore the project in detail and understand its benefits, swaying them to sign the deal with the author of the design. To get 3D models for an AR presentation, architects should contact a good 3D architectural visualization studio.
#4. Providing investors with an immersive virtual reality experience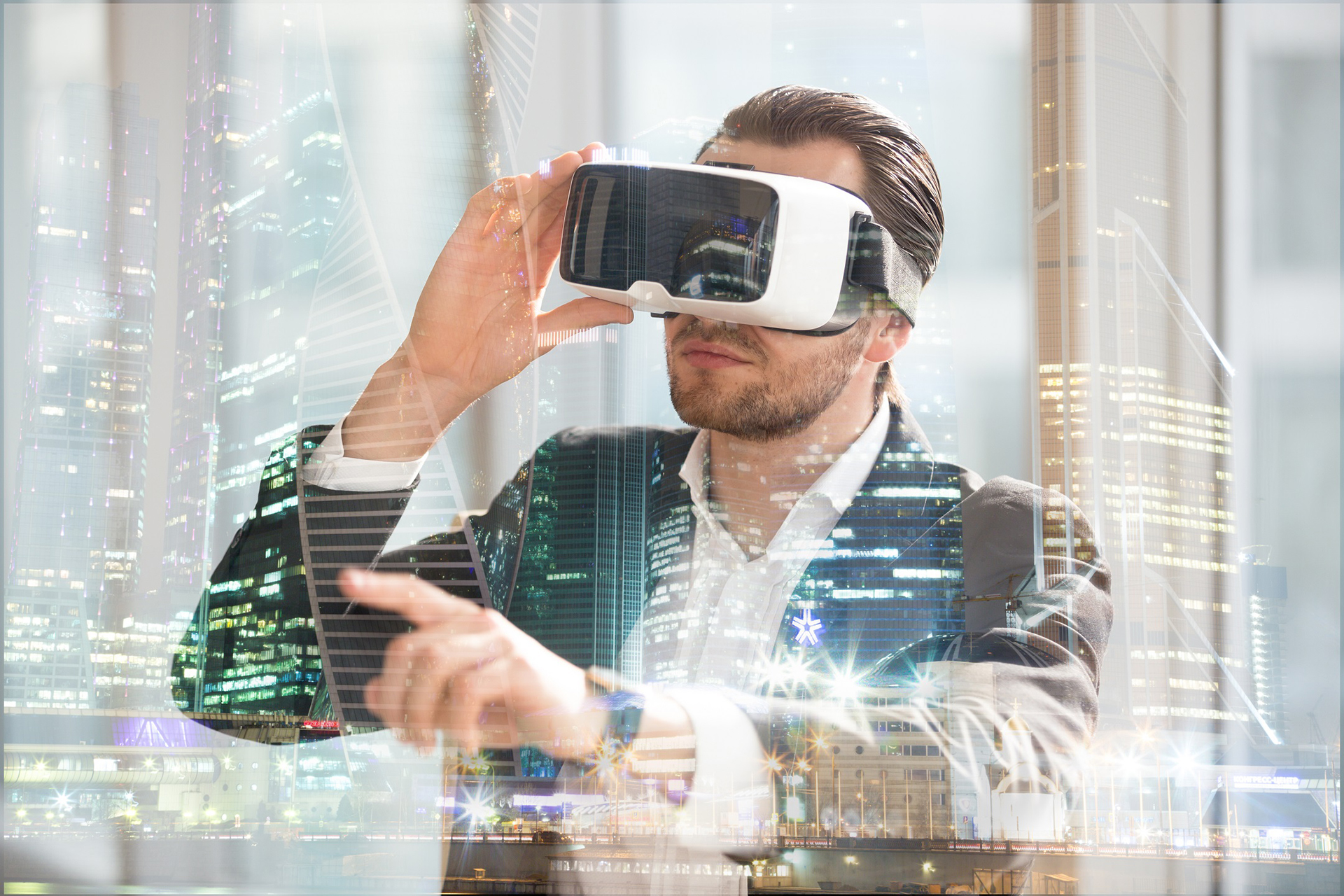 VR-based architecture project presentation is a spectacle in itself. It requires a prospective investor to wear a special headset to dive into the digital dimension. There, a viewer can explore a future building, walk around and inside it, and even interact with some elements of the design or change them in real time. With such outstanding pitching, an architecture professional is almost guaranteed to successfully secure the deal.
A 3D architectural visualization studio can help in preparing such kind of presentation. Based on the professional's drawings and sketches, skilled 3D artists can create 3D models of the future structure which will be then integrated into a VR environment. 
#5. Showing a future building in already existing surroundings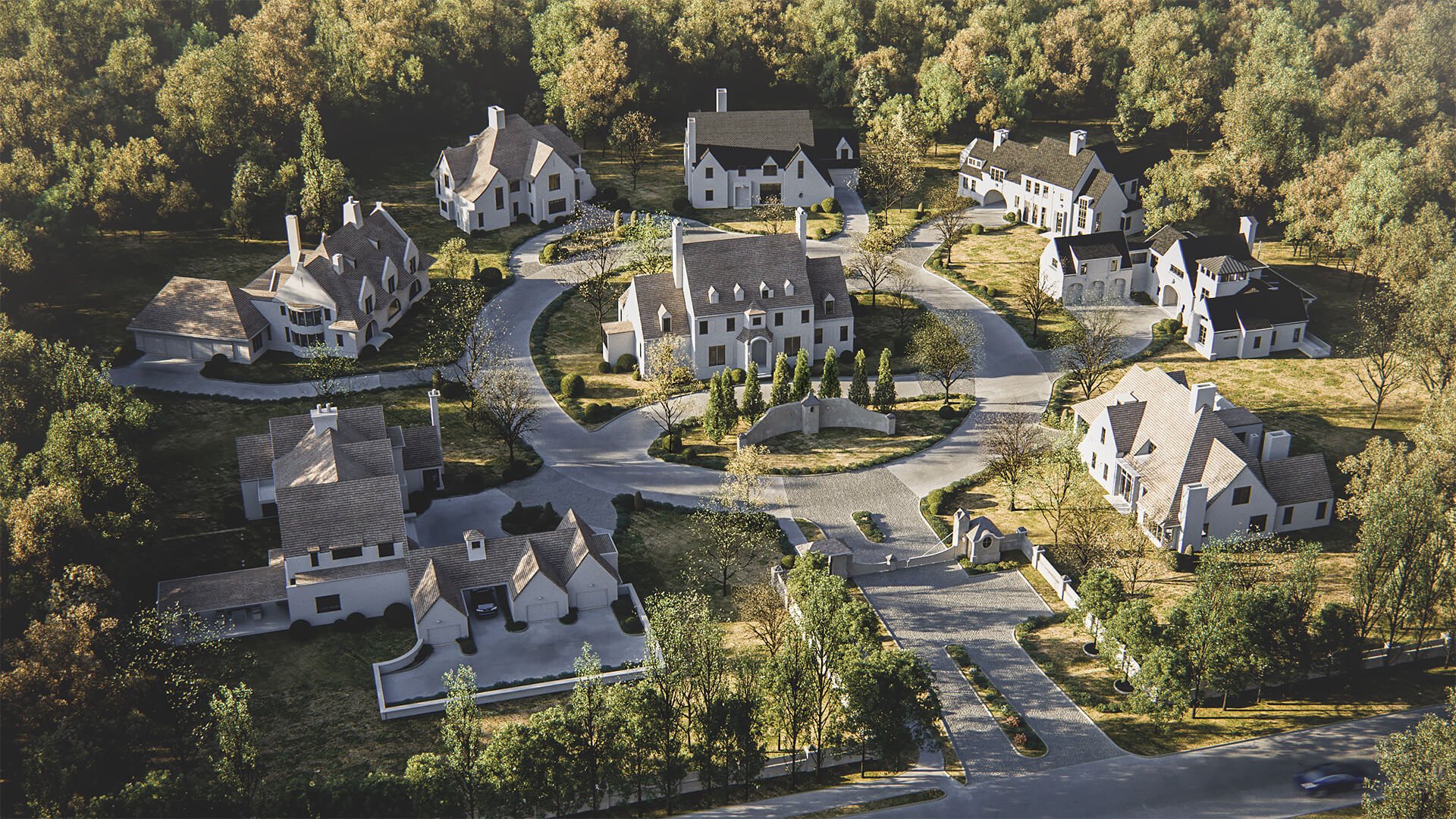 When an architecture expert is making a pitch to a prospective investor, the project exists only on papers. So, the audience has to rely on their imagination, trying to visualize how it will look in the context. But if architects opt for the services of a 3D architectural visualization studio, they can showcase future buildings in their already existing surroundings! How is that possible without a time machine? Let's see.
First, an architecture expert needs to get pictures or footage shot by a drone over the area when the construction is planned. Then, it is needed to send it to a 3D architectural visualization studio together with the drawings of the future house. 3D artists will create a realistic 3D model of the property and overlay it onto still images or video that was shot. In 3D graphics, these techniques are known as 'photo-matching' for pictures or 'match moving' for footage. With the help of these methods, an architect can get compelling 3D visuals that show how perfectly the future building fits its surroundings. Which will strengthen the investors' intention to approve the presented design.
A 3D architectural visualization studio can assist architects in preparing the best pitch possible. With CGI, the building can be shown in a dynamic 3D animation or an interactive 360-degree walkthrough. 3D visualization also paves the way for giving the stakeholders an unforgettable AR and VR experience. On top of that, with CGI studio services, it is possible to show the house in real surroundings before it physically exists. All these tools are the right choice to ensure that a potential client or investor will be truly amazed by what the specialist has to offer and will approve the design.
Present your architectural project like a piece of art with AI-powered CGI
Need world-class architectural rendering services to pitch your designs with outstanding success? Contact ArchiCGI 3D visualization studio — we will provide you with top-notch CG visuals for that!
---
Catherine Paul
Content Writer, Editor at ArchiCGI
Catherine is a content writer and editor. In her articles, she explains how CGI is transforming the world of architecture and design. Outside of office, she enjoys yoga, travelling, and watching horrors.