Among various types of visuals that architects and real estate experts use to attract clients, 3D animation stands out. Why so? First of all, Google ranking and social media favor video content. Secondly, many potential clients prefer getting information through videos and animations rather than through pictures or text. In architecture and real estate specifically, 3D animation is popular because it helps one showcase the future look of unfinished projects in the most comprehensive way. There are several types of 3D animation to choose from. And our architectural visualization company is happy to tell you about all of them.
Ready to learn about the different types of 3D animation that can help you make memorable presentations, scroll-stopping SMM posts, breathtaking web portfolio items, and catchy ads? Then keep on reading! 
#1. Exterior Animation
Exterior 3D animation is a great tool to present the expected result of a project under construction. In contrast to regular video, CG animation prevents you from waiting until the building is finished to make footage for marketing and presentation purposes. Moreover, you're not restricted by the season, weather, and lighting. With 3D visualization, you can opt for the light and atmosphere that emphasize the selling points of your project best. 
Complete the brief for your perfect 3D animation easily
In comparison to static images, 3D animation lets you cover more ground both figuratively and literally. The facade, the front and backyard, the neighborhood – all of this can be shown in a single 3D video spectacularly. 
#2. Interior Animation
The next on our list of 3D animation types is interior animation. As the name suggests, it demonstrates the inner spaces of properties. There are various types of such a presentation. It can be as simple as a tour through the future apartment. But it's not limited to this option. One can also use this type of animation to present before-after comparisons, various design options, or functional features. Overall, an interior animation can showcase every nook and cranny of the space, helping a prospective client establish an emotional connection with it. You can see how it is created in our article about 3D animation for a Theater in Boca Raton.
#3. Mixed Animation
Among the different types of usage of 3D animation in architecture, this one allows you to show the project from both inside and outside. A combination of exterior and interior animation, this CG solution has different scenarios to offer. One of the most efficient and popular ones is when the camera "flies" around the building and then leads the viewers inside through the front door to show the rooms one by one. 
#4. Walkthrough
Next on our list of different types of 3D animation, a walkthrough usually focuses on the interior. It can show a bit of exterior as well though. The camera in such a digital video is positioned at an eye level, making one feel as though they were actually walking through the rooms. 
This type of animation is especially useful for presenting home renovation projects. In this case, the homeowners are already familiar with the exterior, so there's no need to focus on it. The walkthrough animation allows them to examine every meaningful detail of the interior design.
#5. Flythrough
Flythrough animation works perfectly if you need to showcase not only the architectural design but also the neighborhood. In this type of 3D animation, the camera first shows the building from afar, focusing on what's around it. After that, it can go down to give a closer view of the outdoor design: landscaping elements, driveways, pools, terraces, and so on. This way, flythrough animation demonstrates how the exterior works together with its surroundings. Furthermore, it can show the property on the inside too.
All types of 3D animation can be powerful assets for architects and real estate experts. Whether you need to showcase the exterior design, focus on the interior details, or entice a prospect with the neighborhood and outdoor amenities of the property, 3D animation will come in handy.
Looking for 3D animation services to get breathtaking presentations and marketing materials? Contact us at ArchiCGI and get top-notch CG visuals for a reasonable price! 
---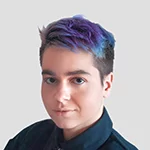 Stacey Mur
Content Writer, Copywriter
Stacey is a content writer and a CG artist. Outside of work, Stacey enjoys musicals, Star Wars, and art talk. A proud Corgi parent.