3D architecture visual helps Architects build trust with the target audience on social media. Which implies attracting not only those ready to order right away, but also establish a connection with those who are only looking for design ideas and inspiration at the moment — but can turn into the company's grateful clients in the future.
Social media is the most powerful platform for this. As Marketing Charts informs, 87% of businesses reported that SMM helped to increase exposure for their brand. So, being active on social networks is a must for an architectural firm.
And this requires lots and lots of appealing visual content showing the company's project results. Sounds easy? Yet in real life, it's not. It just happens that the most interesting projects aren't finished yet, or are under NDA. Moreover, the ones that can be shown don't demonstrate the firm's skill to the full. As a result, not enough material, so Architects end up abandoning the whole idea of using SMM.
That can be helped, however — by turning to an architecture rendering company. For 3D visualization services can help to get more than enough top-notch visuals! And use them on social media to attract more clients than ever. How so? Let's see!
#1. Architecture Visualization Helps Showcase the Expertise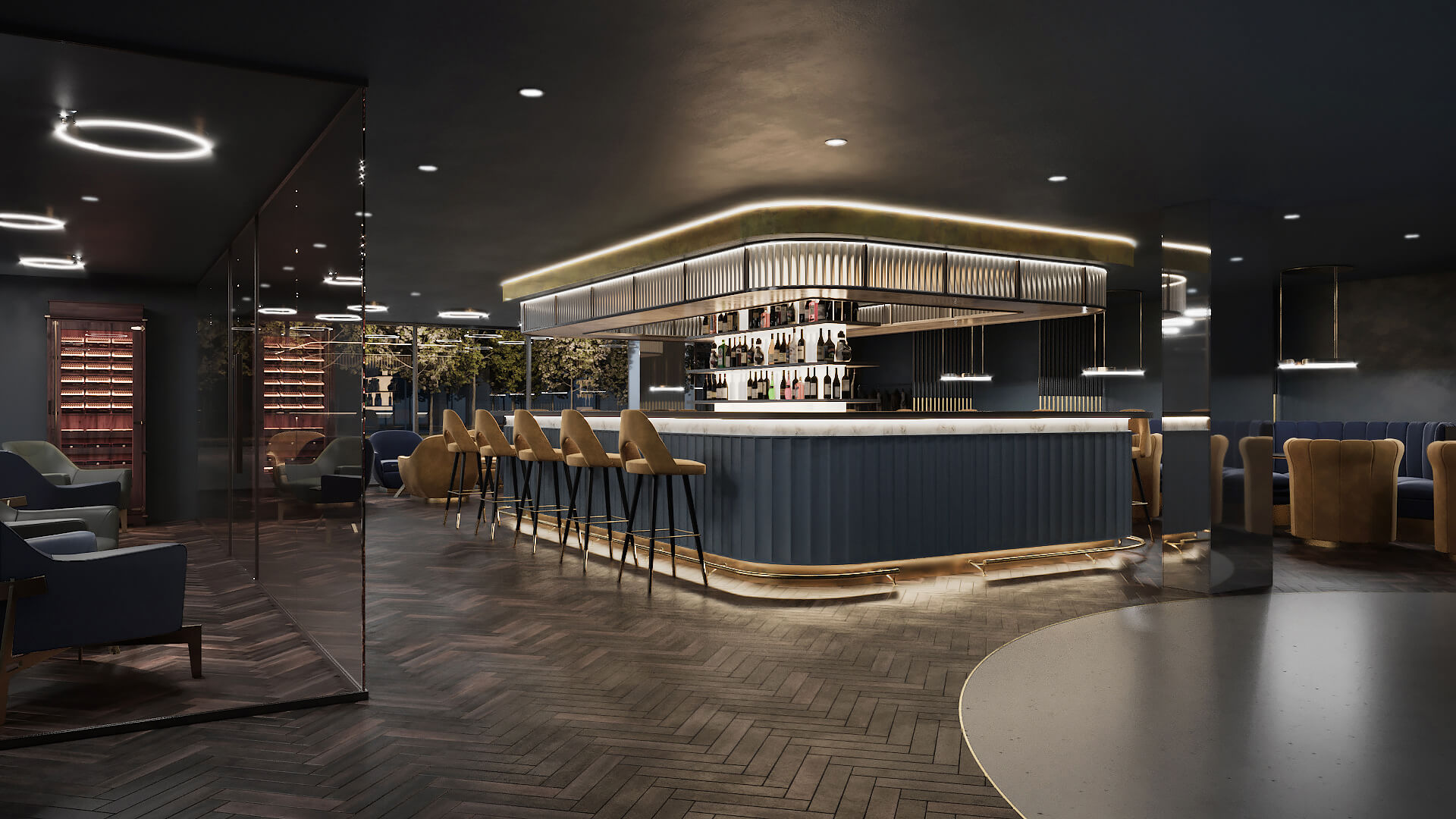 A photoreal 3D architecture visual allows highlighting details of any project, even of an unfinished one. For 3D Artists can recreate the building interior and exterior digitally, based on drawings and references. Which means CGI helps demonstrate how the chosen architectural elements and design solutions work in a house to be built.
How to use it? Let's say the Architect wants to share how he's choosing wood flooring. One way to do that is to post samples of each type he's considering and just write what the result will look like.
But wouldn't it be better to display materials in the context of the interior? Which can be easily done with a 3D architecture visual. The Architect simply needs to order 3D renderings showing what the room will look like with each flooring type. For that, he will need to send a CGI studio drawings, and material references — possibly a photo.
This way, an Architecture Specialist can show both solutions in photoreal quality, even though the room doesn't exist physically. He can even ask readers their opinion on the matter — and share a few useful tips on choosing between types of wood or combining several colors in one house.
#2. CG Visual Content Can Show the Demand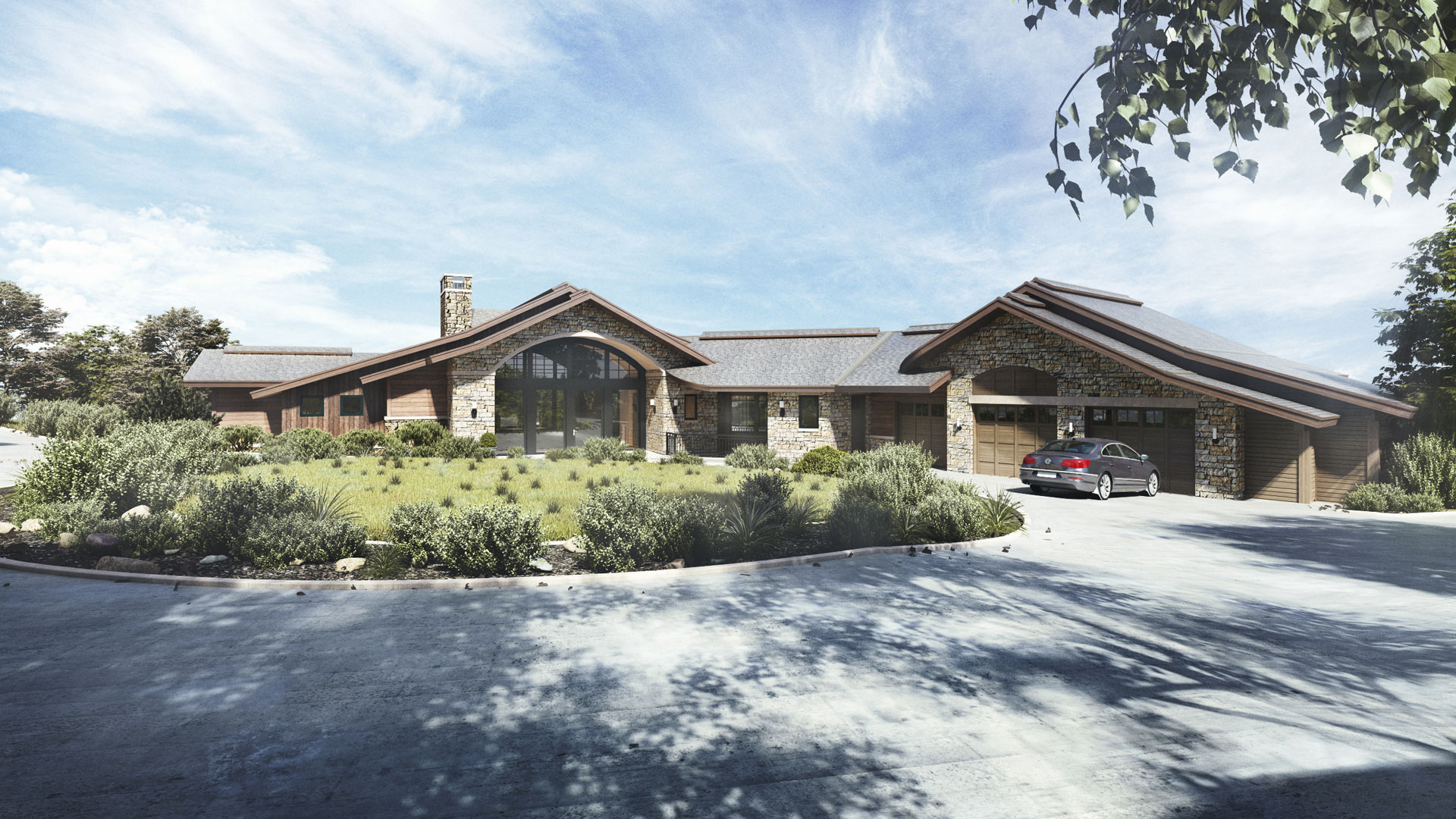 When the design is being developed, one might think that there's nothing to show about the project. Yet it's not true. An Architecture Specialist can share photoreal 3D renders or animations for the design versions that were or weren't approved by the client. This way, social media subscribers will see that the Architect is hard at work and always active — and therefore is sought after. How does one get such a popular firm to work on their dwelling? Better to book architecture services in advance.
Make sure your exterior design project takes your clients' breath away
#3. Photoreal 3D Visuals Help Attract the Target Audience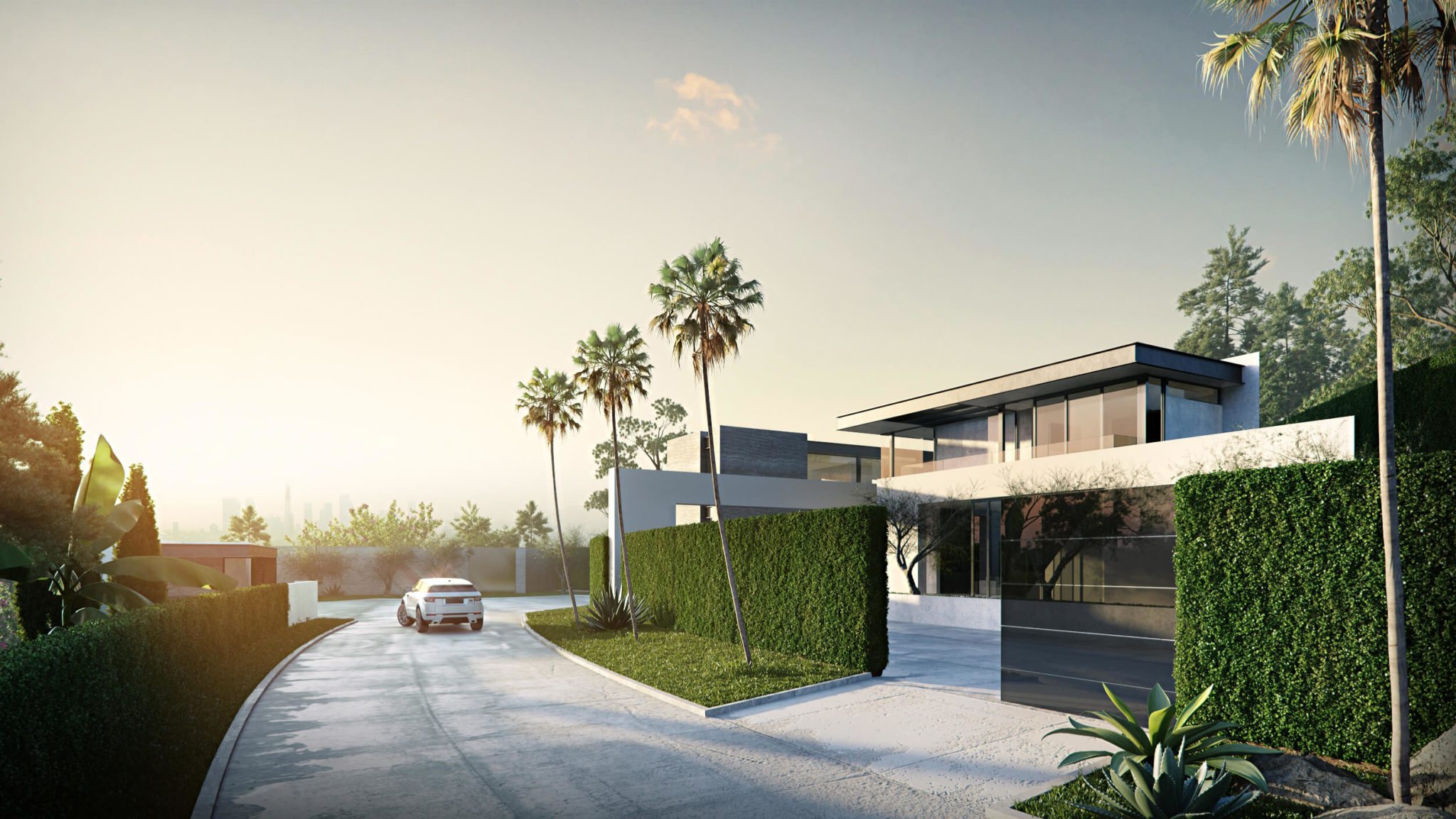 Even if an architecture bureau doesn't focus on one niche, there's always that perfect type of client it wants to attract the most. For instance, the company would like to concentrate on developing luxury villas. To get such orders, it's vital to position the bureau as the best expert in this sphere. One of the ways to do that is to share a lot of visual content demonstrating the level of skill and creativity the firm's team brings to villas' design.
And here we go again — most of these projects may be under NDA. Or, perhaps, there aren't enough of them just yet. Does it mean the architecture firm have to abandon the ambitions?
Not if it contacts a 3D rendering company. It will help the Architect bring to life unfinished, or long-distance projects, or the ones that weren't approved by clients.  Moreover, an architecture visual can show the concept in detail and with accuracy — showcase the whole villa at once, as well as highlight its particular parts, for example, with 3D interior and exterior renderings. This way, a 3D architecture visual will help the target clients understand that this company is exactly what they've been looking for.
#4. CG Rendering Helps Share Value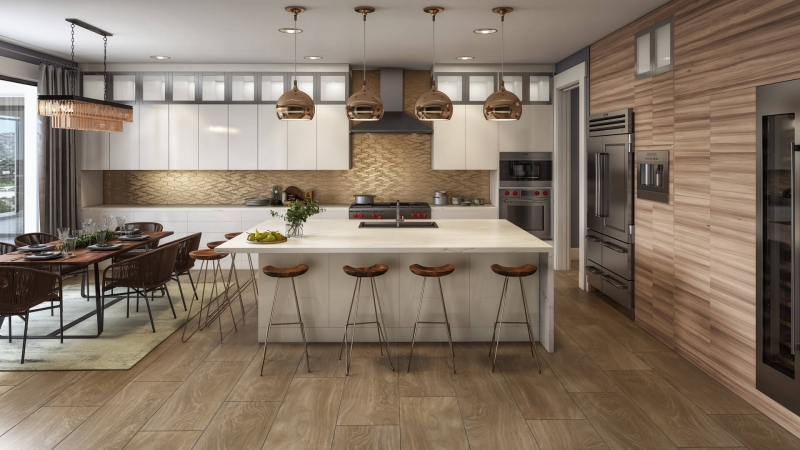 Photoreal 3D visual content gives an Architect unlimited creative freedom. For CGI can illustrate all tips and hints that the Professional wants to share on his social media pages. And these images will look 1000 times better than pictures from stocks.
For example, when giving advice on how to arrange storage systems in the house, one can back it up with a photoreal 3D architecture visual showing an example from his own project, which is still under construction. This will make excellent educational content, and exclusive too — which the audience will appreciate and look for more.
#5. Appealing 3D Visual Content Allow Engaging Followers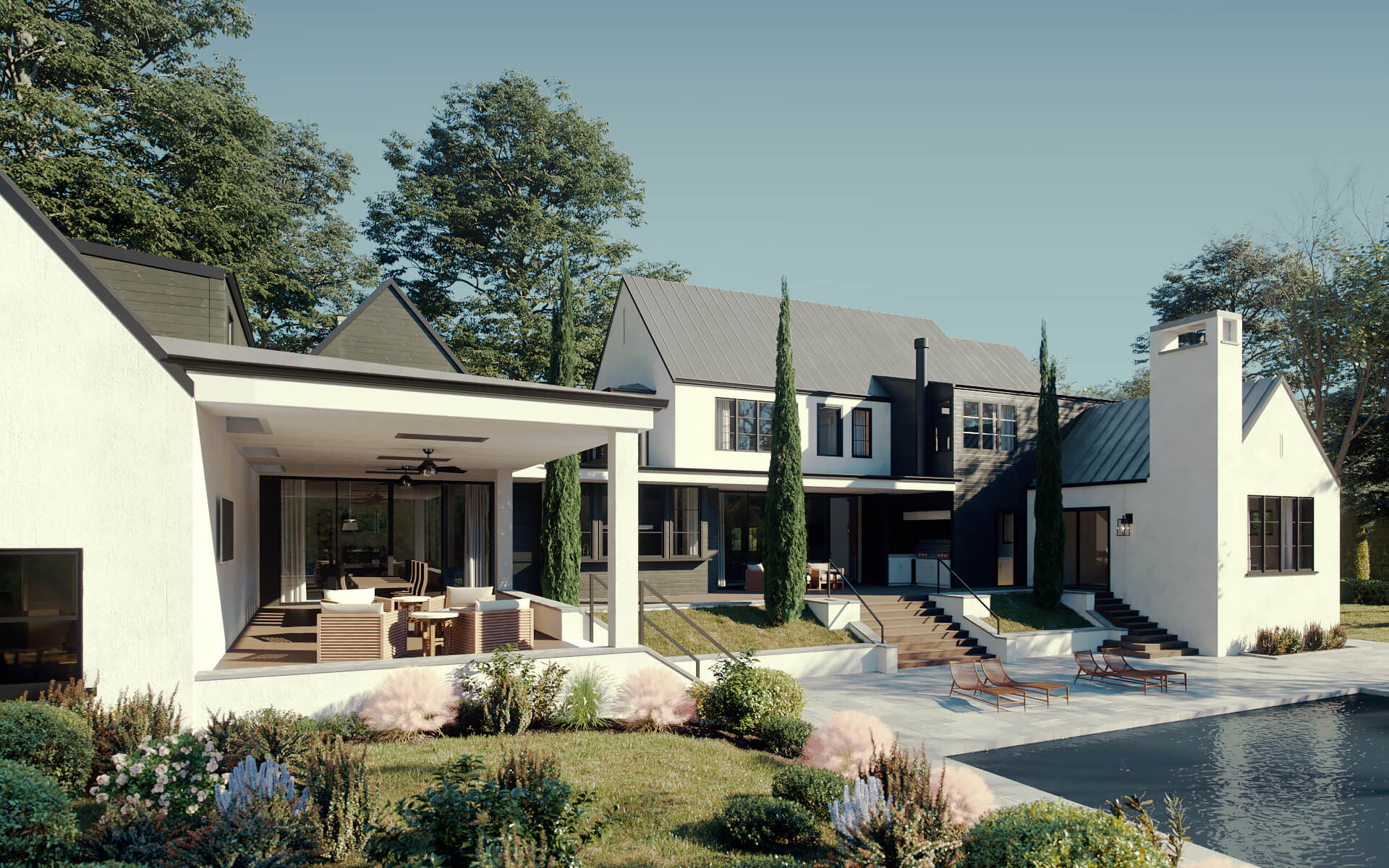 What does it take to get a lot of likes, shares, and comments on social media? For that, one needs to engage the reader, perhaps through quizzes, open questions, and tests. And 3D architecture rendering is the tool that allows getting as much visual content for such posts as needed.
For instance, 3D architectural visualization allows showing different variations of the same design. An Architect can post several pictures with diverse options for facade cladding and ask which one the followers like best. Or, he can show sneak peeks of a future project. For example, these might be renders demonstrating separate parts of a future villa: roof, terrace, pool in the yard. In a comment to these pictures, one can ask the followers if they want to see a fully-featured 3D animation showing the final result — and ask those who do to press "like".
3D architecture visual is a pure source of benefits for SMM campaigns. It helps show expertness, attract the target audience, illustrate educational posts and those from the edutainment sphere. This way, 3D visualization allows Architects to take as much profit from SMM as the specialists in other spheres do.
Present your architectural project like a piece of art with AI-powered CGI
Want to launch a powerful SMM campaign for your architecture firm? Contact us for professional 3D architectural rendering services to get plenty of powerful visuals!
---
Catherine Paul
Content Writer, Editor at ArchiCGI
Catherine is a content writer and editor. In her articles, she explains how CGI is transforming the world of architecture and design. Outside of office, she enjoys yoga, travelling, and watching horrors.