Luxury property brochure is a time-proven tool helping Realtors attract buyers. And it's only getting better at it, as now brochures can totally be used online, creating highly immersive experiences for the prospects. However, to create a leaflet with a wow-effect, the Realtor must have appealing photos of the property. Which is easy if a house is built. But what to do if the Realtor needs to presell real estate? All he has in such a case are the photos of a messy construction site and schematic blueprints — which cannot make for a glamorous luxury property brochure. So should the Realtor abandon the whole idea of using leaflets?
Definitely not. If the property is still under construction, the Realtor can opt for 3D architectural visualization services. With the help of CGI, it is possible to create a brochure showcasing the final result of the project and highlighting the benefits of a future property in photoreal quality. Such a luxury real estate leaflet can become a magnet for potential buyers even when the house is not built yet. Let's check out 5 ways to make it happen with CGI.
#1. Showing the Property Interior with 3D Rendering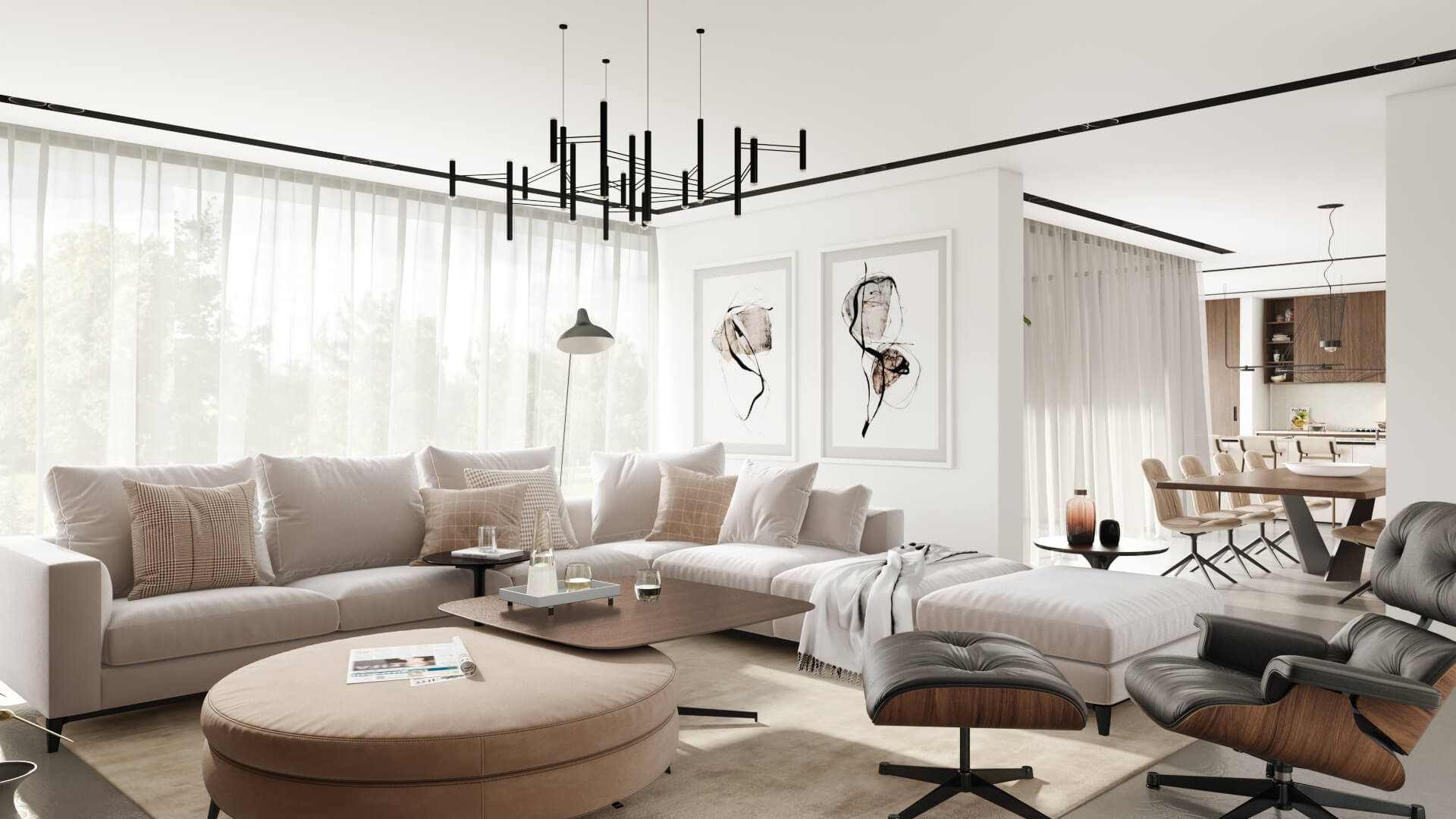 Professional 3D rendering can perfectly convey the interior design of a future luxury property. The resulting imagery will look like magazine pictures — strikingly realistic, stylish, curated. And detailed: for renders will showcase the space organization, furniture, textile, lighting fixtures, even decor. This way, a luxury property brochure can convey the atmosphere of the dwelling and the lifestyle of its inhabitants.
A picture above makes an excellent example. Bright daylight permeates the room, comfy seating and soft textiles invite the viewer to take a break. And who wouldn't want to chill there? Moreover, the image's so real the viewer will feel like he's just been to the place. Drinks on the coffee table, a folded magazine, and a nonchalantly thrown blanket suggest that people resting there have just left for a minute. Looking at such an image, the prospects will see their lives in the property, imagine themselves one of them.
And getting renders for a property brochure is even easier than photos. All a Realtor needs to do is to fill out the brief and send drawing to a 3D visualization studio!
#2. Showing Exterior Eye-level 3D Visualizations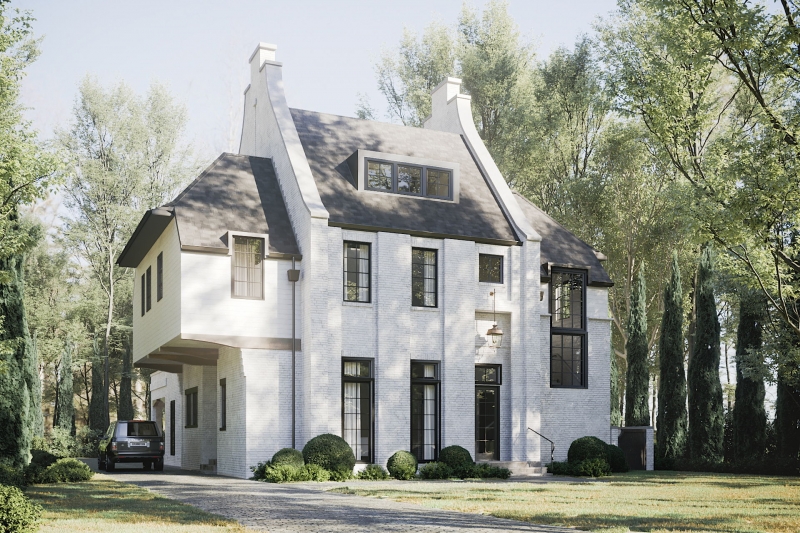 Exterior eye-level 3D visuals in a luxury property brochure help examine the outside part of the future dwelling thoroughly. The building in the render will look as realistic as in a photo, as well as the surroundings. This way, the prospect will see how gorgeous the house looks in the landscape.
Sure, a Realtor can use a photo of an unfinished facade. But will he get the wow-factor a luxury property requires? Will he capture the attention and make the buyer want to look at the next page? Hardly. With a 3D render, however, the brochure imagery will be as eye-catching as it is detailed. For a CGI company can recreate any light, any season and weather. Be it a cloudless summer day, a thunderstorm or a blizzard evening — or all of them, in different pictures. Whatever works for the mansion or apartment, a Realtor can get it for a luxury property brochure.
Make sure your exterior design project takes your clients' breath away
#3. Displaying the Layout with 3D Floor Plans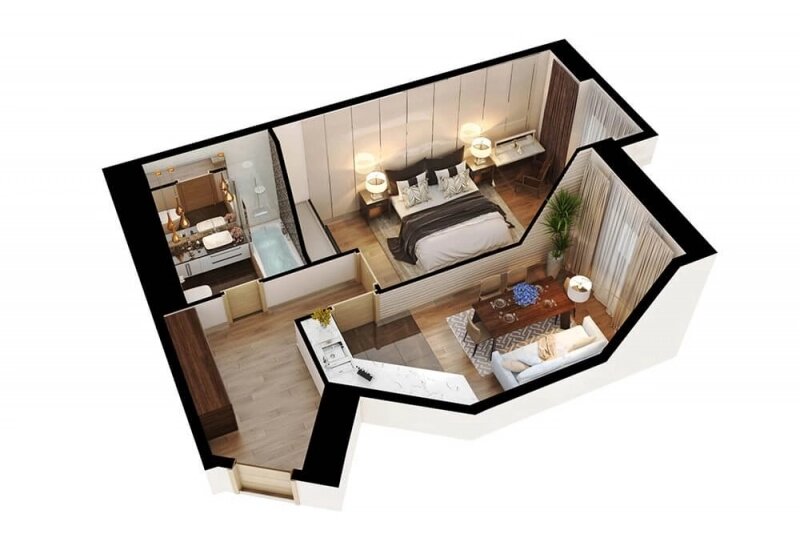 A 3D floor plan is a photorealistic rendering of a bird's eye view of a property shown in section. It shows buyers the placement of objects, height, geometry, and proportions of the future dwelling, as well as furniture, materials, and textiles. A perfect addition to luxury real estate imagery! This is the closest a print collateral material can get to a virtual tour. Moreover, unlike the usual floor plan, a professional 3D floor plan looks as glamorous as a professional photo, which adds value to it as marketing material for a luxury property brochure.
#4. Using Aerial 3D Views to Show the Neighborhood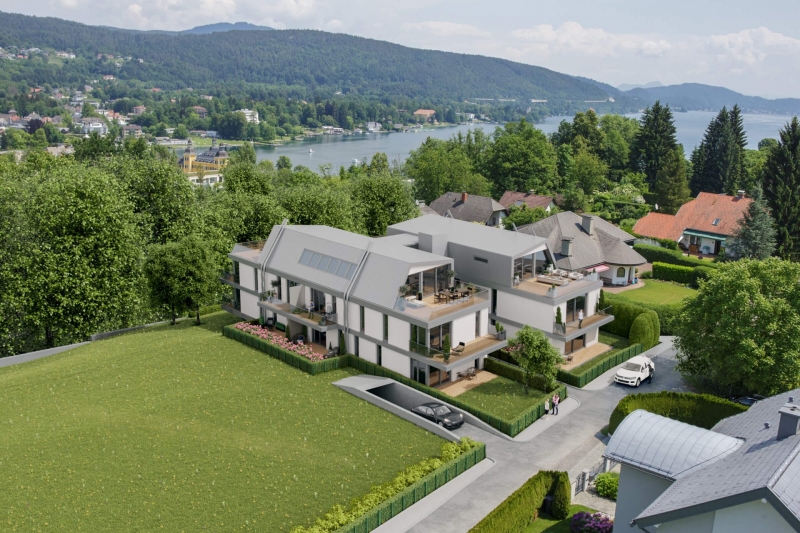 Potential buyers clients are interested not only in the house itself but also in what its neighborhood has to offer. Is there everything needed for a comfortable life? A park to walk with the kids, a good restaurant to have dinner with a partner, a premium fitness center?
So to be a really effective tool in terms of luxury real estate marketing, a property brochure design should answer all these questions. And not only with text — better to prove the offer benefits with imagery. So to show off the unique views surrounding the property, 3D visualizations with aerial views of the property will be perfect.
Photoreal 3D aerial visualization allows seeing the object and surrounding territory from high above. This way, it enables to get a clear understanding of what comforts are available around the future home.
#5. Adding QR-codes as a Door to Virtual Reality
QR codes on the pages of a luxury property brochure can be scanned by a smartphone so that users can get access to information online. For instance, using a QR code, a viewer can open the digital brochure of Realtor or Developer and get more details about the listings.
What is more, a QR code can give access to a 360-degree panoramic view or even a virtual tour through the property. In such a 3D excursion, the viewers will be able to walk around the property by zooming a particular area with a touchscreen. This way, with the help of QR codes, a luxury property leaflet marries the classic charm of printed media with innovative 3D technology.
Sounds fantastic, does it not? The use of CGI for a luxury property brochure allows potential clients to examine each and every aspect of both the interior and the exterior of a property, whether it is completed or not. It gives a clear understanding of the surroundings of the future dwelling and the neighborhood in which it will be built. 3D rendering even allows a prospect to take a virtual excursion through the property with the use of QR codes. This way, bringing CGI into a real estate leaflet ensures that the latter becomes a lead-magnet.
Want your luxury property brochure design work as a customer magnet? Contact us for 3D visualization services and get high-end imagery that will make your offer stand out in the fierce competition of the real estate market!
---
Emma Collins
Senior Email Marketer at ArchiCGI
Emma could have become an actress. Yet she chose a career in marketing - which we think is awesome! So Emma helps businesses connect with us and writes some powerful marketing copy.