Exterior renderings are an effective option to present architectural projects to clients as accurately and clear as possible. Moreover, they are a perfect choice for marketing visual materials thanks to their photorealism and high quality.
Let's imagine an Architect wants to get images that precisely recreate his ideas and help to present them. He wants exterior renderings to include a stylish facade of a villa which fits perfectly in a tropical landscape. Another idea of his is to put a terrace in front of the building and show the tenants relaxing on a lounge chair or in a pool. Moreover, he wants to show his clients not only a sunny daylight scene but also the evening scenario of exterior lighting in order to highlight all benefits of a project. But how can the Architect explain the picture in his mind to 3D Artists? Where does he start and what can help him to convey the concept for an ideal architectural rendering? We will give tips on how to do it and what references to use for the best result.
Primary References
#1. Architectural Drawings
The accurate conveying of architectural ideas depends on drawings of a project. Among all drafting types, site plan is the most basic for exterior renderings. Thanks to this drawing, 3D Artists are able to understand surroundings and create an environment for renderings, be it urban area, countryside or tropical zone. It also allows to recreate architectural ensemble around the main exterior. A site plan is more than enough for making renderings for presentations or marketing campaigns. However, working with contractors requires other types of drawings.
The preparation for the construction process sometimes includes photorealistic exterior renderings as a reference to the finished result. Builders, engineers and finishing workers need more detailed 3D visualization, so references must be more precise as well. In this case, Architects should send floor plans, elevation, cross-section and other construction drawings. Such drafts are recommended to send in CAD or any other format that opens in 2D drawing software, where 3D Artists can explore all the details.
#2. Mood and Lighting Reference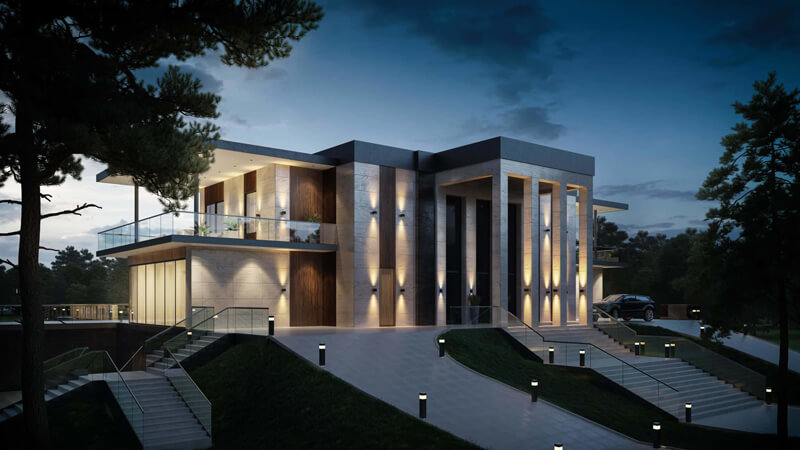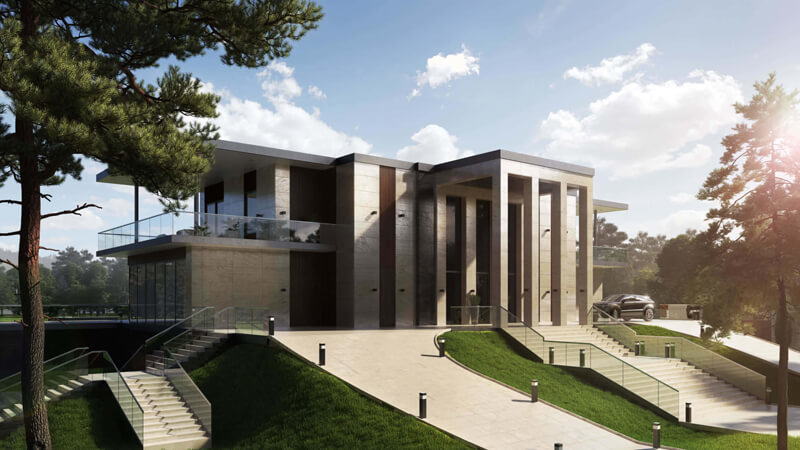 The most essential element of exterior renderings is the mood that influences how the project is presented. Lighting for 3D rendering is the most important factor for creating an ambiance and evoking emotions in viewers. That's why Architects should indicate in the brief whether they want the sky cloudless or overcast. If the idea is to demonstrate their work in detail, bright sunlight works better, while for showcasing artificial backlight the night option is a must.
Moreover, it makes sense to send reference images with examples of composition or color schemes. For this, Architects can send one reference picture to show the camera view, one for twilight lighting scenarios, and one more to convey artificial street lights to add and so on. All files are recommended to send in formats such as JPEG, TIFF, GIF, BMP, PNG, SVG.
Secondary References
#3. Architectural Sketches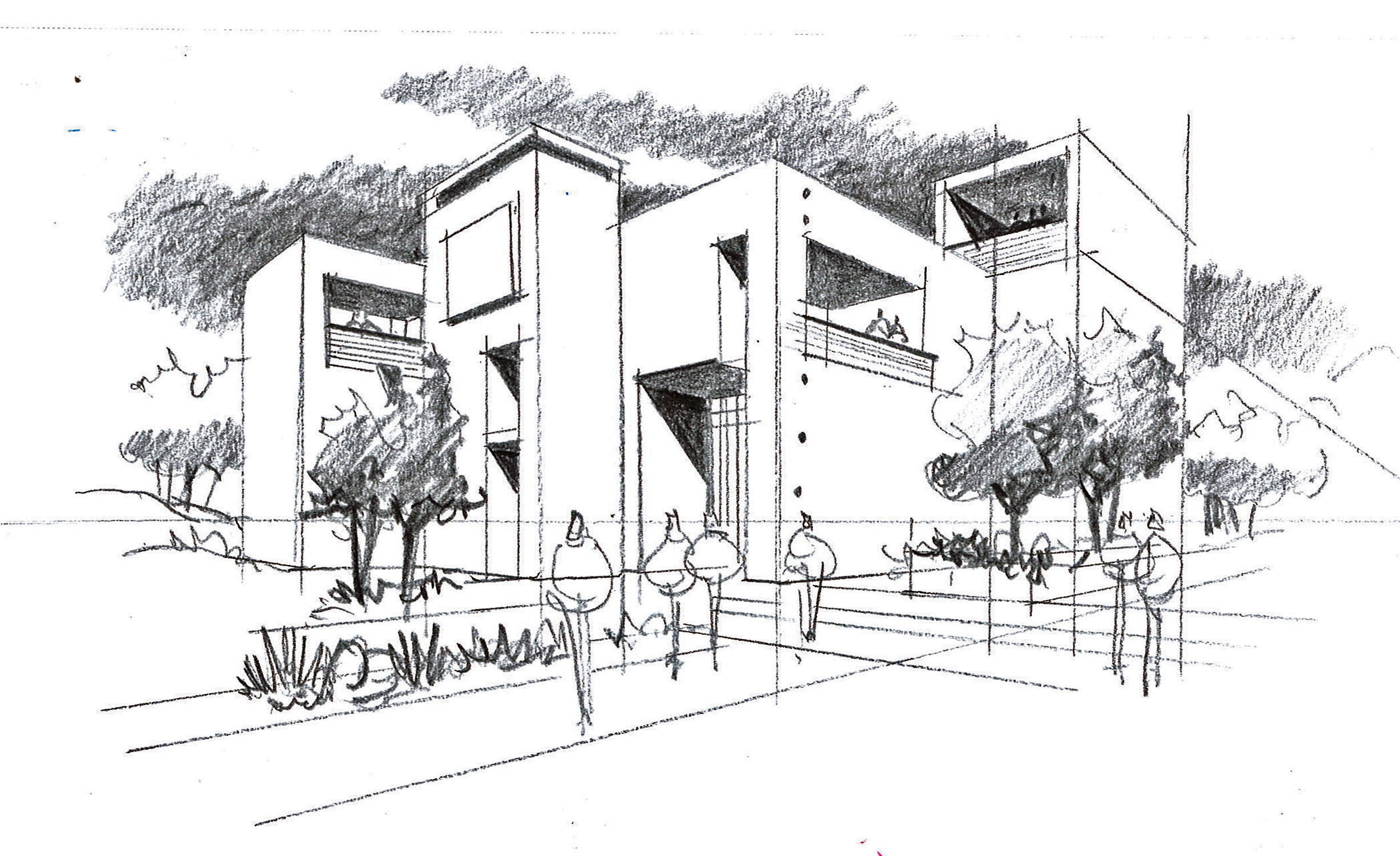 hen an Architect wants to see rough outlines of a project at the early stages, or show clients first developments for approving, he doesn't need detailed 3D visualization as his work is only in progress. For this purpose, architectural sketches will be enough for exterior renderings. On top of that, 3D Artists always can add small details here and there during the process or even insert design elements at their discretion. It's still a convenient option to see what architectural solutions work and what better to change before the construction.
#4. Revit 3D Models and BIM Constructions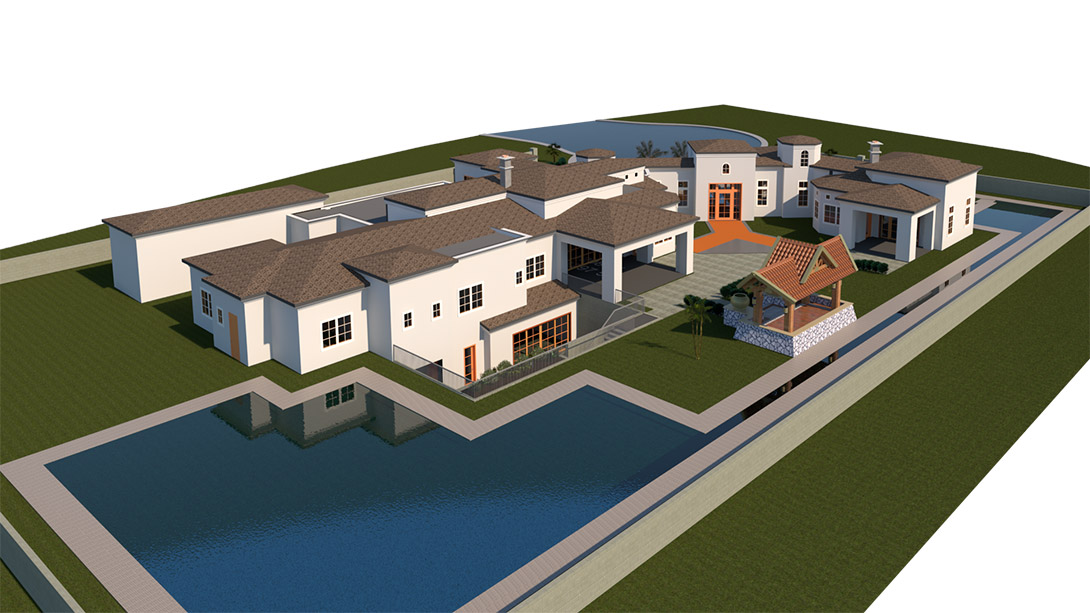 It's quite a common situation when an Architect chooses CAD drawings and 3D modeling for designing a project, but wants photorealistic architectural visualization for presentations and marketing. Hence, if the technical part of the project is already finished, CAD models also can be used for getting accurate and detailed exterior renderings. So one shouldn't hesitate to send files of BIM constructions, separate BIM objects, rough 3D models or even samples of BIM elements from Revit families websites. All of them will be a good base for recreating a project in realistic cgi. The most common formats of 3D modeling references are stl, 3ds, max, obj.
#5. Textures and Materials Samples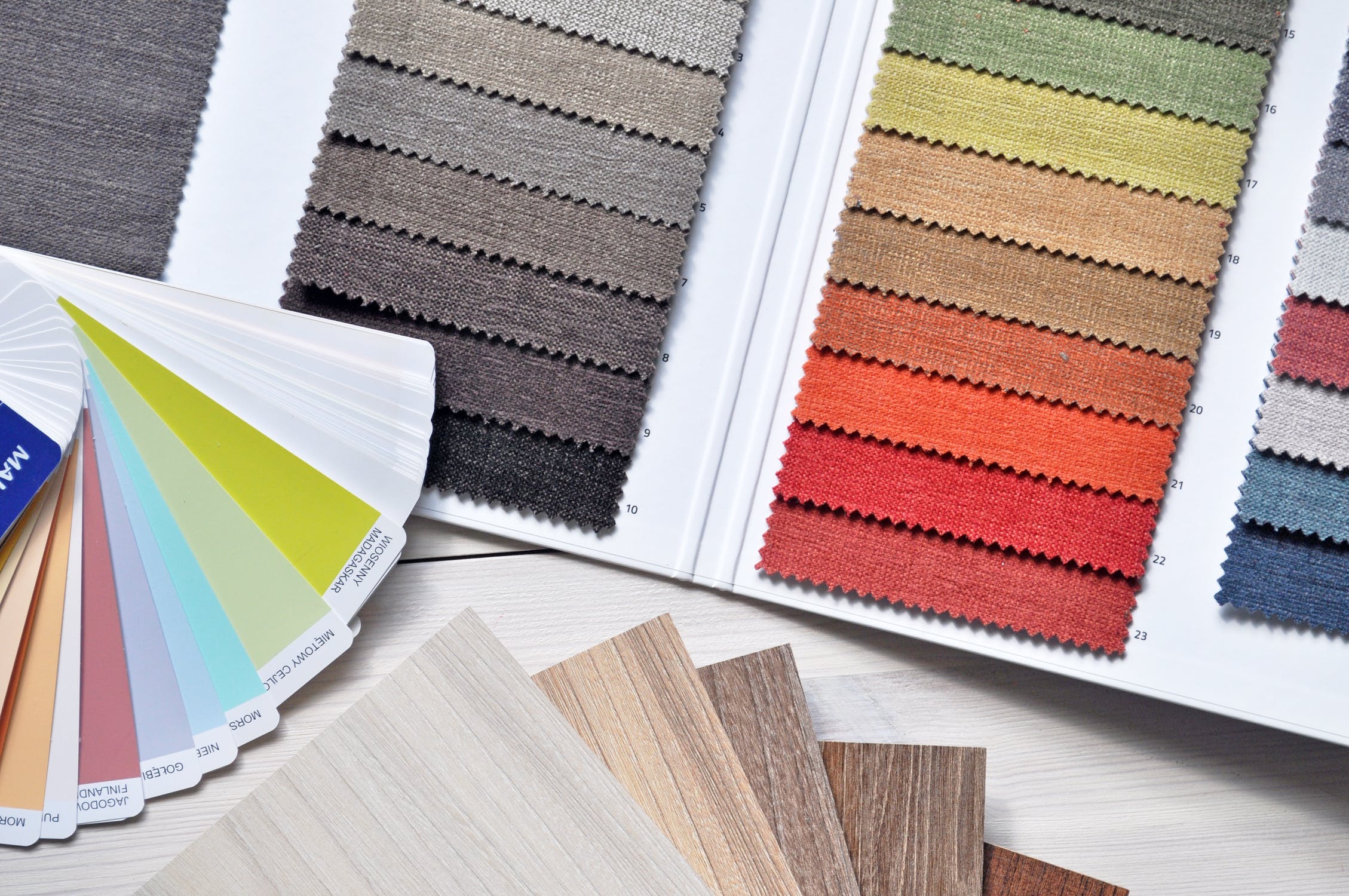 For the most realistic exterior renderings, Architects often send specific samples of the materials they will use in construction. Such samples can be send either by means of images or by regular links to websites with the chosen options. The same goes for color or pattern samples, as well as finishing variants. It is important to note that the quality of references should be good enough for 3D Artists to recreate all little intricate texture details.
Get your project estimated in just 1 hour - fill out this brief!
By providing these types of references, Architects get perfect exterior renderings that present their ideas and meet all requirements. High-quality 3D visualization is an effective tool for project presentations precisely because of how vividly it showcases an exterior's benefits and features. On top of that, after the construction process is done and clients are satisfied with the result, Architects can use the same exterior renderings for portfolios or professional accounts on social media for promoting their skills and demonstrating successful cases.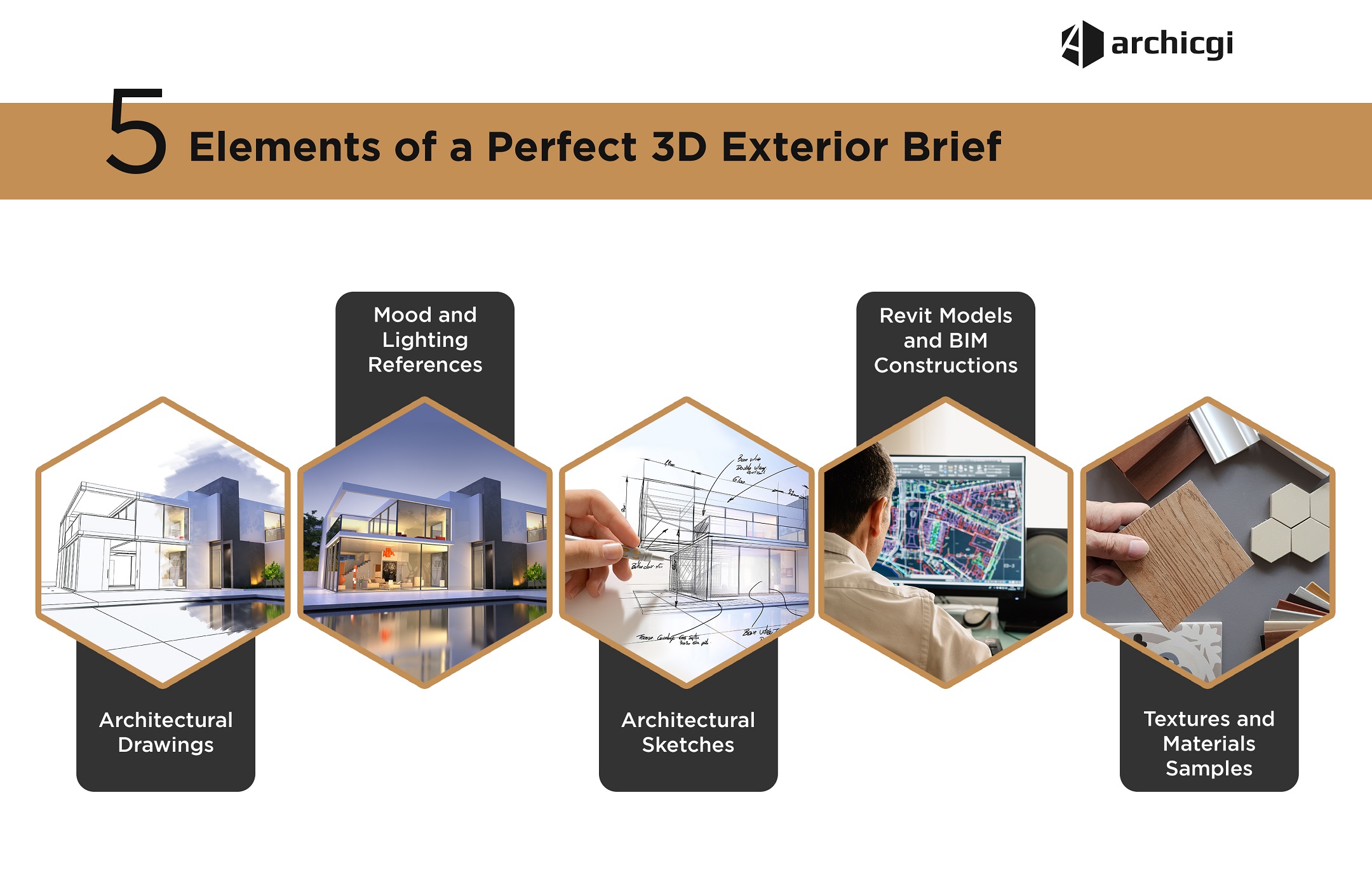 Want to impress your clients with stunning visual materials? Use our architectural rendering services and get high-quality, detailed and photorealistic exterior renders for your architectural project.
---
Keith Gardner
Senior Project Manager
Keith is a seasoned scrum master who can turn even a team of complete strangers into a well-oiled machine. Outside of work, he is the king of social games and a caring dad for a ferret Tyra.