3D residential design services help architects and designers easily prevent problems during remodeling projects. Which is a great relief for both architecture professionals and homeowners. That is because this type of project brings serious changes to house design and doesn't forgive mistakes. Works can include anything from adding a kitchen island or a partition cabinet to breaking down walls and building new ones to completely remake the structure of a building. Such drastic amendments are complicated and costly. Therefore, they'd better be done with no mistakes from the very start. But how to guarantee that?
3D residential design services are the right tool for the job. Read up and find out why 3D architectural visualization is a game-changer when it comes to a home remodeling!
#1. CG renderings show the result of major structural changes to the layout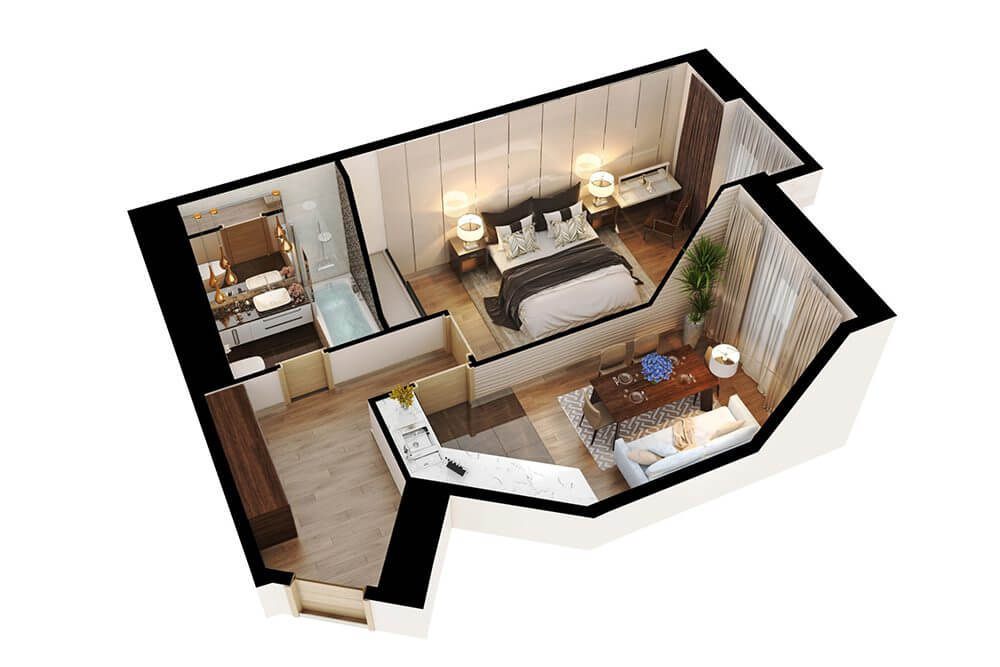 When remodeling a house, owners have to make serious decisions about its new design. For example, they might want to tear out a wall between two rooms to unite them into a modern open space studio. Or, they may decide to reconfigure their kitchen and rearrange the sink, fridge, and cabinets. In such cases, the dwelling owners have to be absolutely sure about their decisions. Otherwise, they'll need to have complicated construction works redone or put up with unsatisfying results. 
To avoid that, house owners need to precisely envision how the new design of their home will look. However, it's not that easy to imagine their dwelling with a completely new layout. And schematic drawings can't help do it. These materials can give a general idea but not paint a clear picture of the expected outcome.
That's where 3D residential design services save the day. CGI can show the new look of property in great detail and photoreal quality. The best way to showcase an updated layout is by ordering a 3D floor plan. This type of residential 3D visualization shows a layout from above in section. This way, every aspect of a new design becomes crystal clear for the viewers. Therefore, with CGI, house owners can be sure that the final result of the project will perfectly fit their expectations.
#2. CG residential design services allow for visualizing updated exteriors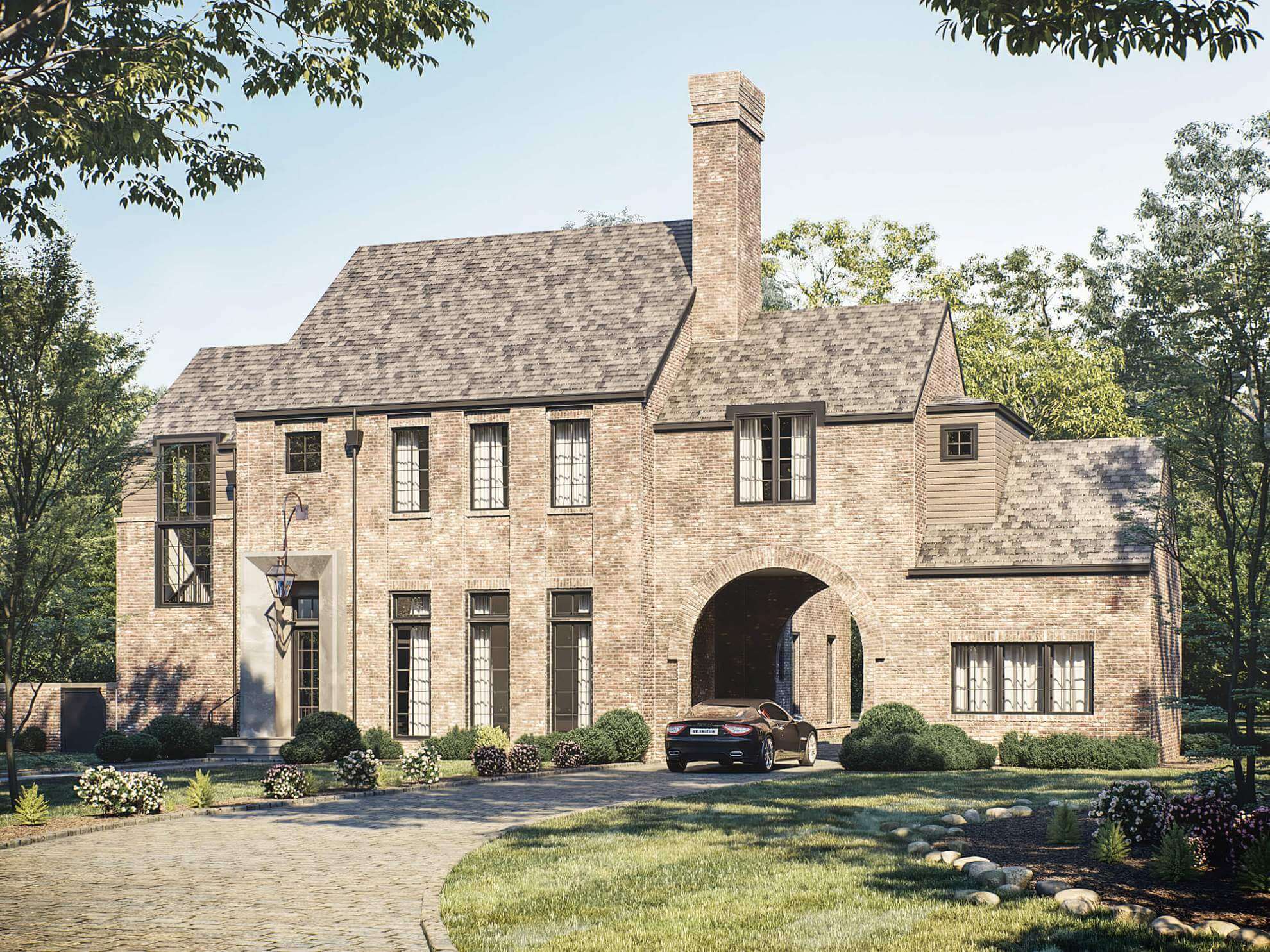 Remodel works can include serious changes to the roof, facade, outer walls, windows, doors, or other exterior parts of the building. For example, an architect's client might want to construct an addition to their residence, add a porch, or enlarge the entryway. Which requires much work. For instance, in the last case, it'll probably be needed to widen the front steps and the doorframe. 
It would be quite risky to go for such adjustments merely imagining the results. That's where 3D residential design services can help. A 3D artist is able to create photorealistic renders showing a building's exterior with new solutions applied. So, the homeowners will understand for sure if they like it or not. 
Make sure your exterior design project takes your clients' breath away
#3. CGI showcases new utilities, appliances, and their functionality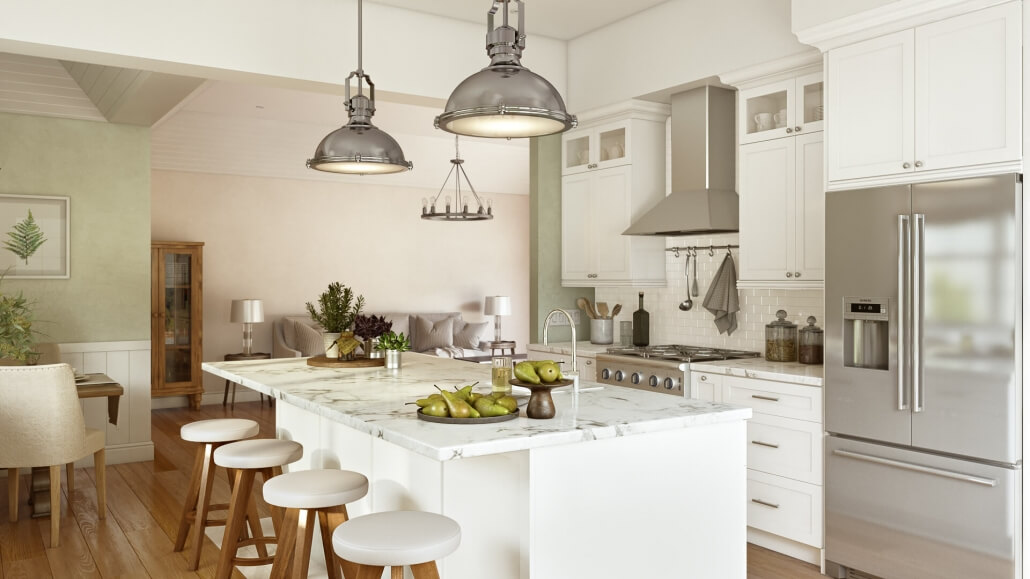 Remodeling works often imply the installation of new home appliances. Property owners may want to get a new heating and air conditioning system, equip their laundry with a modern washer and dryer, install a new range hood, cooker, and fridge in a kitchen, etc. Or, they may even wish to have a smart house system installed, such as Wink Hub 2 or Amazon Alexa. Hence the need for repositioning the utilities to fit the new plan. In this case, works can include rewiring the entire building, updating the electrical panel, and maybe even moving water and gas pipes. 
Before agreeing to make such changes to a home, a client will surely want to see how everything will look and work. Which will be easy to do if a designer opts for 3D residential design services. 3D artists can visualize an interior with all new devices connected to updated utilities in photorealistic quality. Furthermore, the specialists of a 3D residential visualization services firm can create a CG animation that demonstrates those appliances in action. This way, a homeowner will get a comprehensive understanding of the outcome of the work.
#4. CG visualization shows the final result with all finishing touches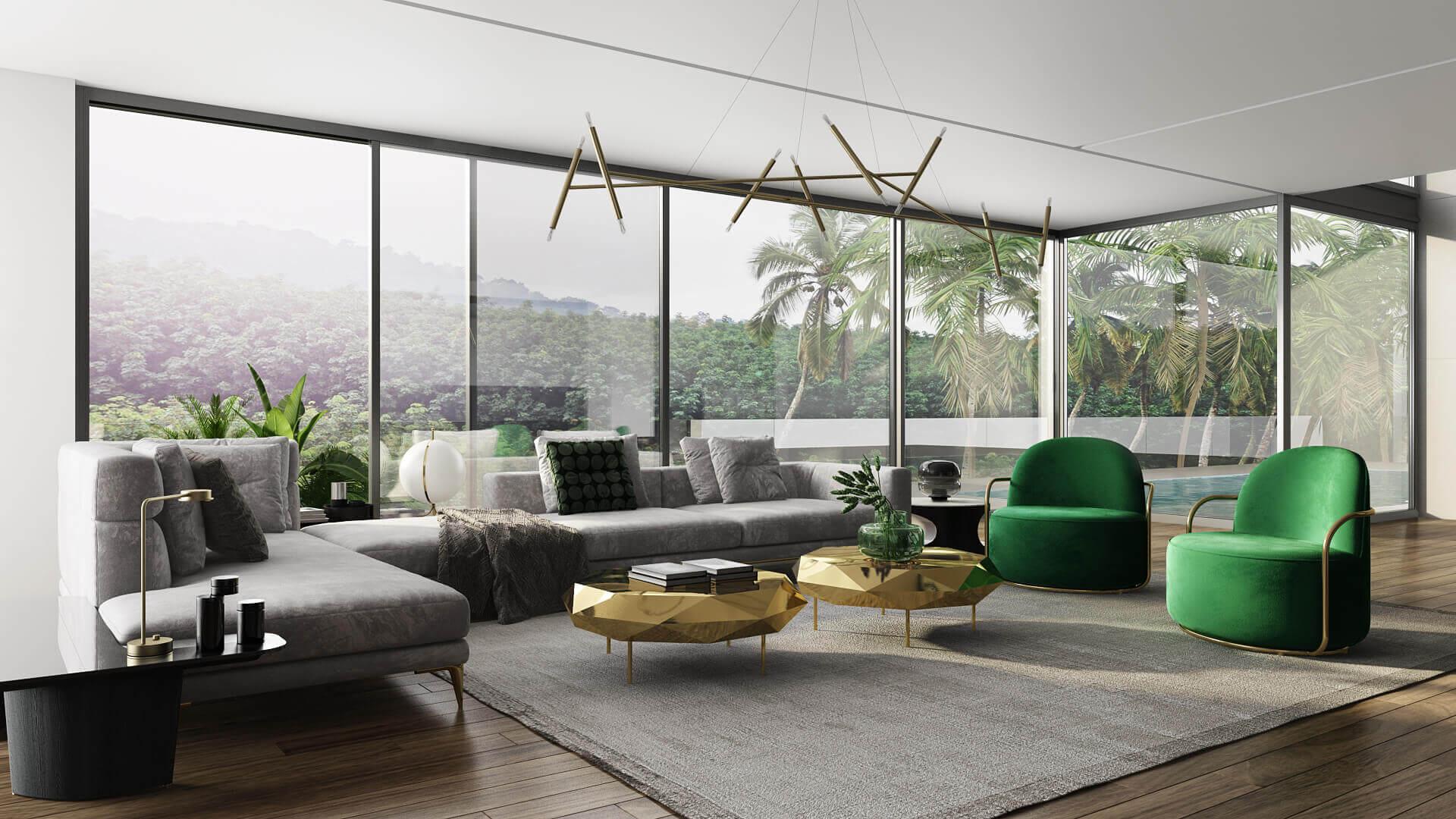 Understanding the major structural changes to the design is vital. But they are not everything that makes up the result of a remodel project. Finishing touches matter as well: touch-ups to painted surfaces, customized backsplashes, elegant light fixtures, door and window trim, decor elements, and other details provide a space with a special atmosphere and mood. And it is essential to convey it to the homeowner. 
With 3D house design service, a designer can do it with ease. Professionals CGI studios have large databases of 3D assets to visualize an interior in any style. So, with 3D rendering, a property owner will be able to see that their dwelling is going to be not only comfortable and functional but also beautiful and cozy. Which will make them more confident about the results of works. 
Another benefit of 3D residential design services is that CG renders can serve as a ready shopping list for house owners. 3D models used in CGI can represent real goods available on the market. So, there will be no need for homeowners to go to stores looking for suitable materials, furniture, fixtures, and decor. If they like items in the imagery, they can just get to know which brands are represented on the CG renderings and order them. This helps greatly in planning a budget.
#5. CG residential design services help avoid costly mistakes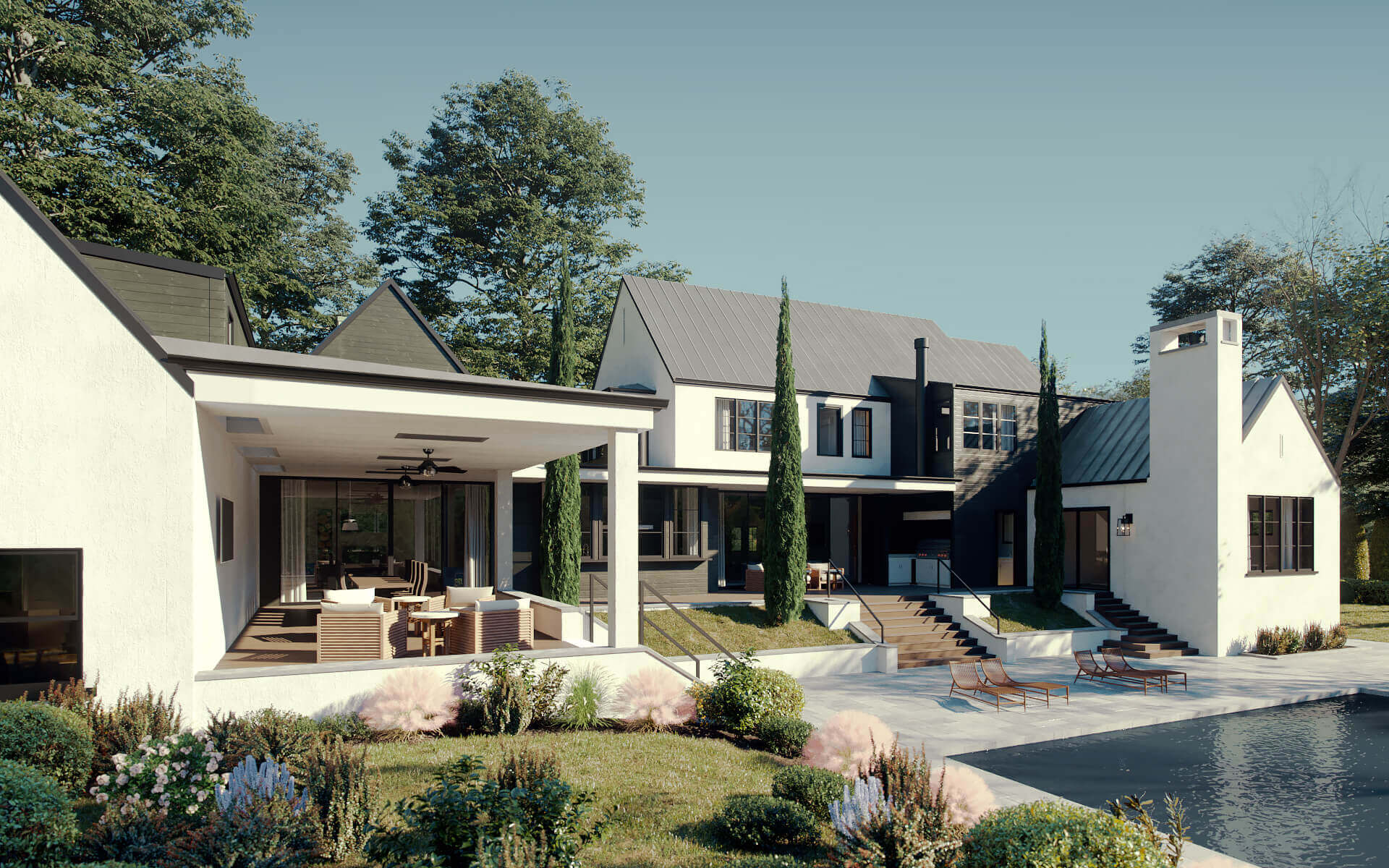 A home remodel is a costly type of project itself, and so are the mistakes made during the process. One error in calculations might mean a lot of wasted materials, time, and money. Let's say it turns out that there are not enough sockets in the kitchen or a new pantry is too small. The responsibility for these errors will fall on a designer's shoulders. So, they'll probably have to remake the works and cover the expenses on their own. 
But with 3D residential design services, this won't happen. CGI precisely reflects all the calculations so all mistakes will be easily noticeable in photorealistic imagery. Therefore, the author of the design will be able to fix them before the construction starts. Which is a hundred times easier and cheaper than remaking finished works.
3D residential design services help to avoid major troubles that might occur during home remodeling projects. CGI renders demonstrate changes to the layout in detail, showcase updated exterior, display looks and functionality of new appliances. Also, they show the future design with all finishing touches and prevent costly mistakes.
Get your project estimated in just 1 hour - fill out this brief!
Want to deal with home remodeling projects easily and exceed your clients' expectations? Contact us for architectural rendering services and get perfect CG visuals to do just that!
---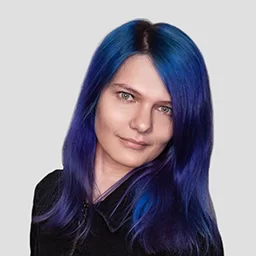 Catherine Paul
Content Writer, Editor at ArchiCGI
Catherine is a content writer and editor. In her articles, she explains how CGI is transforming the world of architecture and design. Outside of office, she enjoys yoga, travelling, and watching horrors.