Architecture is a powerful and constantly evolving art. To become a high-class architect, one must not only work hard but also keep up with the latest trends in the industry. And what is a better way to do it if not by reading the most prominent architecture magazines? These journals are a treasure trove for both newbies in the world of architectural design and well-established specialists. With the help of magazines, architecture experts can keep up with all the news and innovations related to their profession. In these journals, they can read about breathtaking projects and get to know stories behind their creation. They can also check out peer reviews, professional event announcements, and up-to-date information about new technologies and regulations. And, of course, readers can take a look at stunning images that transcend words. 
Not only architecture experts but also their potential clients and investors enjoy perusing magazines about architectural design. They might look through the pages in search of ideas and wizards that can bring those ideas to life. This is why getting published in industry journals can drive architects' career growth. Also, it can help to establish a reputation, stand out among the competition, and assists in building a brand.
Being an architectural visualization company, we cooperate closely with architects. That is why we know for sure what digital publications are worth their attention. So, here is our selection of 7 best architecture magazines to check out!
#1. Dezeen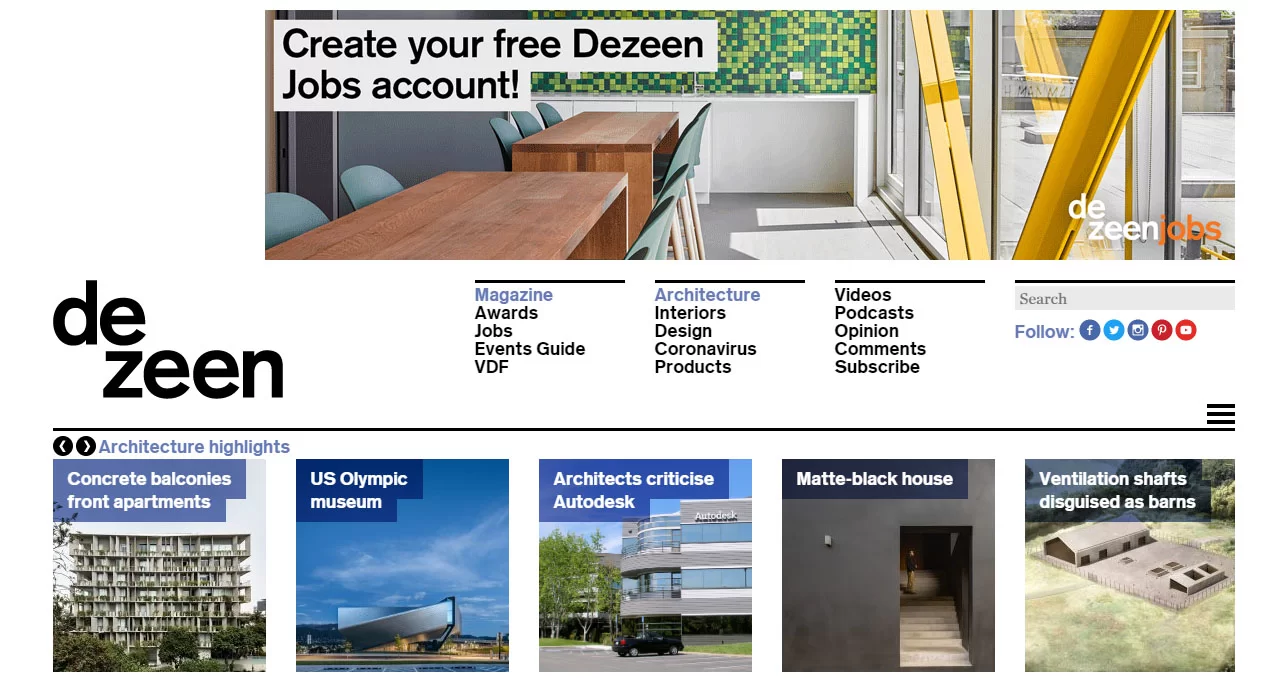 Website: https://www.dezeen.com/architecture/ 
This is one of the most popular British magazines. It was established in 2006 by Marcus Fairs, a 3D design graduate and an award-winning journalist. Dezeen has a continuously growing audience that has reached the mark of 3 million visitors per month in 2019. It provides insights, interviews, articles, and news of the industry. Besides, it runs one of the most vibrant architectural job boards of the Internet —  Dezeen Jobs. Here, architecture professionals can find the most outstanding work opportunities. 
There is always something new to read in Dezeen since the magazine gets updated with new articles daily. It is a completely online publication. But its editorial team, along with Blurb self-publishing platform, has created one of the best print-on-demand magazines called Print Shift. It explores the topic of 3D printing and the impact of this technology on the architectural industry.
#2. ArchiPro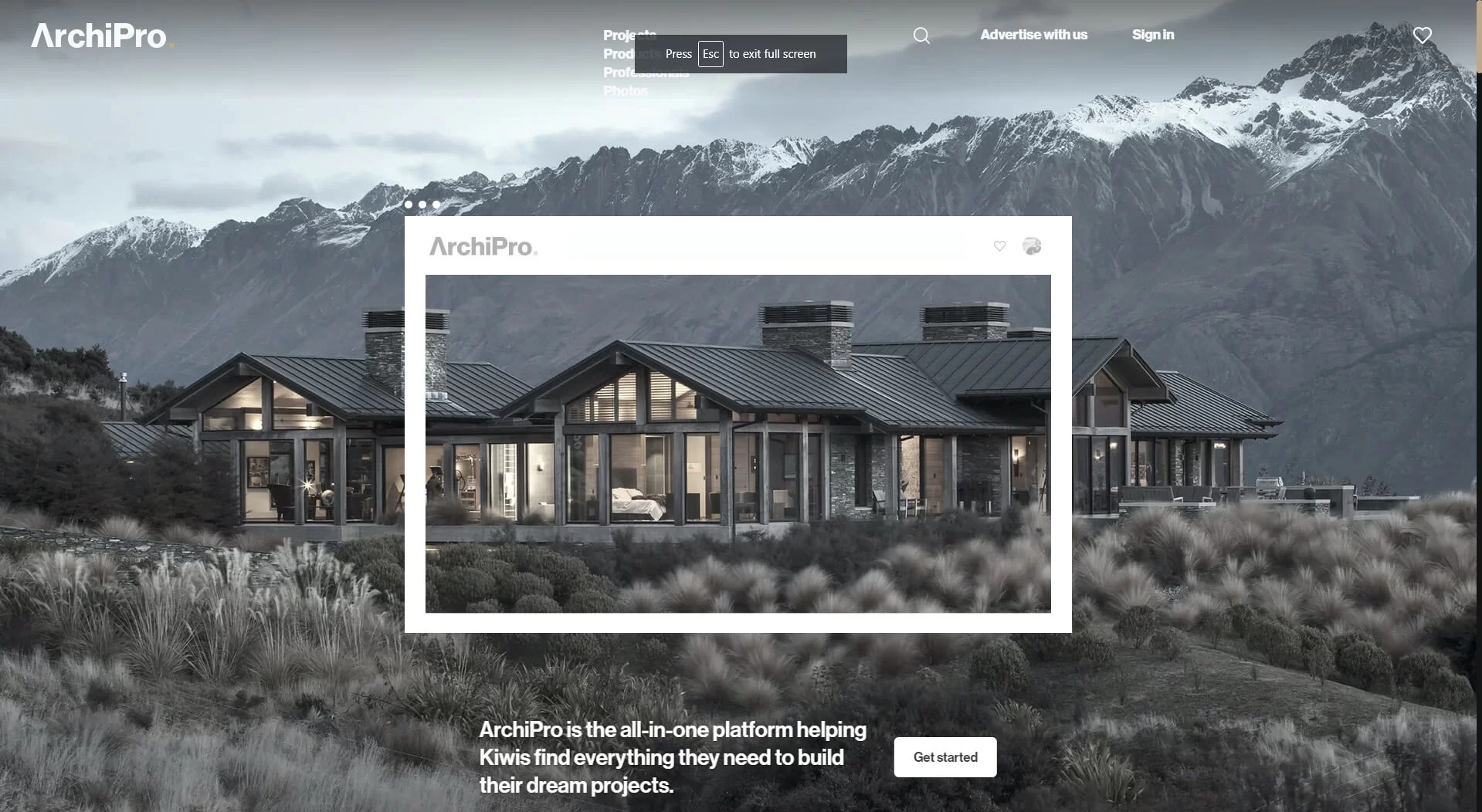 Website: https://archipro.co.nz 
ArchiPro is the number 2 in our list of the best architecture magazines. It was established in 2014 by a power couple of entrepreneurs — Milot Zeqiri and Brittany Gribben. Their mission was to help improve construction in Australia and to encourage the usage of quality building supplies. The web journal has been rapidly growing in popularity and now has around 170,000 registered readers and over 2 million users. The content on the pages of this magazine can serve as a source of new ideas and inspiration.
The site consists of five main sections: projects, products, professionals, photos, and articles. After opening the Projects section, a user can choose the desired category to find any building type. It can be commercial, residential, sport and recreation, educational, and others. In the Products section, one can find the best construction materials. On ArchiPro, registered users can save everything that they like to their design boards. Also, the magazine offers paid memberships for specialists. Getting one allows them to showcase their work on the website, which can assist in finding new clients.
#3. ArchDaily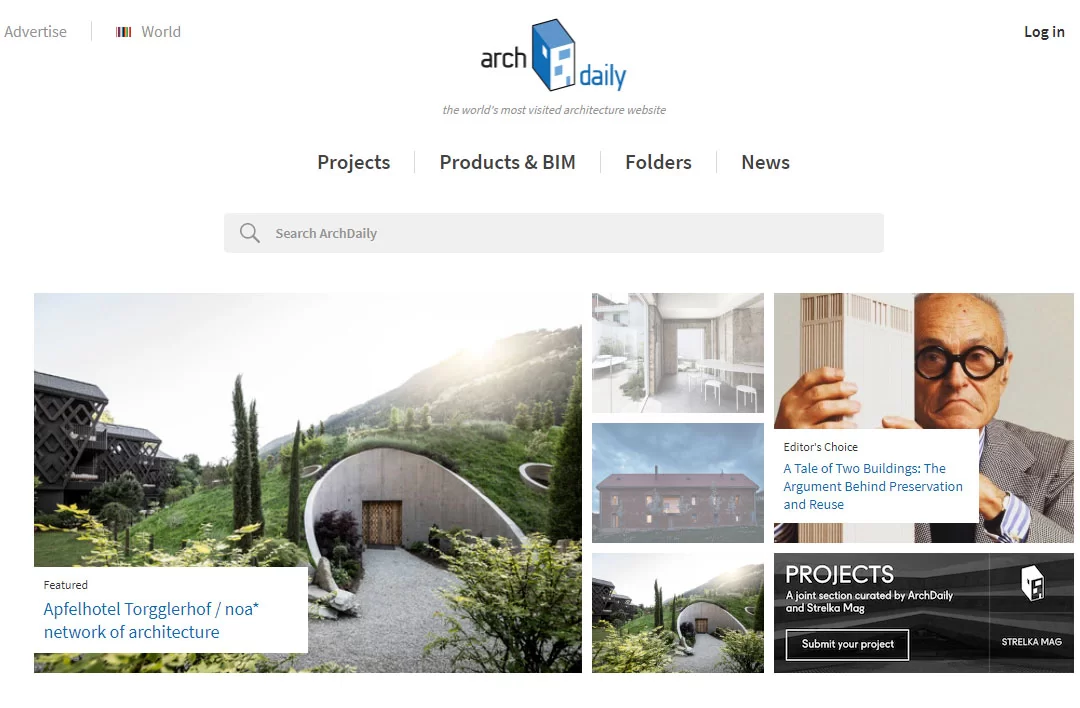 Website: https://www.archdaily.com
ArchDaily was founded in 2008 by two talented entrepreneurs — David Basulto and David Assael. They aimed to create a platform for sharing trends, projects, and experience in the field of architecture. Its popularity grew at an insane rate, and now it is visited by over 13,6 million readers every month. The website has a database of architectural projects from all over the world. 
There is no print version of this magazine. But thanks to the Internet, the website is available in over 230 countries and regions. In the different sections of ArchDaily, one can find impressive architectural designs, recent news, articles on popular topics, interviews with professionals, and much more. It is a great source of inspiration for architects. Here, one can find outstanding examples of any kind of architecture, be it educational, industrial, religious designs, etc.
How can 3D rendering bring a public building concept to life?
#4. Architizer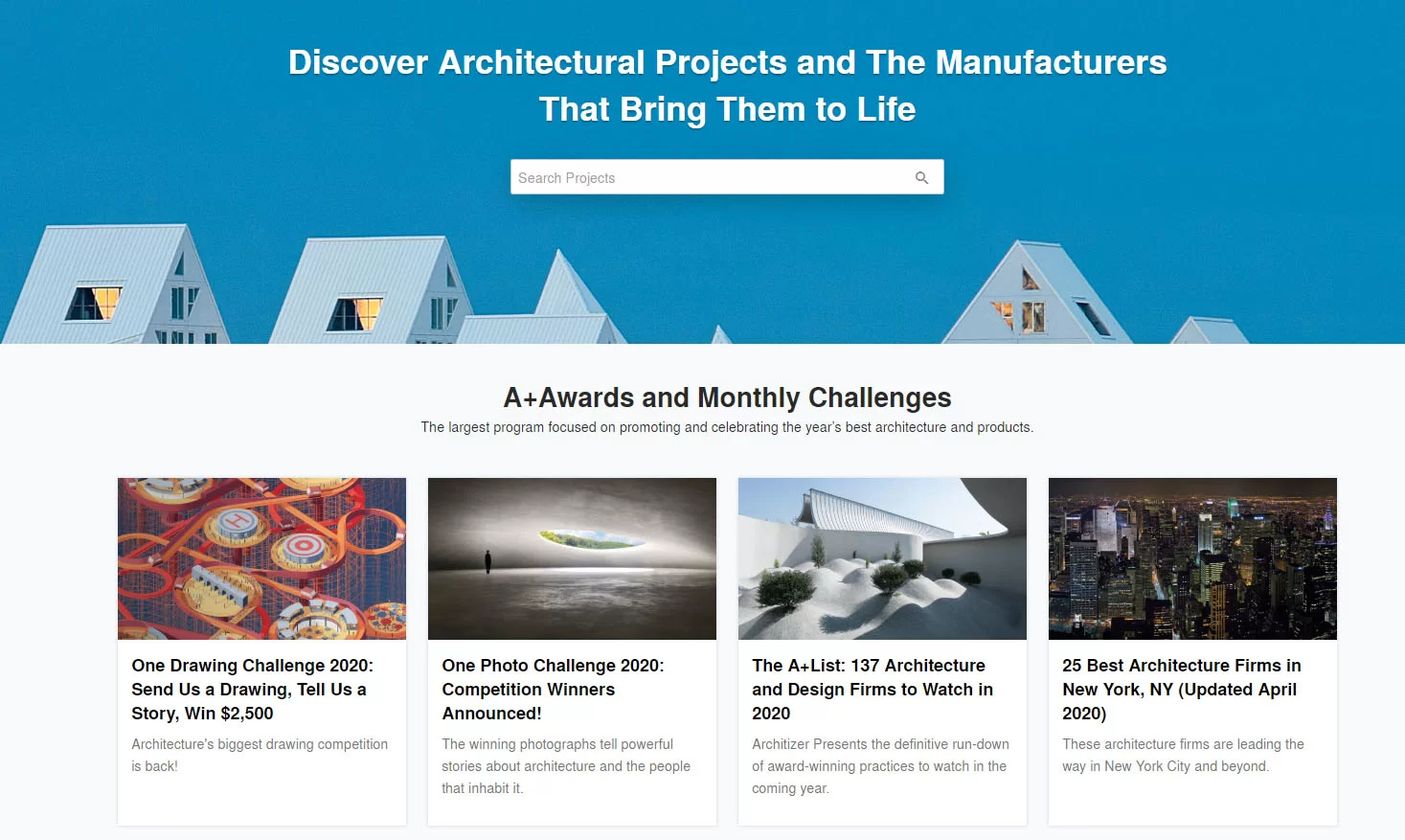 Website: https://architizer.com
Since its establishment in 2009, Architizer has become one of the best architecture magazines. The site has a blog where one can find  useful information on a wide range of topics. They include everything from a list of the best architectural companies to advice on choosing a work laptop for an architect. 
Architizer is available online only. The site is regularly updated, so one can always find something new to read or look through here. Since Architizer is one of the most authoritative magazines, it is the right place to establish oneself as a professional. Architects can have their work published on the platform. As a result, they will attract more prospects and get valuable feedback from their peers.
#5. Dwell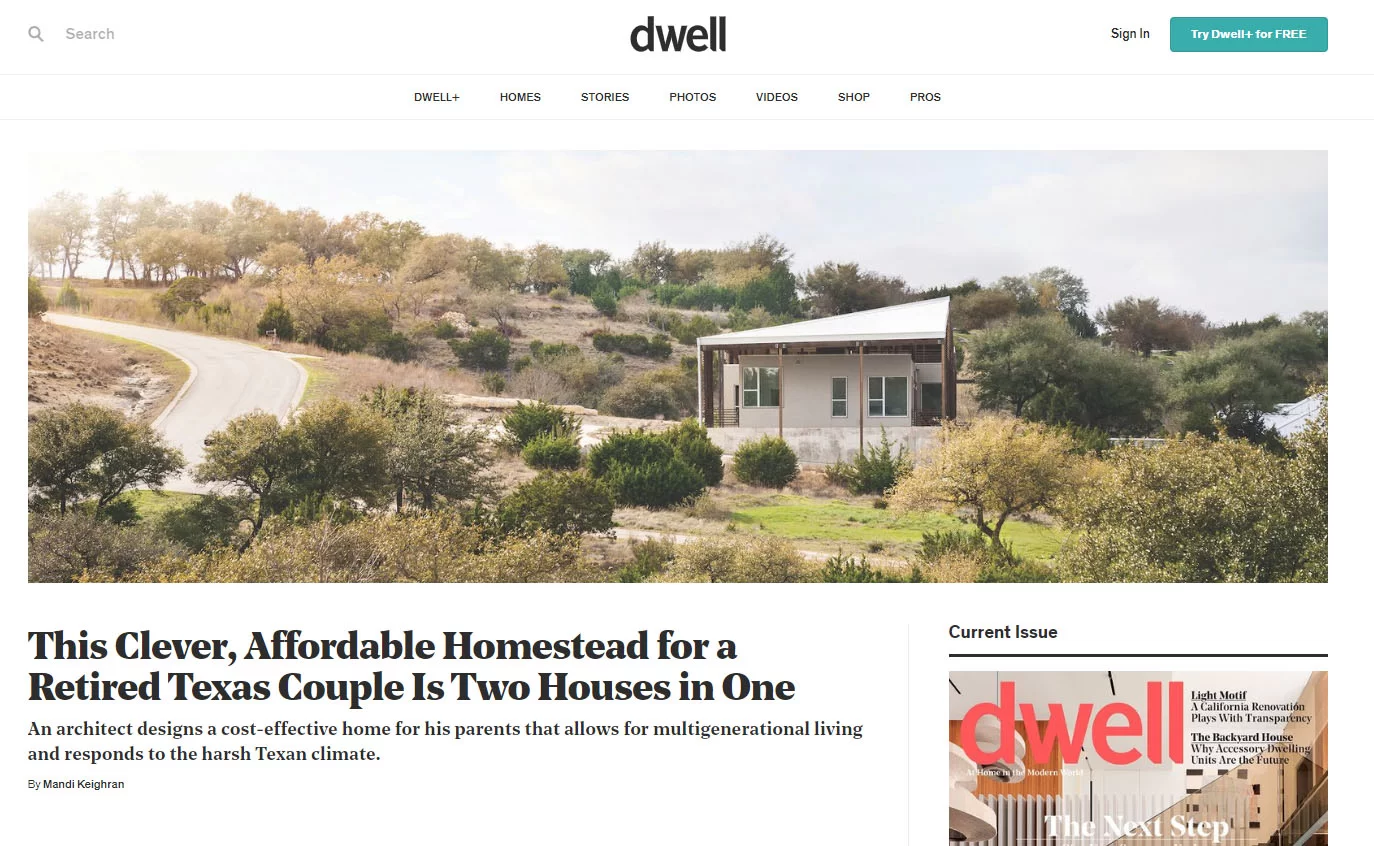 Website: https://www.dwell.com/
Dwell is not just another architecture magazine but a brand. It was established in 2000 by Lara Hedberg Deam, a talented CEO, and Karrie Jacobs, a professional observer of architecture. Their aim was to fill the gap between professionals and enthusiasts of the industry. The online platform features information about the best architecture designs from all over the world. It has an audience of 2.5 million users. Anyone can use the website for free or get the Dwell+ subscription. The second option allows to check out exclusive home tours, read helpful how-to-guides, and get access to the complete archive of Dwell.
Dwell magazines are available in both digital and printed formats. Each issue of this bimonthly publication contains eye-catching visuals from talented contributors and countless architectural ideas. What is more, the Dwell community provides advertisement opportunities for architectural professionals. By taking advantage of it, they can reach a wide audience and spread the word about their brand. 
#6. The Architects Journal Magazine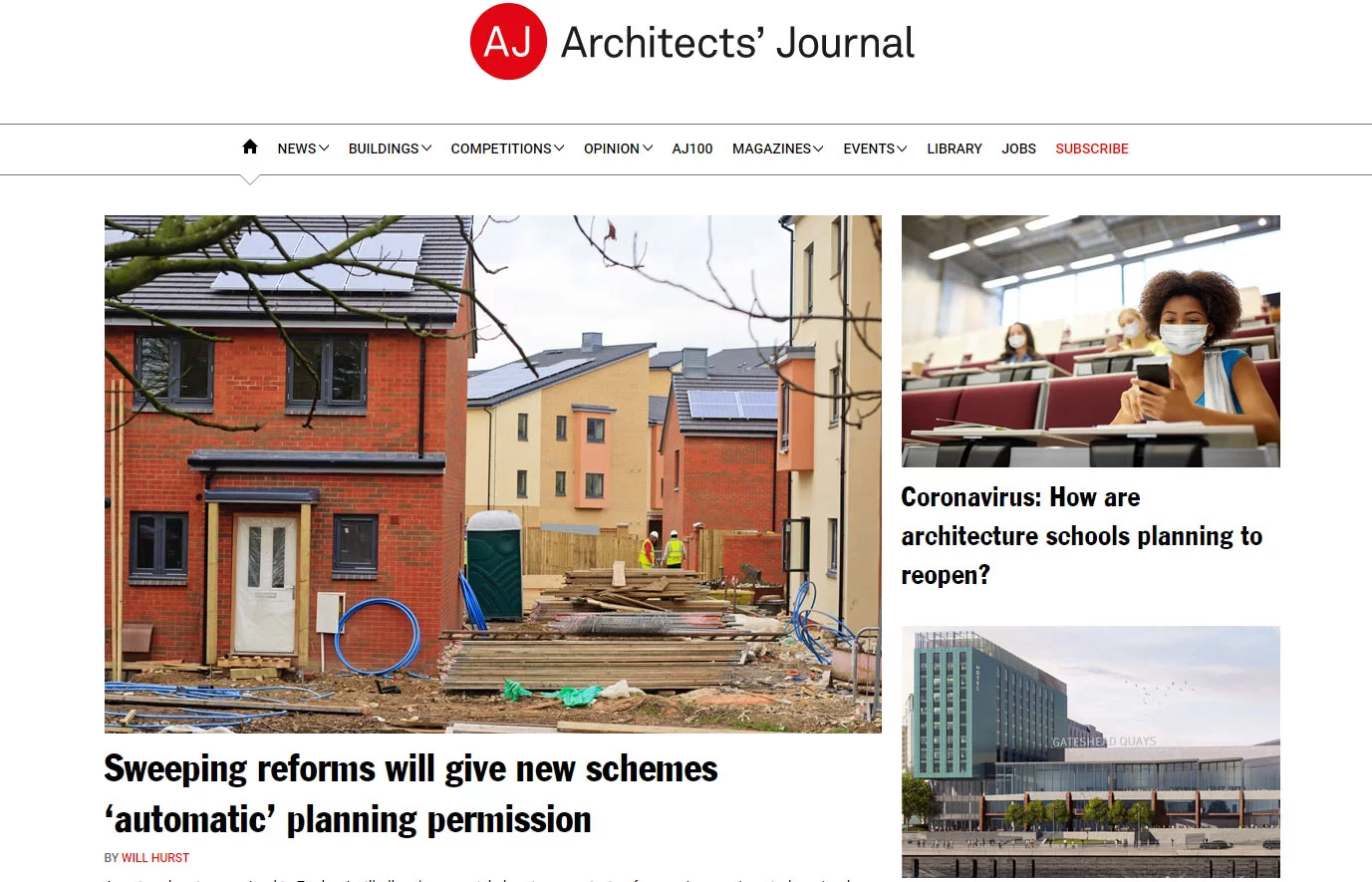 Website: https://www.architectsjournal.co.uk/
The Architects' Journal was established back in 1895 and is considered to be one of the oldest publications in the industry. Nowadays, it is still available in print and gets published 24 times a year. It also has an online version, which covers the recent news and innovations in the field of architecture. Here, it is possible to find everything that an architect needs — comprehensive descriptions of interesting projects, client profiles, and updates on the competition.
Being one of the most influential architecture magazines, the journal can help aspiring architects target new opportunities. One can send in a story to get published or advertise their services in the AJ Jobs section. 
#7. Metropolis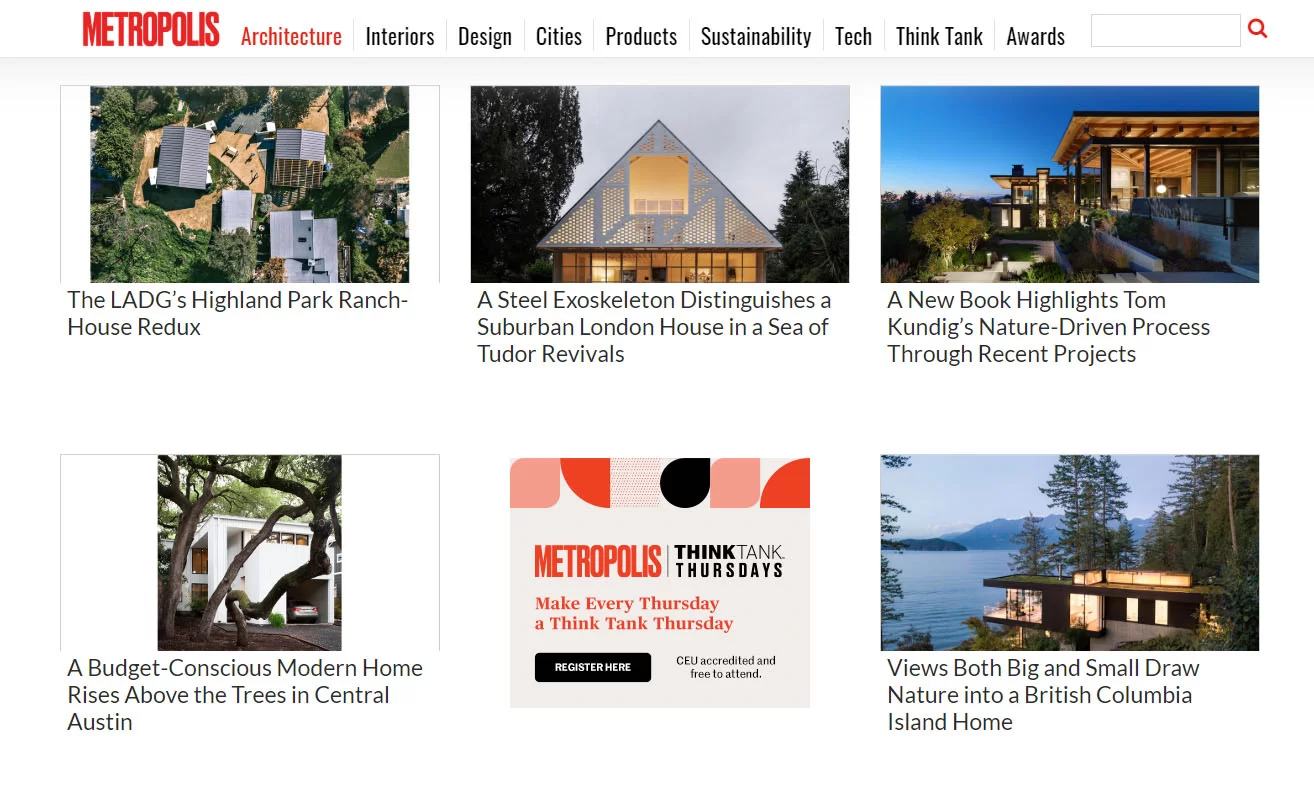 Website: https://www.metropolismag.com/
Metropolis was established in 1981. Since then, it has been operating as a high-class information source about architecture and design. It is published ten times per year but is also maintaining a strong online presence. This platform is well-known for showcasing works of both emerging talents as well as already established professionals.
Being one of the best magazines about architecture, it helps to keep experts ahead of the curve by covering the latest trends and sharing innovations. All information here is grouped into large sections — architecture, interiors, design, cities, products, sustainability, tech, think tanks, and awards. One can spend hours scrolling through this valuable content and still wouldn't get bored. It is an outstanding source of inspiration and a database of the most breathtaking architectural projects. 
These seven architecture magazines are a must-read for everyone passionate about this industry. These online platforms are filled with inspirational ideas, the latest innovations, helpful tips, and stunning visuals. Moreover, they can help architecture experts to build a stellar reputation. By showcasing their work on these digital platforms, they can not only build a name for themselves but also find new clients.
Get your project estimated in just 1 hour - fill out this brief!
Need stunning CG visuals of your designs to get published in these or any other magazines? Contact ArchiCGI for professional 3D visualization services!
---
Catherine Paul
Content Writer, Editor at ArchiCGI
Catherine is a content writer and editor. In her articles, she explains how CGI is transforming the world of architecture and design. Outside of office, she enjoys yoga, travelling, and watching horrors. 
What are the best architecture magazines?
The best magazines about architecture and design include Dezeen, ArchDaily, Dwell, ArchiPro, Architizer, Metropolis, The Architects Journal, Architectural Digest, and others.
What does an architect's routine consist of?
Architecture experts are extremely busy professionals. They create drawings of the new buildings, prepare presentations for clients and investors, visit construction sites, take part in industry events such as conferences and exhibitions, and so on.
Who are the greatest modern architects in the world?
The list of the most prominent architects of modern times includes Frank Gehry, Zaha Hadid, Norman Foster, Philip Johnson.
What is the best content for architecture magazines?
A publication in an architecture journal requires high-quality visuals of designs in the first place. These can be photos or photoreal 3D visualizations. With the help of the latter, it is possible to showcase architecture projects that have not been brought to life yet. Publications in authoritative magazines must also feature interesting stories behind the projects. Besides, architecture magazines cover news and events of the industry.