Are you looking to fill your presentations, portfolio, or marketing visuals with character and emotion? Try adding artistic cityscape 3D rendering into the mix. This type of image doesn't necessarily focus on the architectural design itself. Rather than that, it can serve as an additional visual that demonstrates the project's surroundings and conveys the atmosphere of the place.
The 3D artists at our architectural rendering company love creating images whose purpose is to set the mood or tell a story. And in this article, we're going to share with you some of our favorite works. Check them out!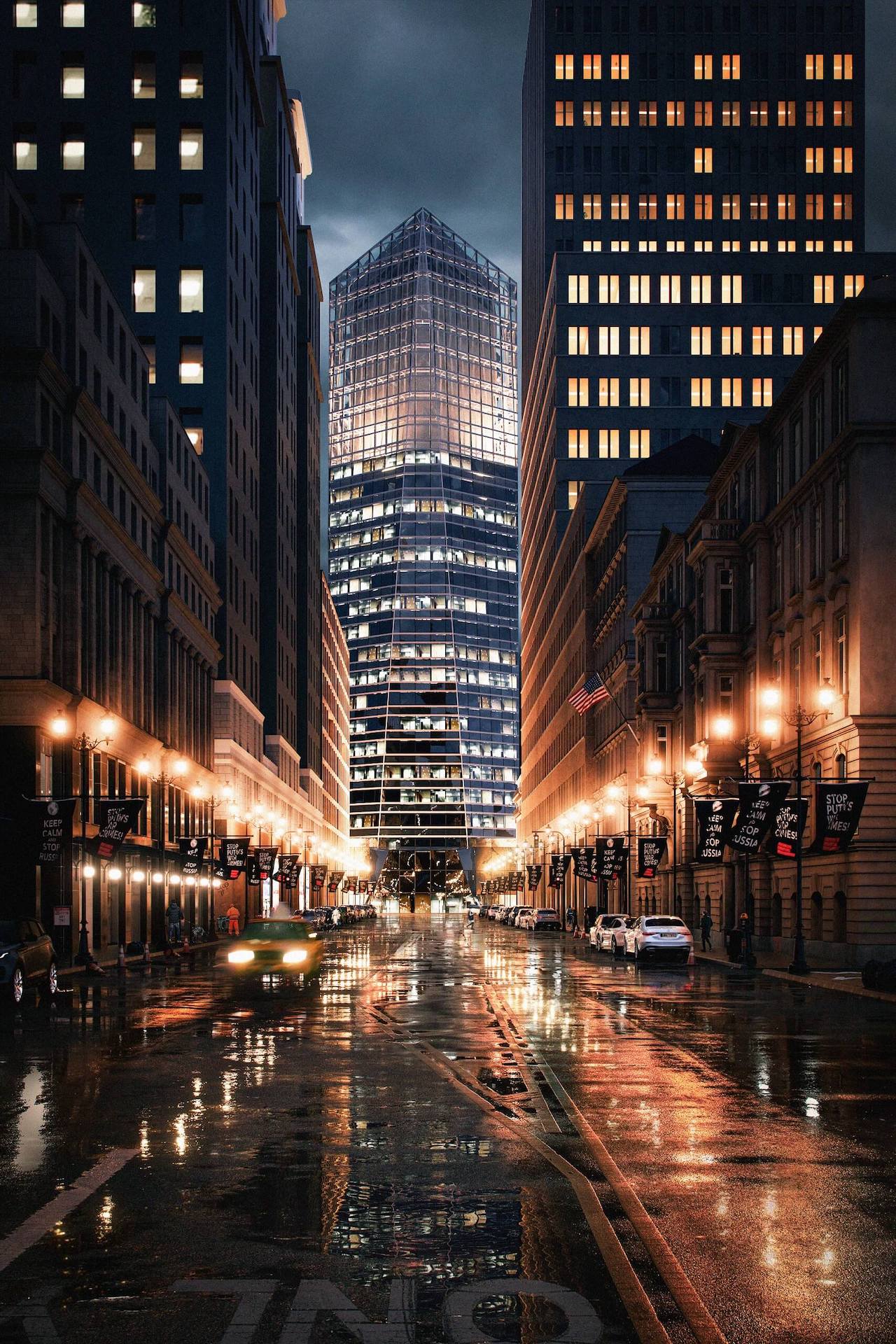 This 3D rendering has an undeniable cinematic quality to it. Thanks to the angle and the lighting, the viewer's eyes are instantly drawn to the center. There, a modern skyscraper towers above the street, contrasting with the older buildings in the foreground. Overall, the image perfectly demonstrates the architect's ability to design a captivating setting, which is definitely a valuable skill.
#2. Afternoon at City Canal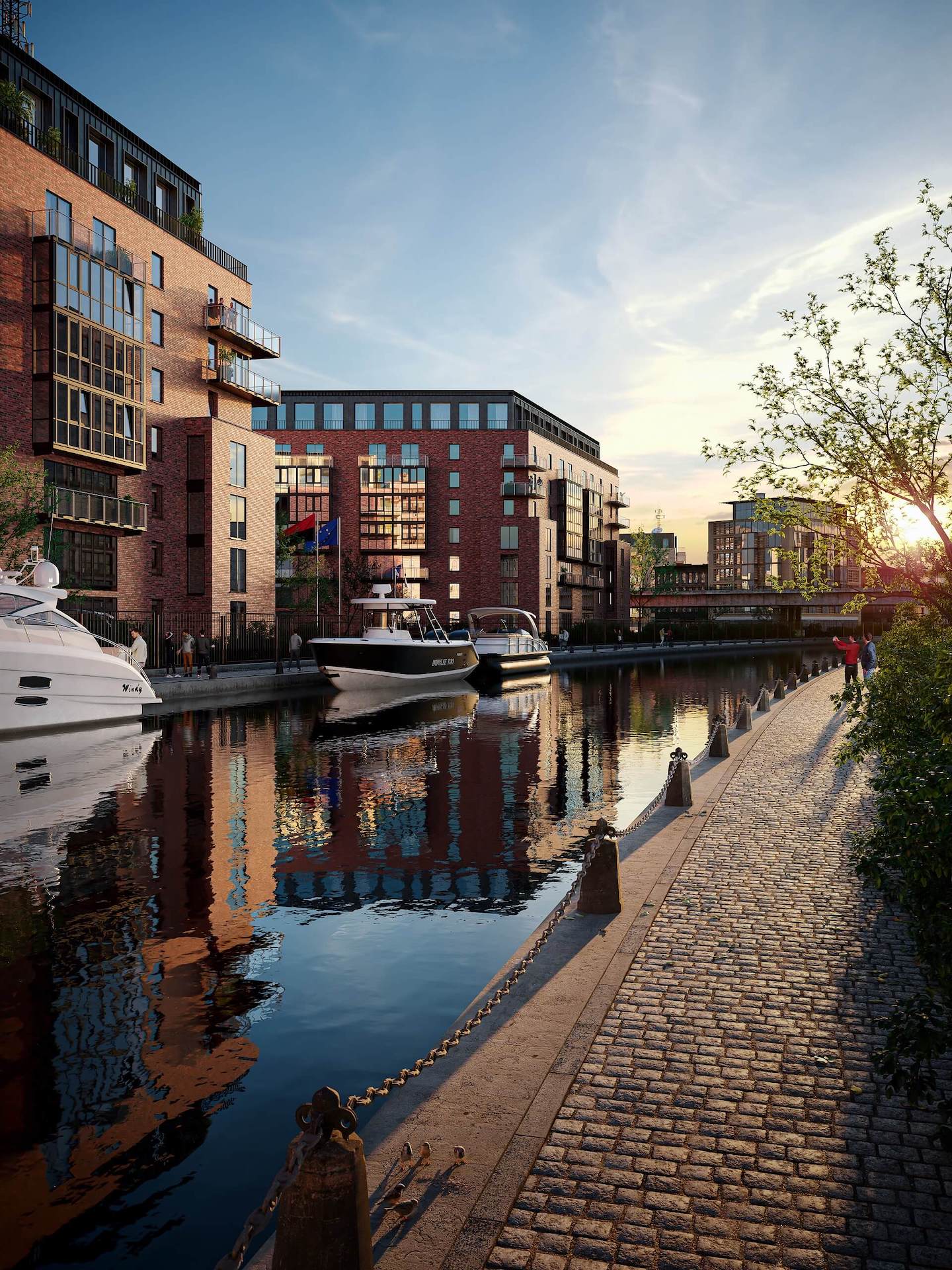 The idea behind this cityscape 3D rendering was to showcase the full value of living in one of those apartment blocks. Here, the potential residents can see a picturesque walk path along the canal — an ideal place for a morning run or an afternoon stroll with their loved ones. This way, the rendering provides both information and inspiration. And that would make it a great addition to property marketing materials or an architectural project presentation.
#3. In the Streets of Tokyo
When we think about cityscape rendering, we often picture a bird's-eye view of stunning skylines with high-rise towers. But it's just as important to show what those massive buildings look like from the street. In this case, we can see how seamlessly the innovative architectural designs blend in with the existing structures. And even though the rendering doesn't depict the buildings in full, it gives the viewers a clear understanding of how the area will transform once the concept is realized.
Want to see more views from this project? Check out our case study on urban redevelopment rendering.
#4. Fall Magic in the City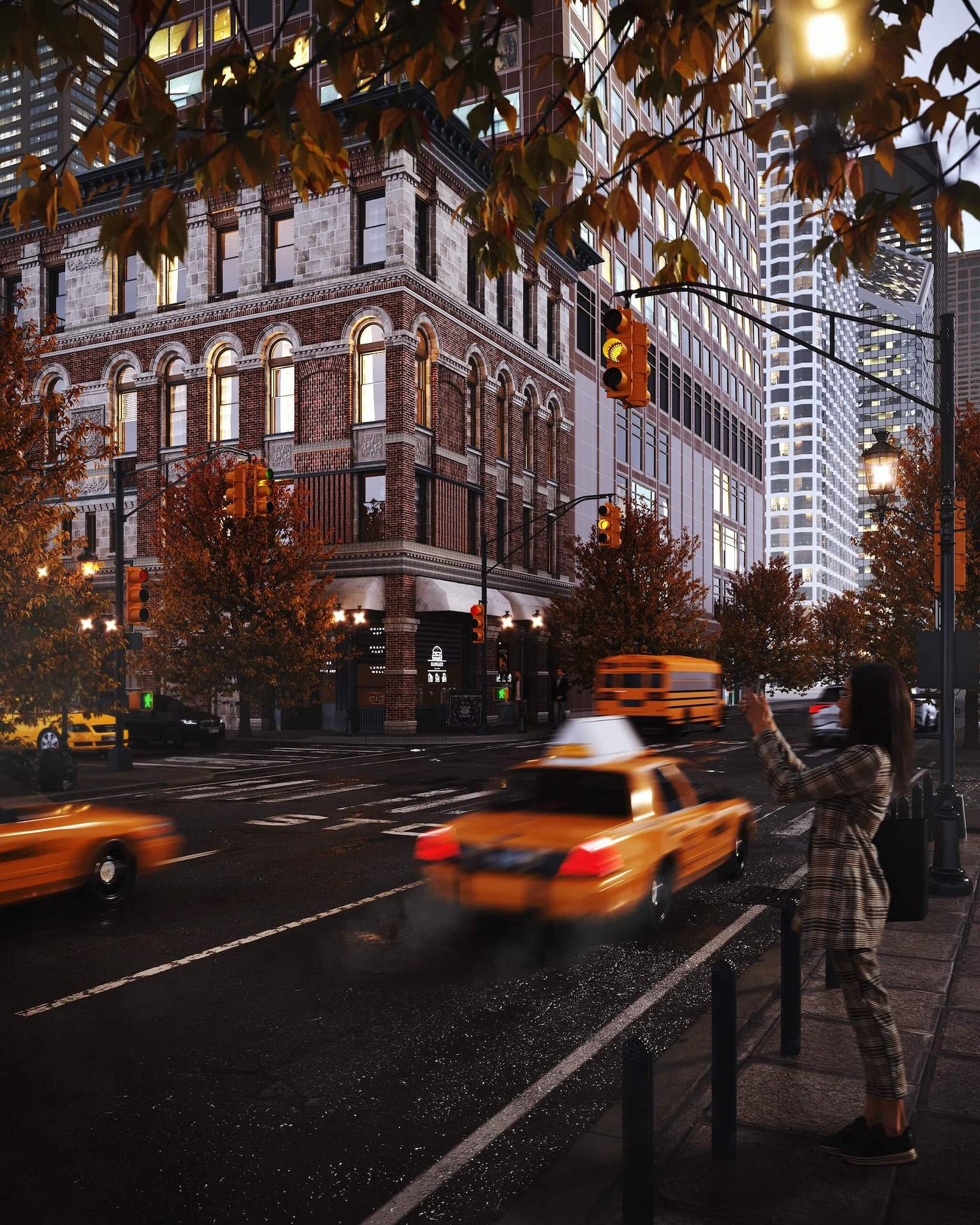 This cityscape 3D rendering provides seasonal inspiration, allowing the viewers to set into the fall mood. It includes a number of storytelling elements that come together to create a special moment. That is, finding a minute to take in the beautiful change of nature right in the middle of fast-paced city life. Focused on evoking emotion, a rendering like this one would captivate people's attention on social media, or as a part of your portfolio.
#5. Urban Landscape in the Morning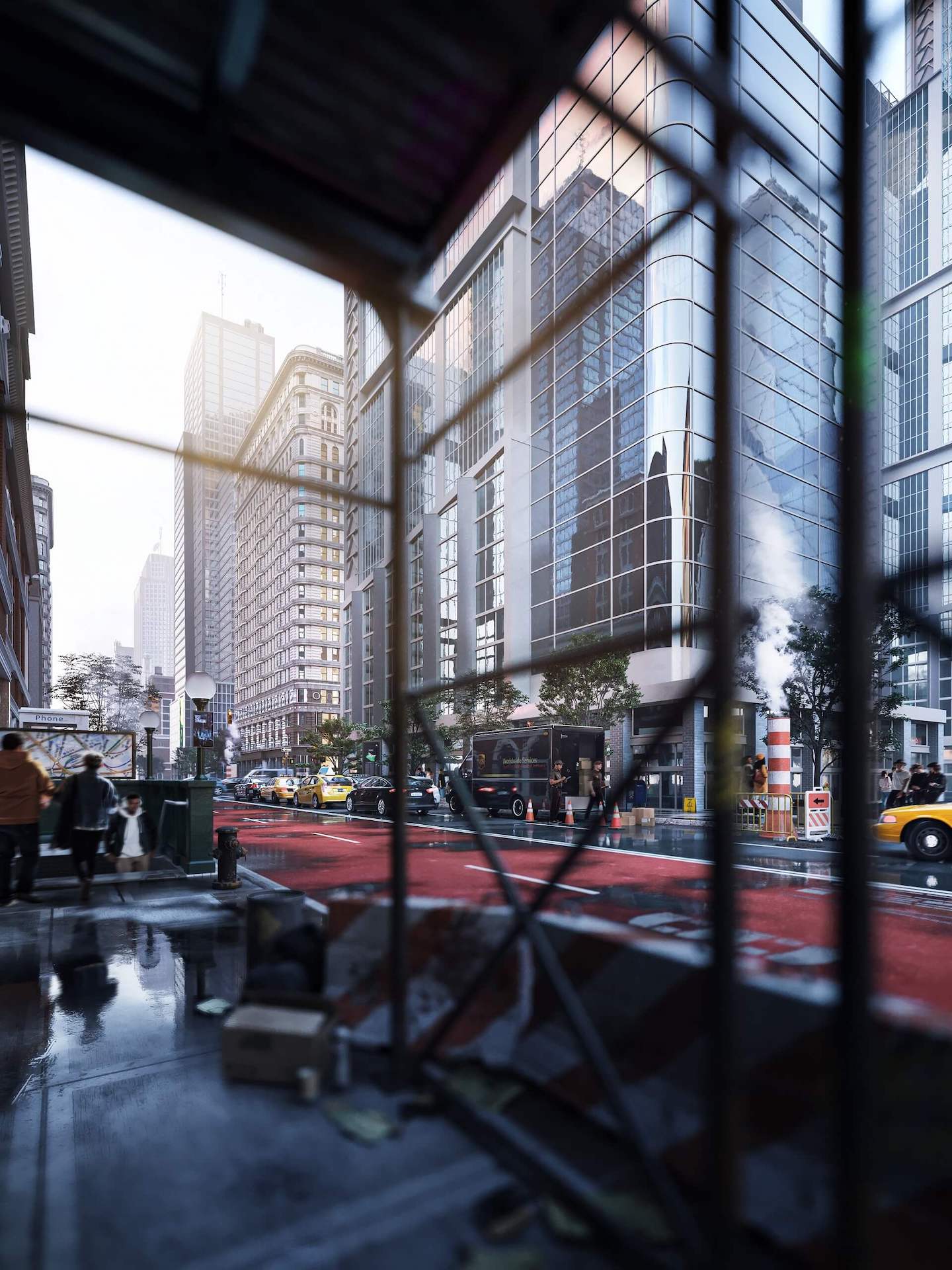 What makes this cityscape rendering different is the hyperrealistic first-person POV. It instantly draws the viewer into the scene, urging them to notice every little detail and put the full picture together. In fact, one might find several storylines developing here at the same time. That's why getting this kind of image can help you unleash your creativity and leave a lasting impression on your clients and peers.
#6. Coastal City in Malta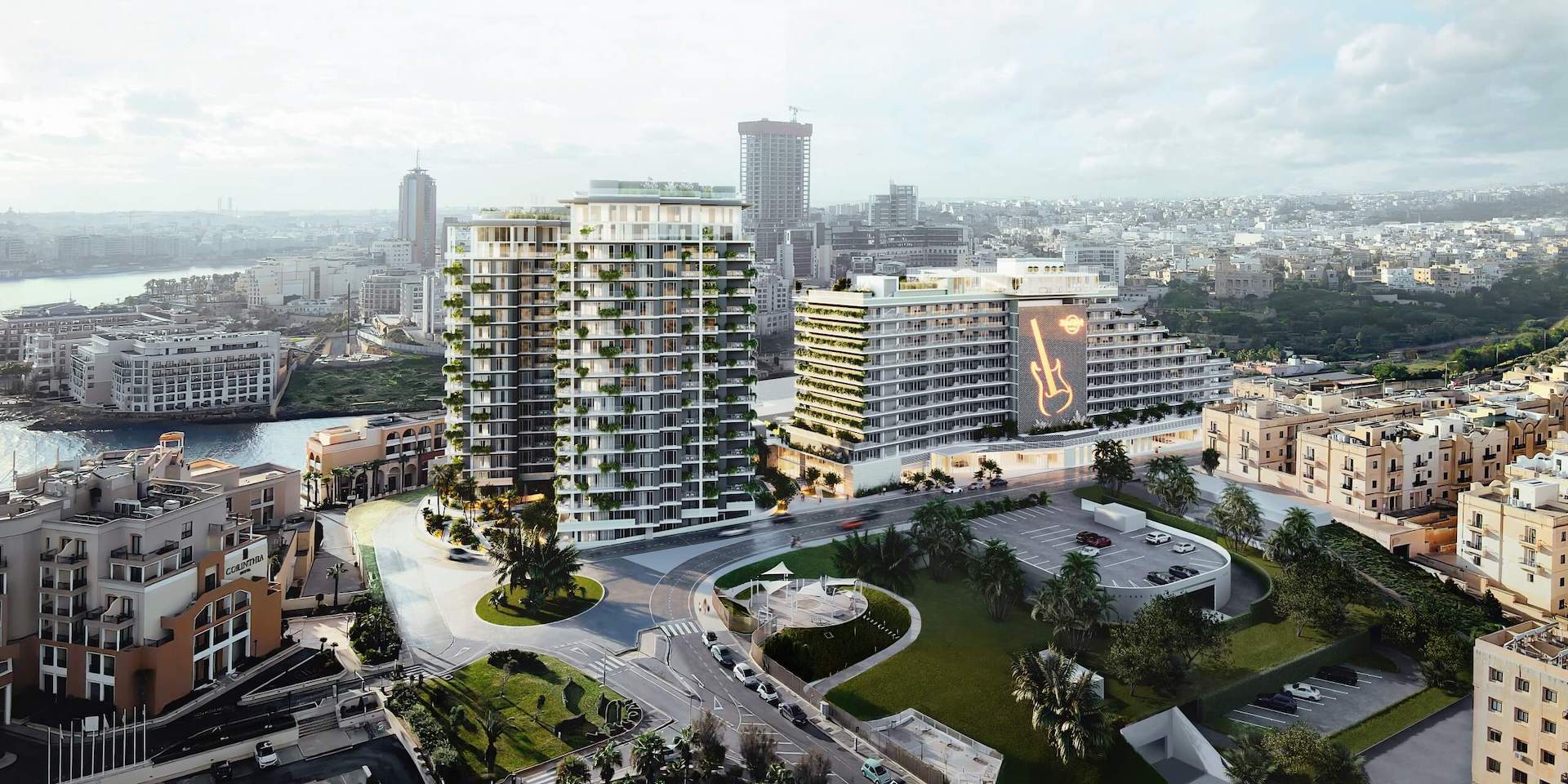 In this case, the cityscape 3D rendering combines aesthetics with the precision required of a large-scale development visualization. It showcases the proposed design for a high-end hotel, as well as its surroundings. The angle allows us to see the entire city — from its most densely built-up areas to the numerous resort complexes along the coast. This way, one can fully understand what kind of experience people might have staying at this place. That makes this rendering a valuable visual asset for investor presentations and marketing materials alike.
Here, the cityscape is a distant view from across a bridge — a unique perspective that captures the viewer's interest. The 3D rendering also features a mesmerizing timelapse animation. It brings dynamic movement into the scene, and you can instantly feel the excitement of driving under the night city lights. With its aesthetic quality and storytelling power, this type of visual would make an amazing addition to your website, portfolio, or social media pages.
Want to learn about the making of this rendering? See our case study on this 3D photorealistic visualization.
Want to learn how much your project costs? See how we evaluate 3D rendering projects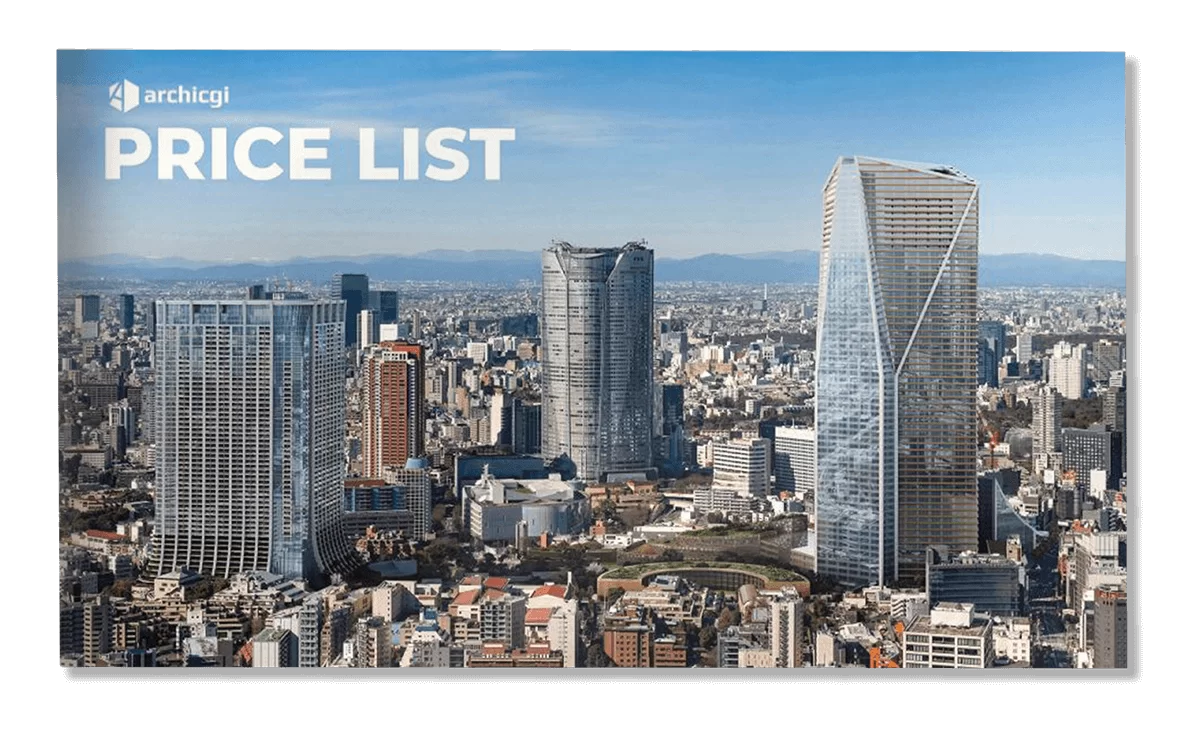 We're glad to have shared some of our favorite cityscape 3D rendering works with you. Hopefully, they'll inspire you to try new ways of expressing your vision in a unique, memorable way.
Looking for professional 3D rendering services? Contact us at ArchiCGI and book a free consultation with one of our managers!
---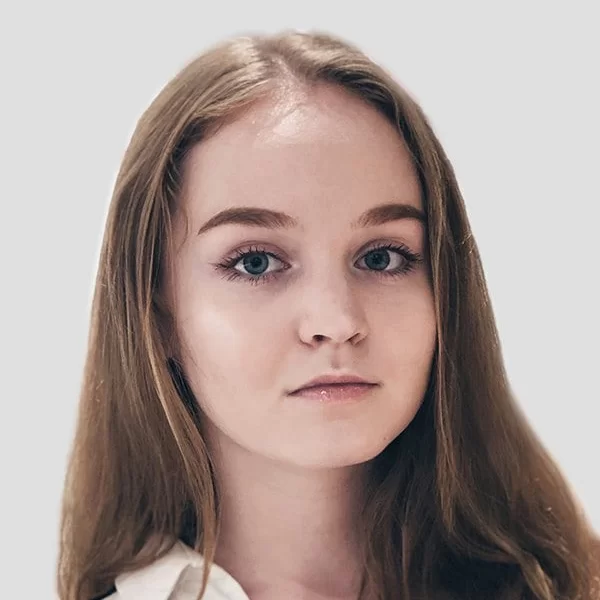 Ana Wayne
Content Writer, Copywriter
Ana is a content writer for ArchiCGI. She has a passion for design and architecture - and for talking about it. Outside of work, she is a fan of sci-fi movies and a street food connoisseur.