Despite the growing competition with other platforms, Instagram is still the king of social media marketing. It is especially true for interior design businesses where compelling visuals are crucial to illustrate the selling points of service. However, navigating Instagram marketing can feel like a full-time job (and for some people, it is). But more often than not, you don't have to hire an SMM manager to make your Insta account an efficient business tool. You just need to learn some basic interior design Instagram tips and use them smartly. 
Our 3D visualization studio ensures our designer clients always have stellar visuals for their social media. However, we also know that simply posting lovely pictures from time to time is not enough to expand your following and find new clients. So, we've done some research and collected the most up-to-date Instagram tips for you. Read on to become a pro at Insta marketing! 
#1. Showcase Your Expertise
Your unique professional experience is what can set you apart from the competition. So one of the first Instagram tips will be: don't hesitate to tell a lot about your work. Here is what that might include.
Share expert content. You can offer useful tips on interior design, articles from your blog, updates on industry news and innovations, and so on. 

Emphasize your unique selling proposition, values, and design philosophy. You can do that in your captions and visuals to highlight what makes your services stand out. Remember, your competitors are masters of interior design craft too. To distinguish yourself from them, you will need to attract those potential clients whose specific values align with yours. For example, if you prioritize sustainability in your designs, share content that highlights your commitment to eco-friendly practices.
#2. Use High-Quality Imagery
When it comes to showcasing interior design projects on Instagram, the quality of your imagery is essential for attracting clients and building a strong brand image. Here are some tips.
Your Insta posts must include only top-notch photos and 3D renders. The lighting, composition, and angles should be flawless. In stories, you can allow yourself to show some pics taken on your phone. Still, try to make sure these images are not too dissonant compared to other content on your account. 

Use before-and-after imagery to showcase your ability to transform spaces and bring visions of dream homes to life. For example, you can use before/after shots of a place you redesigned, or a 3D render of a project next to a photo of its realized version.

Display your works in different interior styles to appeal to a wider audience. If you don't have completed projects in certain styles, consider using 3D rendering to get high-quality visuals that accurately represent your newest concepts.
Showing that your business is trustworthy is key to attracting potential clients on Instagram.
One effective way to do that is by showcasing yourself and your team in posts and stories. By talking about your design process, sharing your thoughts and insights, and answering questions from your followers, you can build a deeper connection with your audience and establish yourself as a credible expert.

Going live on Instagram is also a great way to broaden engagement and reach new followers. As an interior designer, you can share your design process, show behind-the-scenes footage of your work, host Q&A sessions, or even offer virtual design consultations. The possibilities are endless, and going live can help you connect with your audience on a more personal level and build a loyal following.
#4. Style Consistency is Key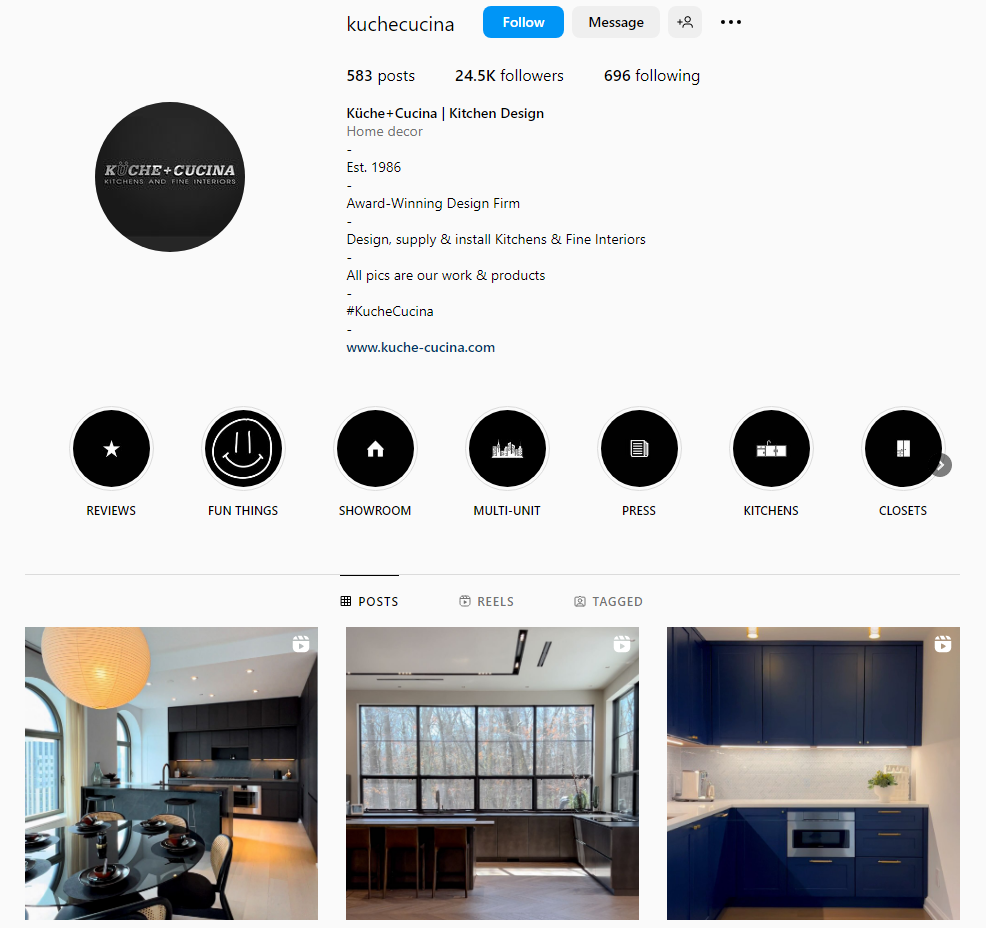 source: Kuchecucina
Having a consistent style across your social media accounts is essential to building a recognizable brand. 
One of the vital interior design Instagram tips is that your content should have a recognizable style. This includes using specific colors, fonts, and layouts.

Make your Instagram visuals and tone of voice match your slogan – or at least the general vibe you're going for with your work. Your profile should reflect the style and mood that you want to evoke in your audience. For example, if your design concepts can be described as "elegant and sophisticated," make sure your content reflects that with high-end images and a polished aesthetic.

Instagram highlights are a great tool to showcase your best work and give viewers a glimpse into your design process, client reviews, prices, and so on. Do not forget to put attractive, on-brand icons on them.

Those icons should harmonize with the main image of the profile.

Update your highlights regularly to keep the info up-to-date.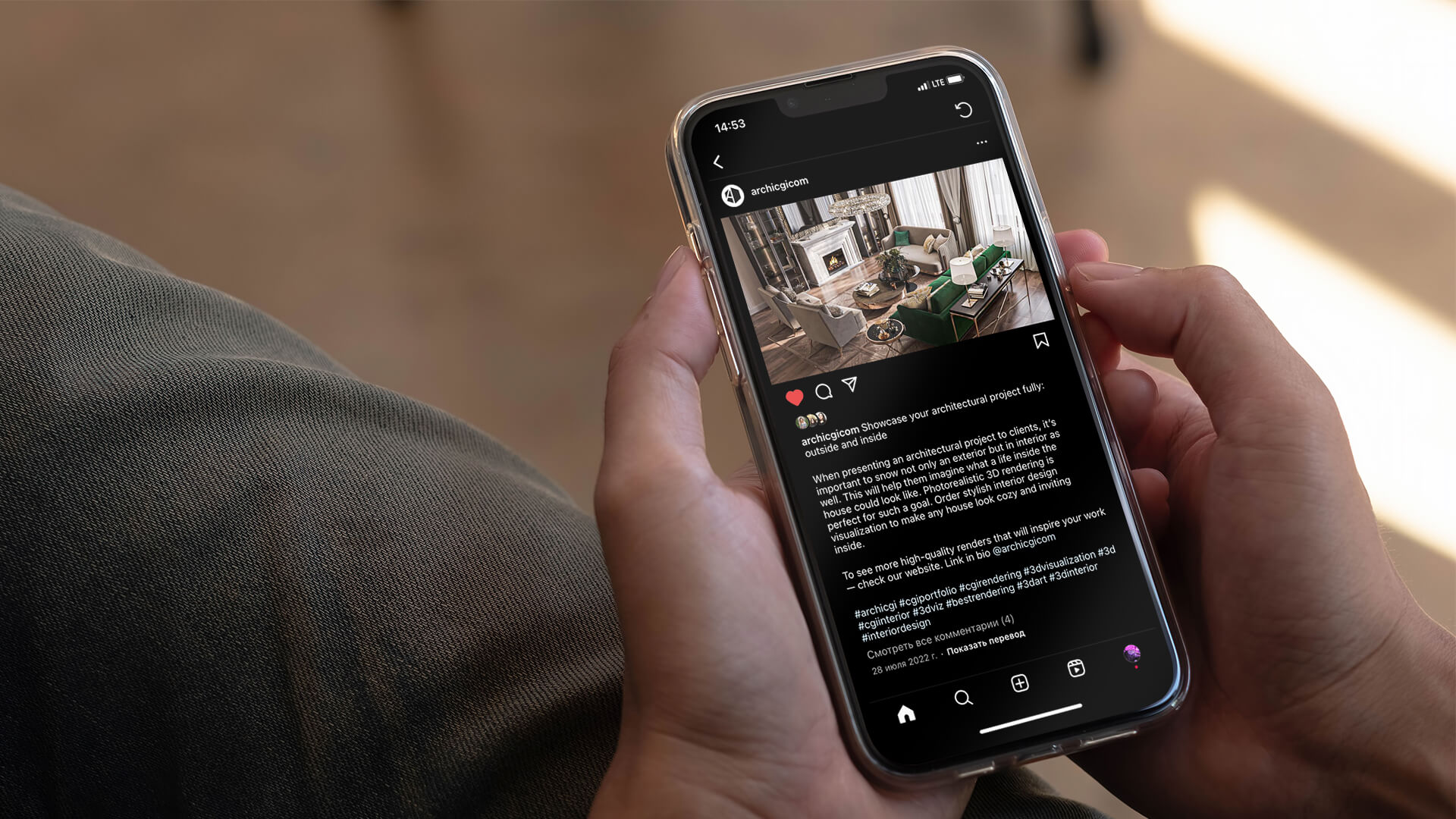 Understanding Instagram algorithms is quite a challenge. Here, the rules are ever-changing and never 100% clear. However, some general tips will help you out.
Post consistently, ideally every day or every other day. This way, you will improve your chances of ranking higher on the algorithm. Competition is fierce, so the best you can do is stay afloat because climbing back up will be even more tricky. 

Use relevant hashtags to increase your reach and visibility. However, don't use too many, as this can make your content look spammy. Aim for 5-10 hashtags per post. Research the list of banned hashtags and make sure to avoid using those. They can result in your content being hidden from users and decreasing your reach. 

Engage with your followers by responding to comments and direct messages. This signals to the algorithm that your account is worth prioritizing.
3D animation by ArchiCGI
Today, interior design marketing videos are a powerful asset. Although Instagram is primarily an image-driven platform, the popularity of videos there is also growing rapidly. So, using them is high on the list of interior design Instagram tips, and that's unlikely to change anytime soon.
Get used to posting a lot of videos. Spread them across your main page, stories, and Reels. Videos will help you broaden your outreach. The algorithm favors them, and a well-made Reel has a chance to go viral. 

Use Reels and stories to show your working process, design tutorials, and other things that help people get to know you and your brand. 

Photos are about the results of your work. But videos are more about the process. Think of the ways you can use storytelling and turn your daily work routine into an exciting series with each video being a new episode. 

Consider using

3D animation services

to showcase your design work uniquely and creatively. 

Make short and engaging videos that highlight your interior design expertise. And remember the time limitations when doing so. A video story can be up to 15 seconds in length. In its turn, a Reel can be much longer. However, in a feed, a user will see only the first minute. To watch the full Reel, one needs to decide to click on it. So, make sure those first 60 seconds are truly catchy and interesting.
#7. Make the Most of Instagram Features
Next on the list of our interior design tips is to use Instagram features to the fullest. Functions such as stories, reels, polls, etc will help to diversify your content and keep your followers engaged. What's more, the algorithm tends to favor accounts that use the platform's special features regularly.
Create diverse stories that include interactive elements such as polls, quizzes, or calls to action, as well as client testimonials and behind-the-scenes footage. Keep in mind, however, the change in trends. For a recent couple of years, businesses and bloggers tended to use additional apps and software such as Canva, InShot, Unfold, and others to make the stories more sophisticated and appealing. In 2023, the trend swung back to using the in-built Instagram templates and fonts.

In 2023, you can confidently replace the talking heads type of videos in stories with text. It performs just as well. 

Utilize carousels in your posts. First, it does well with the algorithm. And secondly, it's simply more engaging for your audience. For instance, you can showcase multiple views of the same design or alternative design options for the same room. 3D rendering can be a great asset in this regard, as it allows one to easily get many different images of the space.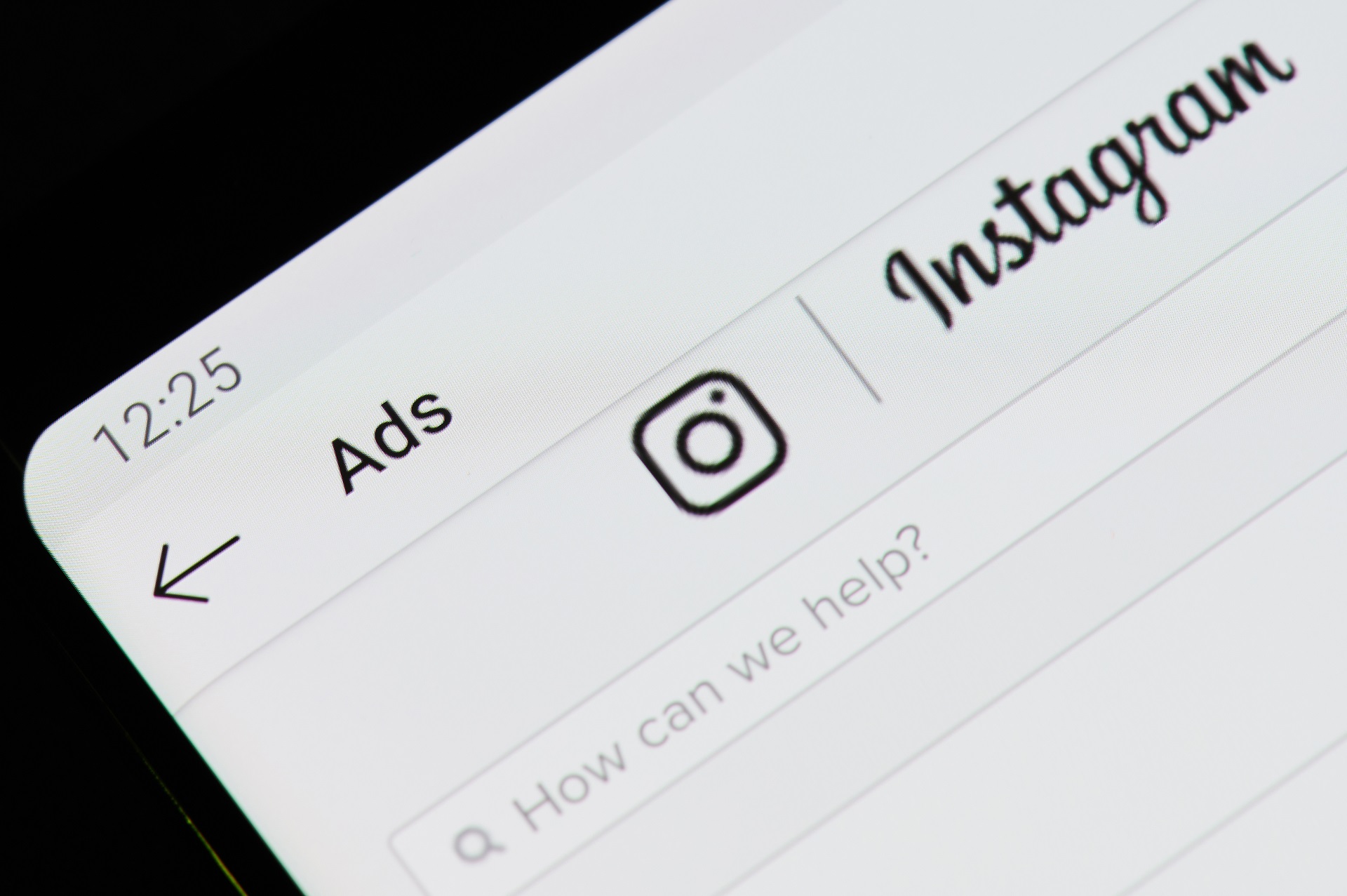 Don't underestimate the power of paid advertisements. They are still one of the most efficient ways to make your brand visible to your ideal clients. 
Tailor your content to your target audience. This will help you increase reach and engagement and get new followers. 

It is recommended to spend no less than $50 on paid promotions weekly. 

Experiment a bit with the ad settings and track what performs best.
#9. Engage with the Audience
Last but no less on the list of vital interior design Instagram tips is to communicate with your followers.
Include unobtrusive calls to action in your post captions. For example, invite your audience to click the link in your bio to learn more about your services, or refer to an article in your blog you mentioned in the post.

Tag your profile in your posts to make it easier for users to click through to your bio.

Respond to comments and messages from your followers with relevant, friendly CTAs. For example, you can offer to schedule a consultation or answer questions about your services.

Create your own branded hashtag and encourage your followers to use it. This can help increase brand awareness and engagement. User-generated content is invaluable for boosting your profile. 

Offer special promotions or giveaways from time to time to reward your followers and encourage engagement with your brand.
Get your project estimated in just 1 hour - fill out this brief!
As you can see, there are quite a lot of interior design Instagram tips you should keep in mind. Still, it's not rocket science. Being consistent in your visual style and tone of voice, engaging with the audience, and, of course, sharing the results of your work will go a long way in growing your following, gaining their trust, and ultimately winning new clients.
Looking for interior 3D visualization services to always have enough imagery for Instagram or any other social media? Contact us to get stellar CG visuals in no time! 
---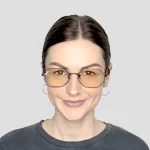 Nataly Cher
Senior Social Media & Email Marketer
Nataly's ambitious nature and creativity play a key role in her ability to create engaging content and highly successful targeted campaigns. Outside of the office, Nataly indulges her love of photography and plays with her joyful Jack Russel terrier, Mario.