3D Architectural Visualization for UK Projects: 4 Case Studies
Do you want to create impactful presentations with 3D architectural visualization for UK projects? In that case, it might be reasonable to look through some examples of visuals that other architects and designers across the country use to pitch their concepts. This way, you will be able to define a style for your own CGI that will meet your client's expectations.
To help you do that, we would like to share some projects our architectural visualization studio has done for our clients from the United Kingdom. These visuals were used to successfully present exterior and interior designs before bringing them to life. Check them out!
#1. CG Rendering and Animation for Westrak Structures
In this 3D architectural visualization for the UK startup Westrak Structures, we created exterior and interior imagery of their one-of-a-kind glamping pods. The company offers 3 variations of the pods for two, four, and five people. It manufactures and installs the structures on demand, all over the country.
In exterior CGI, Westrak wanted us to demonstrate the sleek and modern design that looks great in any surroundings. As for the interior renders, they needed to show that the pods come fully equipped with all the necessary facilities for a comfortable stay. Also, the company ordered architectural 3D animation showcasing a pod community concept. It allowed them to demonstrate their ability to take on large-scale projects.
Would you like to learn more about our collaboration with Westrak Structures and see other visuals we created for them? Then read this case study about the comprehensive CGI services we provided for this amazing UK startup.
#2. Interior Visualization of a Restaurant in London, UK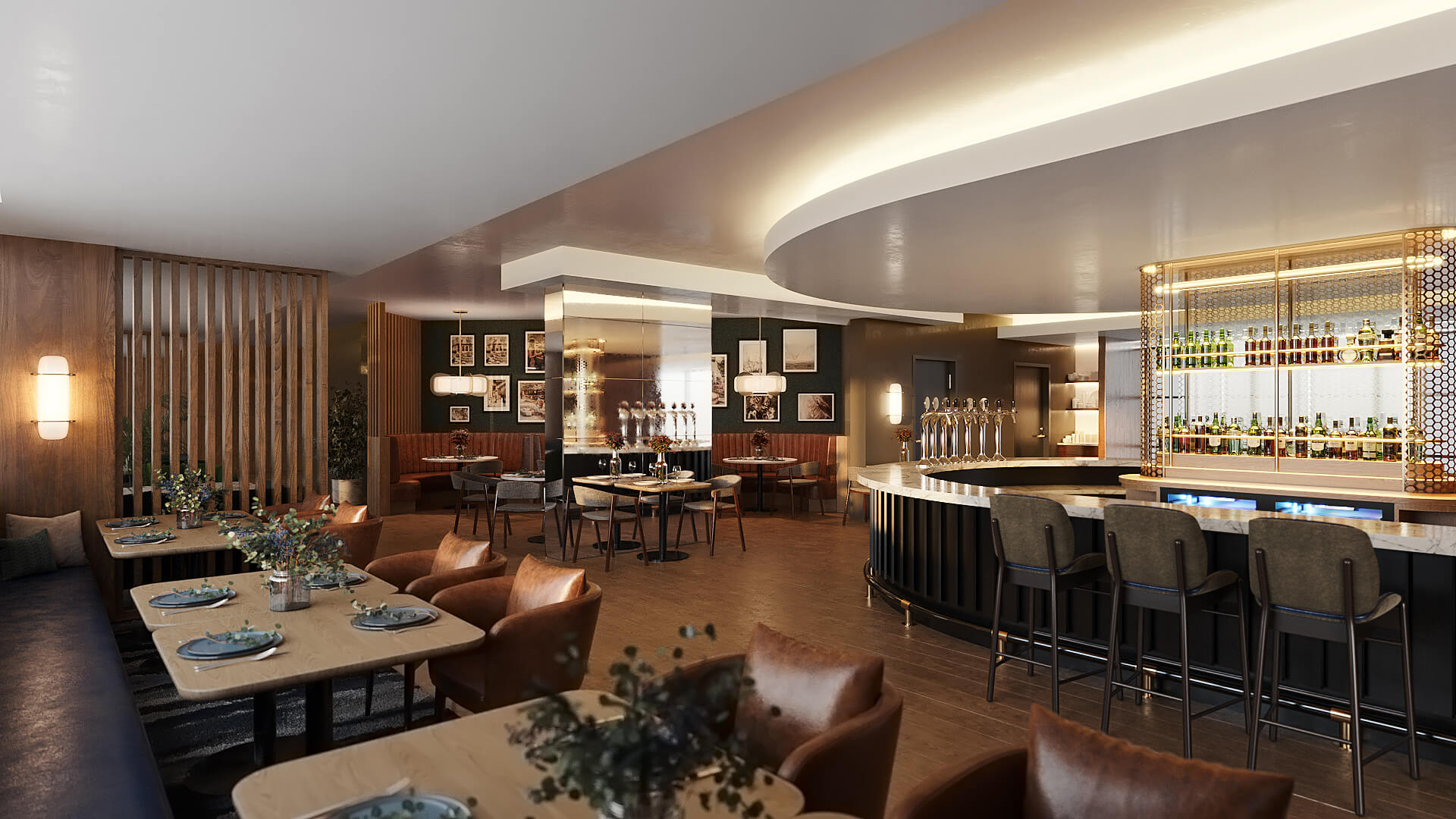 The 3D visualization above was created for GDC Group, a design firm based in the UK. In this render, you can see the proposed concept for a chic restaurant interior. The number one thing that makes it a great asset for a presentation is that it clearly depicts the zoning of the space. And the other thing is that it accurately shows the complex layered lighting in the actual hue and intensity of all fixtures.
On top of that, this visualization of the London restaurant concept perfectly conveys the intended atmosphere of the place. It allowed the designers to achieve full understanding and smooth communication with their client, so nothing would get in the way of realizing their solutions.
#3. Exterior Visualization of a Medical Center in West Sussex, UK
In this 3D architectural visualization for a UK project, our 3D artists created a photorealistic render of the proposed design for The Croft Medical Centre. The surgery is located in Eastergate — a village in West Sussex, England. The existing building is outdated, and our client — an architectural firm — developed the design for a new one.
The architects strongly focused on making the Centre not only aesthetically pleasing, but also sustainable. For instance, the rendering shows large windows that are meant to maximize the light in the waiting areas. It also emphasizes the warm colors and natural materials chosen to make people who come into the clinic feel comfortable, as well as reduce the building's carbon footprint.
Our clients used this architectural visualization to officially present the proposal. It has been approved by the District Council, and so the new building will replace the old one. The surgery will be able to take in more patients, which is crucial due to the new housing developments in the area.
#4. Exterior and Interior CGI of a Design Showroom in London, UK
Here, our CG artists created 3D architectural visualization for a UK design company Hetherington Newman. They specialize in bespoke kitchens, furniture, and architectural joinery. In this CGI project, the designers commissioned us to visualize their London showroom which was still under construction at the time. We made one render that showcases the sleek, stylish exterior of the place at its actual location. Also, we created two interior renders that convey the refined atmosphere of the showroom. And showing a visitor in the images made them look even more realistic and full of life.
With these visuals, the designers at Hetherington Newman were able to promote their new showroom before it was completed, staying 100% true to their signature aesthetic. If you'd like to learn more about the making of the imagery, check out this case study on architectural rendering process.
Want to learn how much your project costs? See how we evaluate 3D rendering projects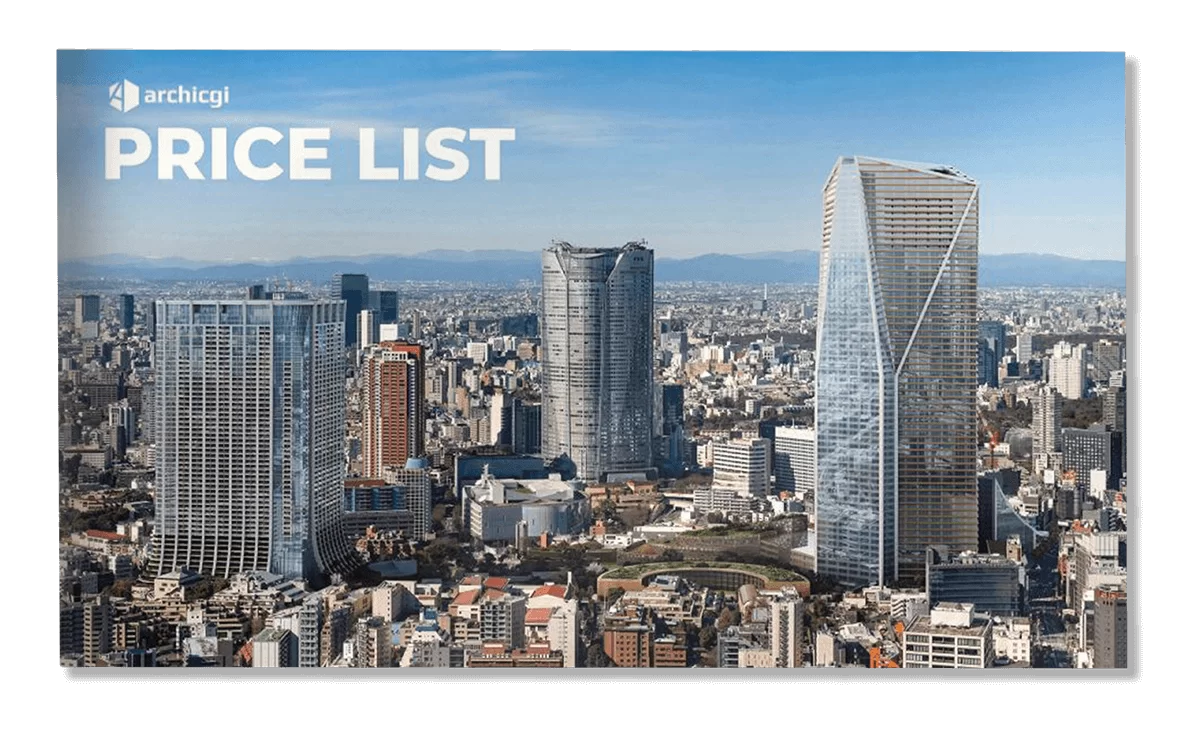 Those were some examples of our 3D architectural visualization for UK projects. Hopefully, they helped you in your research of CGI solutions for your business needs. Interested in seeing more of our works? Take a look at our case studies, where we describe some of our favorite projects.
Looking for 3D visualization services to take your architectural concept presentations and marketing to the next level? Contact us at ArchiCGI and book a free consultation with one of our managers to explore the best solutions for your practice!
---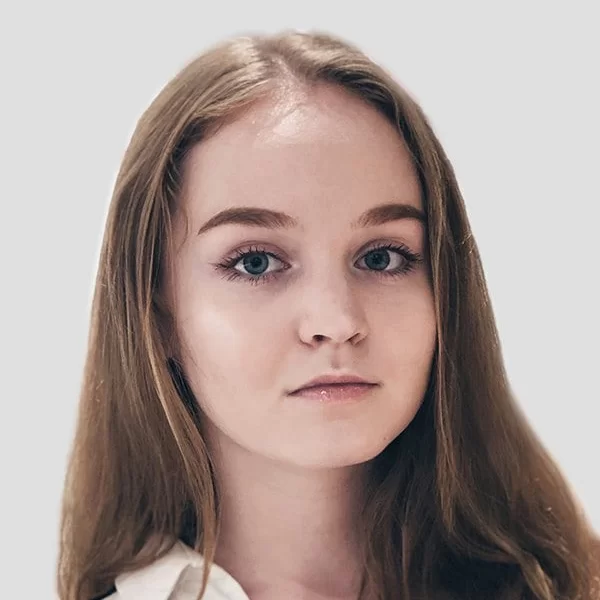 Ana Wayne
Content Writer, Copywriter
Ana is a content writer for ArchiCGI. She has a passion for design and architecture - and for talking about it. Outside of work, she is a fan of sci-fi movies and a street food connoisseur.