Commercial building rendering gives the viewer a first-person perspective of a building as if already used in business. Since it conveys the overall impression and showcases the benefits of the project, commercial visualization finds a lot of uses before construction and long after cutting the red ribbon.
However experienced an architect is, there are many points of divergence. Will the customer sign a contract or choose a competitor? Do the architect and the client see the commercial building project the same way, or a strong disagreement is going to arise during construction? Do the builders get the idea right or they just think so? Will the client be happy or disappointed using the premises? Will the client refer friends to the architect or, on contrary, discourage them?
An architectural visualization company can help an architect ensure the better-case scenario at any stage of the project. Read on to learn how.
#1. Empower Your Commercial Design Presentation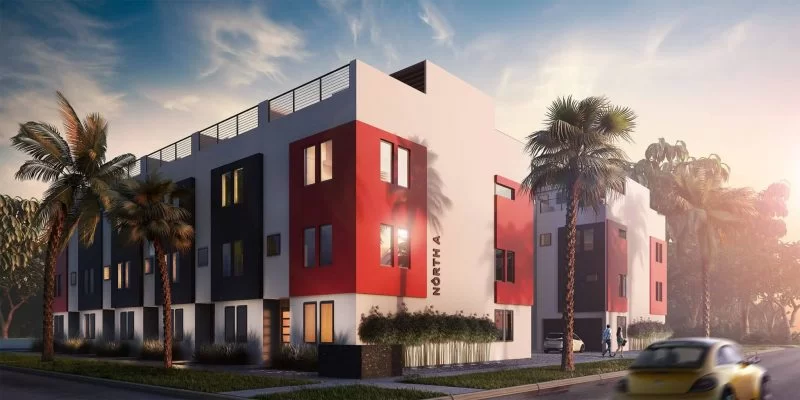 A presentation based on computer-generated images effectively conveys the value of the project. Look at the office building above – doesn't it look amazing in the exterior rendering? The image reflects the feeling of modernity and simplicity, the balance of proportions in this geometry-based design. A viewer sees the color blocks painted vivid red perfectly harmonizing with white, the dominant tint. The building is a good place for a company to do business, and it perfectly reflects the style of the company. 3D rendering does what words are unable to do: it leads to full understanding and stimulates the customer's imagination.
#2. Take Part in a Competition and Win the Jury Over
Winning a high-profile architectural competition means a rapid advance in an architect's career. For example, Jørn Utzon became world-famous in 1957, when his design for the Sydney Opera House beat other 232 projects. The building became a living embodiment of his mastery. All the world knows it as the main landmark of Sydney and one of Australia's major tourist attractions.
In most competitions, the judges are short of time, and only a few scores of designs receive careful consideration. This way, an participant has to catch the jury's attention and showcase as many advantages as possible to pass the preselection.
Architectural 3d rendering is able to amaze instantly and make all benefits visible at first sight. Designing a luxury hotel for a competition? Commercial building visualization is able to demonstrate every detail working for the corporate identity while having their own individuality. The bar on the first floor will captivate passers-by for an hour? A render will show it up.
If the project doesn't win, it's still a powerful card to play. Placed in the architect's portfolio, it will attract new customers, and commercial 3D rendering will effectively demonstrate the architect's expertise.
#3. Allow for Options with Commercial Business Rendering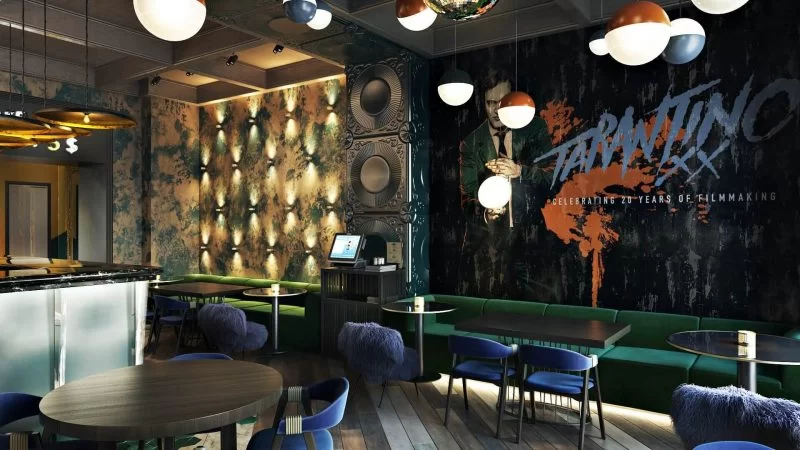 It happens that a project needs several variants of design. For instance, a client insists on an idea that is far from effective. In this case, the architect suggests two options: one meeting and one circumventing the requirement. Owing to commercial building rendering, the customer is able to compare both and choose the better one.
Sometimes, a request for tender provides for a specific number of options. So, the architect develops several variants of commercial design. As a rule, all options have a lot in common, and several parts can be copied from one render to another. This way, 3D visualization helps reduce the overall cost.
Last but not least, commercial 3D rendering comes in handy when tackling a design challenge. In such a case, various ideas may seem equally good, or none of them looks like a good solution. Thus, only 3D visualization enables decision making. For example, one can use restaurant 3D rendering to compare two designs of a fairy-tale theme dining hall. One meets the client's expectations but goes far beyond the budget. The other is affordable, but doesn't satisfy the requirements. With renders of both, the client and the architect may come to a more balanced solution.
Make sure your exterior design project takes your clients' breath away
#4. Use Exterior and Interior Rendering During Creation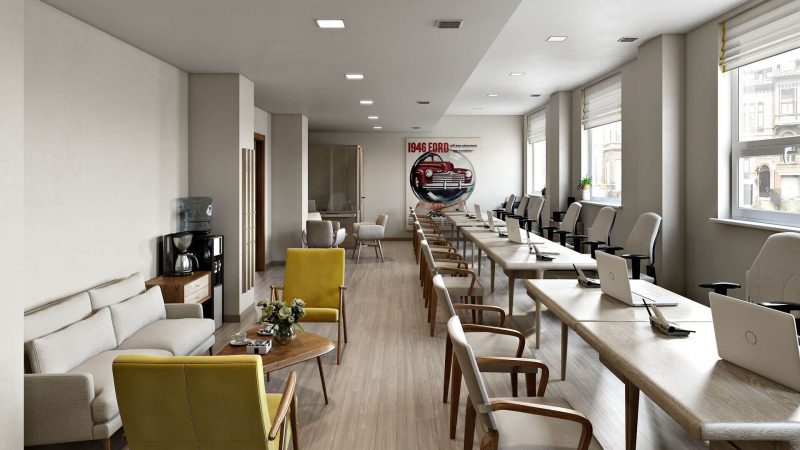 Even if a commercial building design looks great in drawings, it may need further improvements. Are the rooms in the newly drafted business center spacious enough for productive work? Will the staff get enough light in there? A 3D office rendering will help the architect review the design and make sure everything is impeccable.
#5. Get Precise Feedback with Commercial Building Rendering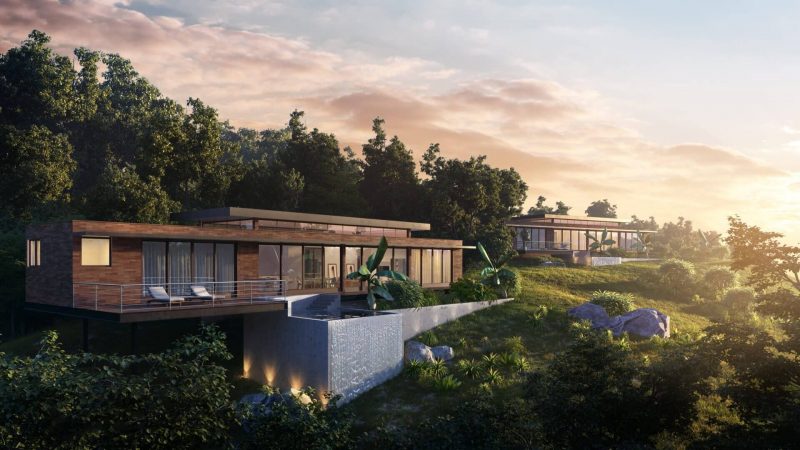 Since photoreal commercial 3D rendering provides the exact view of the project, the customer is able to make sure it meets his needs. And if something is not to his or her liking, the client can speak it out during the architectural presentation. It's much easier and cheaper to get a revision of CGI graphics than to change the course of construction on the go. Thus, 3D rendering helps avoid delays and unnecessary costs. By ensuring mutual understanding, it contributes to customer satisfaction.
#6. Suggest Commercial Renders to Client for Further Use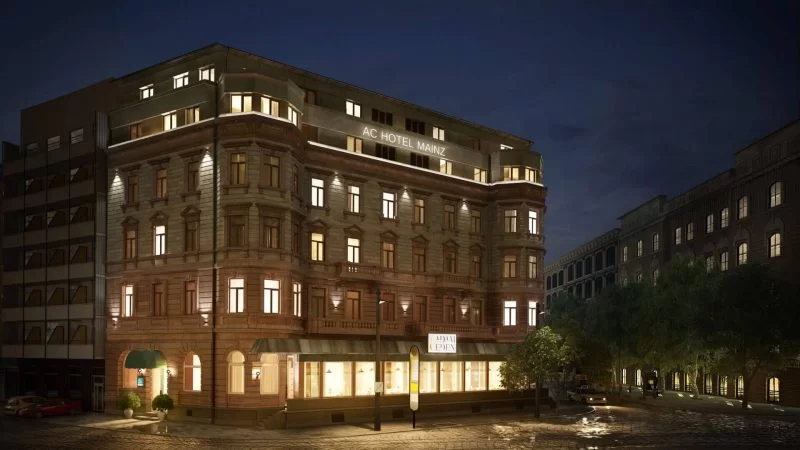 Providing commercial building renderings to customers adds even more value to an architectural project. A client can use them further to form a positive image of the company and promote its services on social media, emails, and commercials.
For instance, the hotel rendering above represents the business across several booking websites. The image radiates peacefulness and calmness of an old cobbled street in the very heart of Mainz. More importantly, it conveys the cozyness and hospitality of the hotel that occupies a splendorous historic building.
Not only clients use 3D visualizations for promotion: architects leverage them too. If brought together in a portfolio, CGI prominently represents his expertise in architecture and convinces the viewer to order architectural services. In SMM and email marketing, 3D renders draw the readers' attention and persuasively showcase the service.
#7. Get the Builders Doing It Right with Commercial Building Rendering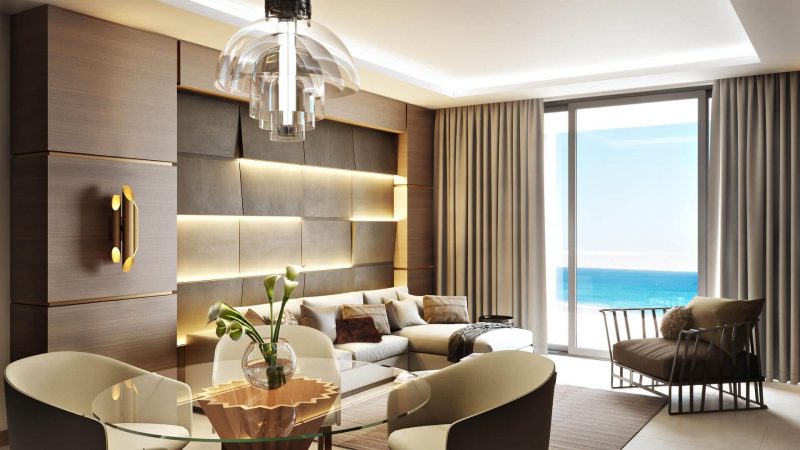 Construction workers can read blueprints, but a visualization gives a better understanding of the result. A presentation underpinned by photoreal visualization and CGI handouts ensure that builders view the building the same way as the architect. For example, hotel room renderings like the above one deliver a holistic view of commercial interiors. A house painter and decorator who uses them will know the ultimate goal up to every minuscule detail. This way, construction becomes more predictable.
As commercial building visualization precisely conveys the architect's vision, it contributes to clients' certainty. They know for sure what they are going to get, and renders provided to workers guarantee they will really get it.
Commercial building rendering helps the architect to achieve his project goals in many ways. It makes for splendid detailed presentations with breathtaking views the client won't forget. Moreover, it comes handy when communicating with builders or explaining the client the best options available. And of course, commercial building rendering looks wonderful in an architectural firm portfolio, turning it into a lead-magnet.
Have a commercial project that needs an impeccable representation? Contact ArchiCGI and get photoreal 3D rendering services that will help you reach new horizons!
---
Irma Prus
Content Writer, Copywriter
Irma writes articles and marketing copy for ArchiCGI. Her dream is that more people discover the power of CGI for architecture. Irma is into neuromarketing, ruby chocolate and Doctor Who series.