Floor plan 3D rendering and 2D CAD floor plans are often viewed as competitors. Some Real Estate Agents have already adopted the first and claim that this is the best thing that happened to their sales since the advent of the Internet. Meanwhile, others say that floor plan renderings aren't of much use when there are 2D CAD drawings, which have always been there and still seem to do the trick. So who's right?
As a professional architectural visualization company, we've made quite a lot of CAD and 3D floor plans over 8 years, and know exactly what they are good for. Not sure what to choose? Then join us as we compare both solutions.
Benefits of 2D CAD Floor Plans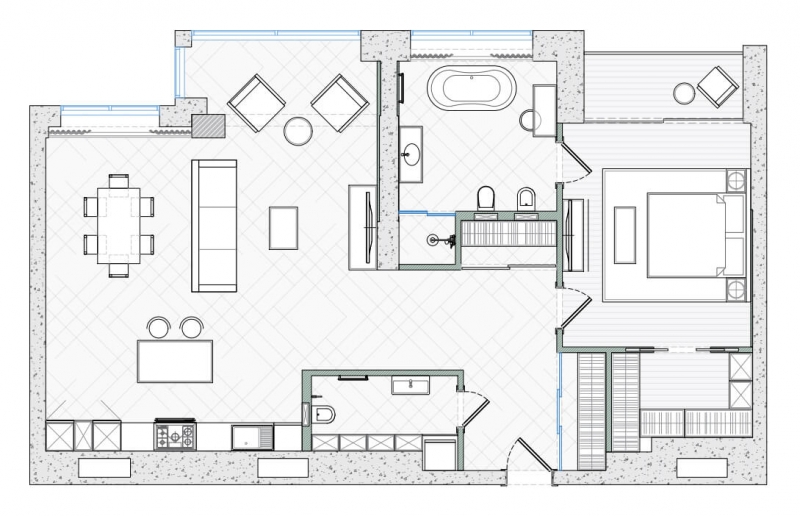 #1. 2D Floor Plans Take Less Time
Drawings don't involve as many complex operations as floor plan 3D rendering, such as 3D modeling, texturing or adding details. And since the 2D plan is only a schematic drawing of the premises with pictorial symbols of furniture and decor, it is way faster to make.
#2. 2D Floor Plans Are Affordable
The cost of a 2D plan with the furnishing depends on the turnaround time of a Drafter — much like it happens with 3D Artists. However, a floor plan 3D rendering needs more time and sometimes work of a few CGI Specialists. Meanwhile, a 2D CAD floor plan usually requires 1 Drafter only.
#3. 2D Plans Show the Strict Necessary
2D floor plans show the planning and a schematic furniture layout — and do it clearly and accurately. This way, laconic drawings allow clients to concentrate on the essential and don't distract them by additional details.
Downsides of 2D CAD Plans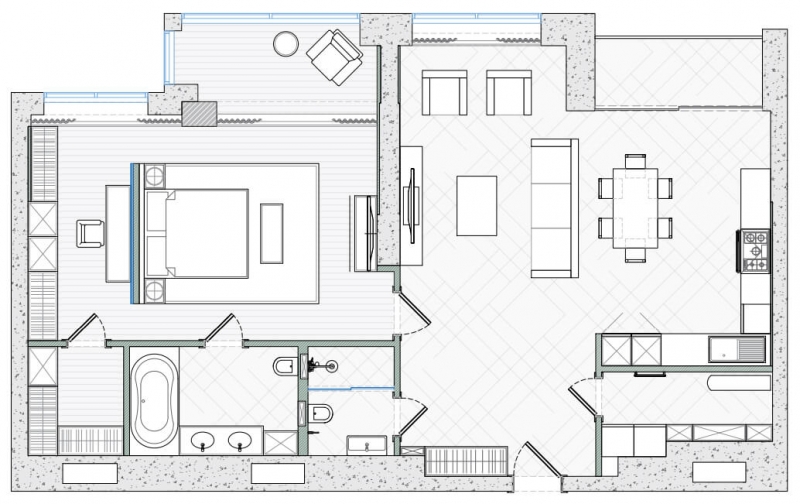 #1. Not Every Client Understands Drawings
To read this type of floor plan, one needs to know how to decipher engineering symbols and also have spatial thinking to imagine what it looks like in 3D. So to explain the drawing to a client and convince them that this looks good in real life, Realtor needs to put in much effort.
#2. There's no Height in 2D
Without seeing the height, buyers can't get the whole picture of the interior. They have to imagine the height of the ceiling and the scale of the glazing surface. In this case, the only way for a Real Estate Developer to establish mutual understanding is to provide photos of the dwelling.
#3. 2D Gives Clients no Emotions
Potential buyers expect their dwelling to be a mirror of their lifestyle. They want images as realistic as possible, so they can imagine living in there. So even though 2D is great in informing, in performing — it's not. Unlike floor plan 3D rendering, it has no wow-factor – it just serves a different purpose.
#4. 2D Drawings Don't Have Textures or Colors
A 2D plan showcases only the schematic floor covering. However, many buyers want to see more, like the finishing materials, or a color palette. In this case, a Realtor needs to explain everything verbally — and this mission is definitely impossible. So there's always a risk that a client will prefer a more attractive proposition from another Realtor — just because he gets a fuller understanding of colors and textures, even though the property's far superior.
#5. 2D Plan Doesn't Work for Ads
Unfortunately, drawings don't generate much interest online. Which is an issue, as competition amongst Real Estate Agents is tough, and the market is full of tempting offers. And unlike floor plan 3D rendering, CAD plans won't make a property stand out.
Take your design presentation to a new level with interior rendering
3D Floor Plan: Drawbacks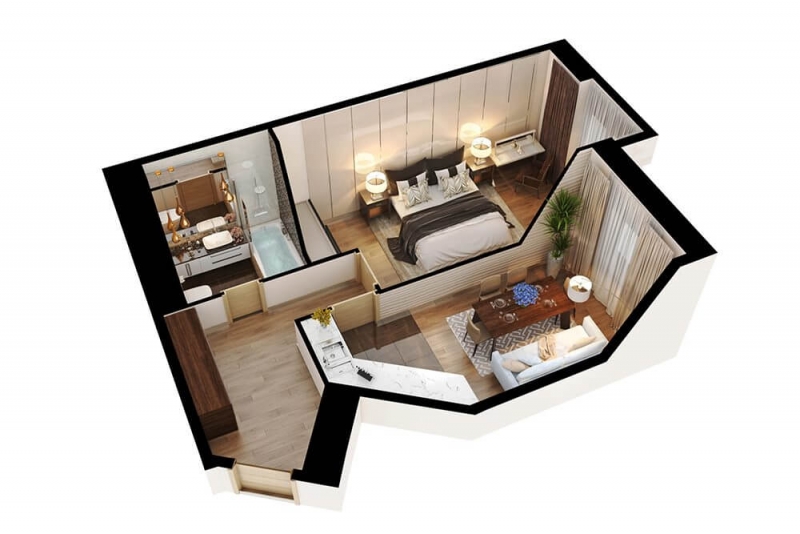 #1. 3D Rendering Creation Takes More Time
The more complex and detailed the property is, the more time it takes to develop it. Before starting the rendering process, a professional 3D Artist lifts the walls from a 2D drawing, adds doors and windows, applies textures, arranges furniture, and sets up the light. However, when waiting is rewarded with impressive visuals which make prospects happy — it just may be worthwhile.
#2.CGI Is More Expensive Than 2D
Floor plan 3D rendering costs more, as it takes more time and efforts to make. First, a Realtor has to find a reliable 3D studio and provide all input data. Based on it, a 3D Artist builds a 3D model, fills it with furniture and decor, applies textures, and sets up the lighting. However, many Realtors claim that real estate rendering increases sales – which makes it a justified investment.
#3. Realtor Has to Find a Good 3D Studio
This could be a difficult task for a Realtor. Finding a new contractor in any sphere is tough, let alone when it's about some totally unknown industry. However, a good promo material is definitely worth research, and it's not that difficult. Even though there are lots of competing offers, it makes sense to pay attention only to contractors who have good-quality floor plans in their portfolio. The best way is to call the favorite ones, ask them a few questions, and choose based on the answers.
Advantages of Floor Plan 3D Rendering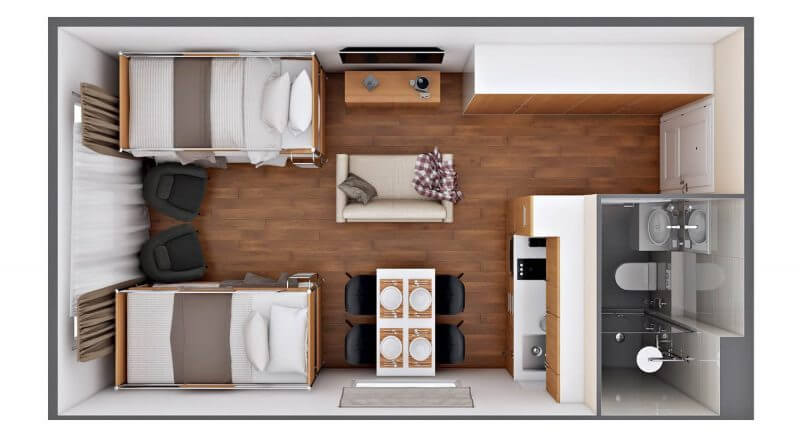 #1 Floor Plan 3D Rendering Is Perfect for Promotion
A Real Estate Developer can use 3D rendering in online and offline advertising for banners and listings. CGI imagery will present the property most spectacularly and help a Realtor to stand out among competitors.
#2. 3D Plan Allows Seeing Proportions
A 3D floor plan rendering allows buyers to imagine themselves moving into the apartment, decorating it and starting a new life there, which is bound to translate into a sales increase. Even without photos or photoreal render, a buyer can easily understand the property's scale and proportions.
#3. Floor Plan 3D Rendering Shows the Height
If the apartment boasts high ceilings and panoramic windows, it is crucial to show them – which can be done with a 3D plan only. Looking at the floor plan 3D render, the buyers will appreciate the strength of architectural design even before visiting — which may mean they can book the apartment for the showing.
#4. 3D Conveys Textures and Colors
Realistic floor plan rendering is very detailed, so every material feature is depicted beautifully. For 3D real estate rendering allows to realistically show the surface, as well as the lighting system, including sources of artificial lights and natural lighting.
To sum up, 2D is a must to pass the technical information along to contractors and could be an excellent cost-saving solution. However, the floor plan 3D rendering is a winner when it comes to marketing campaigns and presentations of a property. It is more expensive and takes time to make, but a 3D plan not only shows the estate but sells it.
Present your architectural project like a piece of art with AI-powered CGI
Need high-quality 3D floor plans? Contact ArchiCGI and get professional 3d rendering services. We will create for you excellent marketing materials, including 3D floor plans, virtual staging, 3D panoramas, and even animations.
---
Irma Prus
Content Writer, Copywriter
Irma writes articles and marketing copy for ArchiCGI. Her dream is that more people discover the power of CGI for architecture. Irma is into neuromarketing, ruby chocolate and Doctor Who series.