Smart real estate marketing ideas help to break the deadlock over online property sales. When the materials are super expensive, and getting quality is tough, it's increasingly difficult to sell properties on the web.
One of the crucial issues is that most of the time, properties are far from sales-ready, with owners insisting on high prices and refusing to invest even into new furnishings. So that when photographers come, they don't even know how to show the property in a good light.
Small wonder that good houses don't get much attention online. Sales slow down, and real estate owners are dissatisfied with the service. However, some realtors manage to use digital marketing to their advantage to get lots of calls and negotiate great prices for customers. How do they achieve that?
Our 3D rendering company works with many successful agents, so we know exactly what it takes to create materials that sell. The key to success is CGI, and some time-proven real estate marketing ideas. Of course, strategy is what works best, but these 5 tips will help you get considerable results on their own too.
Join us as we reveal these tactics for getting more properties sold online.
Idea #1. Create Stunning Imagery
All real estate marketing ideas begin with visual materials. Pictures show real estate offers better than any words, so top-quality imagery is a must. Photography is one option, but photoshoots take lots of resources. They take photographer's time, require renting decor, pre-photoshoot styling, looking for the right light. Of course, one can do photos quickly without a studio's help, but the results will look cheap and won't do justice to the property. Only professional images will attract attention to the offer advertised.
Photorealistic 3D rendering is the alternative allowing to avoid photoshoots and still get perfect real estate visuals. The quality of imagery will be the same, for CGI software allows to create 3D renders so realistic that it's impossible to distinguish them from photographs.
Idea #2. Find Clients Online
The next step is promotion. And there's no need to hurry. Rather than immediately allocate huge funds on advertising, it makes sense to think about how to get first customers without spending much. Consider these 2 time-proven real estate marketing ideas to find buyers online for free:
Listing. Potential clients start their search from listings, so this is definitely the place to look for prospects. However, for obvious reasons, the competition is high. To stand out, both offer and imagery need to be really attractive. And 3D architectural visualization is the perfect solution to get fabulous selling images, 3D tours and 3D animations that will attract attention.
SMM. These days social networks are the prime place for business and private communication. With a smart approach, social media marketing allows to reach large audiences. Just make sure your offer is clear, posts are versatile and show the real estate advertised to its advantage. And 3D architectural rendering can provide you with high-quality marketing imagery for every single post.
Take your design presentation to a new level with interior rendering
Idea #3. Enhance Advertising Materials
Next item on our list of inventive real estate marketing ideas is advertising. For when plans are getting bigger, every marketing campaign needs advertisements, both online and physical ones.
Imagine a would-be customer – down in a subway, going to his old timeworn flat. And then he sees a bright, emotionally charged ad with an alluring 3D exterior render showing the house he always dreamt about. He stops and thinks: "Hmmm, maybe my life needs a little renewal".
The idea is that real estate agents sell not just properties, but dreams. So each offer should look like a dream about to come true – with beautiful pictures, full of atmosphere and showing the benefits of a property. And high-quality real estate marketing materials help to get professional advertisements that leave a profound impact.
Idea #4. Offer Additional Benefits
People buy not only a real estate but the neighborhood. Therefore, it's vital to showcase surroundings – the green lawn, landscape, houses around etc. Since an image might not do the task, that's when photorealistic 3D exterior animation saves the day. It illustrates real-life flow, and the client sees the beautiful facade, a charming garden, and a swimming pool – all the attractions that are better to be seen than told about.
For luxurious real estates, it makes sense to use 3D virtual tours. It will help the customer to examine the property and get a taste of it. With the interior design looking so real, the viewer will have the feeling that the apartment already belongs to him.
Best of all, 3D animation and tours are one of the top real estate marketing ideas for selling abroad. For when people are considering to buy a house in a foreign country, they aren't able to visit every real estate they like. A 3D tour around the property can catch their attention and make them book the house advertised for a showing.
Idea #5. Meet Your Client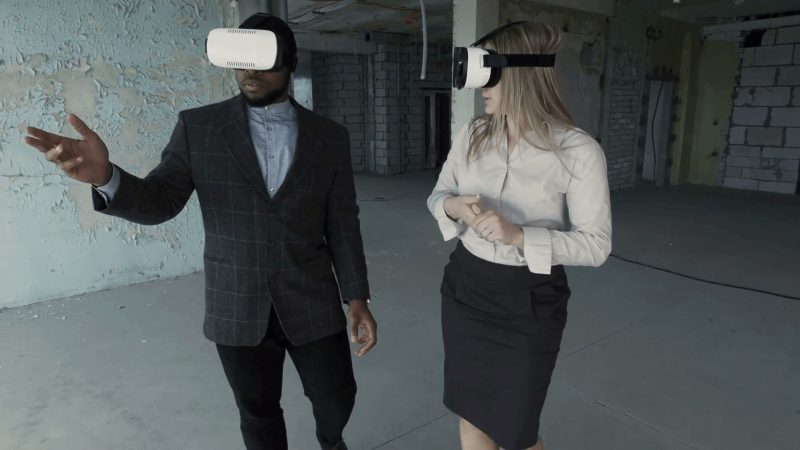 The final tip in this selection of the best real estate marketing ideas is about meeting the client. For when a prospect comes to see the property, the battle begins. Both parties discuss advantages and disadvantages of the offer, and, of course, negotiate the price. But what if the place needs a renovation, or is empty altogether? Settle for what the client offers, even though the real estate clearly deserves a much better deal?
The answer is – not at all. But to sell the potential of a house, one needs to showcase it. So the trick is to organize VR presentation and walk the visitor through the best version of the apartment and let him appreciate what the property can become. The show will impress the customer and give a clear picture of what to do with this space later. But the Real Estate Agent can even go further than that and show the visitor an actual ready-made design project. How cool is that? Moreover, the agent can refer the buyer to the Interior Designer to implement the project. The buyer will definitely remember the thoughtful move and advise the real estate specialist once a friend of his will need a new house.
Present your architectural project like a piece of art with AI-powered CGI
These 5 real estate marketing ideas will help you find buyers for properties and get great deals for your clients. And as you can see, all of them work best with the help of 3D architectural visualization. For CGI saves realtor's time and money, boosts online conversions and even helps expand the business abroad. Need high-quality visuals to enhance your online marketing campaign? Contact ArchiCGI and get top-quality 3D rendering services for real estate. We'll create for you photorealistic images that will sell and seal the deals!
---
Irma Prus
Content Writer, Copywriter
Irma writes articles and marketing copy for ArchiCGI. Her dream is that more people discover the power of CGI for architecture. Irma is into neuromarketing, ruby chocolate and Doctor Who series.