The success of realtor's business depends on many factors. The main of them, of course, is how quickly and profitably the real estate agent sells his objects. Clients nowadays are much more demanding when it comes to real estate – for them, seeing floor plans, schemes and technical characteristics of the architecture object is not enough anymore. After all, they don't buy simply square feet or meters of space – it's a place for raising children, spending happy hours and enjoying life. This is why the realtor's primary task is to arouse the buyer's interest, showing him all benefits and prospects of the potential deal.
Real estate market has a comprehensible, established scenario for the interactions between buyers and sellers. The seller submits photos and description of the object to specialized websites, sometimes paying for its promotion. Then, he simply waits for the clients to call, and if they do, the realtor takes them on a tour, showing the real-life building and telling about its benefits. This procedure is repeated over and over again until the deal is finally closed. Sure enough, if the object is truly attractive and unique, it can be sold very fast. However, «bad» real estate can remain unsold for months and even years. Is there any hope to close such a deal?
This house is an example of finding a good solution: link here.
In this case, quality photos helped selling the house in just a few days. However, there isn't always an option of making good photos at all – sometimes realtors have to sell unfinished houses, apartments without renovations or simply empty land parcels. Is it possible to sell them quickly? How can your project, whether existing or only planned, be shown in the best light?
Architecture Visualization: Helpful 3D Tools Instead of Photos
Architecture visualization is a great solution to this problem. First, 3D architecture is cheaper than a professional photo shoot. Second, you can easily change the object or add something, making it more attractive – just mention your suggestions in the technical assignment. There are many helpful 3D tools that not only present real estate in the most flattering light, but also make you stand out among your competitors.
3D Planning
Functional zoning easily reflects the client's preferences for almost any apartment. It is probably the easiest, most comprehensible 3D tool. There are various online apps for 3D planning that can be used even by kids.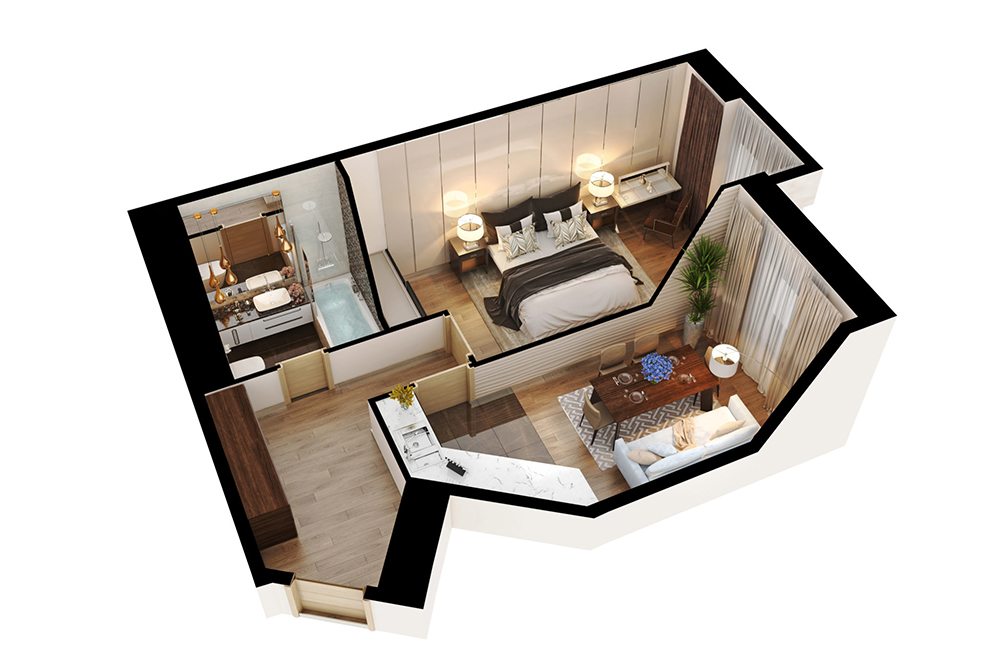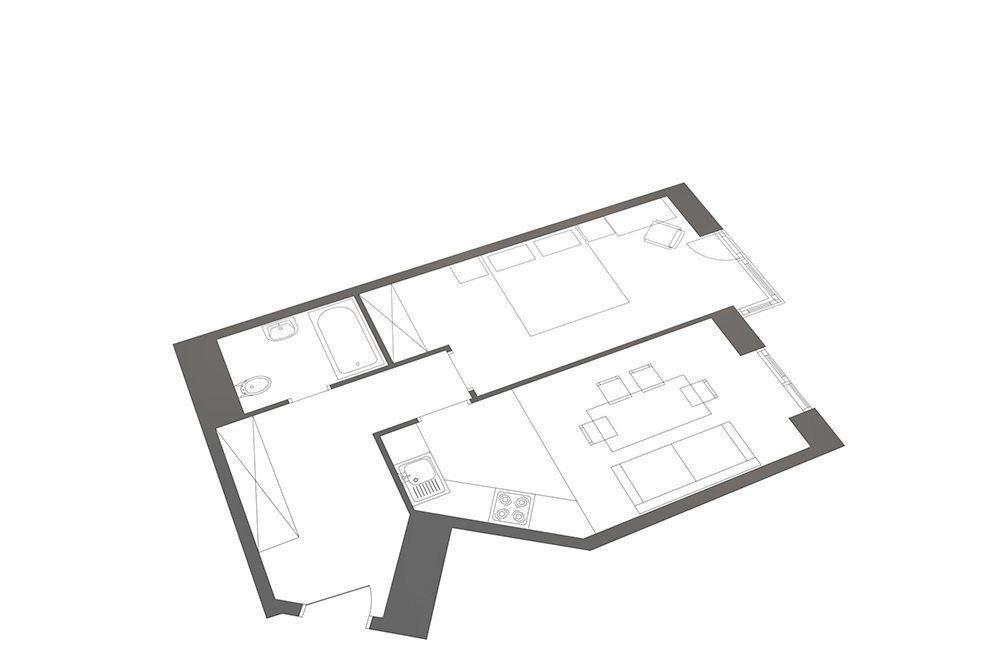 Photorealistic 3D Visualization
In a way, it's just like the photo of an object. Architecture visualization can be either interior or exterior. It's helpful for showing everything exactly as it is – you can skip the live tour, saving yourself time and effort, and just present your buyers with architecture renderings. Moreover, architecture 3D visualization allows making better impression – for example, even a well-designed house will look cheap on an empty piece of land. Using 3D, you can liven up the empty space by adding a pretty garden, a large swimming pool and a tennis court. Your house will instantly look more expensive, and thus will be sold for a higher price.
3D Animation
Here, architectural 3d visualization is used to create video clip with a tour inside and outside real estate. Such clips make your presentations more memorable and boost your professional image.
3D Virtual Tour
While this tool is similar to 3D animation, it allows the client to go on a tour himself, creating his own route and seeing precisely what he wants to see. As a result, 3D visualization provides a personalized experience to each potential buyer.
Head-Mounted Display
Nowadays, such devices are produced by many brands, and their popularity is steadily growing. Using his smartphone, the customer can embark on a 3D virtual journey in the house of his dreams, which would be absolutely identical to the real-life experience. Such an experience boosts positive emotions and increases the desire to buy this house, making the pleasant dream come true.
Project Tango by Google
Although it's still new on the 3D market, this technology will shape the future. Here, using smartphone or tablet, you can show the completed project while being inside the building, while your buyer will be able to «try it on». Even if you both are in an empty apartment, architecture visualization allows showing its finished look, including design and furniture. This will help your client understand how well this object fits him.
In general, using the latest technologies and trends in your work greatly improves your reputation and helps winning the clients' loyalty.
Architectural Visualization: ArchiCGI Test Drive
As you can see, architecture visualization allows creating beautiful, memorable presentations for any projects – whether they already exist or not. The variety of 3D tools available today not only makes your buyers fall in love with your offers, but also gives you serious advantage over your competitors. Find out what your clients dream about and give them these dreams!
Present your architectural project like a piece of art with AI-powered CGI
While you can create simple 3D yourself, professional architecture visualization takes time and effort. ArchiCGI team will gladly help you, providing high quality, speed and reasonable rendering prices. Also, new customers are always offered the architectural visualization test drive. Try it yourself to see our professional level and work conditions.
---
Catherine Paul
Content Writer, Editor at ArchiCGI
Catherine is a content writer and editor. In her articles, she explains how CGI is transforming the world of architecture and design. Outside of office, she enjoys yoga, travelling, and watching horrors.