With only weeks until Christmas, all kinds of companies are coming up with clever ways to add a festive vibe to their promotional campaigns. However, as an owner of an architectural or interior design business, you might think seasonal marketing is not for you. We're happy to tell you that it's absolutely not true! Embracing the holiday spirit gives you an amazing opportunity to connect with your audience on a new emotional level. In fact, there are quite a few Christmas marketing ideas you can use to bring a festive mood into your communication with existing and potential clients. Plus, it's easy — all you need is CGI.
Year after year, our architectural visualization studio helps industry professionals create something special for the winter holiday season. In this article, we will share ideas on how to use Christmas-themed visuals in your practice along with some actual examples from us. Let's take a look!
#1. How Can Architects and Interior Designers Use CGI for Christmas Marketing?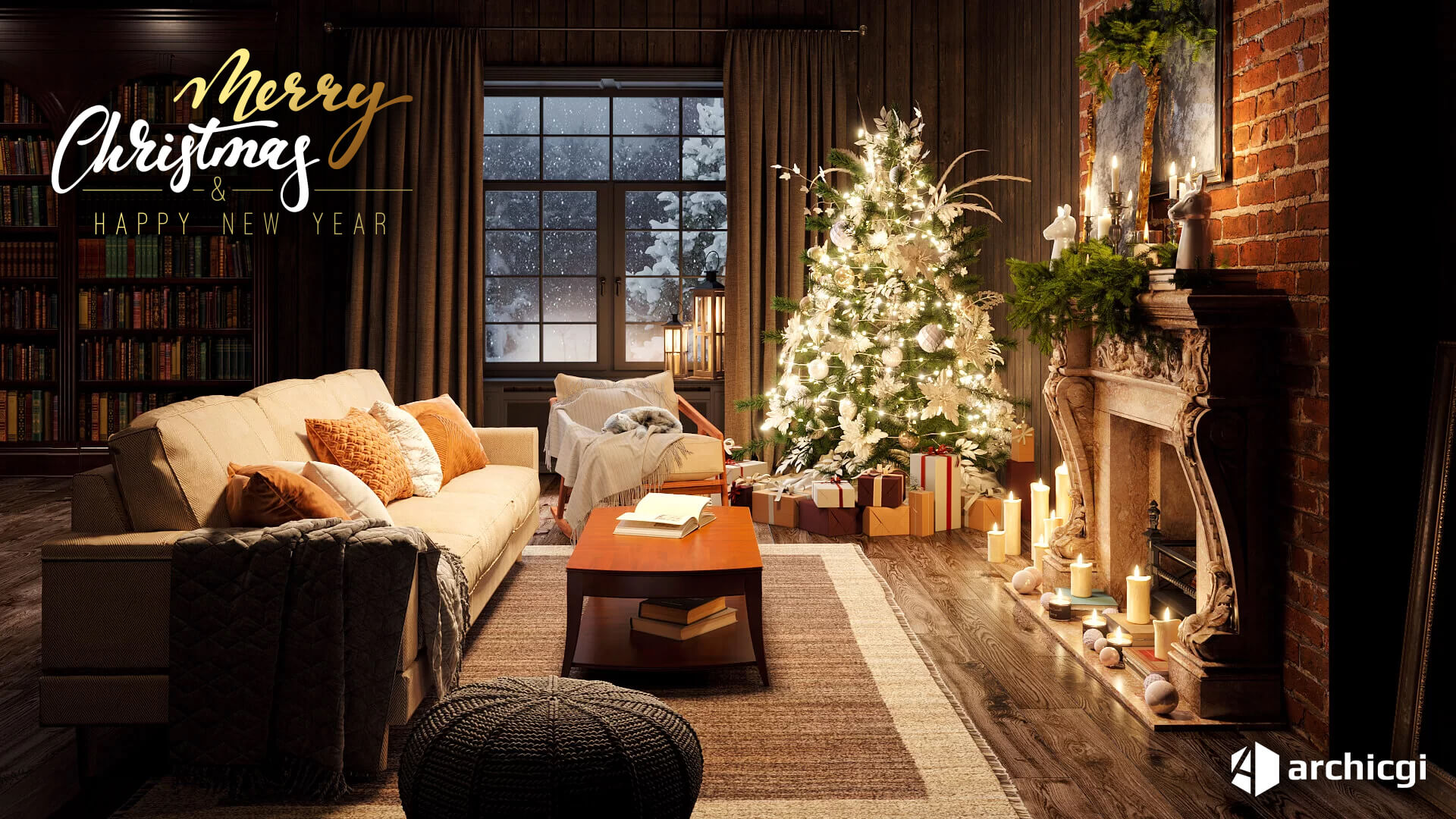 First, you can use festive 3D renderings on your website, in social media posts, ads, and newsletters as soon as December starts, or even a little earlier. Moreover, you get a chance to send beautiful Christmas cards to your colleagues and clients. That will definitely lift everyone's spirits and set the mood for the holiday season.
Then, you can also bring a festive feel to project visualizations that you present around Christmas time. For that, you should use winter settings with tastefully selected thematic decor in your renders. This way, you will add a next-level personal touch to the project. And that, in turn, will impress your clients and totally win their hearts.
#2. Christmas Marketing Ideas for Architects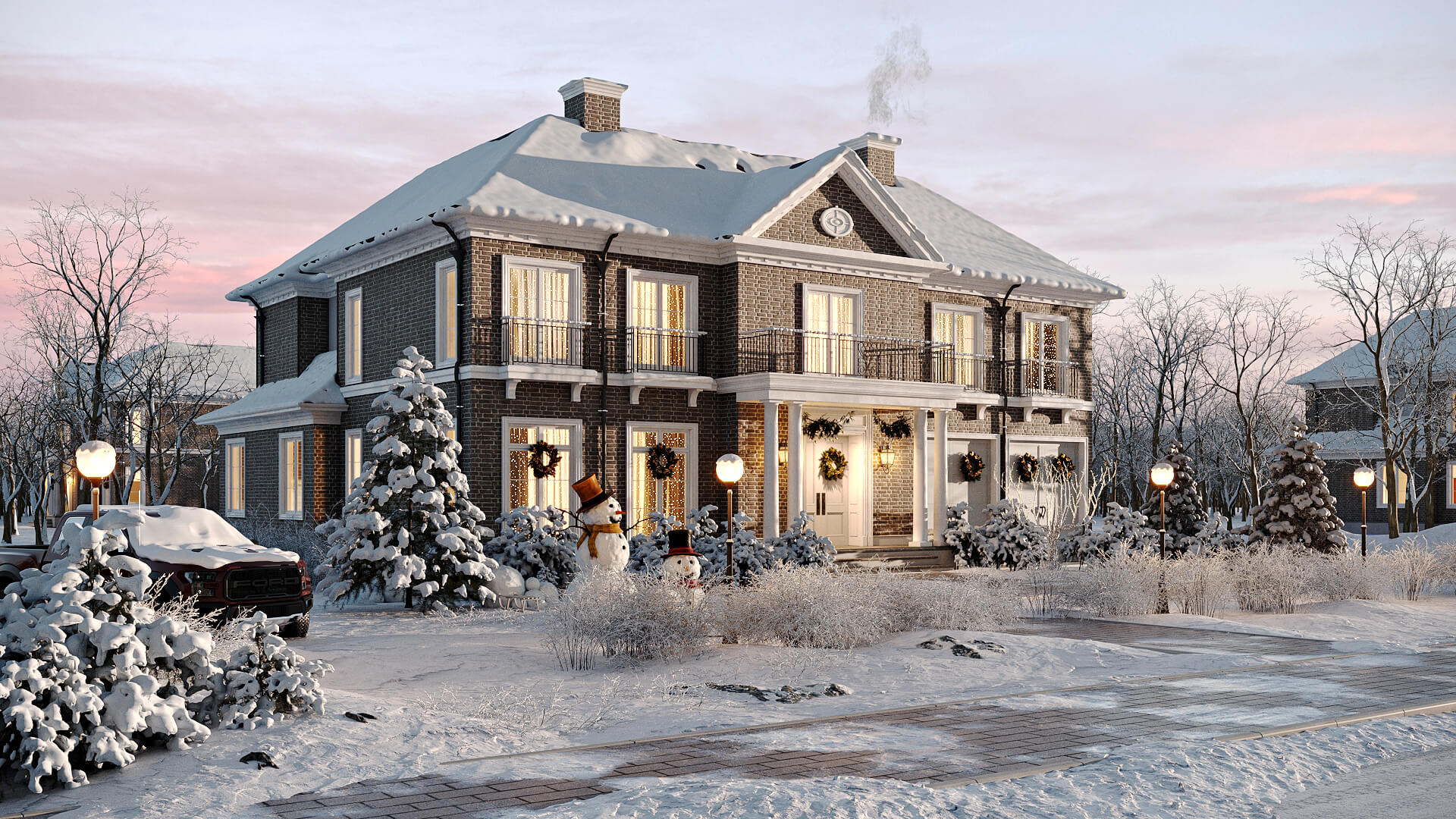 Among the go-to holiday marketing ideas is showcasing an architectural concept in a dreamy winter setting full of festive spirit. Here, you can play with lighting to achieve the look you're going for. For instance, the rendering above shows a house exterior in daylight, but with the sun already beginning to set. This way, the viewers can see the outdoor lighting on, as well as some Christmas lights in the windows.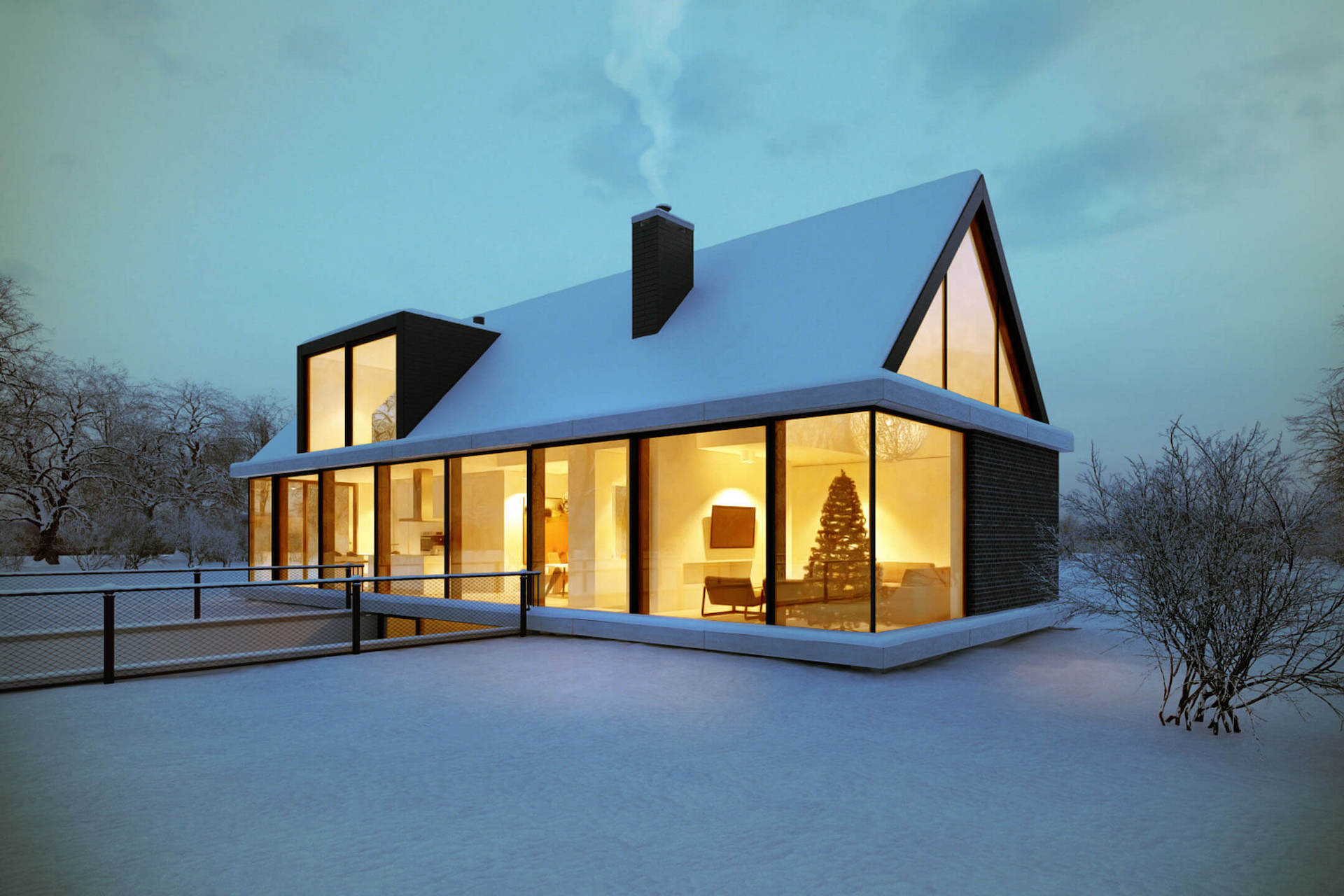 One of the best Christmas marketing ideas is to focus on the warmth and coziness of your client's future home. That's easy with CG imagery where a house contrasts beautifully with the snow around. Especially so — when you demonstrate the home in a nighttime setting, with all the interior lights on and a decked-out Christmas tree inside. That makes a particularly atmospheric rendering, in which the place will look homey, welcoming, and ready for the celebration.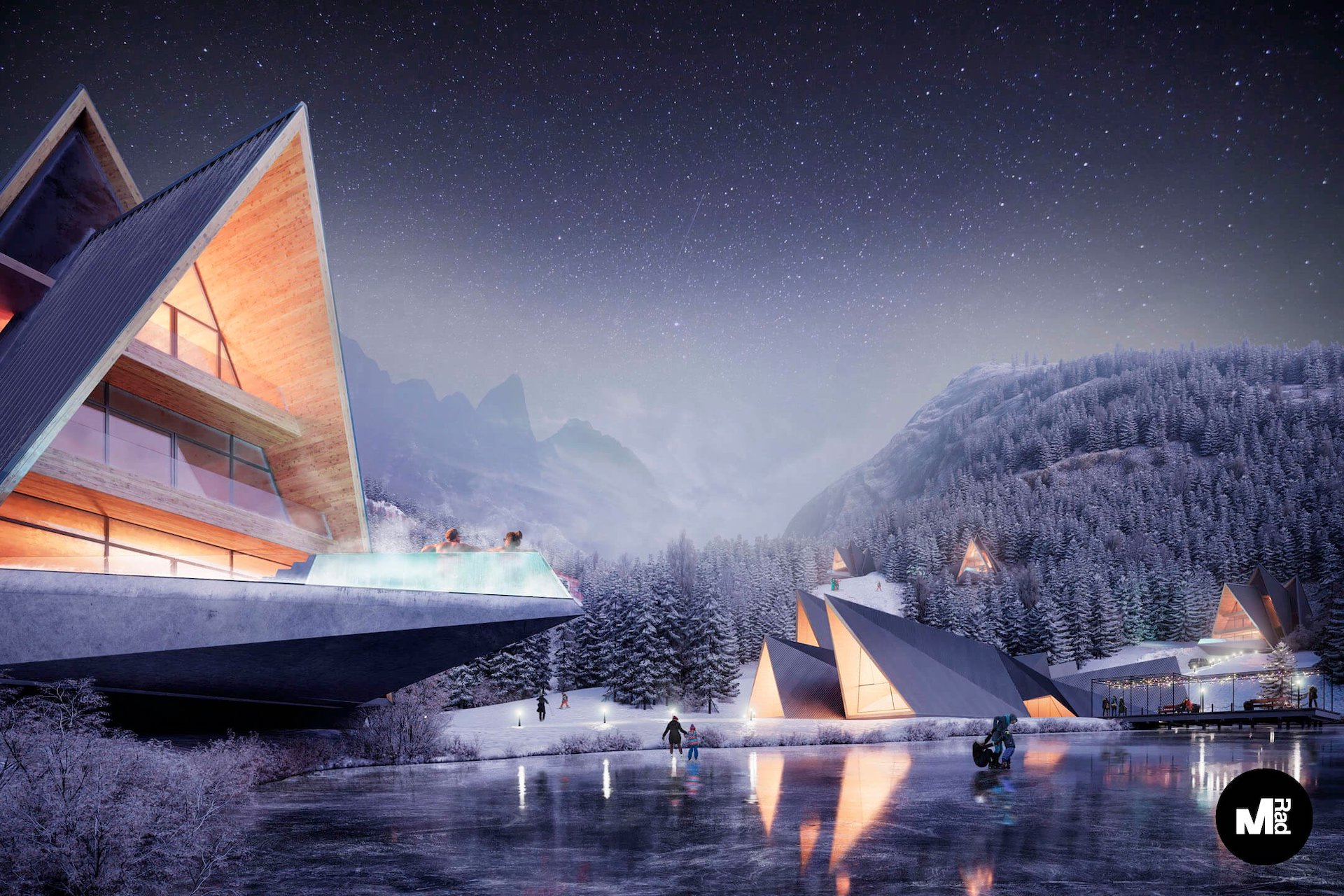 To succeed at seasonal marketing, you don't necessarily have to give the holiday theme center stage. Instead, you can convey the Christmas mood in a subtle way by using a winter setting for your visuals and placing some decorations in the background. The results will still look magical — just like the image above, where the Christmas tree shines cozily on a distant deck.
Present your architectural project like a work of art with AI-powered CGI
#3. Christmas Marketing Ideas for Interior Designers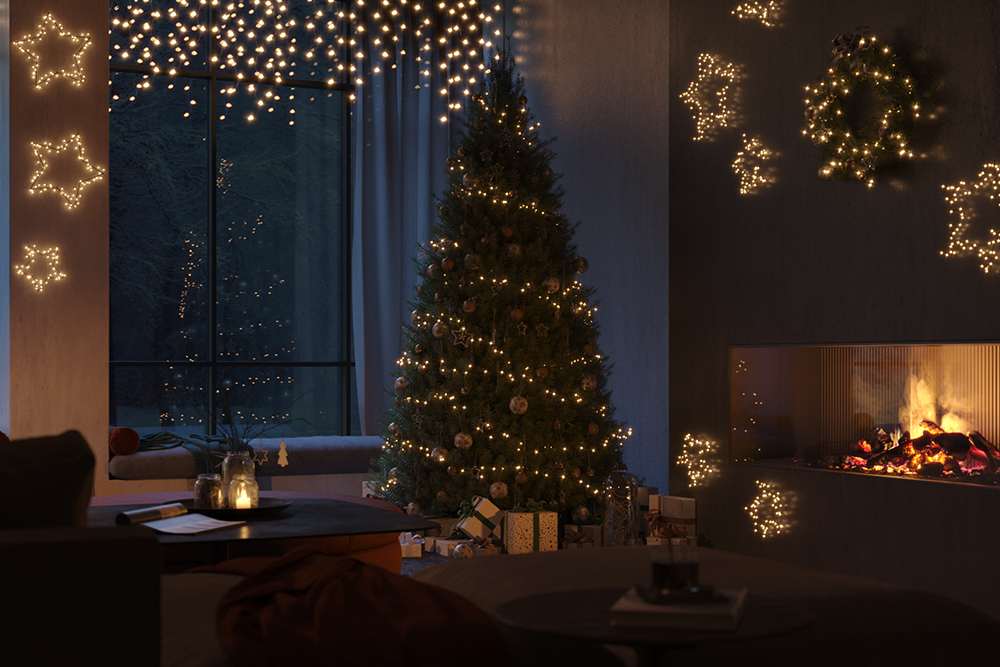 When it comes to interior design marketing, you can really set your imagination free. After all, there are so many ideas for stunning looks you can achieve with lighting and decor. For instance, the animated CG image above shows the room at day- and nighttime, with diversely combined Christmas lights, candles, and a fireplace. With such a visual, you'll be able to show your client all kinds of aesthetic scenarios within the space and inspire them for the holiday season. Of course, you can use separate still 3D images for these purposes as well.
Want to learn how much your project costs? See how we evaluate 3D rendering projects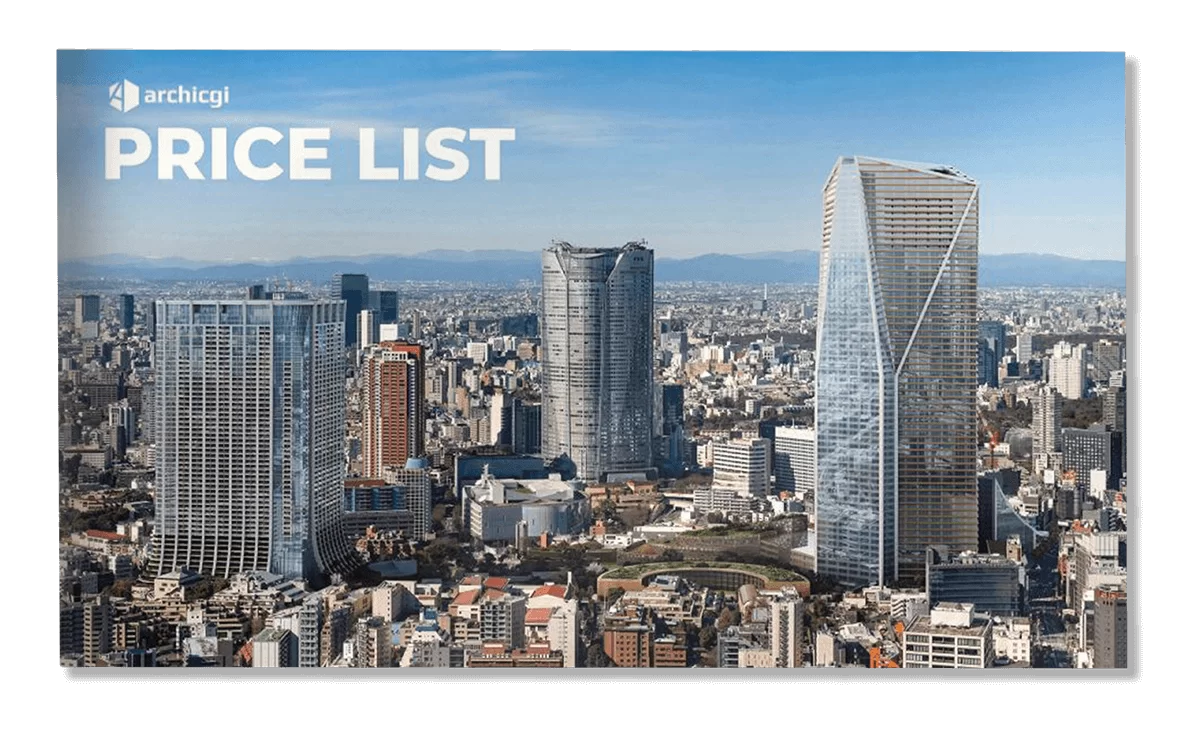 These were the Christmas marketing ideas you can easily make work for you by using photorealistic 3D visualization. This way, you will delight your clients and colleagues with some beautiful festive imagery and spread the joyful mood around. As a result, you will make a great impression on the existing customers and likely attract new ones.
Happy Christmas 2022!
Looking for professional 3D rendering services to make your creative marketing ideas come to life? Contact us at ArchiCGI and get top-quality renders and animations within the shortest time possible!
---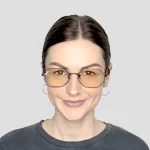 Nataly Cher
Senior Social Media & Email Marketer
Nataly's ambitious nature and creativity play a key role in her ability to create engaging content and highly successful targeted campaigns. Outside of the office, Nataly indulges her love of photography and plays with her joyful Jack Russel terrier, Mario.