Commercial architectural projects such as hotels, offices, restaurants, and retail spaces require exceptionally captivating presentations to win investors. There's where CGI comes in handy. With 3D rendering, architects and designers can help stakeholders visualize the final product before construction even begins. However, creating a simple SketchUp model of a building is often not enough to impress them. Photorealistic commercial 3D rendering can be a lifesaver here. Of course, providing it is done right. 
Our architectural rendering studio has been working for 12 years to ensure architects always have accurate and appealing renderings for their presentations. In this article, we will share 8 tips on how to make your commercial 3D rendering leave a lasting impression on your audience!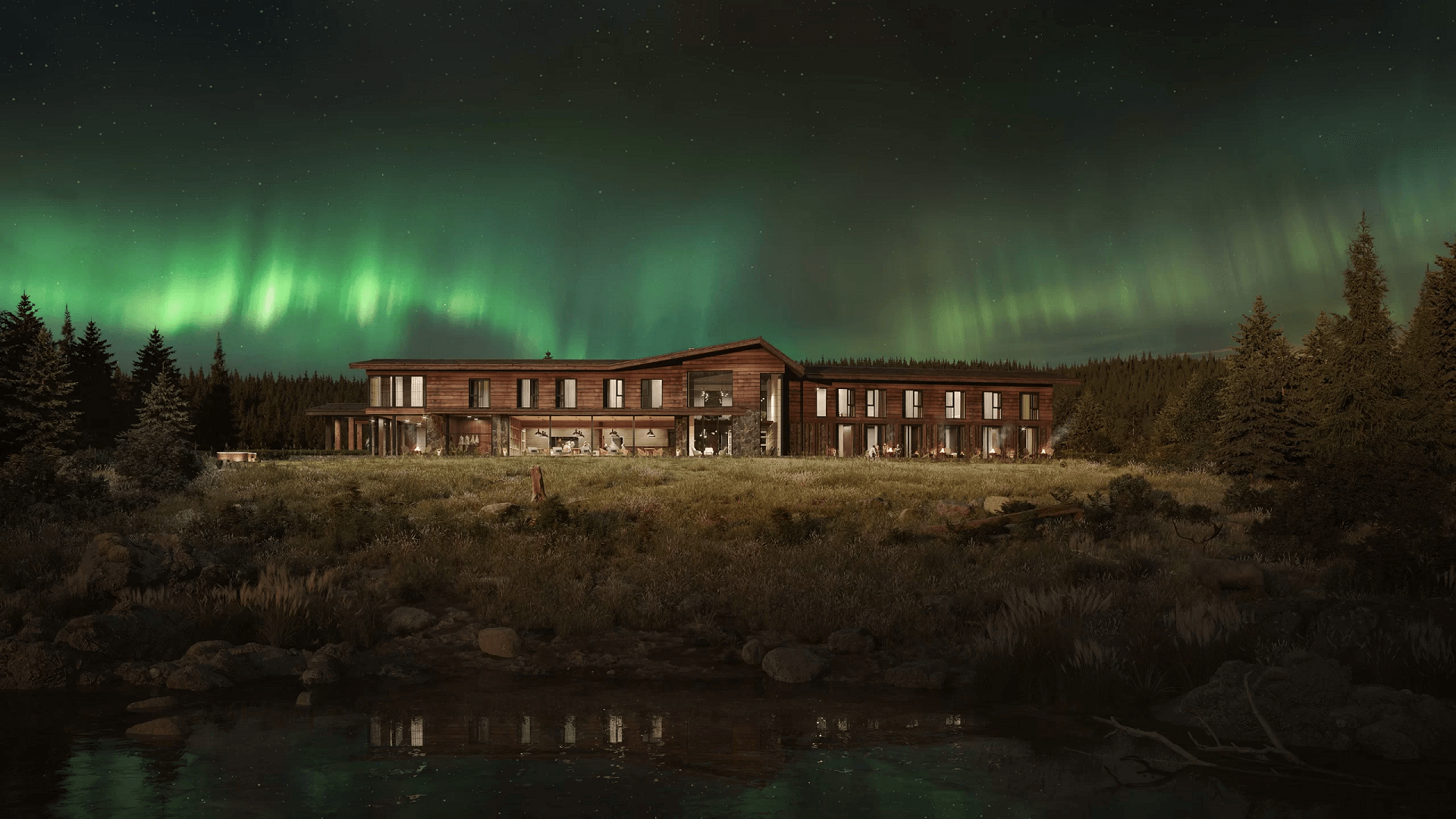 When it comes to commercial rendering for architecture, choosing the right setting is crucial. It can greatly impact the overall look and feel of the project, influencing the investor's ultimate opinion. So, consider the purpose and style of your project and choose a setting that complements it. 
Here is an example. Take a look at this 3D rendering our studio made for a cozy lodge in Norway. You see mysterious dark forest, beautiful reflections in the lake, and, of course, the mesmerizing Northern Lights. They work perfectly together to create a breathtaking atmosphere. And they highlight the design itself at the same time.
#2. Focus on the Benefits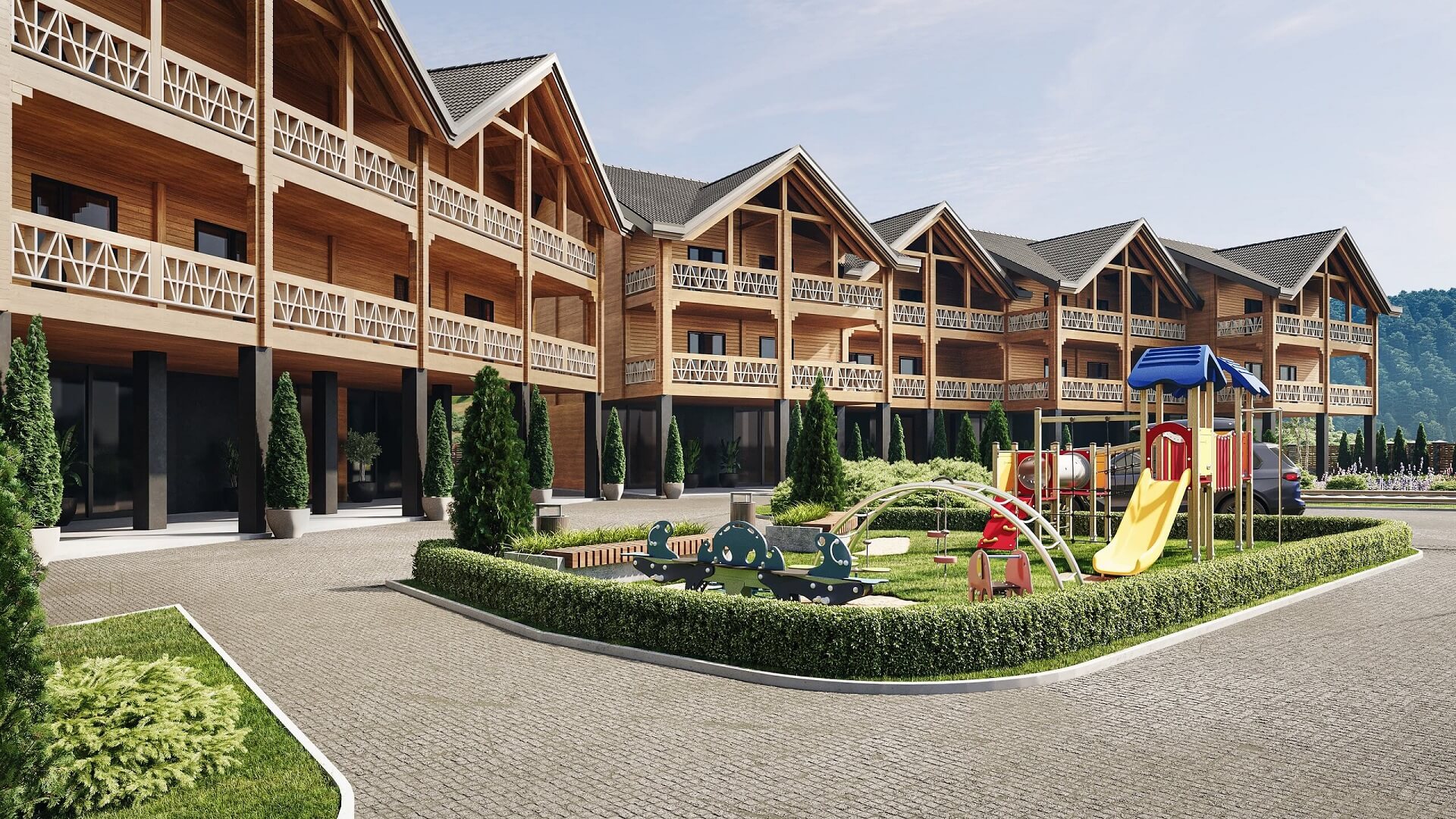 Emphasizing the specific benefits of your design can enhance the effectiveness of your commercial 3D rendering. That's because this way, you communicate the value of your project.
Let's take a look at this mountain resort rendering. A kids' playground almost takes the center stage here. It communicates that the place is family-friendly. That will be great for those who want to spend a relaxing weekend with their loved ones. 
In a similar vein, in an office commercial 3D rendering, one can highlight a spacious and comfortable lobby or cafe. It will convey the message that the building is both functional and provides a pleasant work environment. Don't hesitate to highlight any extra perks of your commercial design in a rendering.
In a commercial 3D rendering for architecture, lighting plays a crucial role in setting the tone and mood. Various lighting scenarios can communicate different aspects of the project. For instance, they help clients visualize how it will look at different times of day and weather conditions.
Let's consider these two renders of the same hotel. A daylight rendering helps viewers appreciate the building's design and all the details of the surroundings. In turn, a magic-looking nighttime rendering emphasizes the perfectly thought-out exterior lighting and city night atmosphere. 
In commercial rendering, one should be mindful of the type and color of lighting, as well as its direction and intensity. For example, warm lighting can create a cozy and inviting atmosphere, while cold light creates a more modern and sleek feel.
#4. Showcase the Amenities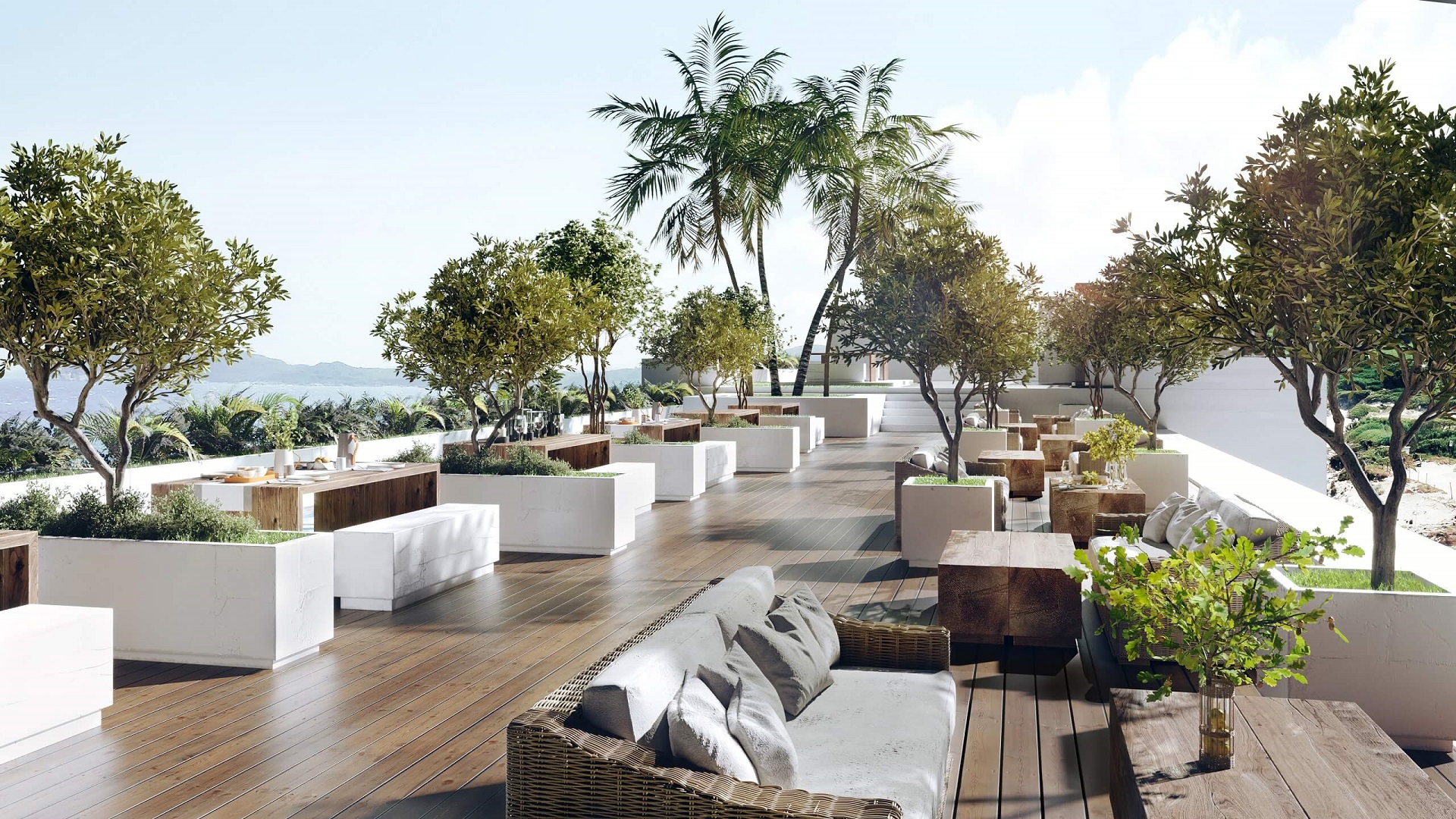 Showing the best amenities in detail is key to capturing clients' attention and conveying the unique features of the project. For example, in this 3D rendering for a hotel, we showcase a rooftop terrace with a breathtaking view. It clearly communicates that the place offers a unique and luxurious experience. Highlighting features such as lounge areas, fire pits, and outdoor dining can show how they will make the space more appealing.
In restaurant or office rendering, you can showcase such design elements as art installations or high-tech features. This way, you will show that the place will be truly memorable and unique. So, go for it in your commercial rendering!
#5. Populate Your Rendering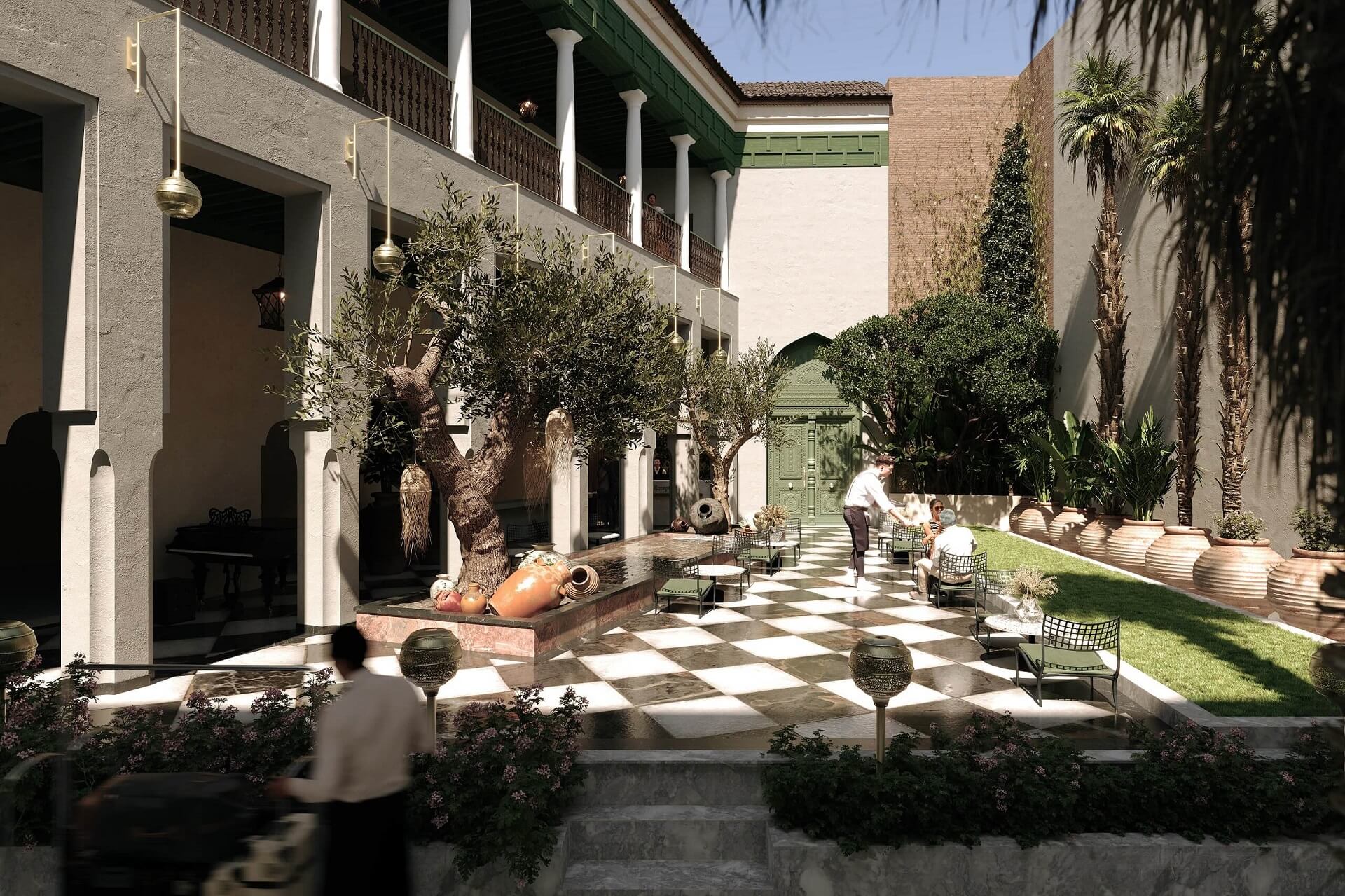 Even more so than in residential projects, adding people to a commercial 3D rendering can be decisive. By doing so, you can greatly enhance the realism and appeal of the project as well as help clients visualize its functionality.
For example, if you are presenting a hotel concept, showing a person at the reception desk can help convey a warm and welcoming atmosphere. Similarly, showcasing a terrace with people dining and servers can help clients visualize how the space will work. And don't forget that there's nothing better for the viewers to comprehend the scale of the space than seeing a human figure in it!
#6. Take Large-Scale Projects to the New Heights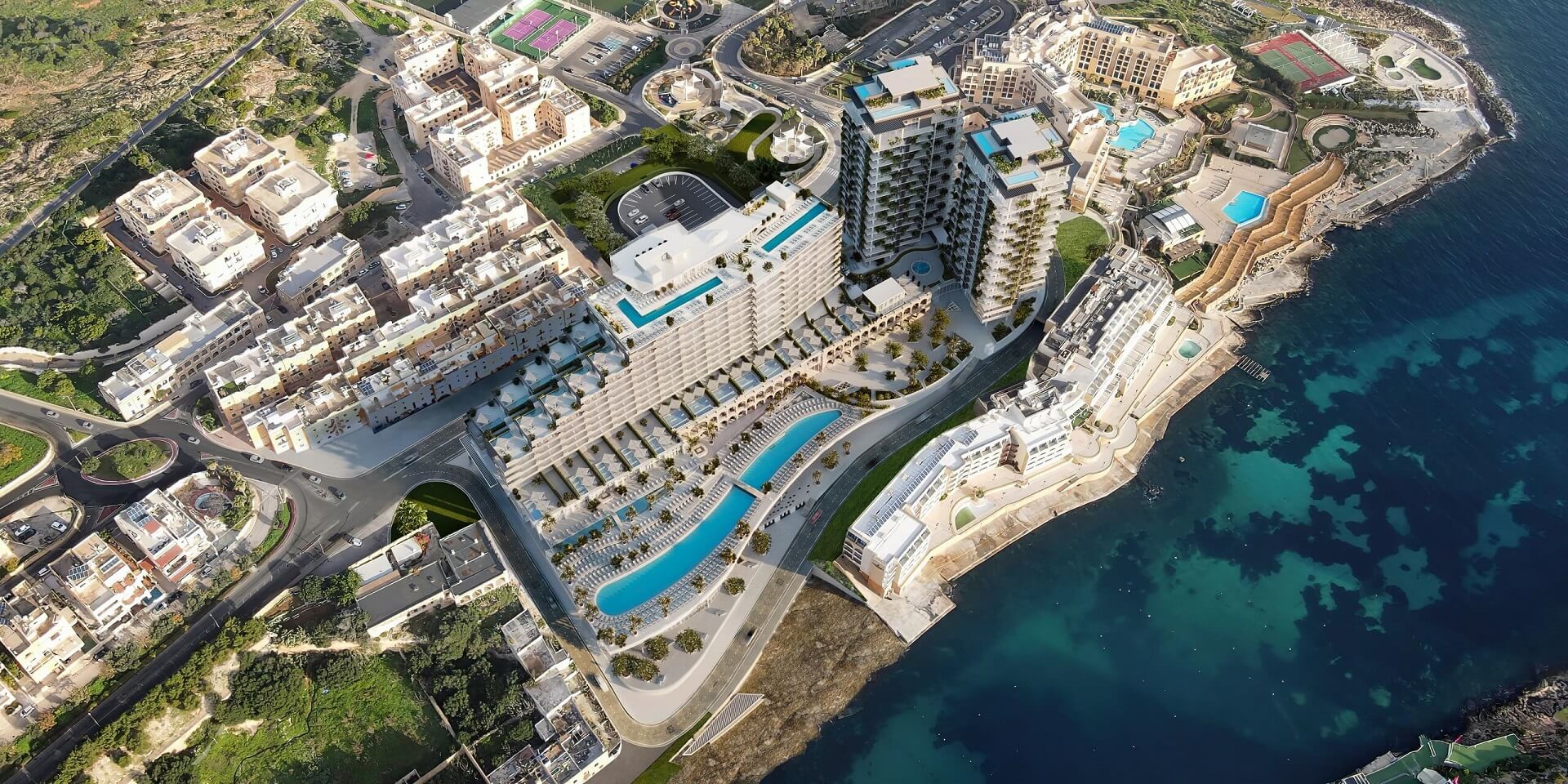 With large-scale commercial projects, such as chain hotels, shopping malls, or office complexes, an aerial view can be highly effective to showcase the scale and complexity. By providing a bird's-eye view of the entire site, an aerial rendering can help one visualize the layout. An aerial commercial rendering can also help the audience understand how the project works visually and functionally with its surroundings, such as roads, highways, or parks, and how it fits into the larger urban or natural landscape.
#7. Zoom in on the Details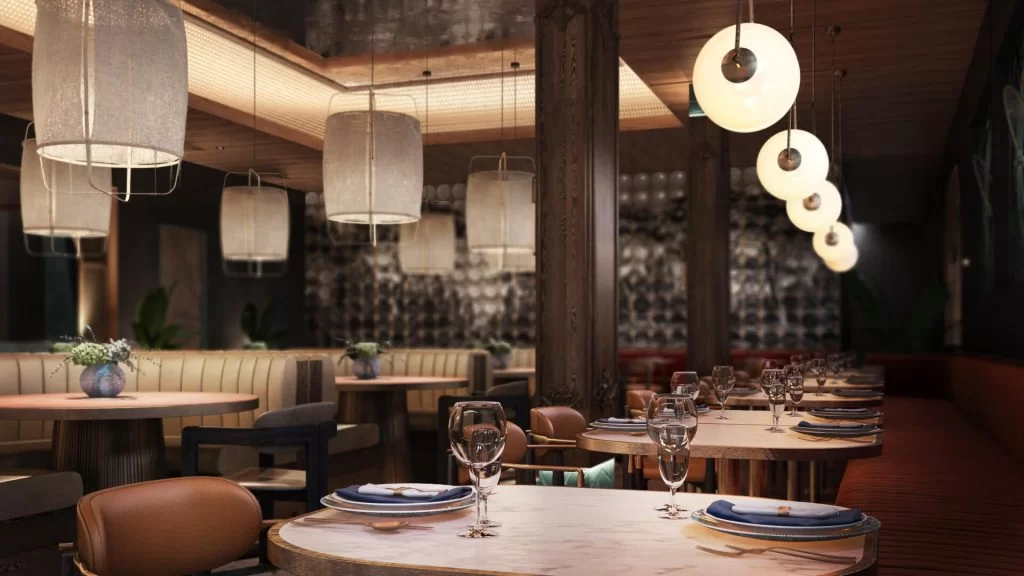 Close-up shots are a powerful tool to convey the mood in commercial 3D renderings, both interior and exterior. By focusing on specific elements, such as textures, materials, or design features, close-up shots can help showcase the intricacies and vibe of your design.
A close-up rendering can convey a particular mood or atmosphere, such as the warm and inviting feel of a cozy restaurant or the sleek and modern vibe of a high-tech office space. By focusing on specific elements that shape the overall mood, close-up shots can help one envision the experience of being there even before the place physically exists.
#8. Explore Various Types of 3D Rendering
While working on commercial projects, it's recommended to consider different types of 3D rendering to make your presentation the most captivating. First of all, both interior and exterior renderings will probably be necessary to fully showcase the design. 
Other types of rendering, such as 3D animation or VR, can provide a more unique experience. For example, 3D animations can take your audience on an architectural walkthrough and flythrough, or demonstrate the functionality of certain features. VR will give a client a fully immersive experience, while a dollhouse rendering will provide a unique and informative view, showing both the exterior and interior in one image.
Get your project estimated in just 1 hour - fill out this brief!
As you can see, choosing the right approaches to commercial rendering depends on many aspects, from technical to creative ones. We hope we've provided you with some useful tips! But if you're still unsure how to present your commercial design in the best light, contact us. We will find solutions that match or go beyond your expectations.
Looking for 3D rendering services? Contact us at ArchiCGI to get award-worthy CG images in the shortest time frames possible!
---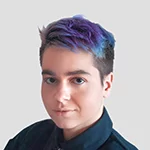 Stacey Mur
Content Writer, Copywriter
Stacey is a content writer and a CG artist. Outside of work, Stacey enjoys musicals, Star Wars, and art talk. A proud Corgi parent.