If you've ever participated in an architecture competition or at least followed one, you know how hard it is to impress the jury at such an event. With hundreds or even thousands of applicants, the panel usually has no more than 30 seconds to review each submission and decide whether it's worthy of competing for the winning prize. That means you need to make your presentation board as eye-catching as possible to stand out among the numerous works of other architects and architecture students. And realistic 3D visualization is just the tool to help you do that.
Our architectural rendering company creates photorealistic CGI on a daily basis. So, we know exactly how architecture professionals can benefit from 3D visualization. And in this article, we'll give you 5 tips on using realistic CG visuals to draw the jury's attention at competitions. Read on and learn how to get closer to victory!
#1. Use Eye-Level Renders to Showcase Single Building Projects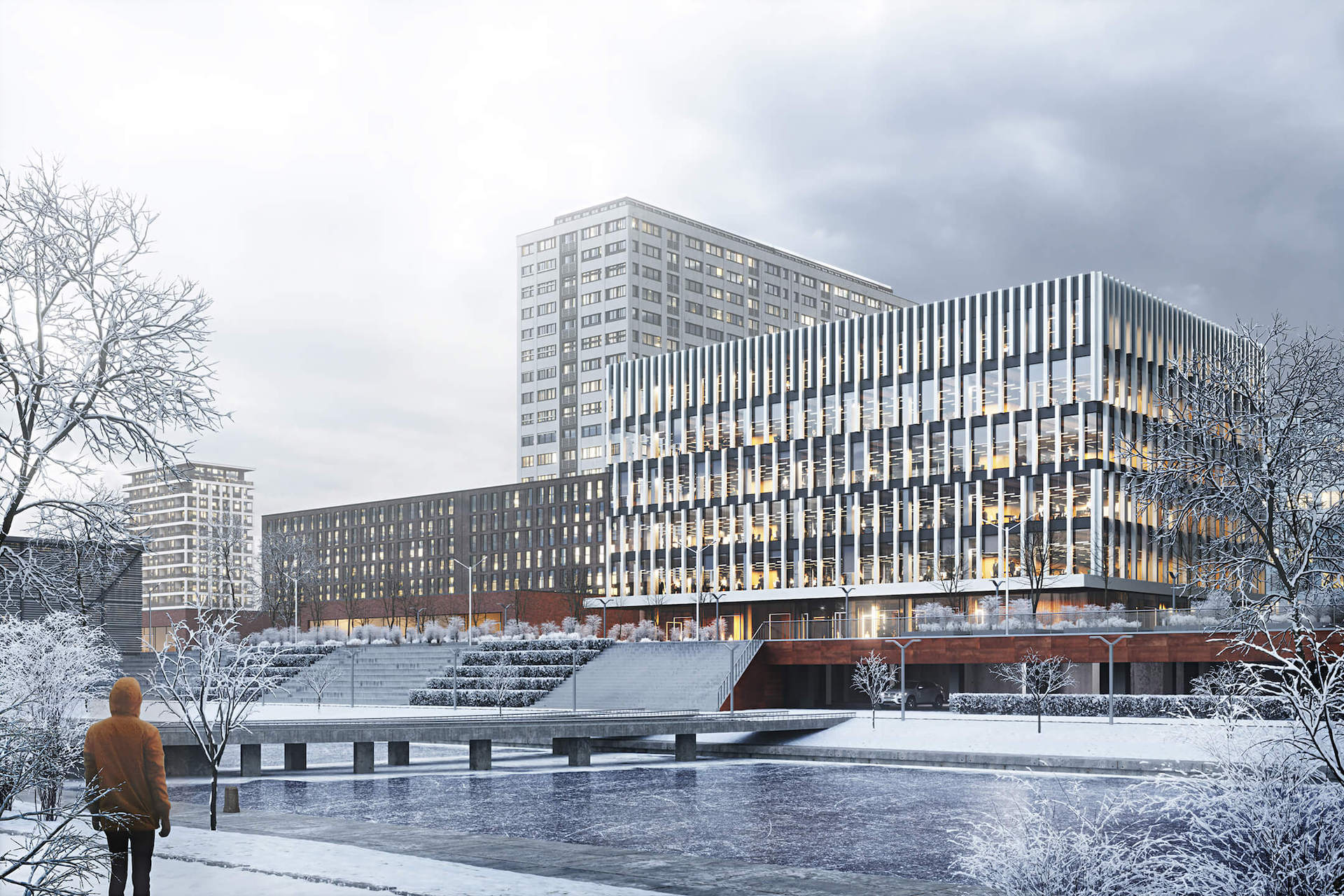 When the task is to design a single building, the best way to showcase its exterior is by having it visualized at eye level. This way, the viewers will see it from the most familiar point of view — just as if they were looking at it from across the street. And you don't need lots of different views — they will only crowd your board. Instead, before you order realistic 3D visualization, choose one best angle for the main image, which will be the hero of your presentation. Also, you can add a couple of supporting renders, if necessary.
#2. Choose Aerial CGI to Demonstrate Urban Projects and Building Complexes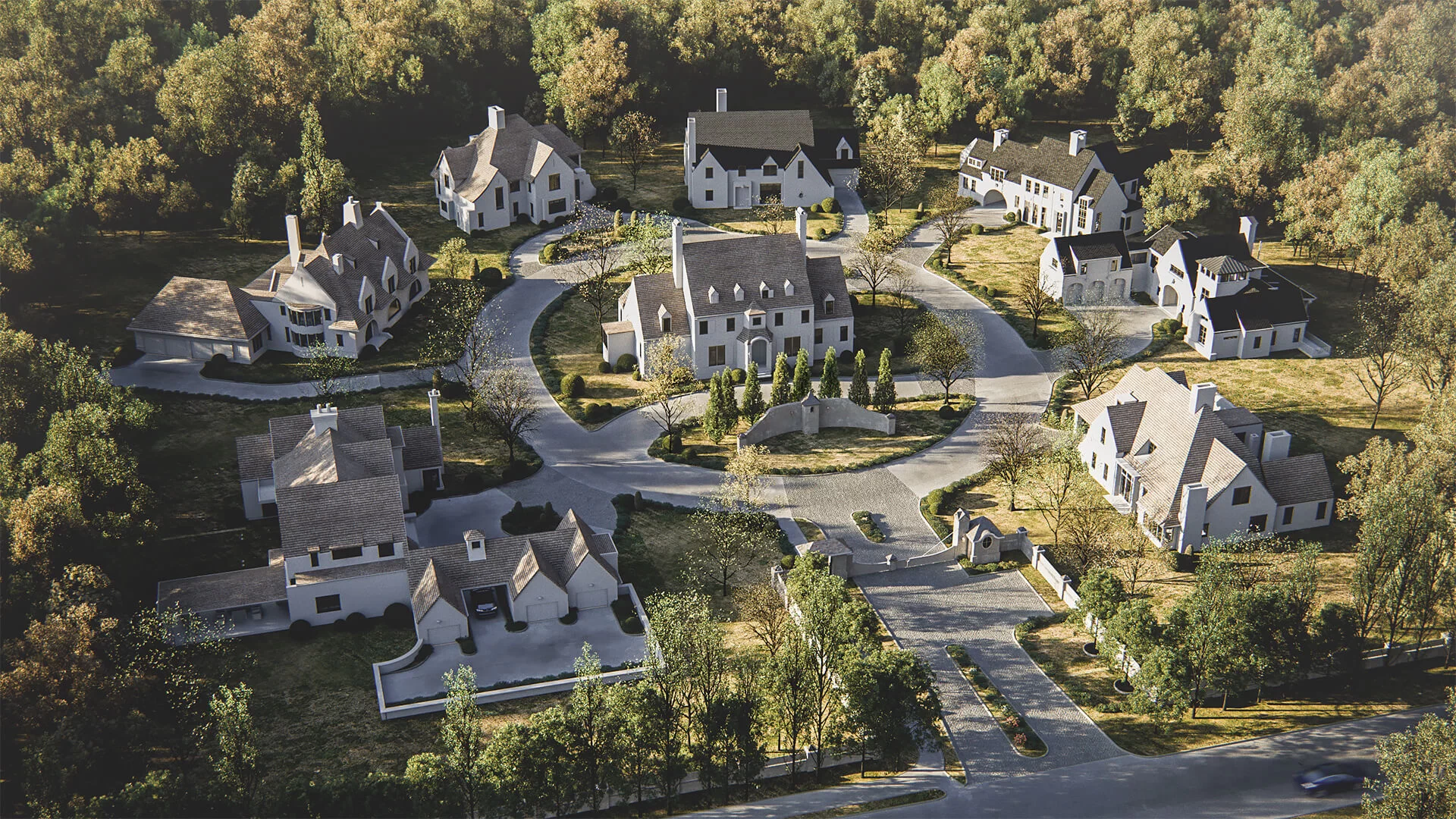 When you're presenting a project for a group of buildings or structures, it's best to provide a bird's-eye view of the entire complex. This kind of realistic visualization will immediately give the jury a comprehensive understanding of your ideas, including the thinking behind the strategic placement of objects, their connection by roads, exterior lighting solutions, etc. And that is crucial in such cases, since your ability to plan an efficient infrastructure is taken into consideration as much as your competence to create individual buildings.
#3. Get Close-Up Visualization to Show the Details of Your Designs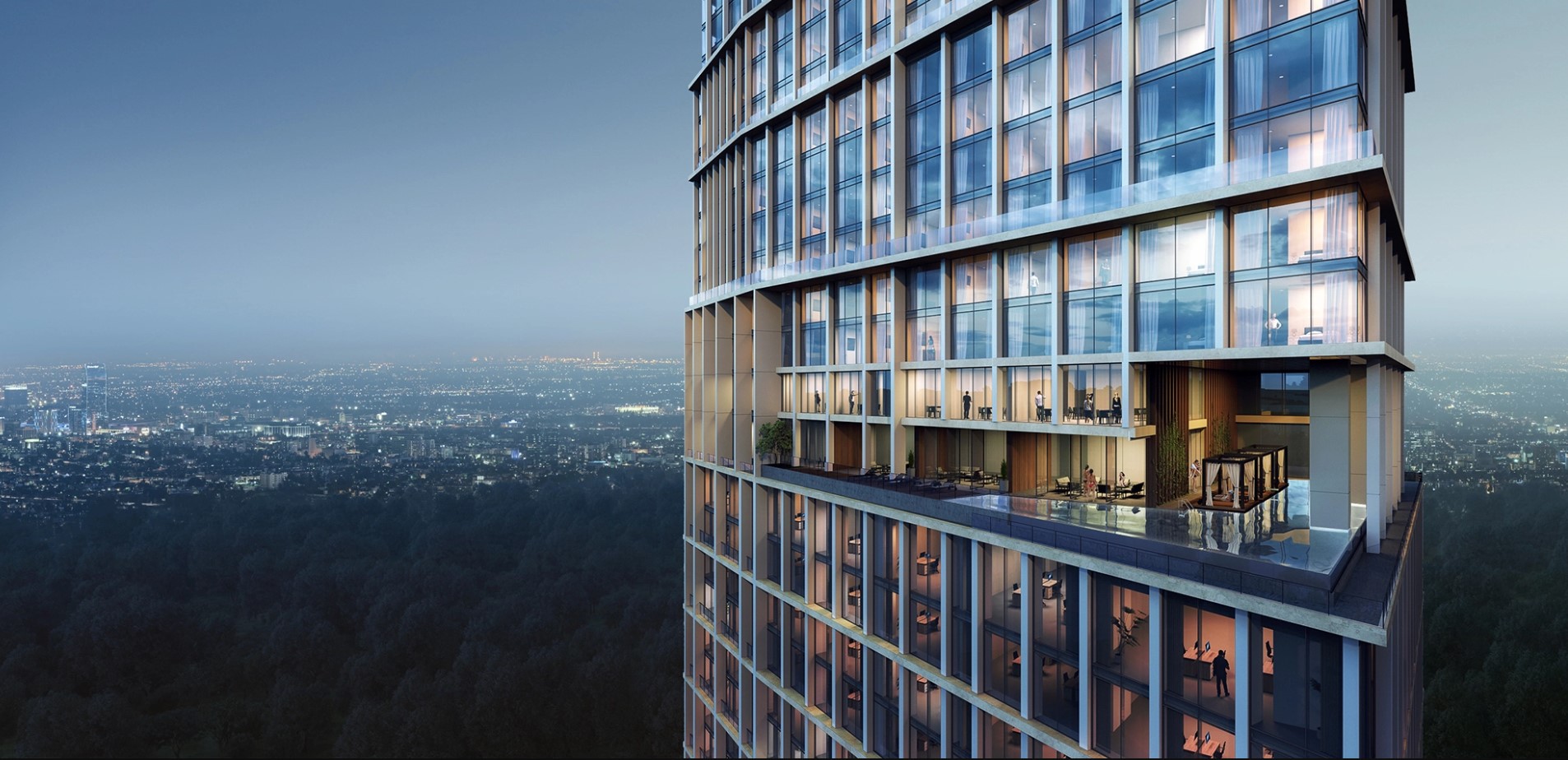 A close-up view of your project makes a valuable addition to your presentation board along with an eye-level or aerial 3D rendering. This type of realistic 3D visualization shows how thought-through your concept is. You can use it to highlight your choice of materials or intricate design solutions that are not well-visible from afar.
Make sure your exterior design project takes your clients' breath away
#4. Use Photo Matching to Blend Your Concepts into Real Surroundings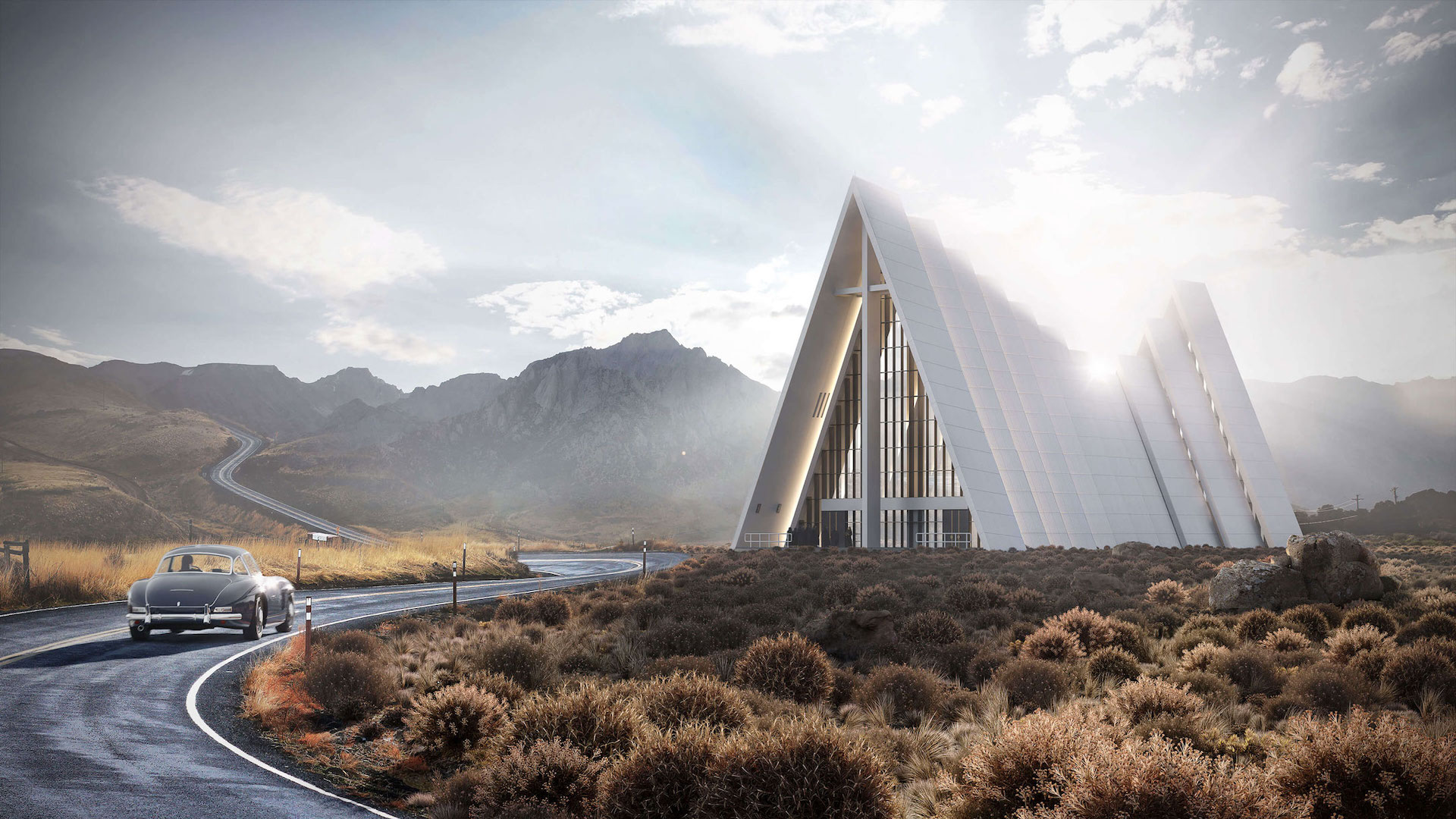 The jury of any architecture competition will take into account your ability to create a structure that will fit aesthetically into its surroundings. So, to show that your design will look great in its real-life environment, you can have a realistic 3D model of a building "placed" into a picture of the project's actual location. This technique is called photo matching. Using it, 3D artists at professional 3D visualization studios like ArchiCGI can seamlessly blend architectural 3D models into photos to make it look like the building has always been there. For instance, the rendering above was created with the use of the photo matching technique. It looks so realistic, doesn't it?
#5. Create a Unique Setting to Convey the Atmosphere of Your Designs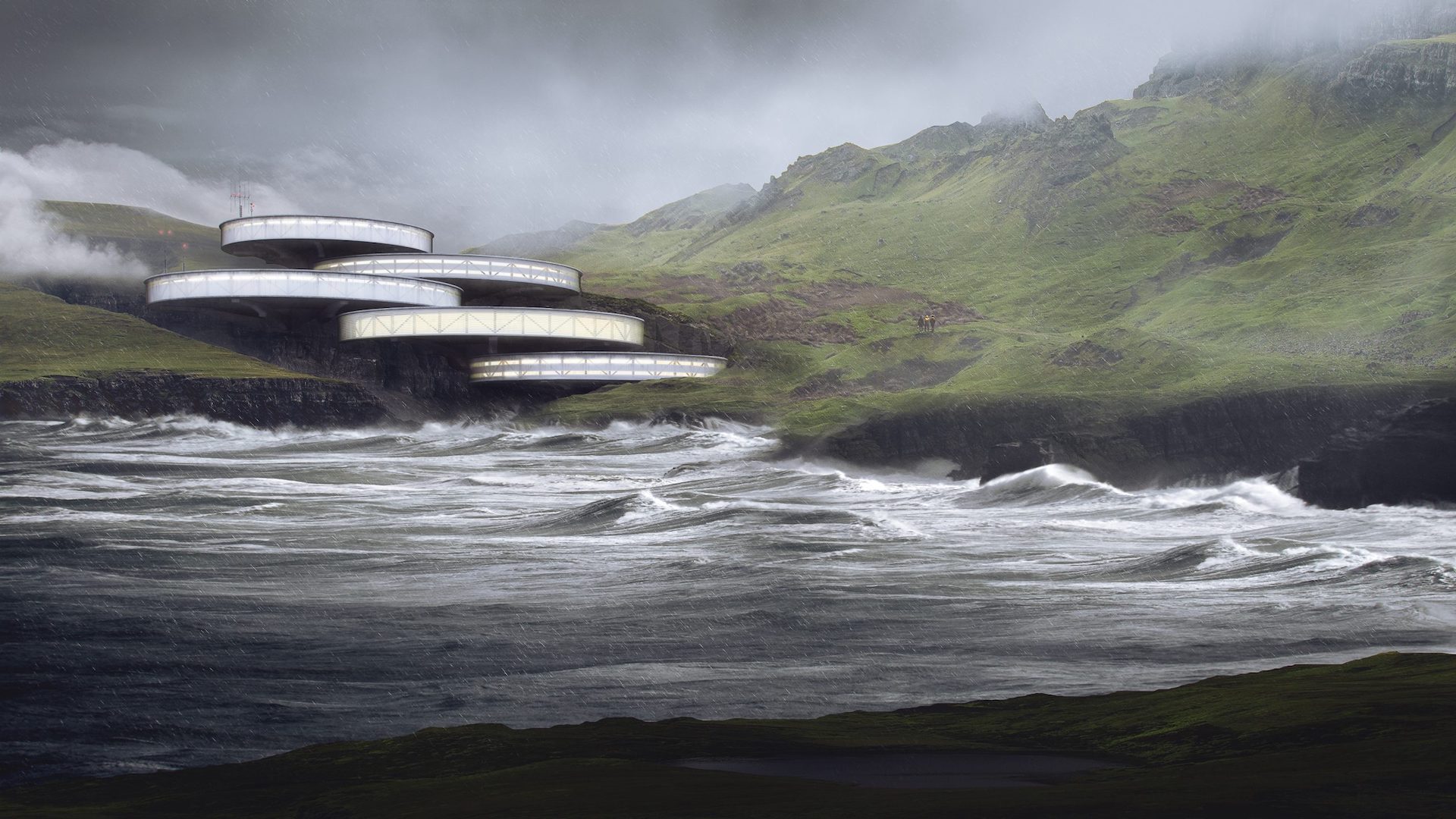 As much as technical details of your architectural concept are important, the overall feel of your presentation greatly affects the jury's opinion. And with realistic 3D visualization, it is easy to create the atmosphere that best suits your project. Namely, you can choose the weather and time of the day for your renders, as well as ask to adjust the color scheme and visual effects to your liking. As a result, you'll deliver a visually striking presentation that will definitely catch the jury's eye.
Those were our 5 tips on how to use 3D rendering to turn heads at an architecture competition. As you can see, realistic 3D visualization is an incredibly flexible tool that allows you to showcase your projects in the best light, whatever their scale and complexity might be.
Looking for high-end 3D visualization services? Contact us at ArchiCGI and get unbelievably realistic visuals within the shortest amount of time!
---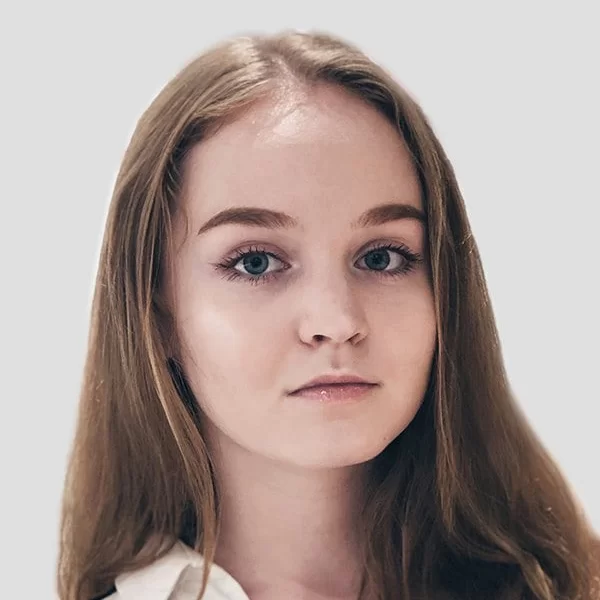 Ana Wayne
Content Writer, Copywriter
Ana is a content writer for ArchiCGI. She has a passion for design and architecture - and for talking about it. Outside of work, she is a fan of sci-fi movies and a street food connoisseur.