Interior design rendering services are an effective instrument that help Designers convey their concepts and win project presentations. The thing is, 3D Rendering is way clearer than all alternative ways Architects and Designers are used to. No drawing, moodboard or sketch is capable of delivering such level of precision and impact! It ensures that client understands all the benefits of the interior design and knows exactly what he gets.
Let's see how exactly various types of 3D rendering services help Interior Designers produce an impression and obtain contracts for their companies.
Interior Design Rendering Services: 5 Types Of Renders To Win Project Presentations
In this article, we'd like to show you a few examples of real projects we delivered to our clients – at least one for each type. To make the description easy and comprehensive, we've structured it according to rooms' functions. This way, you'll easily see how rendering helped Designers showcase the strength of each design.
#1. Living Room Studio Render: Showcasing The Functionality Of Design
When working with studio spaces, explaining how functional the layout is hard enough. The true challenge, however, is showing how it'll work and still look spacious and beautiful. How does one explain the perks of the chosen option?
Take a look at the renders above. There is no need for words:  all information is there. With interior design rendering services the customer will see how well the space is used. The images show that living and dining room zones make a very coherent look, yet are separated by enough space – so that people could move freely. Delicate colors, wooden flooring, impeccable decor and vivid purple accents look cozy and impactful. With these Architectural Renders, the customer will have only one question: how soon can he get this beautiful interior in his apartment?
#2. Living Room Rendering: A Space For Fun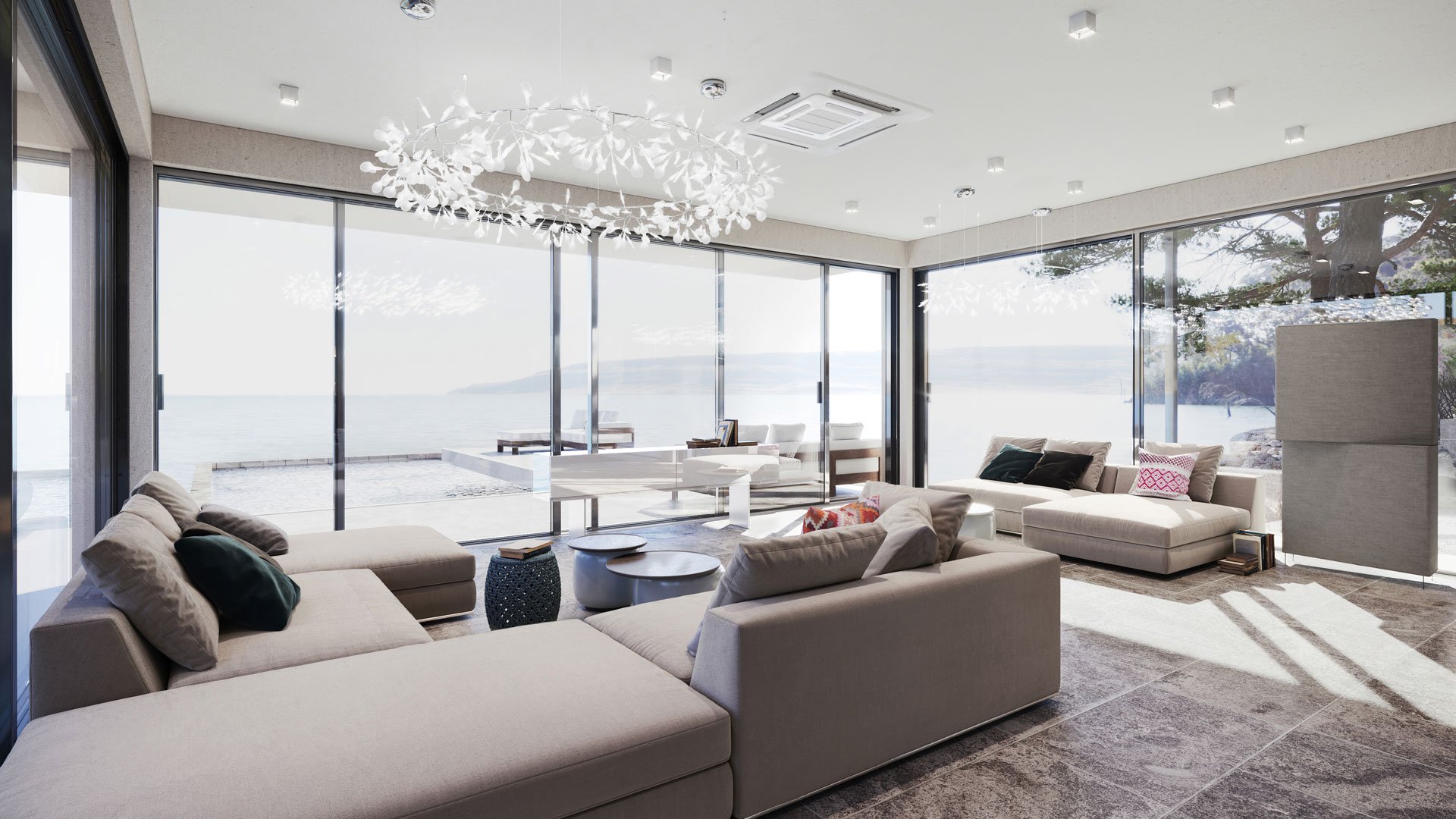 Living room is the place which has to be comfortable for family time and entertaining the guests. Which is why the homeowners attach such importance to its interior design. Normally, Designers devote a lot of time to presenting this strategical space. And after all efforts, there are still lots of questions from the customer who is still not convinced. Will his family be happy with the result? Will the design impress the guests and reflect the family taste?
Interior design rendering services are here to help. Looking at the render like the one above, the client will have no doubts that the layout brings out the best of the room. The chosen angle showcases the amount of free space and the abundance of light. He'll see how fresh and stylish the room interior looks with its crisp white and sophisticated black accents. He'll appreciate how reserved decor and colors coexist with moldings and columns, and the warmth of wood flooring accentuates this harmony.
#3. Kitchen 3D Render For An Advantageous View On Innovative Solutions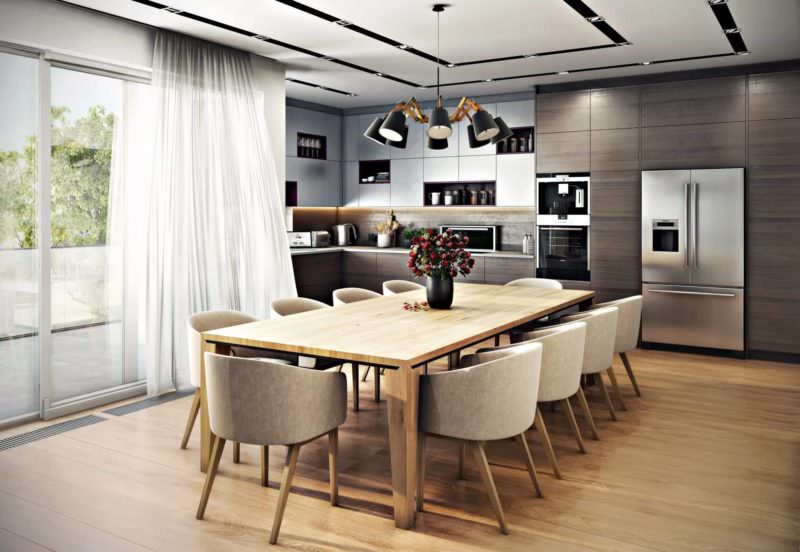 Kitchen Interior Design is probably the most challenging. It's necessary to take care of the local and general lighting, zoning, materials, storage solutions, make it easy to maintain the order and keep it stylish and roomy.
Making it all work is hard enough. Some Designers even specialize uniquely on kitchen design and dedicate their careers to the fine kitchen design art. Which is why it seems impossible to explain all beauty of the interior and highlight its practicalities.
This is exactly the task of interior design rendering services. With different views and angles, showing the organization of the space is a piece of cake. All Designer has to do is to show the renders and comment on each! Success of Interior Design Presentation no longer depends on professional background and imagination of the Client.
Take your design presentation to a new level with interior rendering
Fly Over The Kitchen Interior With Rendering Services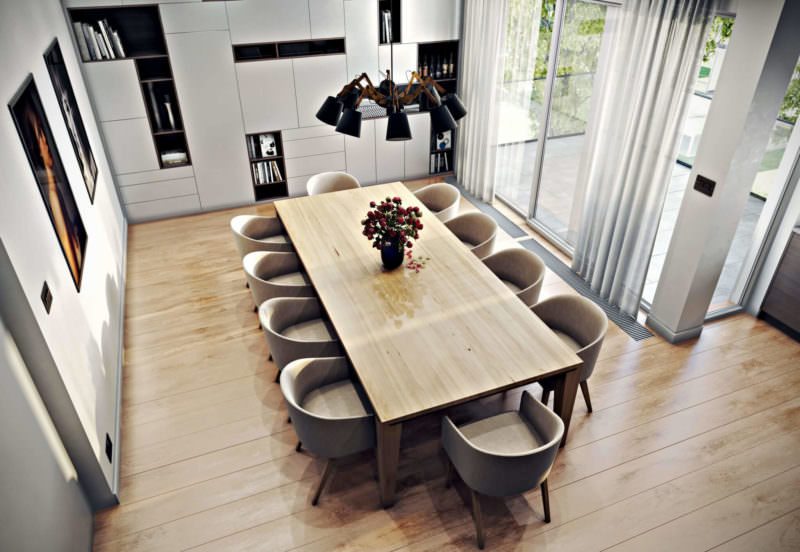 Just like with photography, Interior Designer can show all aspects of the kitchen using D renders. Look how beautifully the one above highlights smart storage solution, enchanting symmetry and geometrical accents! Without any doubt, the client will be impressed with the project.
#4. Architectural Rendering Services For Bedroom Interior: Enhanced Comfort In Every Detail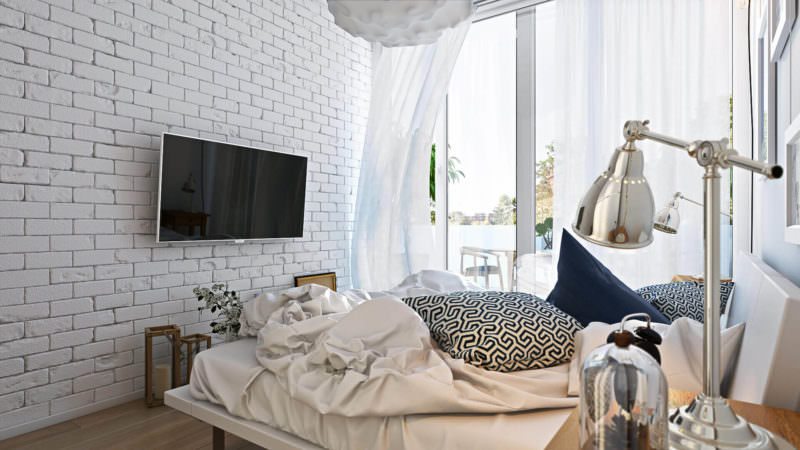 Bedroom design is all about the atmosphere. Whatever are the aesthetic preferences of the homeowner, bedroom has to inspire comfort and peace. And there's nothing to show the atmosphere like high-quality images!
As you see from the interior renders above, bedroom interiors can be very different. Smart choice of angles and views will contribute to an impressive interior design presentations. Besides, there are closeups and detail views to show the smallest detail that are crucial for client's comfort. Like these two bedside tables on the 3D Rendering below and magnificent cozy textiles.
#5. Interior Design Rendering Services To Present Bathroom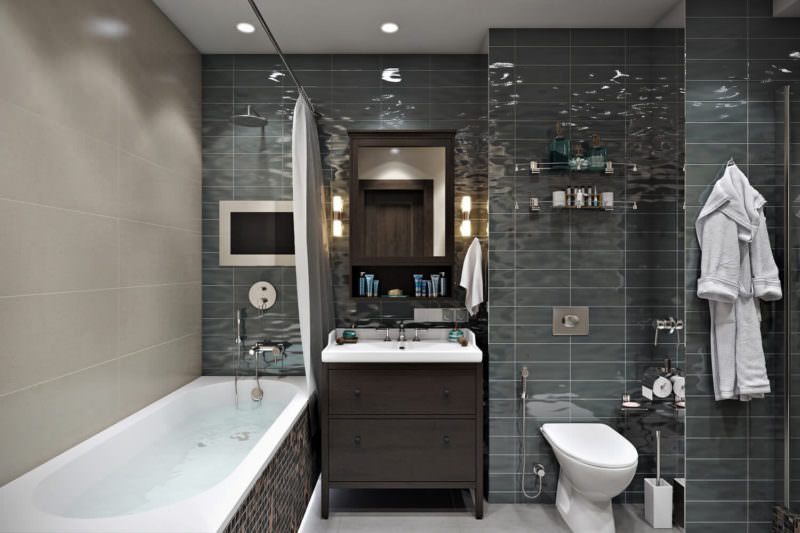 Bathroom interior has to be impeccably planned. A good bathroom requires effective storage solutions, careful choice of furnishings, have effective lighting and still offer enough space to move around. Take a look at the architectural rendering above. It perfectly demonstrates the careful zoning, functional lighting by the sides of the mirror. As well as that, the render showcases the gorgeous mixture of textures and patterns the client otherwise would hard times to imagine.
Interior design rendering services will help to showcase both practical and aesthetic value of design concept. Moreover, they help to check whether the client likes all solutions prior to construction – which is immense. As a result, Interior Designer delivers a fine well-rounded project, and the Client is happy with his brand-new home design. Which is why we may safely say that interior 3D rendering brings customer services to a new level gives an unprecedented level of predictability of the outcome. This way, Interior Designers make sure that client will gladly give a positive feedback about him and recommend the company to friends. For this Interior Design Company is not only professional, but also nice to work with!
To get impactful Interior Design Rendering Services, contact ArchiCGI rendering company. We'll create for you photoreal images that inspire and tell stories. Contact us through the form on our website – and our Project Managers get back to you within a business day. Don't hesitate to ask them any questions you have – about terms and rendering price for an Architectural  Visualization Project.
---
Irma Prus
Conent Writer, Copywriter
Irma writes articles and marketing copy for ArchiCGI. Her dream is that more people discover the power of CGI for architecture. Irma is into neuromarketing, ruby chocolate and Doctor Who series.