Hotel Lobby Rendering: 7 Works by ArchiCGI that Will Blow Your Mind
A hotel lobby is the first and crucial touchpoint that guests experience upon their arrival. It forms the initial impression of the place and sets the tone for people's entire stay. For that reason, it is extremely important to visualize your design of this part of a hotel's interior in a manner that accurately conveys your vision to project stakeholders. And there's no better way to achieve that than by using photorealistic hotel lobby rendering.
In this article, we will share a few examples of such visuals created by our architectural visualization studio. Some of these works were featured in the Best of the Week selection on CGarchitect. Hopefully, our renders will help you find inspiration and ideas for your own presentation images. Let's take a look!
#1. Hotel Lobby with a Centerpiece Chandelier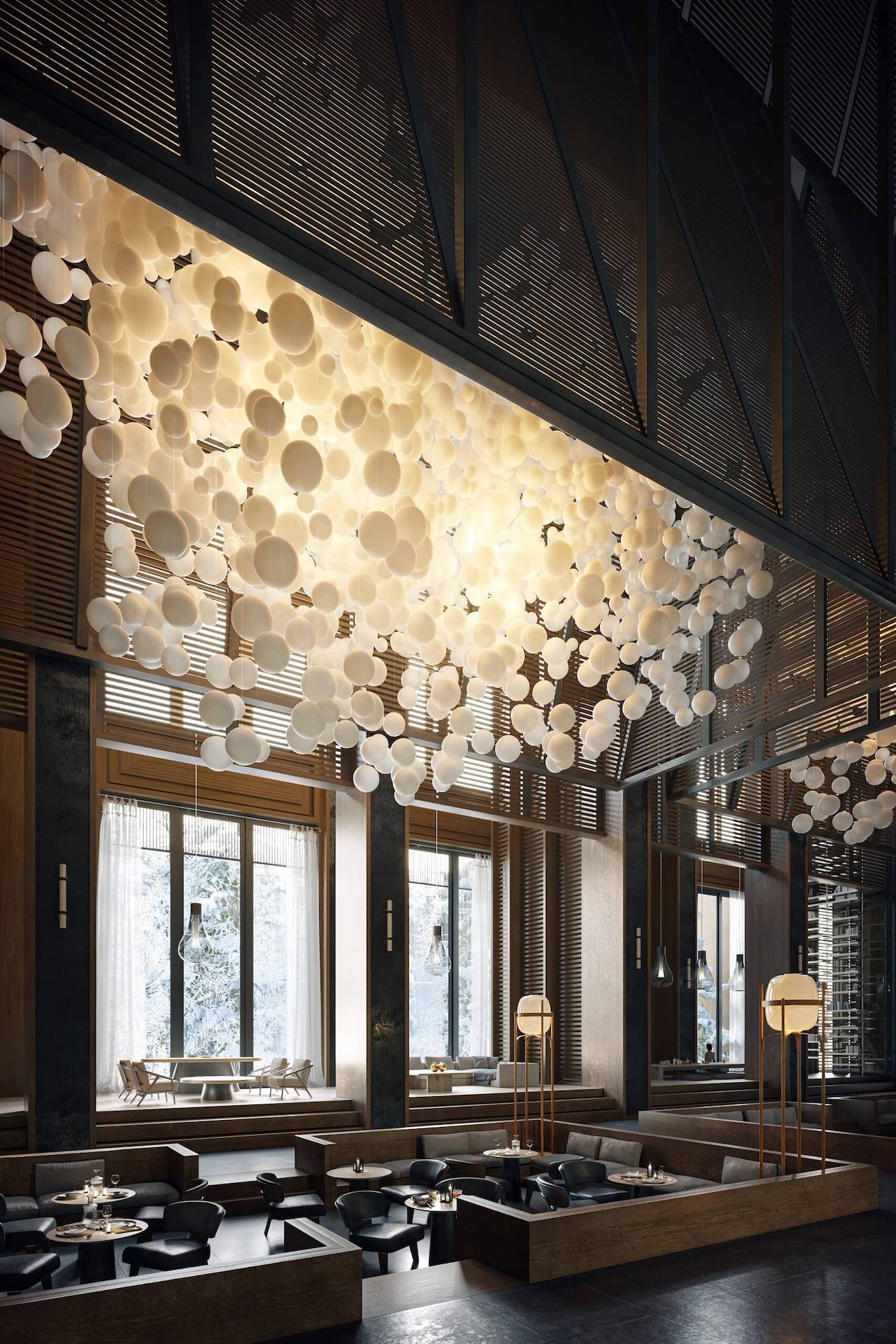 This hotel lobby rendering is a winner of the Viz Pro of the Week award on CGarchitect. It showcases a spacious modern lounge area, where the viewer's attention is instantly drawn to the massive ensemble of light fixtures that also acts as a decorative element. To highlight the beauty of the statement chandelier and the height of the space, our 3D artist used an angle that emphasizes the interior's airy, subdued feel.
#2. Serene Hotel Lobby in Stone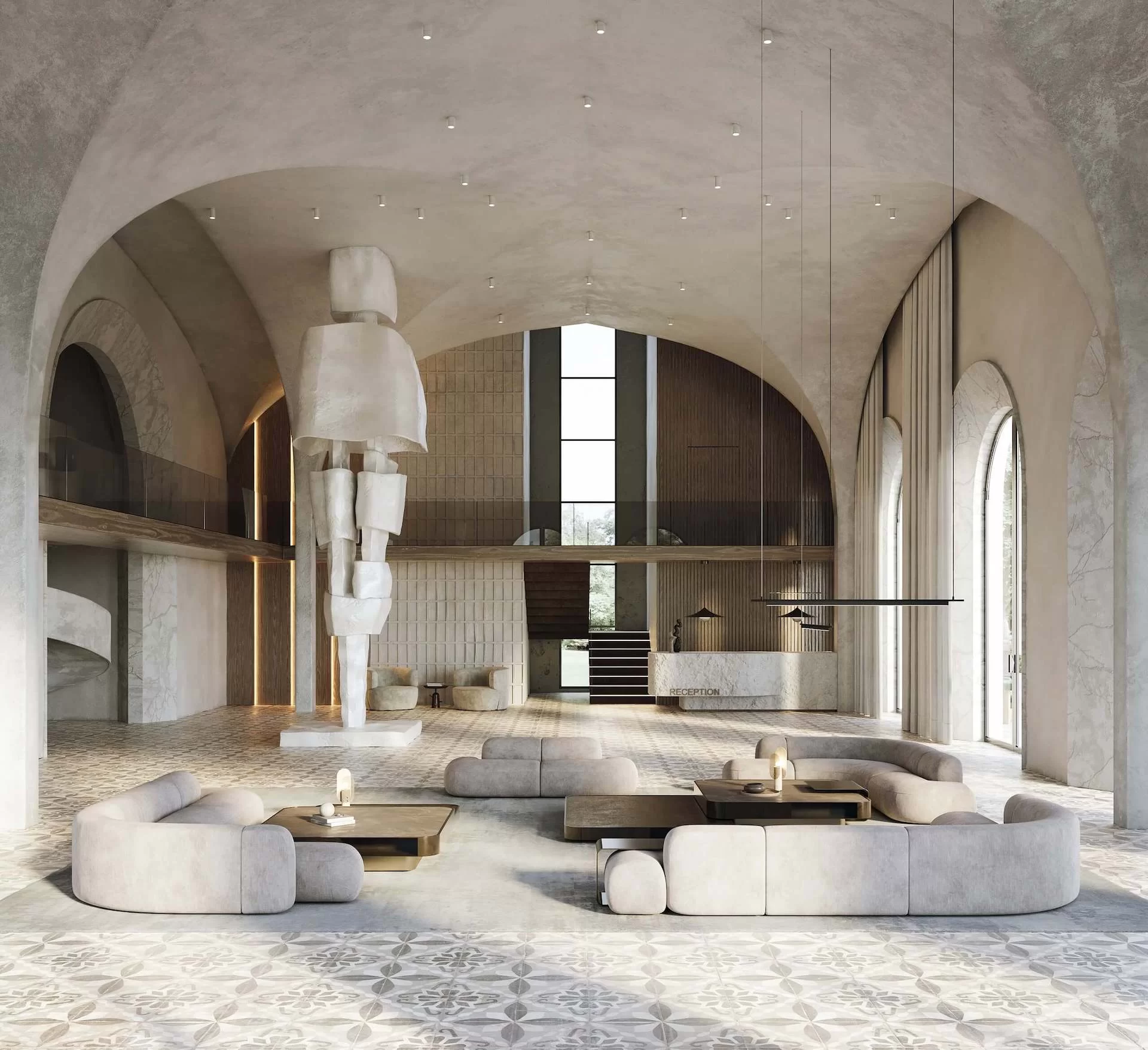 This rendering is our editors' personal favorite. It has a tranquil, mesmerizing atmosphere, and a quietly luxurious feel. The mixture of contemporary and classical elements in the design creates quite a surreal look for the space, which definitely leaves a lasting impression. On top of that, this rendering does a particularly great job of showcasing the gorgeous monochromatic palette and smart lighting solutions of this hotel lobby interior.
#3. Sleek Hotel Restaurant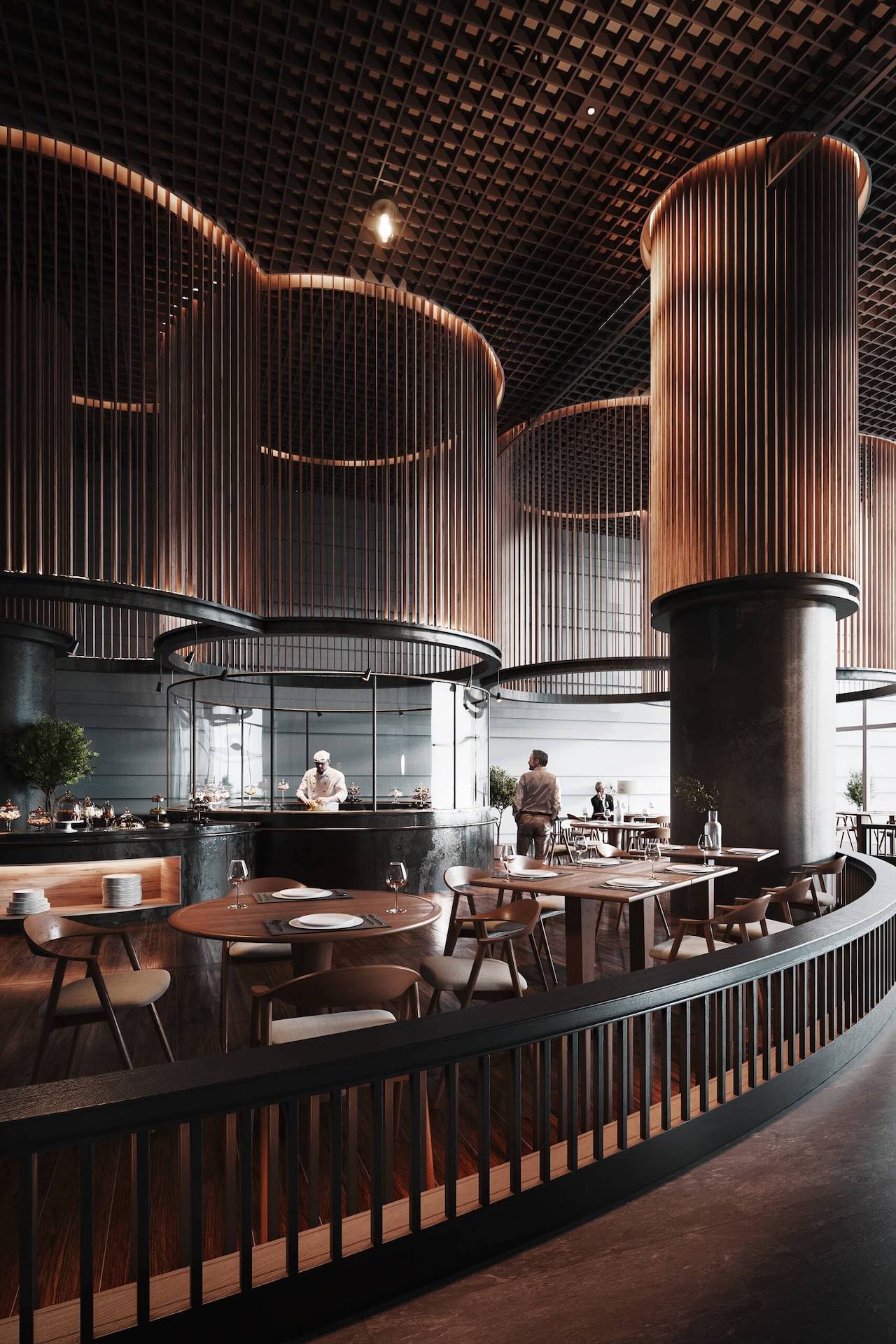 Here is another work of ours that has won the Viz Pro of the Week award on CGarchitect. In this rendering, you can see a stylish restaurant in a hotel lobby. With just this one image, one can clearly see every aspect of the design. The most notable ones include the open dessert-making station, large decorative structures on the ceiling, and high-quality materials that give the whole place a consistent, polished look. That makes a rendering like this one a valuable asset for a project presentation.
#4. Cozy Hotel Lobby Rendering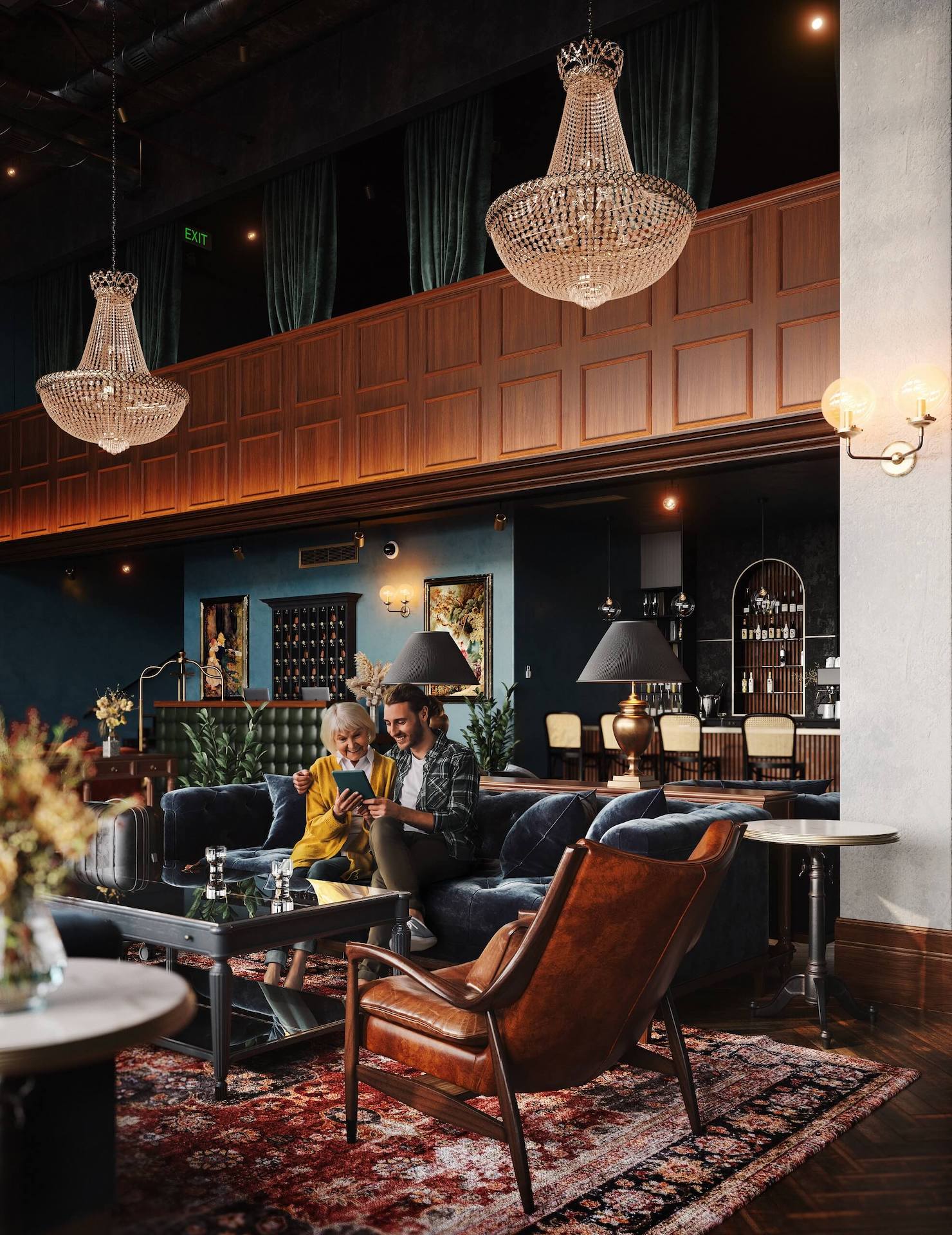 When you look at this image, you immediately feel welcome. The interior hotel rendering fully conveys the designer's vision by showing how beautifully traditional furniture and decor work with warm lighting and occasional pops of contrasting colors. But what makes this image of the lobby truly full of life is the happy guests having a great time in the lounge area. This addition made by our 3D artist perfectly completes the inviting atmosphere of the place.
#5. Stunning Hotel Lobby with a Library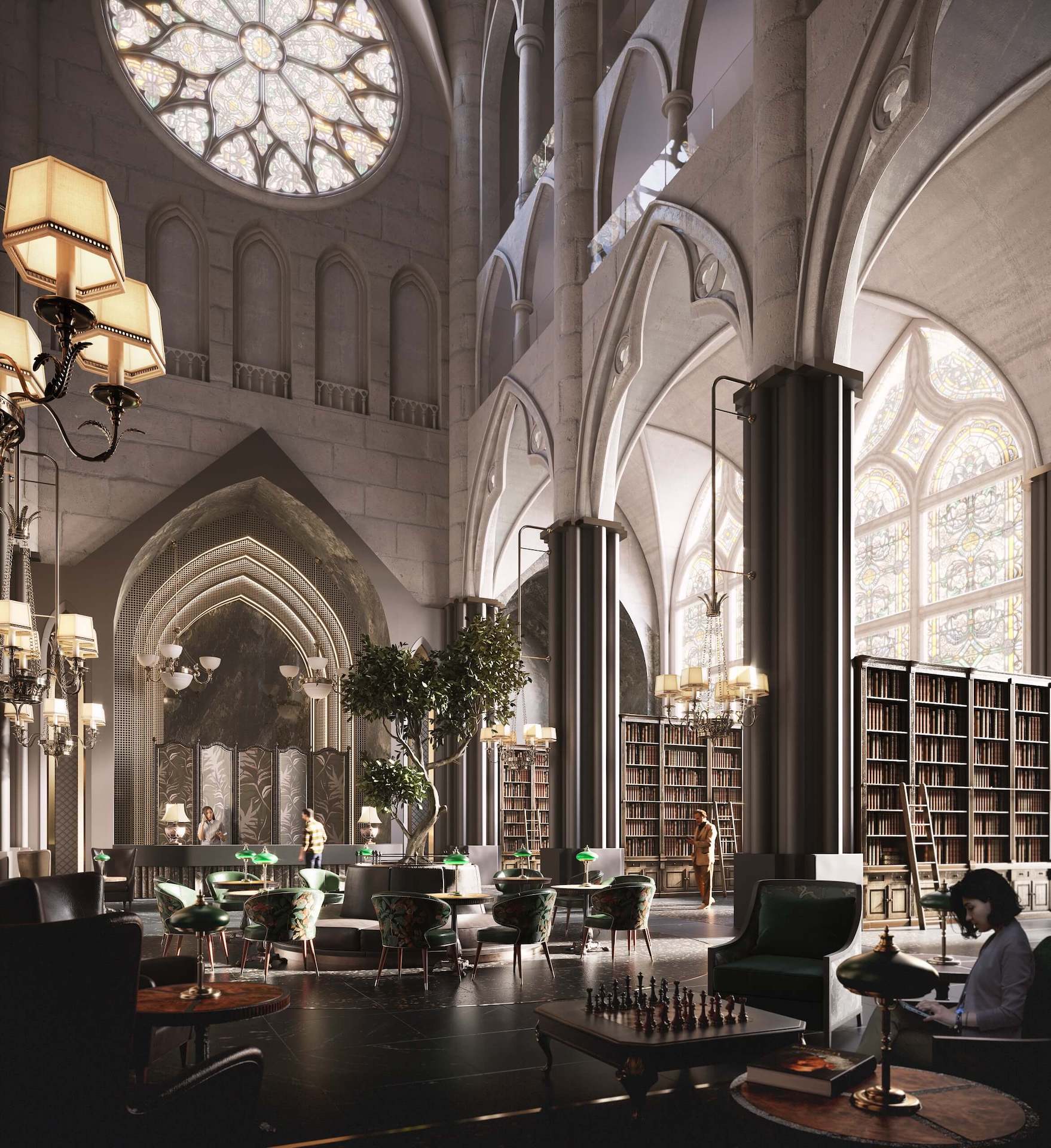 In this project, we created a hotel lobby rendering for a design concept with an unbelievable aesthetic. The traditionally massive and "heavy" gothic elements are smoothly balanced out thanks to the abundance of natural light. And it is with CGI that architects and designers can freely explore such daring ideas to see if they would work in real life, or simply to push their own creative boundaries.
#6. Lobby of a Luxurious Tropical Hotel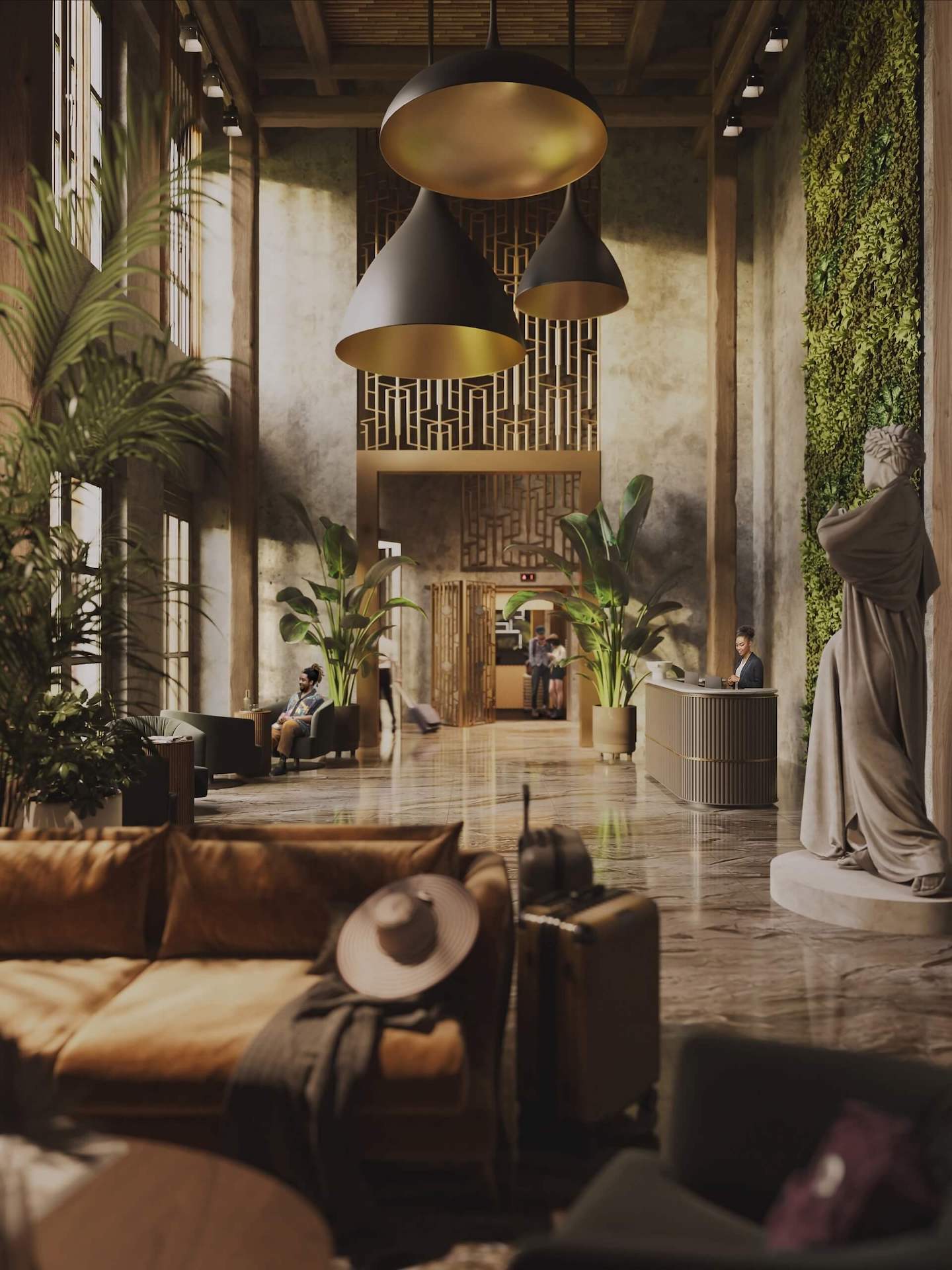 This rendering shows an exquisitely designed entrance and lounge area in a high-end resort destination. The image accurately depicts the variety of natural materials used in the interior, as well as the subtle color palette with fresh plant accents. Here, our 3D artists purposefully lowered the contrast in the rendering to create a relaxed summer afternoon feel. And this small detail really ties the look together.
#7. Breathtaking Hotel Lobby Concept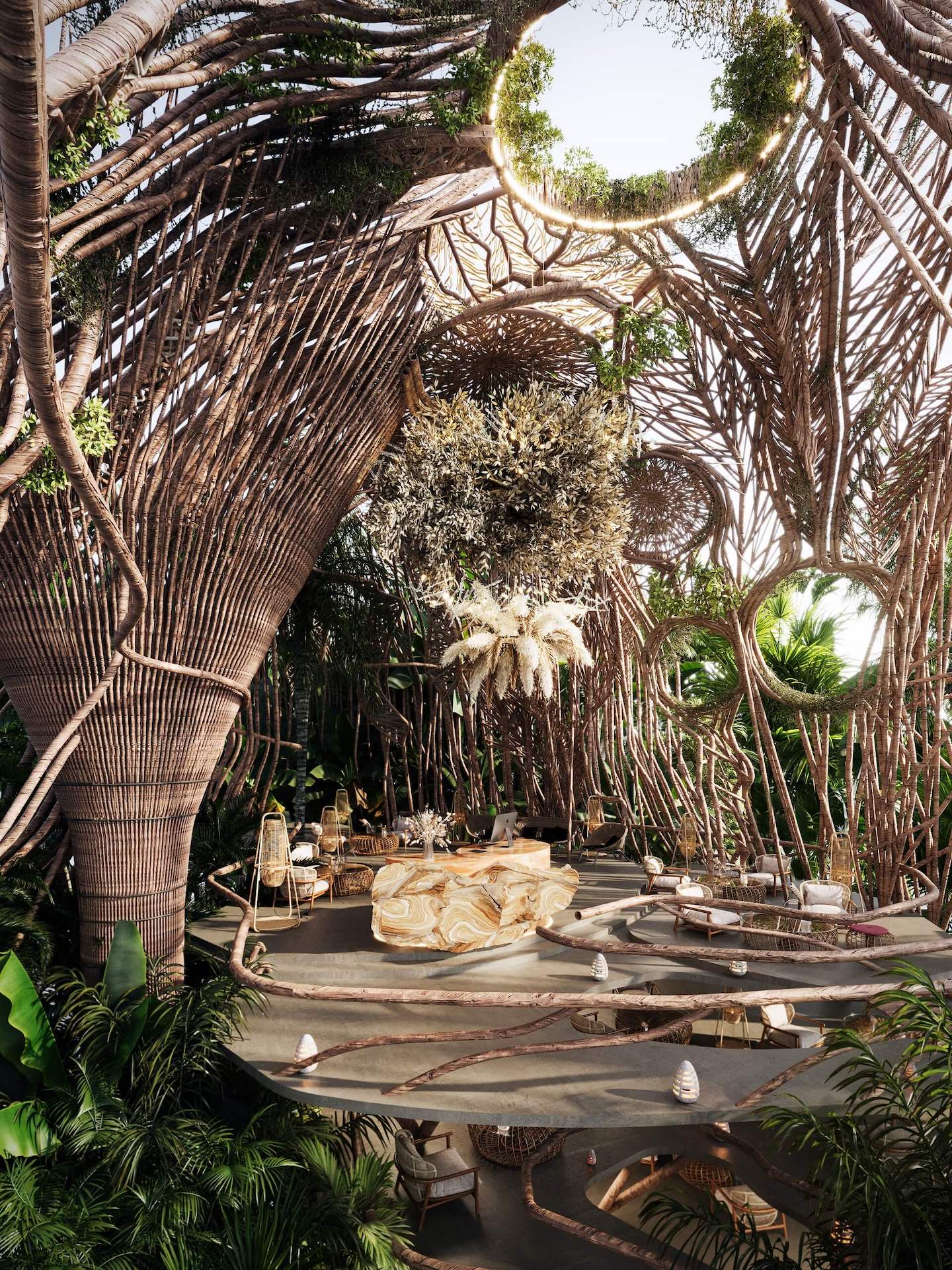 Here, you can see a conceptual hotel lobby rendering one of our 3D artists created for a studio contest. It demonstrates a futuristic, organic design, where the inside blends with the outside. The ambitious structure uses mainly wood and stone, leaving large openings for direct sunlight to come through. As a result, the lobby is flooded with natural light, and it doesn't feel like the inside of a building at all. Overall, this image is a perfect example of how invaluable photorealistic CGI is when it comes to visualizing such complex ideas.
Present your architectural project like a work of art with AI-powered CGI
These were some of our favorite hotel lobby rendering works. We hope you loved this selection and maybe even found a few visualization ideas you would like to try in your next project.
Looking for professional 3D rendering services? Contact us at ArchiCGI to get a free consultation with our manager!
---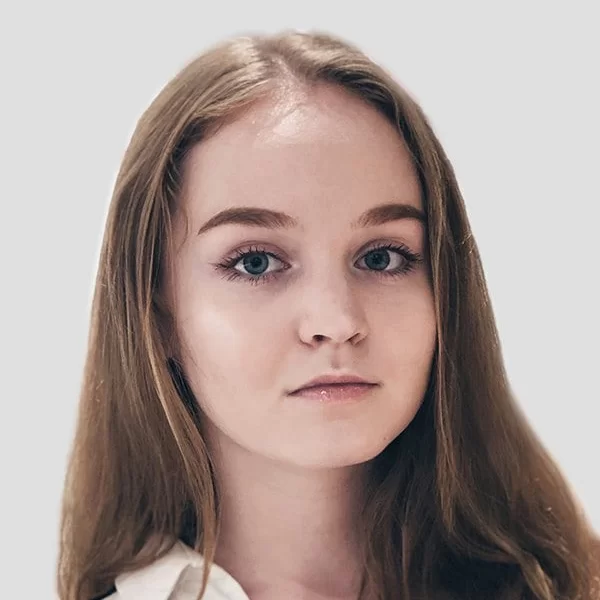 Ana Wayne
Content Writer, Copywriter
Ana is a content writer for ArchiCGI. She has a passion for design and architecture - and for talking about it. Outside of work, she is a fan of sci-fi movies and a street food connoisseur.