Kitchen Design Rendering: 6 Inspiring 3D Interiors Made by ArchiCGI
3D visualization is widely used by interior designers, and for a good reason. CGI is the best tool to showcase their projects to clients. But the advantages of 3D rendering don't end at that. Stunning CG visuals can also serve as top-notch marketing materials for design professionals.
Designers work with CGI studios to get photorealistic presentations of all zones in the house, including, of course, the kitchen. For most homeowners, it is the most frequented room. It is the place where people go in the morning to drink a cup of coffee and where the whole family gathers in the evenings. Here people have interesting conversations over a good meal, share stories, have drinks, and talk about all the things that happened to them throughout the day. This room is the heart of any home. So, showcasing the overall selling points of a kitchen interior is crucial. Here is where kitchen design rendering comes in handy. 
Homeowners want their kitchen to be not only stylish but also highly practical. Also, they need to see that space was designed exclusively for their taste. And with CGI, they can make sure that all their requirements are met. Thanks to 3D visualization, an interior designer can easily prove to the homeowners that their kitchen will be beautiful, functional, and tailored to their preferences. Eager to see how it works in practice? Let's take a look at 6 impressive examples of kitchen design rendering made by our architectural visualization studio!
#1. Classic Italian Kitchen Interior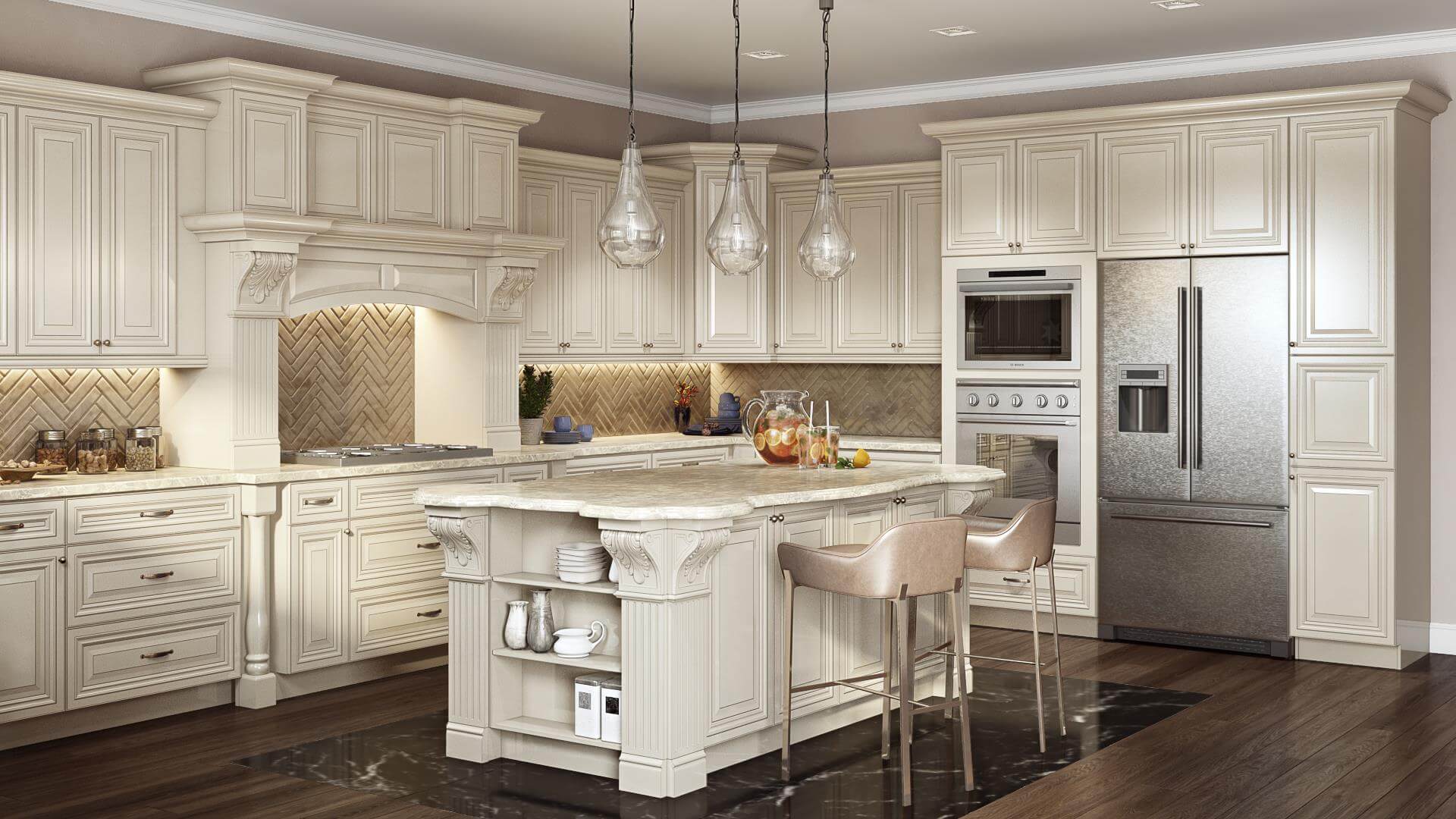 Software used: 3ds max, Vray, Photoshop
Even though our client is from Canada and the American classics usually prevail in his works, this kitchen is designed in the classic Italian style. The designer asked us to recreate the atmosphere of a large country house owned by an elderly couple with traditional tastes and deeply established views. Our 3D artist brought the idea to life by using luxurious elements that would set that mood, such as the balustrades and chapiters.
All the details in this kitchen design rendering ideally complement each other. The marble floor highlights the kitchen island area, and the modern bar stools make the interior less ponderous and steadfast. The glass suspensions add some lightness to the setting. The chains in their design show that this room is a part of a country ranch house, and not of a luxurious city apartment.
The size of the property allowed for having a large kitchen that would have space for everything. There is enough storage room for food, cooking equipment, dishes, and other kitchen utensils. If the house owners decide to have a large family gathering, every guest will feel comfortable in this place.
#2. Elegant Kitchen in the Style of Minimalism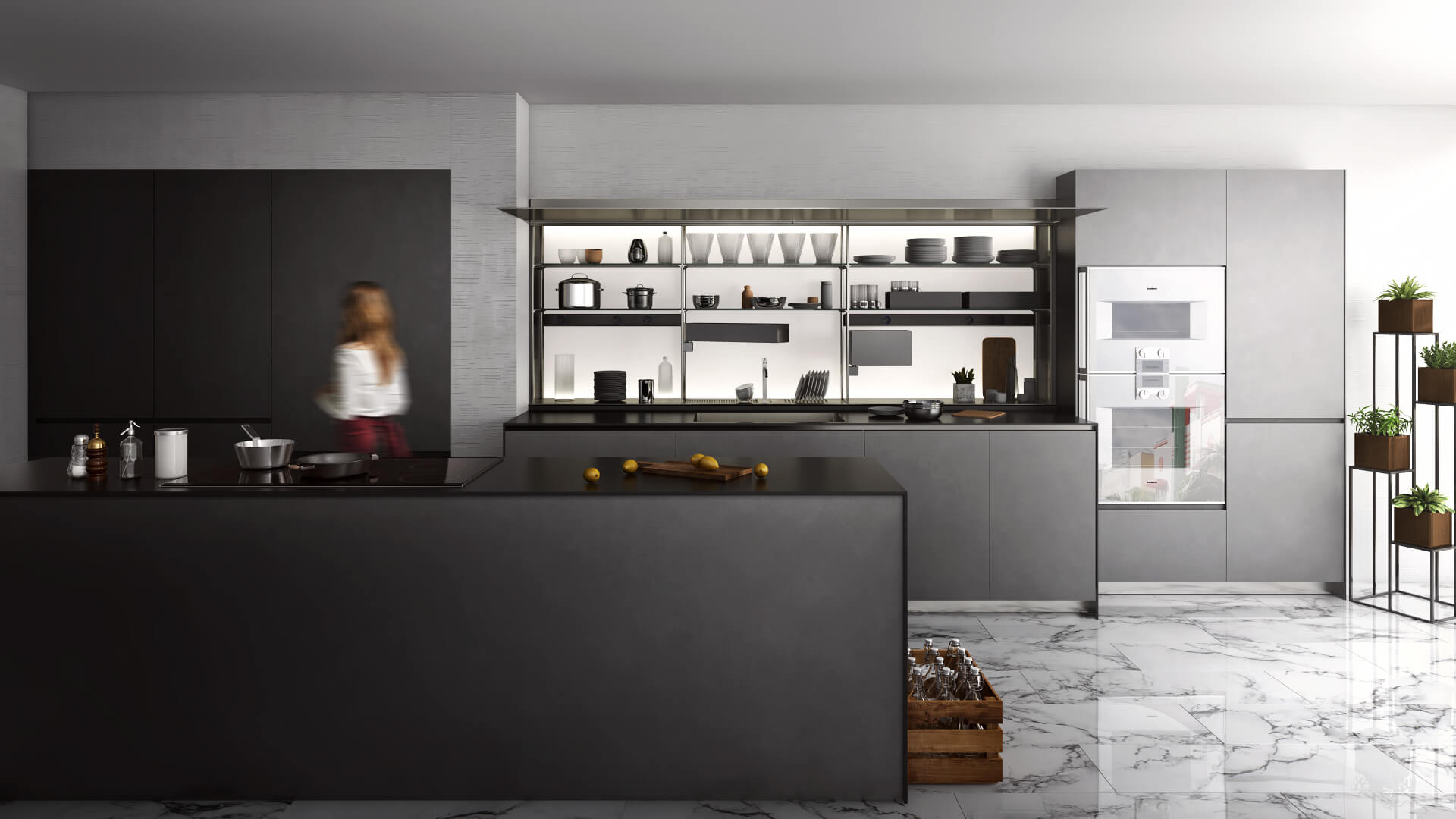 Software used: 3ds max, Vray, Photoshop
This kitchen design rendering shows a part of a large apartment in Miami. Because of its size and location, it was essential to make the kitchen spacious and fresh, since it is often quite hot there. Our task was to precisely recreate an outstanding design presented in one of the recent international exhibitions. The client even wanted to arrange the lemons and forks in the same way!
The owner of this home is quite an extravagant person, and their apartment is filled with artsy furniture and colorful decor. But the kitchen was supposed to be a mecca of tranquility, which was successfully implemented by our 3D artist. During the creation of this stunning design rendering, we experimented a lot with the color scheme. There were many shades to choose from. But after some discussions with our client, we decided to stick with the original option.
The manufacturer of this kitchen is the Valcucine company.  It is considered to be one of the best creators of ergonomic, technologically advanced, and practical designs. This manufacturer guarantees that cooking in their kitchens will be a pure pleasure.
Take your design presentation to a new level with interior rendering
#3. Modern Chalet Kitchen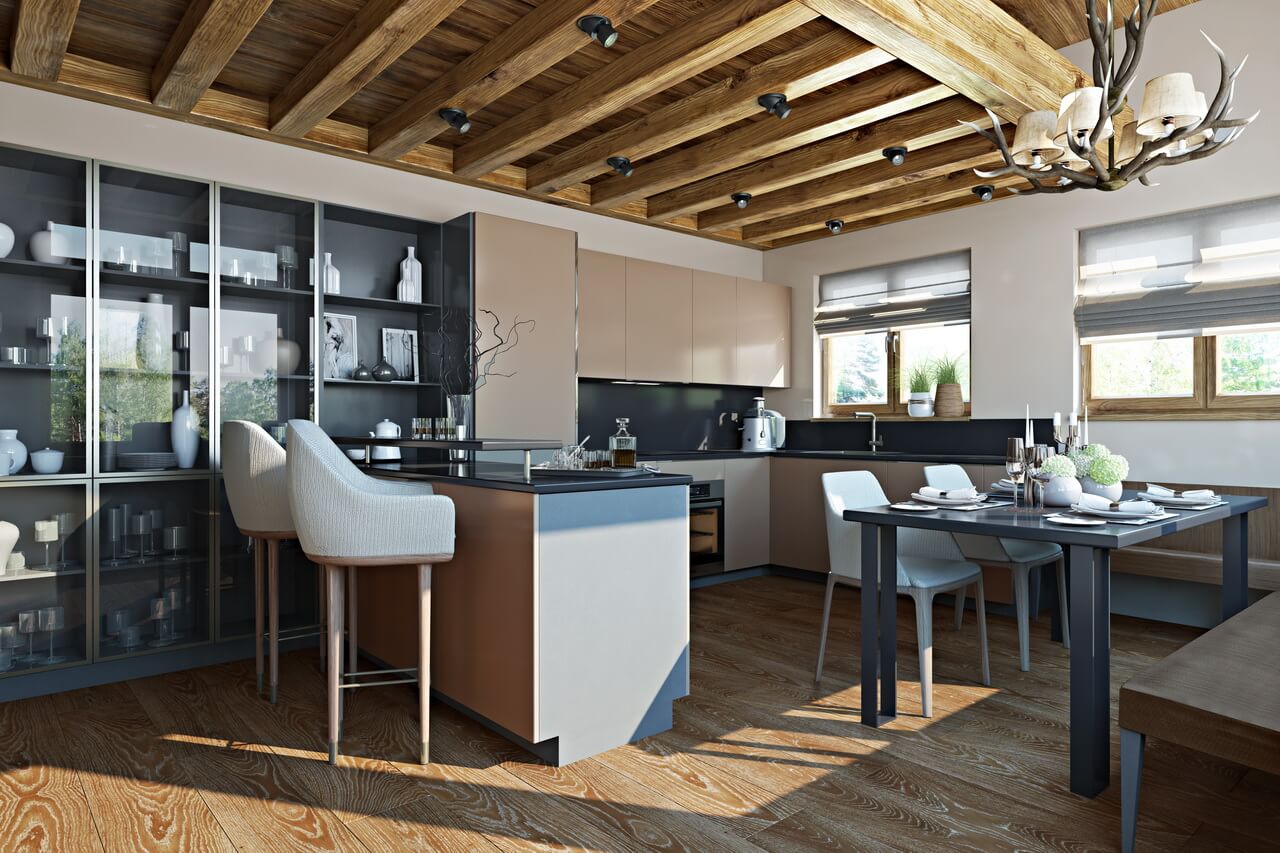 Software used: 3ds max, Vray
This kitchen is a part of a small two-story apartment in Southern France. Its owners are a young couple who like to travel and collect souvenirs, various vases, and statuettes from the places that they visit. Their favorite room — the kitchen — is located in the basement. The chosen interior design solutions ensure that limited space is used smartly.
The couple wanted to keep the original color of the room and the ceiling beams. They wished to preserve the look of a Chalet style, but modernize it a bit. To merge the two styles, we decided not to change the oak flooring and the handmade horn chandelier. 
The couple does not have kids yet, which means that they don't do much cooking. They prefer to order out rather than have a home-cooked meal. They like to spend their time in the kitchen after work to have a glass of French wine and talk about the things that happened during the day. The couple adores their travel souvenirs so much that they decided to use half of the kitchen space for shelves to store them. This is why the cooking area had to be rather small. It includes an elegant corner sofa and a dining table. The whole kitchen design rendering keeps to the eye-pleasing dark-graphite colors.
#4. Stylish Loft Kitchen Design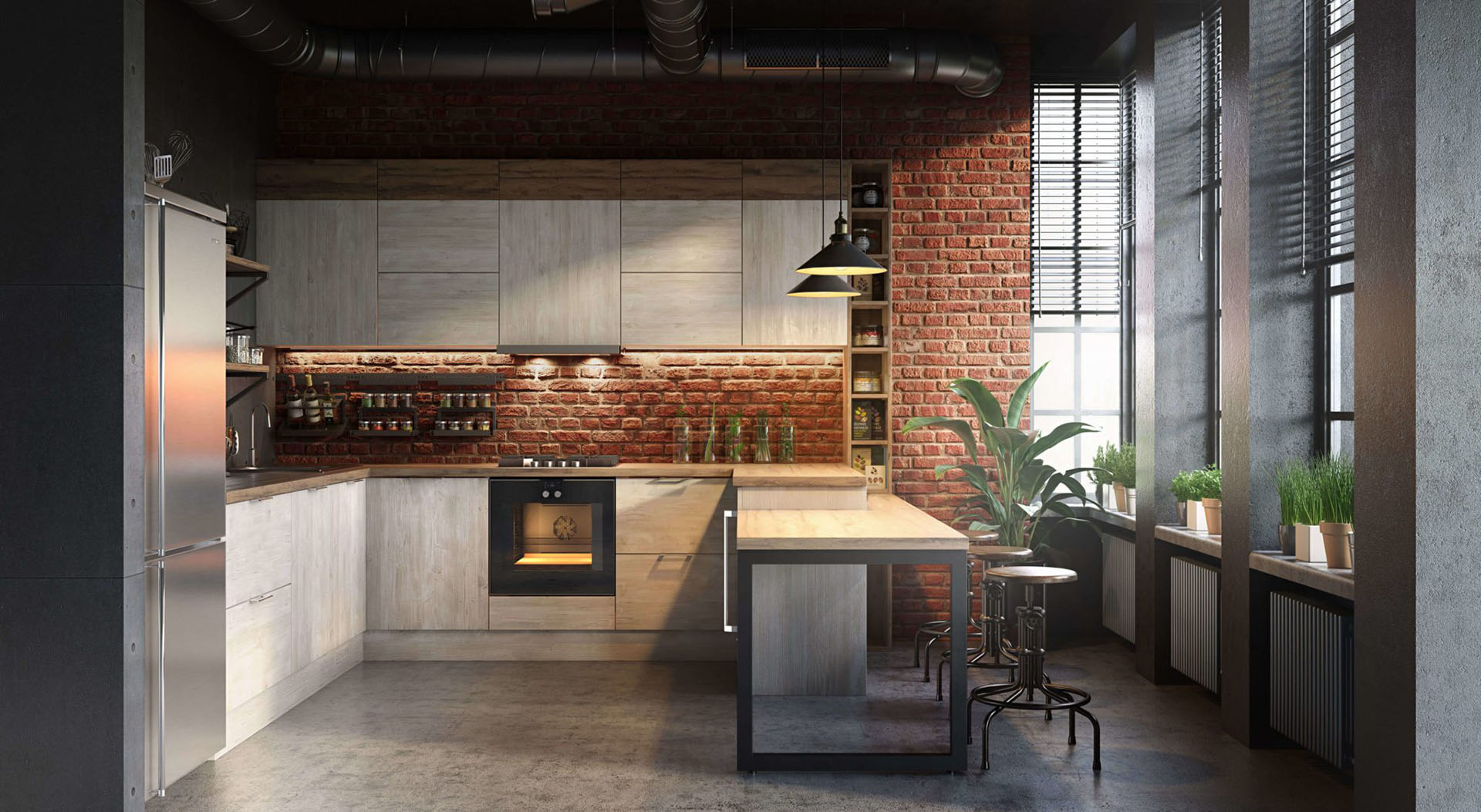 Software used: 3ds max, Vray, Photoshop
For this kitchen design rendering project, the client provided only drawings of the kitchen set and a couple of preferences on the design. There were no clear instructions about which interior style should be used. Which provided more creative freedom for the 3D artist.
Having looked through hundreds of kitchen designs on Pinterest for inspiration, the artist decided without any doubt that this one has to be a loft. So, with this idea in mind, he aimed to recreate a typical bachelor kitchen in this style. The metal window frames, ventilation pipes, and the large brick wall assisted in conveying the required atmosphere. The CGI artist carefully chose every detail, set all the materials and lighting properly to create the perfect loft ambiance. He has also selected the best camera angle for rendering to make sure that the kitchen design is showcased in full glory. 
#5. Modern Kitchen Design in Monochrome Colors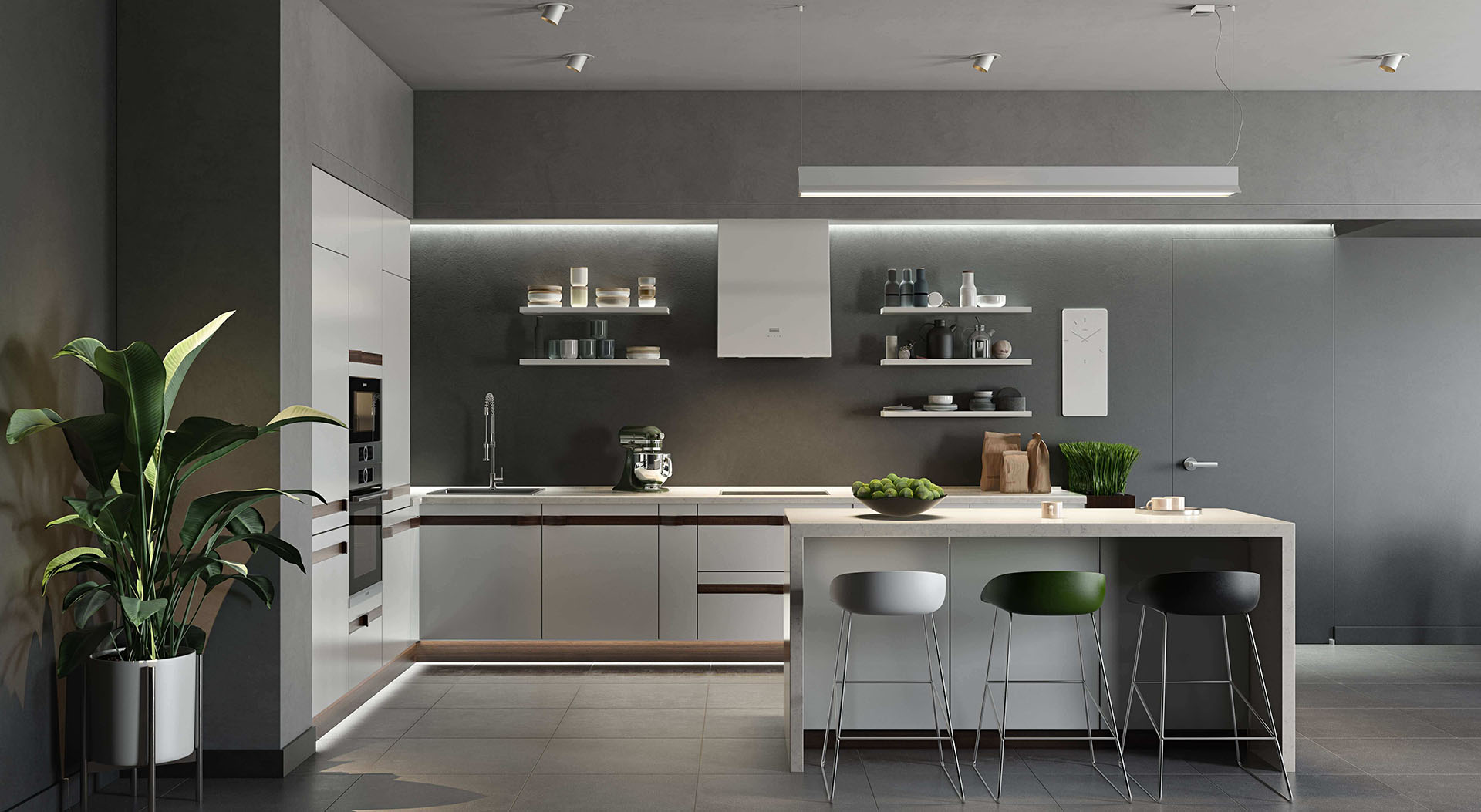 Software used: 3ds max, Vray, Photoshop
When our 3D visualization company received the brief for this project, the only preferences that were clearly stated by the client were that the kitchen should be modern and in cold colors. Everything else was left to the imagination of our CGI artist. He decided to stick to a monochrome color scheme, straight lines, and cold light. Most of the kitchen design is in grey, which creates an atmosphere of elegance and sophistication. To add some brightness to the picture, the artist made the countertops and the island white. 
As a result, he created a perfectly sleek and clean kitchen design rendering. Everything in this space is light and simple, which is exactly what makes this design so appealing. To add some accents to the kitchen design, the 3D artist used green plants and fruits. For the same reason, one of the chairs is green as well. 
#6. Kitchen 3D design in the style of Modern Farmhouse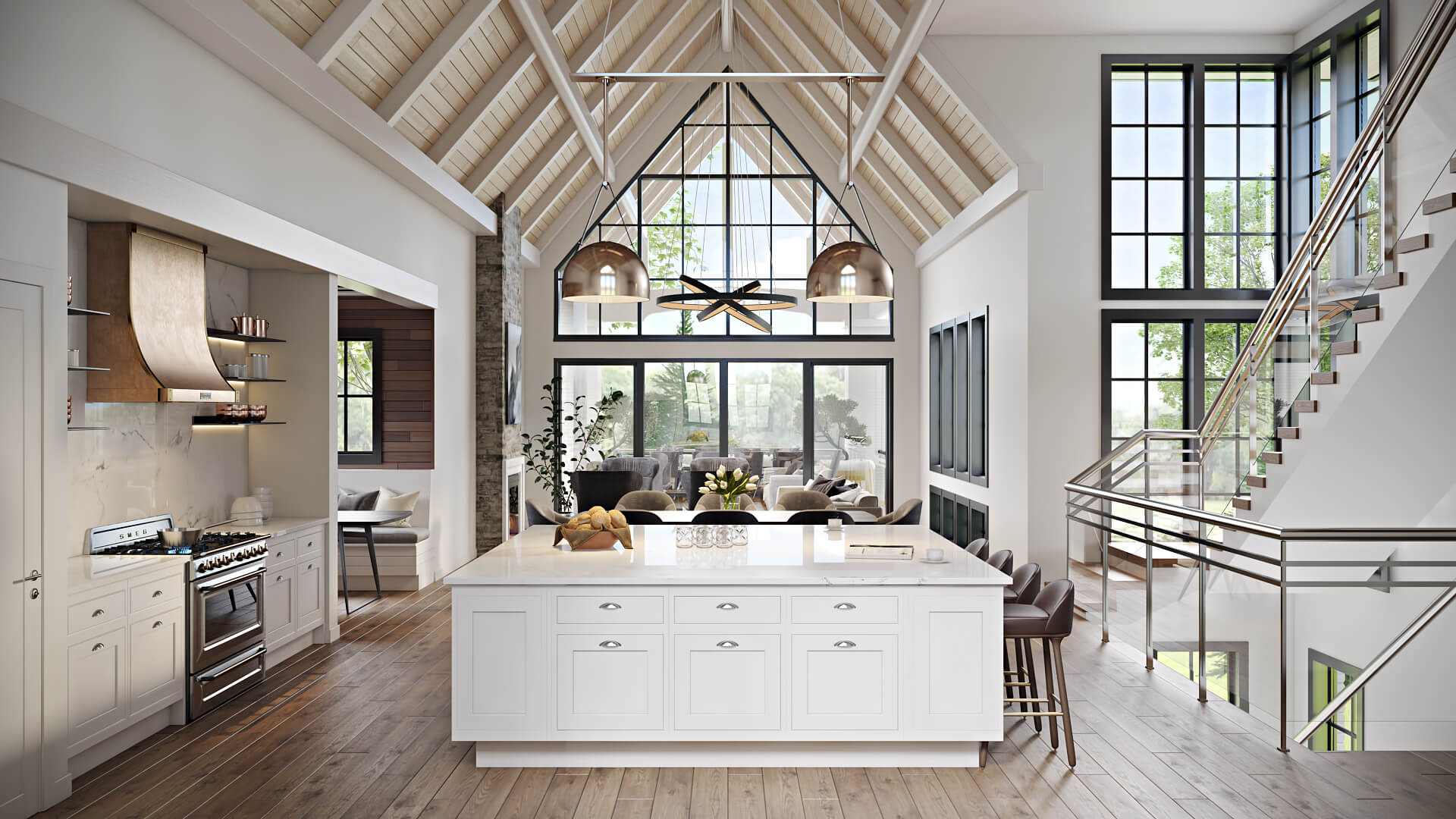 Software used: 3ds Max, Vray
This CG rendering was created for our client from the USA, an interior designer. They needed a project presentation for their own client who wanted their kitchen to be designed in the Modern Farmhouse style. As you can see from the CG render above, it is a mix of traditional Rustic charm with the elements of Minimalism and Industrial styles. 
The 3D artist masterfully chose the camera angle for this kitchen design rendering. It allows one to see the general view of the room as well as notice every meaningful detail. The render shows the magnificent architecture of the space and highlights its benefits. It emphasizes how high ceilings with light wooden finishes make the already large kitchen look even more spacious. In their turn, large panoramic windows let much light in and provide a picturesque outside view. Quality textures used in the 3D rendering help the viewer understand how rich materials will look and see that white, light brown, and golden colors will work perfectly together. 
The CG rendering precisely depicts every element of the interior design, from kitchen furniture and equipment to fresh flowers on the table. The CG picture also perfectly expresses the mood of a place — it feels calm, airy, and light.
3D visualization is the ultimate tool for presenting a kitchen design. With CGI, it is possible to show all the value of the masterfully designed space in photoreal quality. Which is a great way to impress clients and sway them to approve the project. 
Get your project estimated in just 1 hour - fill out this brief!
Want to present your kitchen designs with high-class photoreal 3D visuals? Contact ArchiCGI for professional interior rendering services!
What is a kitchen rendering?
A 3D rendering of a kitchen is a computer-generated image that shows the future interior design of the space in photoreal quality.
What software is used to create kitchen design rendering?
To create kitchen CG renderings, 3D artists use a variety of programs. Their top picks are 3Ds max, V-ray, Corona Renderer, Maxwell, Lumion, Blender, and others.
Why do interior designers need 3D rendering?
3D visualization helps designers present their projects to clients in photoreal quality before the design is brought to life. Also, CGI is a great source of marketing materials, it helps to fill a designer's portfolio, and is great content for publications in industry magazines.
What are the top kitchen design styles?
The most popular interior styles used for designing kitchens include Modern, Traditional, Contemporary, Minimalism, Country Farmhouse, Coastal, Eclectic.
---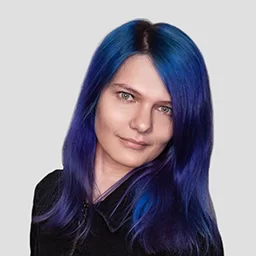 Catherine Paul
Content Writer, Editor at ArchiCGI
Catherine is a content writer and editor. In her articles, she explains how CGI is transforming the world of architecture and design. Outside of office, she enjoys yoga, travelling, and watching horrors. 
Like this project? We've got plenty more! Check out these CGI beauties.