3D architectural rendering company can help architects and designers present their projects of luxury properties. And with the latter, justifying the price is the most challenging part. However, many professionals are ready to face this challenge.
There are many reasons for doing it. For architects who come up with interior and exterior ideas, it's the desire to attract a prospective investor and to realize the dream of creating something truly breathtaking. And for designers, it is the need to explain their vision of the future real estate to the clients and convince them that it's worth being brought to life.
Regardless of motives, all of these specialists need proper presentation materials that can justify the project's cost. But schematic drawings and sketches can hardly be of any use for this. And here is where architectural 3D visualization comes in. A professional 3D rendering company has many tools at its disposal to make an interior or exterior look as luxurious as it is going to be in the future — and therefore, justify the stated price. Join us as we explore the top 5 techniques that make your designs look like a million bucks!
#1. Showcasing materials in photoreal quality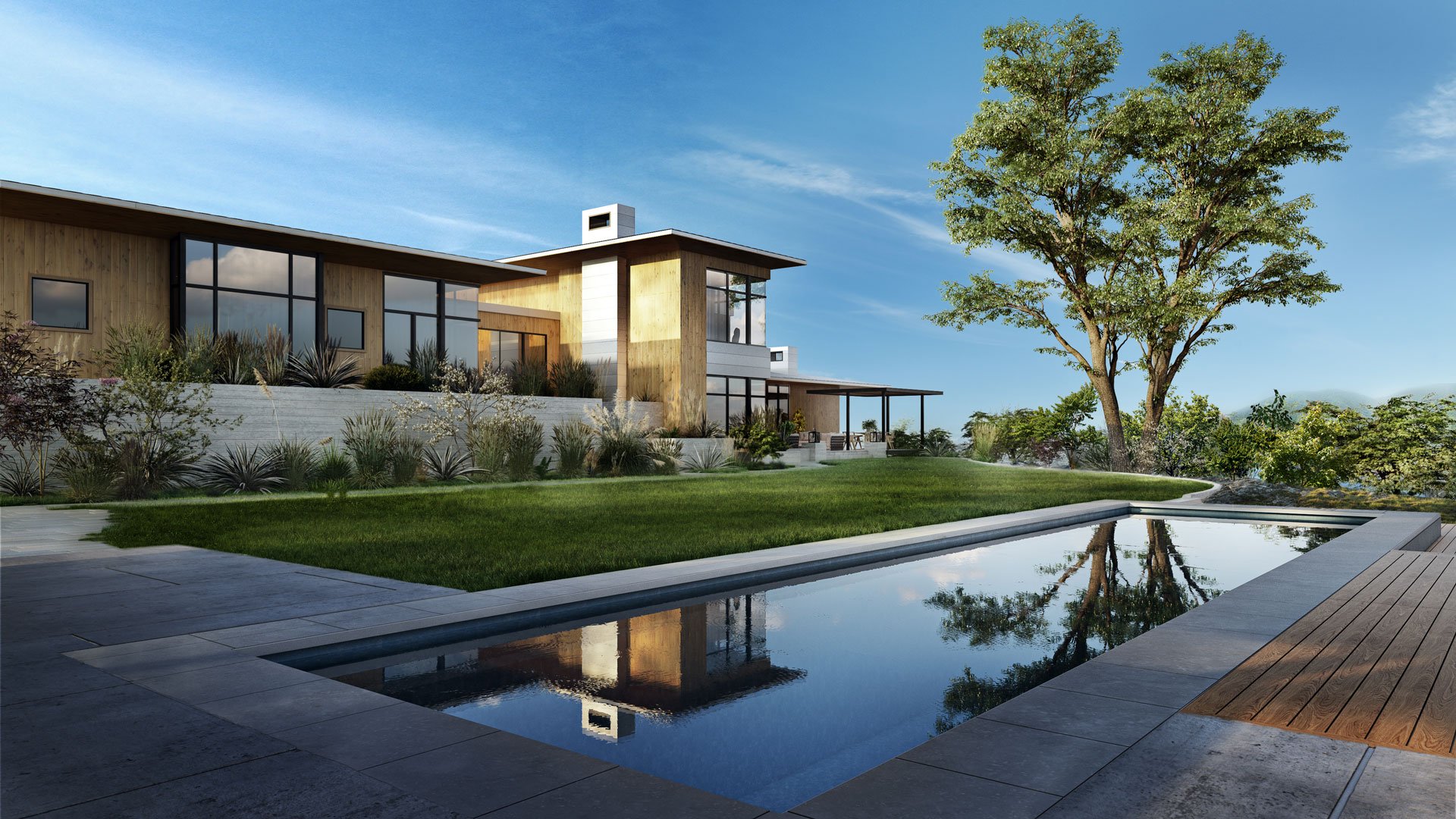 An architect's vision can be expressed in detail on blueprints and sketches, but how to relay it to the stakeholder? This is especially a pressing question when it comes to demonstrating materials, carefully chosen by the designer for their high quality and looks. If the investors aren't convinced that materials' quality justifies the cost of the project, they will be hesitant to pick it up. And showing the samples is not enough to sway their decision. The investors want to picture clearly how the materials will look when applied to a building in question.
For tasks like that, a 3D architectural rendering company has access to incredibly powerful CGI tools that can precisely simulate all kinds of materials. High-quality red brick, to give facades a classic feel? How about luxurious marble for tiles and decor? Perhaps some rich mahogany for doors and living room furniture? Fabric and leather for sofas and armchairs so gorgeous one can almost feel their touch? 3D architectural rendering software can do all that, and more!
#2. Using contextual lifestyle elements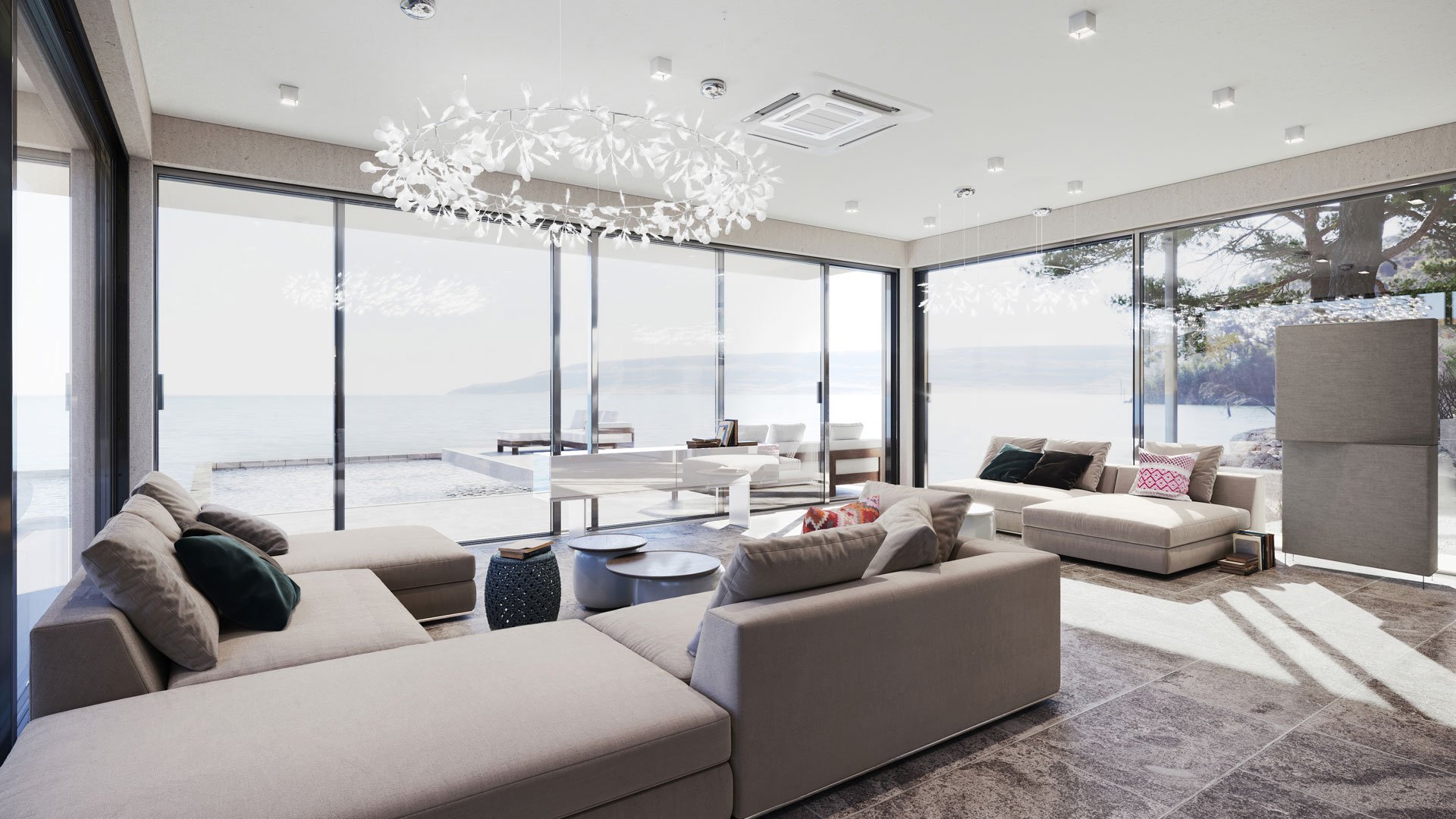 Decor and other contextual elements play a huge role in establishing the mood of environments. To justify the high budget, these details have to exude a luxurious feel. Therefore, a designer carefully plans out every facet of the scene he or she has envisioned. What kinds of decor elements are used, how are they placed, what visual effect they create — all these aspects define if an interior or exterior looks exquisite.
And a 3D architectural rendering company can help bring a unique vision of the design's author to life. Every CGI studio has a vast library of ready 3D models — from something as small as screws to entire skyscrapers. Those collections also contain all kinds of decor items, so a client of a 3D architectural rendering company can either pick whatever fits the design or provide references and leave the rest to the 3D artists.
Make sure your exterior design project takes your clients' breath away
#3. Adding gorgeous layered lighting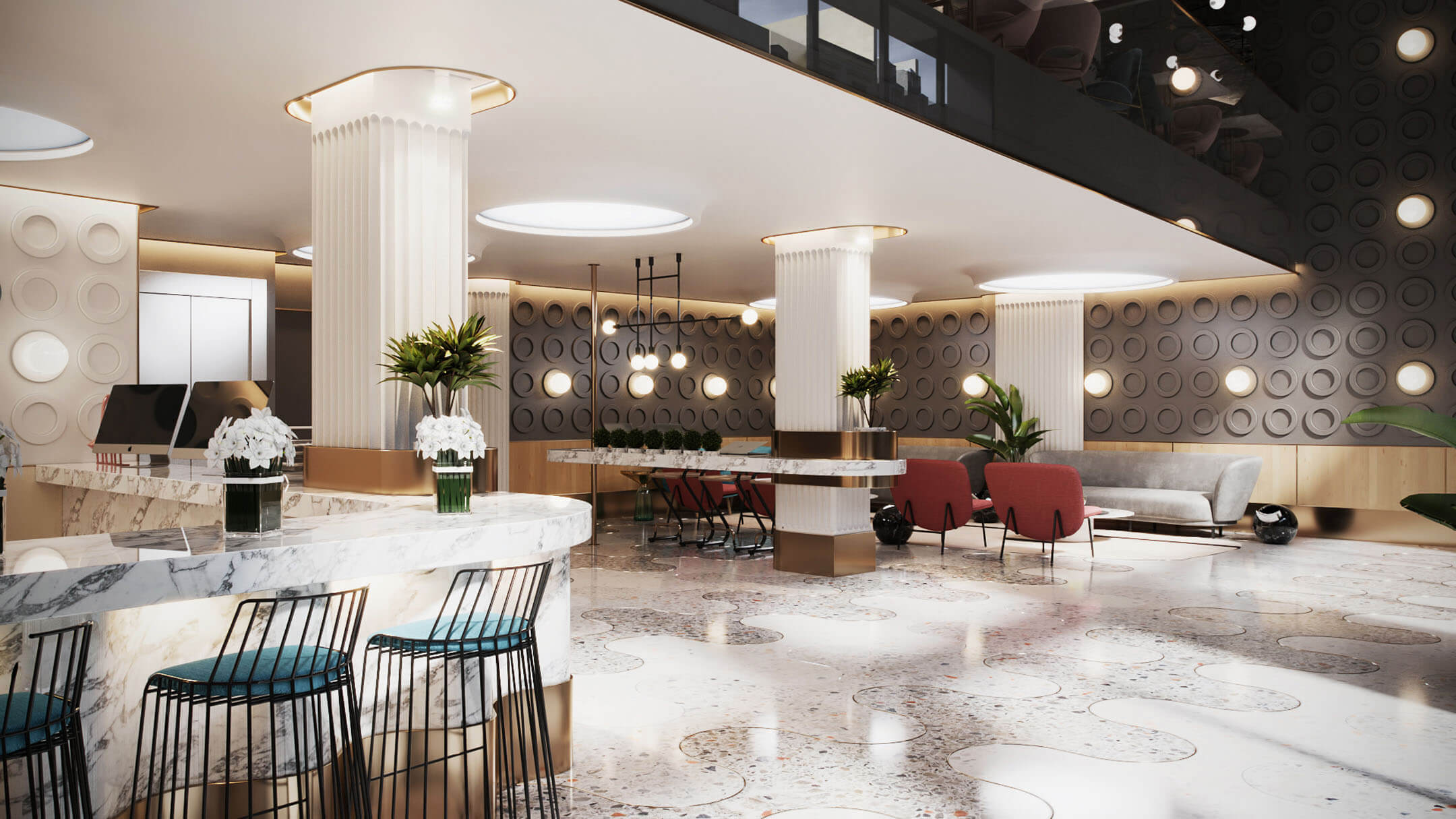 Lighting may seem like not the defining factor when perceiving property value, but in fact, it can absolutely make or break any image. To give an interior a "million bucks" look a designer has to use layered lighting. This means using not just multiple fixtures, but also different types of light — natural, candles, different kinds of lamps, and so on. This would drastically improve the look and feel of a future dwelling and can go a long way in justifying increased design costs.
Can a 3D architecture visual feature such effects? Of course! A 3D architectural rendering company uses software that allows for simulating any type of lighting imaginable, adding multiple light sources, editing shadows and reflections. Resulting 3D pictures will look indistinguishable from professional photos. While examining the stunning effect of a lighting scenario elaborated by the designer on the photoreal images, the viewers will be likely to understand that this masterful work is worth the stated price.
#4. Giving properties a lived-in look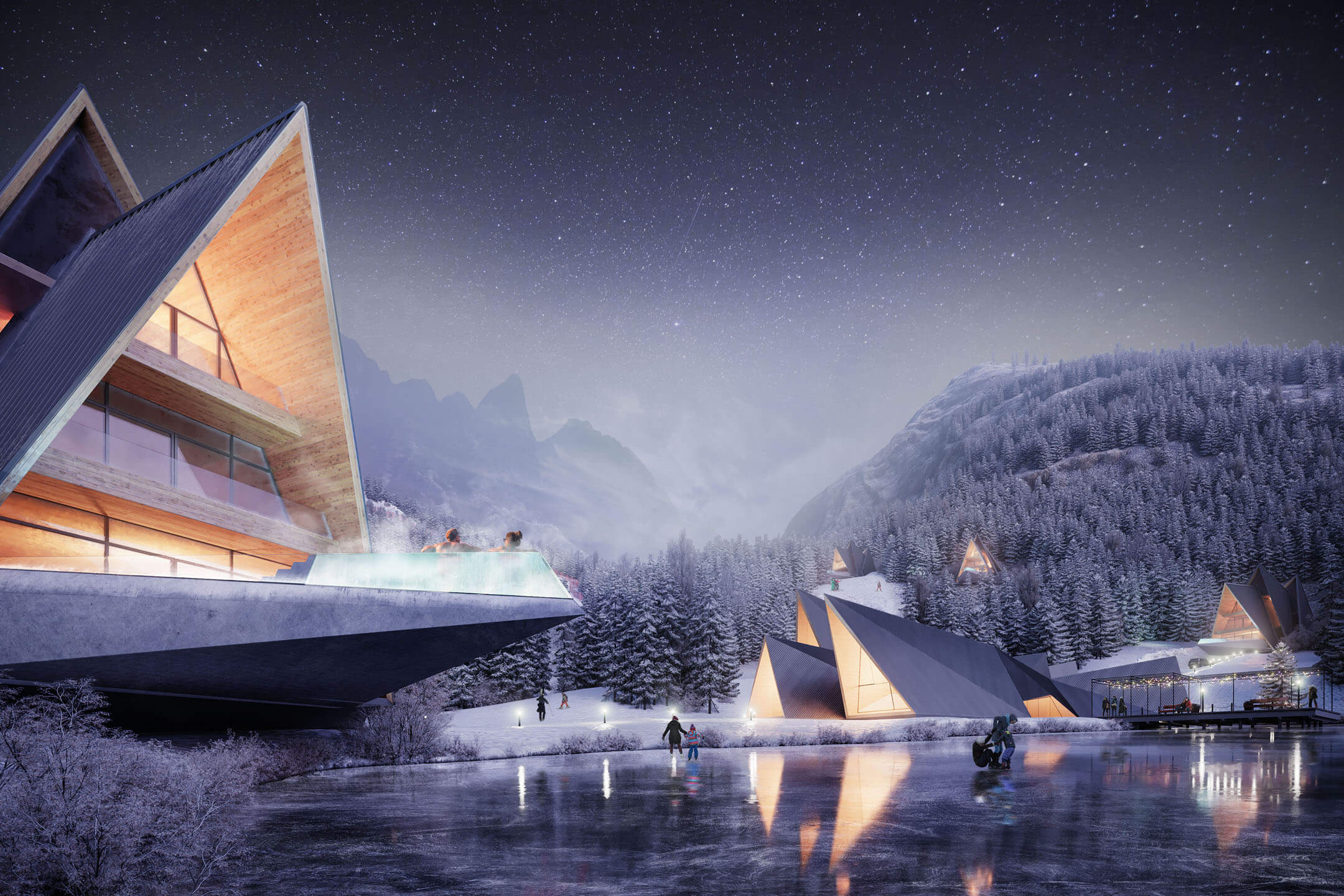 We've mentioned using contextual decor is a great way to give a property a high-end look, but is it possible to step it up a notch? Introducing — people. The secret is that adding the figures of humans to picture gives spaces a lived-in look. And when potential clients see elegant, high-class dwellers having a good time at this luxury location, they practically feel the glamorous vibes of the place and can't wait to experience them in reality.
A 3D architectural rendering company, as was mentioned previously, has a vast asset library, which contains, among all else, 3D models of people. In the case they look a bit out of place and are superimposed on the pictures, 3D artists use blur effect. It is an elegant decision since it gives visuals a "caught-in-a-moment" effect. And if it is needed to achieve the highest level of realism, 3D specialists can use shots of real people from Chroma Key templates.
#5. Using multiple POVs
Last, but not least, is the effect of multiple POVs. Space can be designed perfectly, but seeing it from one or two points doesn't give a full picture of the project and its benefits. While showcasing exteriors and interiors from multiple perspectives justifies the high prices since viewers experience the perfection of every aspect of a design in its entirety.
A 3D architectural rendering company can easily provide multiple iterations of the same space shot from different angles. This is due to the fact that it's essentially one scene, fully rendered in three dimensions, and all 3D artists have to do is to move the camera around. With this kind of capabilities, creative freedom is near-infinite: close-ups, wide shots, bird's-eye views — the sky's the limit! Finally, if one wants to turn property presentations into the most stunning and immersive experience, 3D animation is the way to go. It is a photoreal CG movie showing the future design in motion — which is bound to impress the viewers.
When architects and designers want to make their projects look worth the declared cost, a 3D architectural rendering company is a life-saver. CGI firm can create gorgeous lifestyles, indistinguishable from real photographs. Those pictures feature stylish decor, showcasing the impeccable quality of materials used for buildings and furniture, bathed in multi-layered photoreal lighting. And after seeing projects from all sides in all their glory, potential clients and investors will understand what they are going to pay for and won't resist flipping the bill.
Get your project estimated in just 1 hour - fill out this brief!
Want to make your designs look worth the projected budget? Contact our CGI company for professional 3D visualization services to achieve just that!