As 2021 is coming to an end, we want to share ArchiCGI's year-end results with you. This year, our architectural visualization studio had quite a few major accomplishments. From fully updating our CRM system to working with one of the most renowned architectural firms in the world, we have a lot to tell you about. And, of course, we'll show you our favorite renders of the year in the end. So, read on to learn about our 2021 highlights and see some gorgeous CG images!
The Updated CRM System
In 2021, we released a brand-new version of our custom CRM platform Archivizer. Now, the clients and team of ArchiCGI can enjoy a sleeker design, more convenient navigation, and several new features that make project communication smoother. Plus, one can now switch between light and dark mode, as you can see on the screenshots above. Overall, the updated CRM system is already helping our specialists work more efficiently. As a result, our clients are getting top-notch architectural CGI services faster and easier.
The Workflow Guide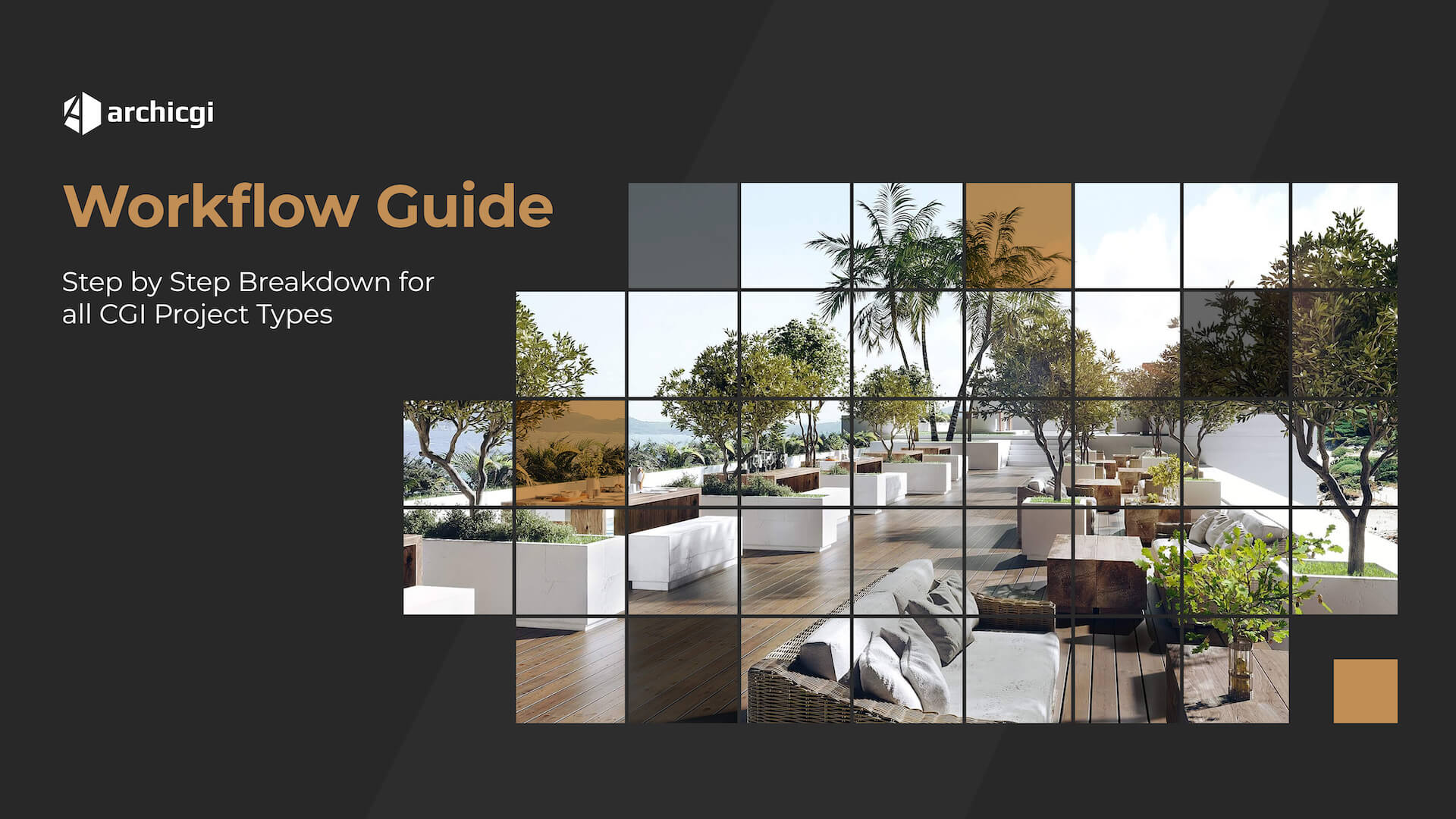 Another thing we did to improve our customer experience was creating a comprehensive workflow guide. It shows step-by-step how every type of 3D visuals is created here at ArchiCGI. Fully focused on the client's perspective, the guide shows what happens at every stage of the project. This way, our new customers can know what to expect and how to effectively participate in the revision process when working with us. And so, they can get amazing results without any extra effort or hesitation on their side.
17 000+ New 3D Assets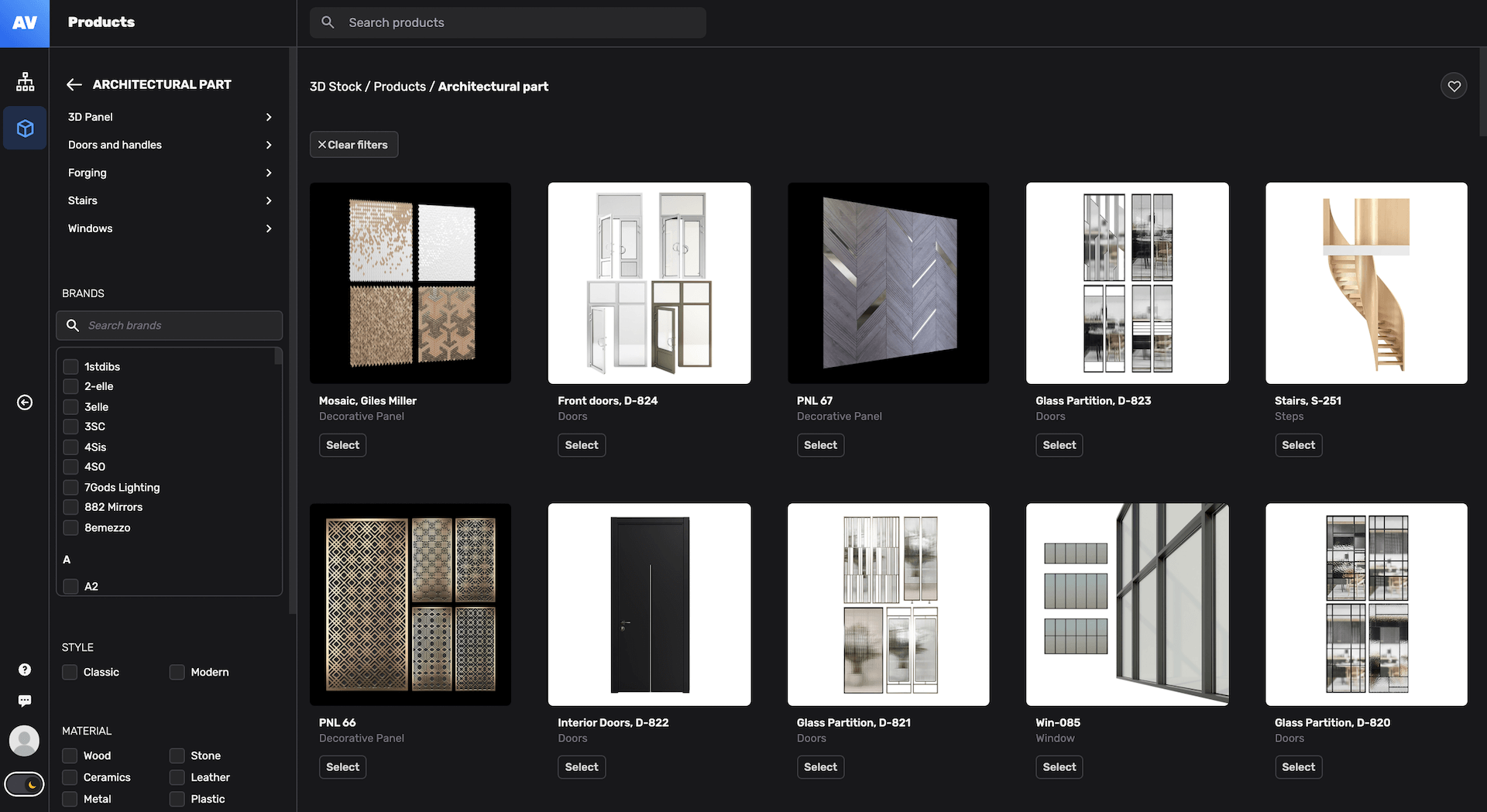 Now, let's talk about ArchiCGI's year-end results in numbers. This year, we added over 17000 new models, scenes, and materials to the library of 3D assets in our CRM. All these items can be used by our customers to optimize the cost and speed of their projects.
Present your architectural project like a work of art with AI-powered CGI
At this point, we have such a large collection of assets that our clients can easily find almost all the CG objects they need in there. That includes 3D models of furniture and decor from leading brands, a great variety of materials, items of environment, etc. Also, we can always customize these objects if necessary. As a result, we don't have to do custom 3D modeling from scratch in every single project. And our clients get beautiful architectural 3D renderings in no time.
600+ New Clients
In 2021, ArchiCGI started working with over 600 new clients. Among them are many successful architects, interior designers, real estate agencies, and developers. The highlight of the year was our very first collaboration with Zaha Hadid Architects — the legendary firm known for its mind-blowing futuristic designs worldwide. That being said, we love all of our clients' projects and are always ready to visualize concepts of different styles and scales.
7 000 Completed Projects
This year, we at ArchiCGI visualized 7000 architectural designs in total. Some assignments came from our long-time clients and some — from new ones. In each case, our talented 3D artists strived to deliver the absolute best results, considering every customer's individual needs.
And now, lets' take a look at our favorite renders of 2021!
Those were ArchiCGI's year-end results. Overall, we are happy with what we achieved this year. And in 2022, we'll continue to move forward and provide even more improved services to professionals in the architecture, design, and real estate industries.
Looking for professional 3D rendering services? Contact us at ArchiCGI and get unbelievably photorealistic visuals quickly and effortlessly!
---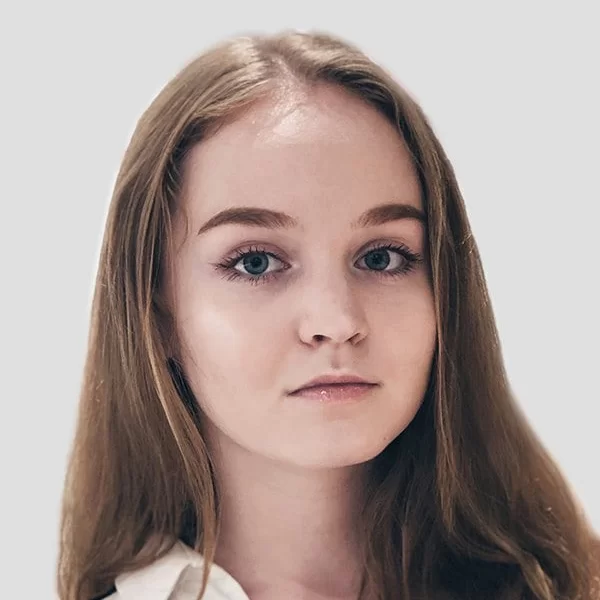 Ana Wayne
Content Writer, Copywriter
Ana is a content writer for ArchiCGI. She has a passion for design and architecture - and for talking about it. Outside of work, she is a fan of sci-fi movies and a street food connoisseur.