Today, real estate agents and developers invest much in digital marketing strategies. And these efforts pay off. But it absolutely does not mean that offline marketing channels should be forgotten. The classic means of advertising properties, such as billboards, brochures, flyers, and good old yard signs, still do the job perfectly. So, realtors and development companies should definitely take the benefit of both online and offline advertising.
With the modern technologies, such as 3D photorealistic visualization, effective marketing through all channels is available even for agents who work with unfinished properties. Previously, those who sold ready buildings hold all the cards — because they could photoshoot the houses to create beautiful visuals for both online and offline ads. Which is definitely not an option if the object is still under construction. 
But then real estate rendering came into play and leveled the playing field. Now, realtors and developers who sell with unfinished houses win clients easier than ever before. And they do it through all marketing channels. Today we will tell you about 5 ways photorealistic visualization helps market real estate offline! 
#1. Photoreal 3D rendering enhances printed collateral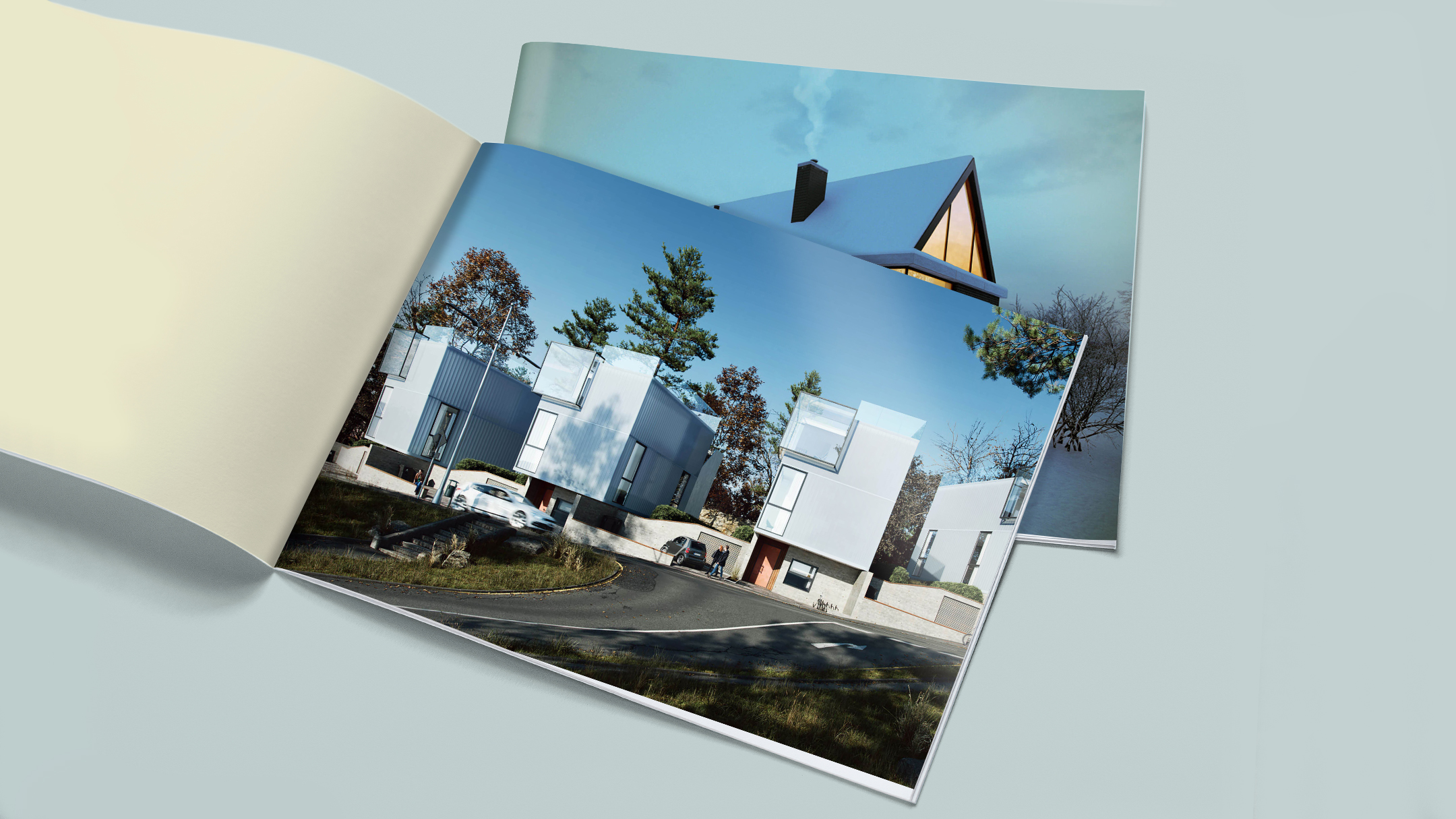 Print advertising of real estate comes in many formats. It can be collateral such as flyers, business cards, brochures, mailing cards, banner stands, and so on. Such a variety of formats allows for reaching out to the target audience literally everywhere. People can see promo materials in streets, office parks, highways, shopping malls, and more. Depending on the type of housing, advertising can be placed in specific target areas. For instance, luxury real estate banners can be set up in places where the prosperous people live, work, or spend leisure time. 
However, to ensure that the ads capture the potential buyer's attention, they must contain not only lines of text but also high-quality visuals. And if the advertised real estate is still under construction, the only way to get such imagery is to opt for photorealistic visualization. Architectural rendering can show the expected result of an unfinished construction in all its glory. So, with photorealistic CGI, the realtors and developers working with such properties will be able to get stunning ads to engage their target audience through print collateral.
#2. Photorealistic visualization helps add a digital dimension to printed materials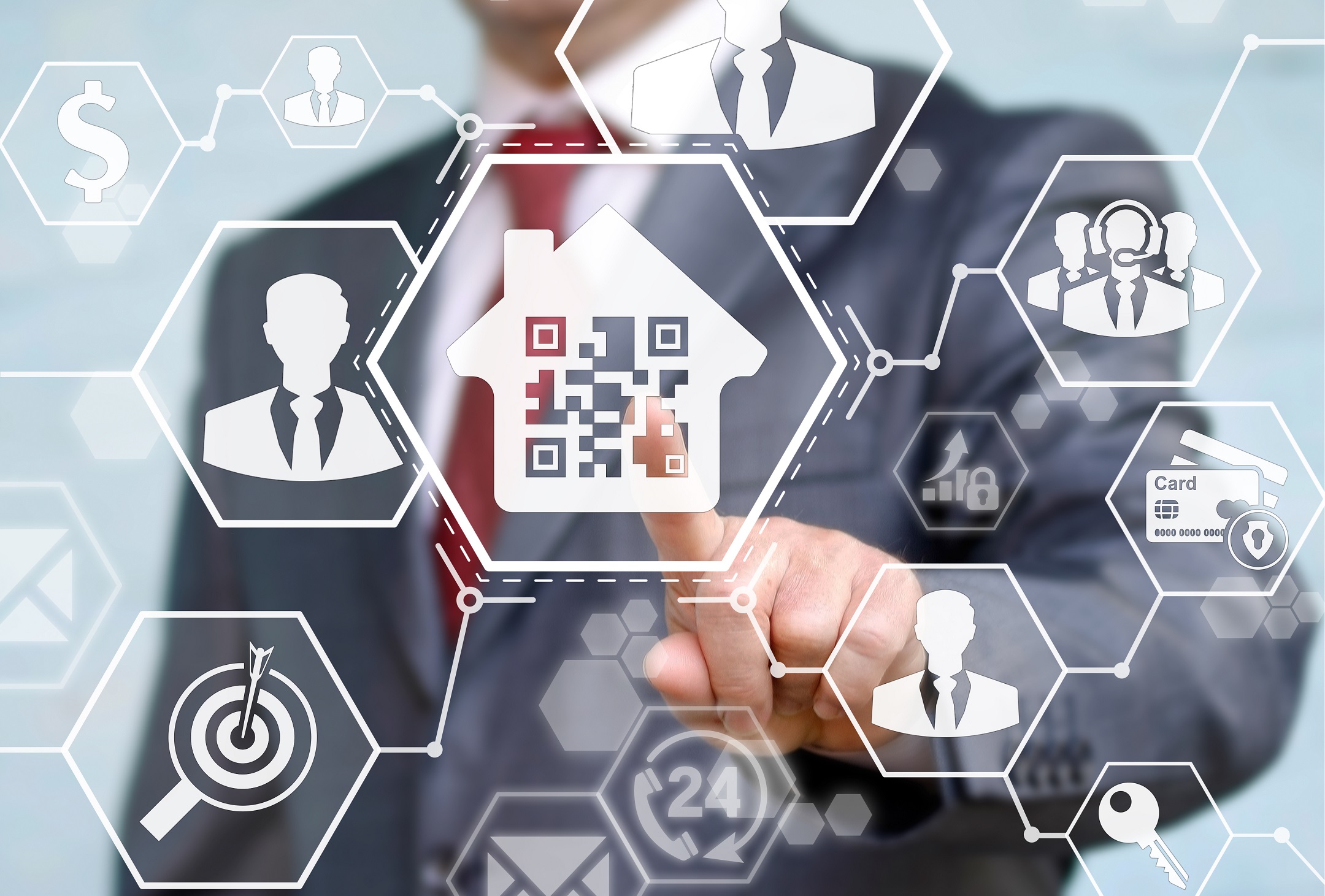 Apart from providing high-end visual materials for print collateral, photoreal 3D rendering allows for adding a digital dimension to it. This can be done with the help of QR codes. The latter can be added to brochures, flyers, yard signs, etc. 
Simply by scanning a code with a smartphone, a prospect can instantly access a realtor's or a developer's website to learn more about the offered properties. In such a way, the potential buyers can see much more than beautiful still images in collateral. A code can lead to a webpage with photoreal 3D animations and engaging interactive virtual tours to real estate. This way, the power of classic ads is enhanced with the impact of digital 3D visualization. Such a combo is bound to win the hearts of the audience.
Make sure your exterior design project takes your clients' breath away
#3. Photorealistic CGI makes outdoor advertising attention-grabbing and memorable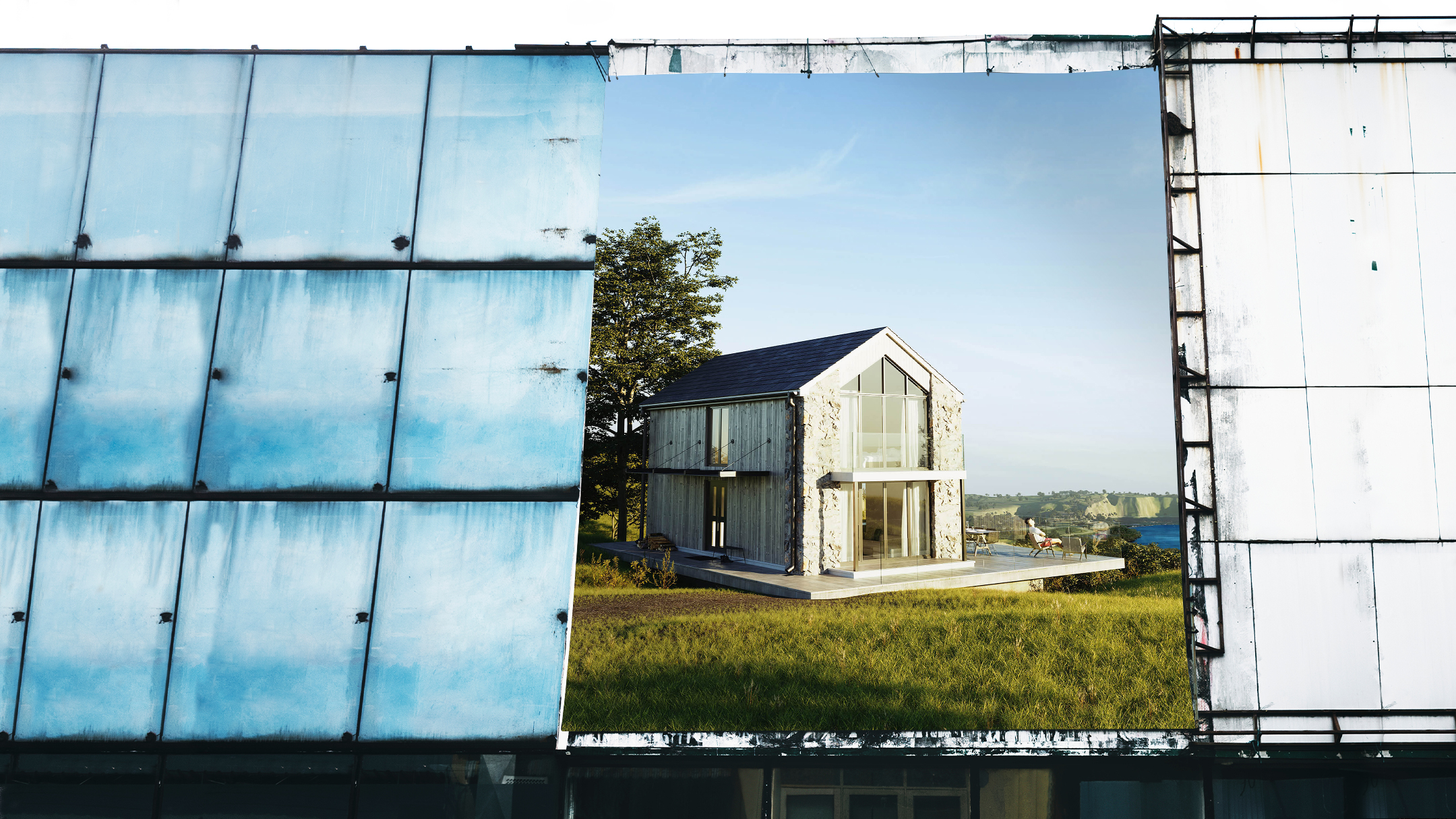 Outdoor ads are aimed at drivers and pedestrians passing by. These people do not have time to carefully examine the billboard — they will only be looking at it for a few seconds. So, any outdoor ad must be catchy and attractive enough to capture the people's interest during such a small time. And it's obvious that lines of text won't be of much use here. To attract passers-by, a billboard needs stunning visuals. 
This was a problem for realtors and developers who sell unfinished projects before 3D visualization for real estate came into the picture. But now, they can obtain catchy imagery for outdoor ads showing the future buildings in full splendor. The billboards with stunning photorealistic visuals of the properties can instantly capture attention and stick to the memory of any passer-by. 
#4. Photorealistic 3D visualization showcases properties in the best light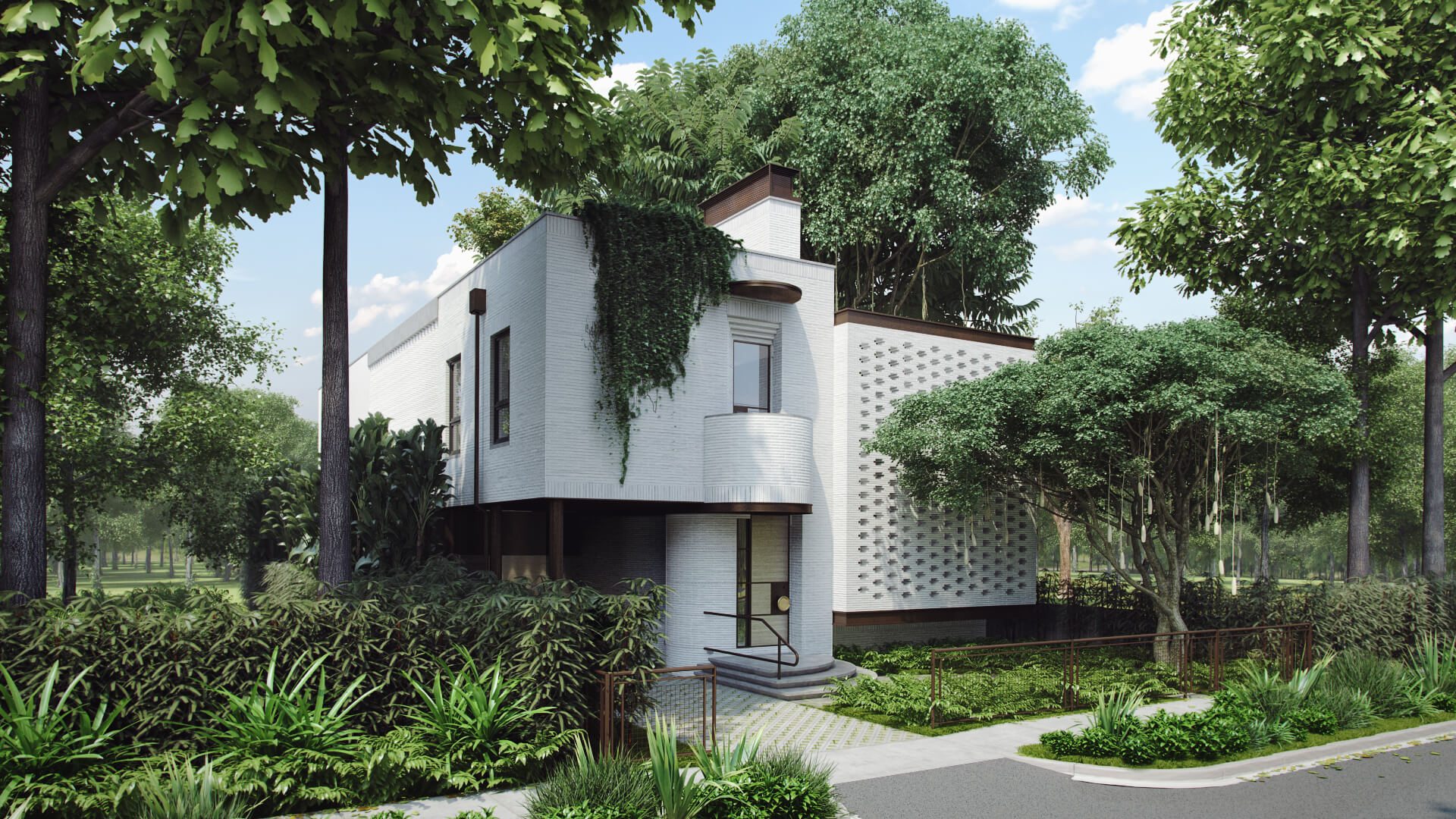 Photorealistic visualization allows for getting imagery that shows a future building in any conceivable setting and from any angle. With CGI, it is possible to get 3D renders displaying the project in any season or time of day, in close-up and in aerial views. So, an agent or developer can decide on a specific scenario that will effectively highlight the benefits of the real estate and opt for photorealistic visualization services to obtain 3D visuals accordingly. 
For instance, a realtor might think that the future house would look the most attractive on a crisp and cool spring day, against a clear blue sky and greenery all around. Also, they might want to showcase the building in a close-up view so that the audience could examine sophisticated architecture and high-quality materials used for construction. In such a case, the 3D artists of a photorealistic visualization studio will set up the scene in the CG images in accordance with the realtor's request. So, the resulting imagery used for offline advertising will present the house in the best light possible. 
#5. CGI allows for creating irresistible 3D animations for outdoor video screens
According to Avasam, 80% of marketing professionals say that video helps greatly in the direct increase in sales. Such an impressive number proves that videos are the most powerful media tool one can use. And it works offline as well as online. Realtors and developers know that and use video advertising of properties not only on the web but also on outdoor screens. 
Some time ago, this option was available only with the advertisement of ready-built homes. But now, realtors dealing with unfinished houses can also make use of outdoor screens. For this, they should contact a photorealistic visualization studio and order an architectural 3D animation of their project. With such a CG video, they will be able to show the final result of an unfinished construction in its full splendor and thereby market it effectively through outdoor screens.
3D architectural visualization is a true asset for realtors and developers who need to promote unfinished properties. CGI provides stunning visuals for print collateral and allows for adding a digital dimension to it. Also, photorealistic visualization helps show future real estate in the best light and provides for attention-grabbing ads that attract passers-by. On top of that, it allows for getting irresistible 3D animations for outdoor video screens.
Get your project estimated in just 1 hour - fill out this brief!
Want to market unfinished properties through offline channels more effectively as ever before? Contact our 3D rendering company and we will help you achieve just that!
---
Catherine Paul
Content Writer, Editor at ArchiCGI
Catherine is a content writer and editor. In her articles, she explains how CGI is transforming the world of architecture and design. Outside of office, she enjoys yoga, travelling, and watching horrors.