Digital advancements in realty marketing have been amazing for the past decade. Photoreal 3D visualization as well as AR and VR have completely changed how businesses in the industry promote their services. Yet, taking a short walk outside can easily prove that real estate outdoor advertising is still popular and successful.
As for now, there are several established techniques for making the most out of physical ads. These practices enhance how much real estate outdoor advertising attracts new clients and can be improved with the help of an architectural rendering company. Here are the top 5 tips to make outdoor ads work better!
#1. Place ads in specific locations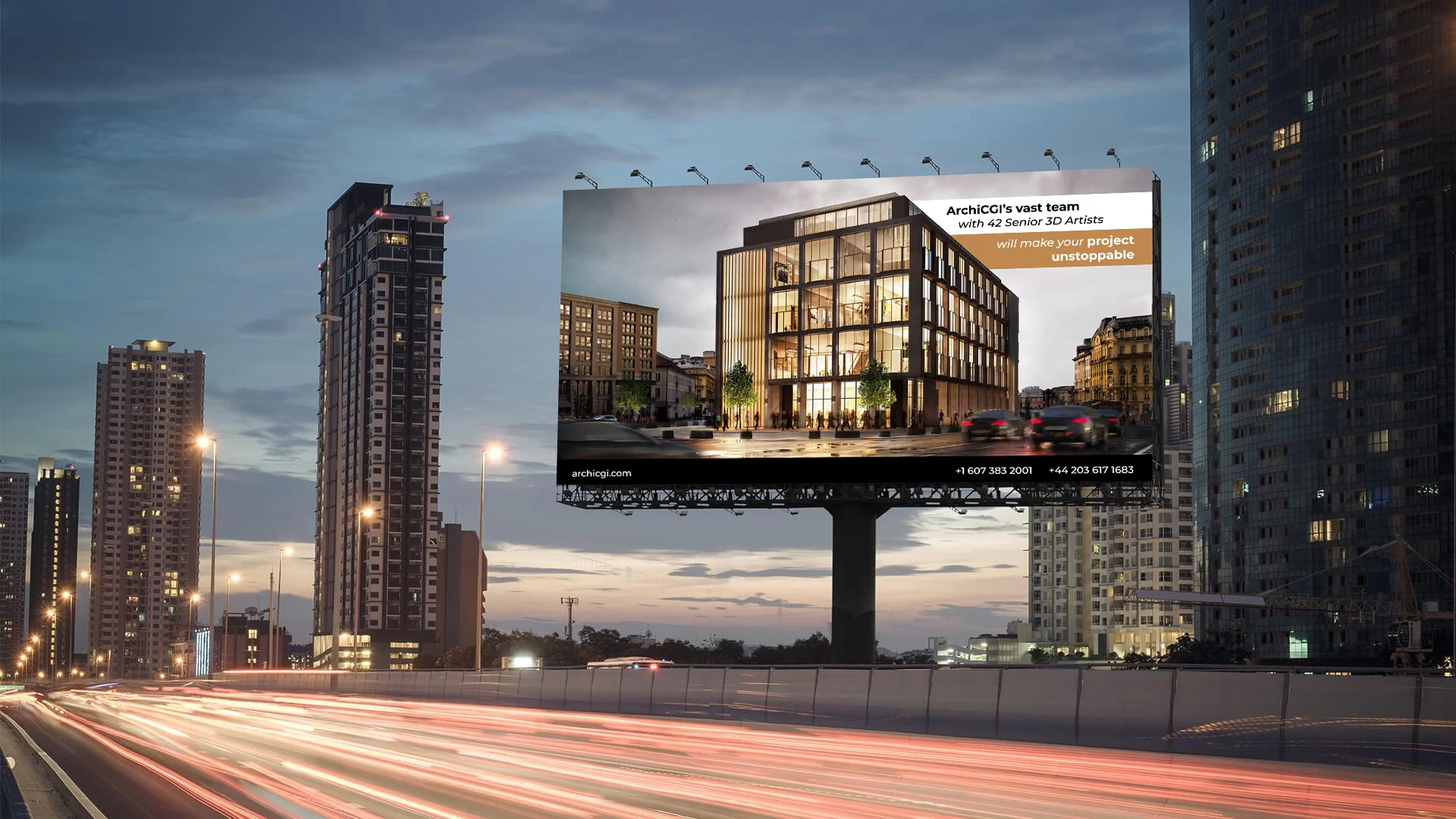 For physical outdoor ads, location is everything. After identifying the target audience for a project, the advertising should be put in places that those people are likely to visit. It's easy to put massive billboards on major roads for everyone to see, but most passers-by are not likely to be interested. Targeted marketing, on the other hand, draws more attention from prospects who might be willing to buy specific properties.
For instance, let's say the target audience is young couples, and the company has budget-friendly cozy apartments for sale or rent. In this case, ads are better placed near malls and other popular commercial venues. For middle-class clientele, placing billboards near offices and business centers would make sure to pique their interest. 
It's vital to be strategic with exact placement too. Choosing a high-traffic area for a target audience is the way to go. The more potentially interested people notice real estate outdoor advertising, the more likely some of them will turn into buyers.
#2. Keep the message simple and short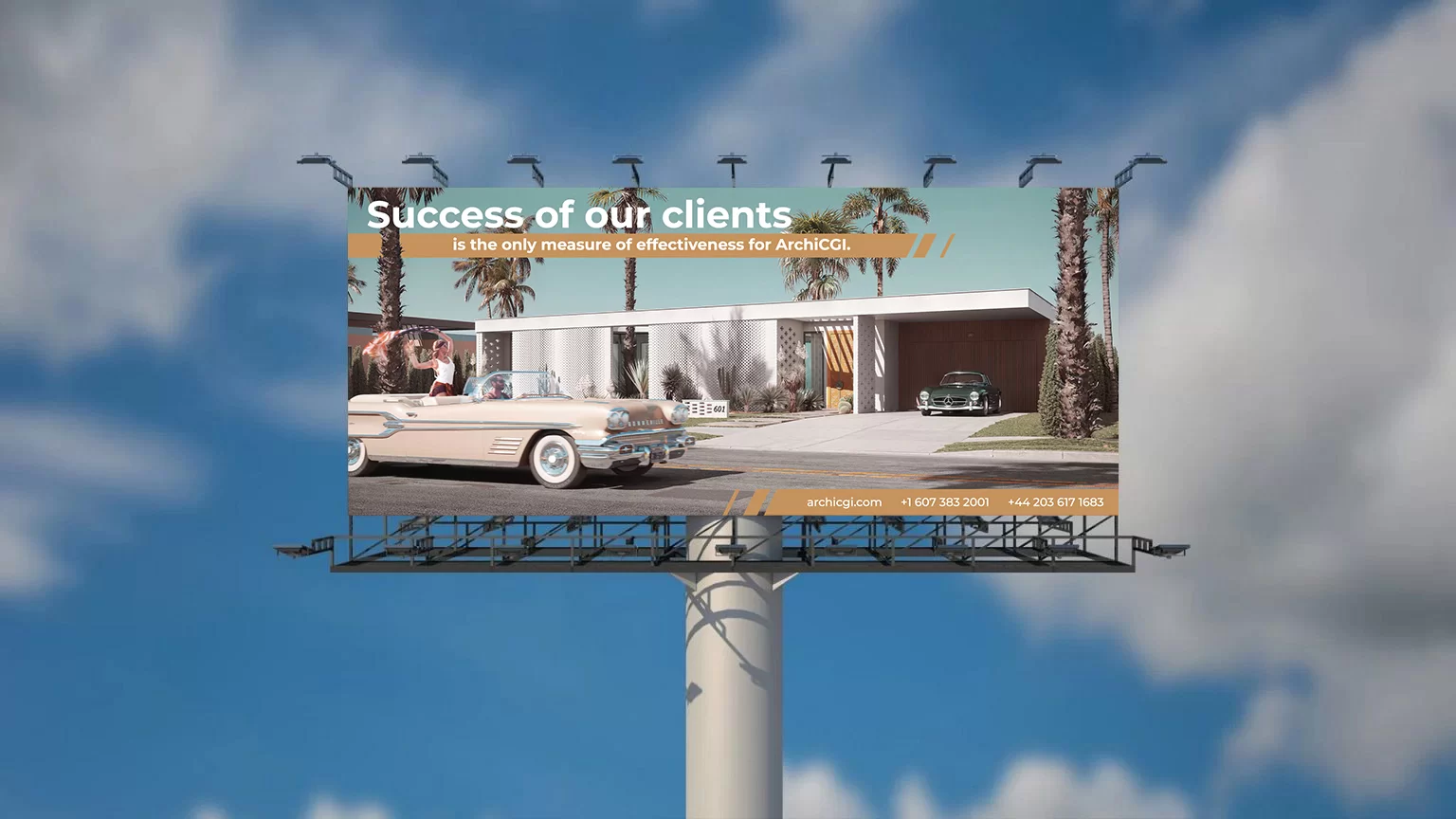 People aren't fond of reading adverts, especially when they are walking or driving past them. As such, the message of real estate ads should be as short and clear as possible. Most of the content should come in the form of eye-catching visuals. And the text message must be a single short phrase that appeals to the dreams, desires, or problems of buyers. For instance, "get away from the noisy city" with a suburban cottage. Focusing on the selling points of a house for sale might just be the convincing argument for contacting the company that built it.
Another thing that should always be mentioned on a billboard is the name of the company or its logo with contacts. But the visuals should always be the star of the advert, taking up most of the space. 
#3. Use 3D visuals for advertising unfinished properties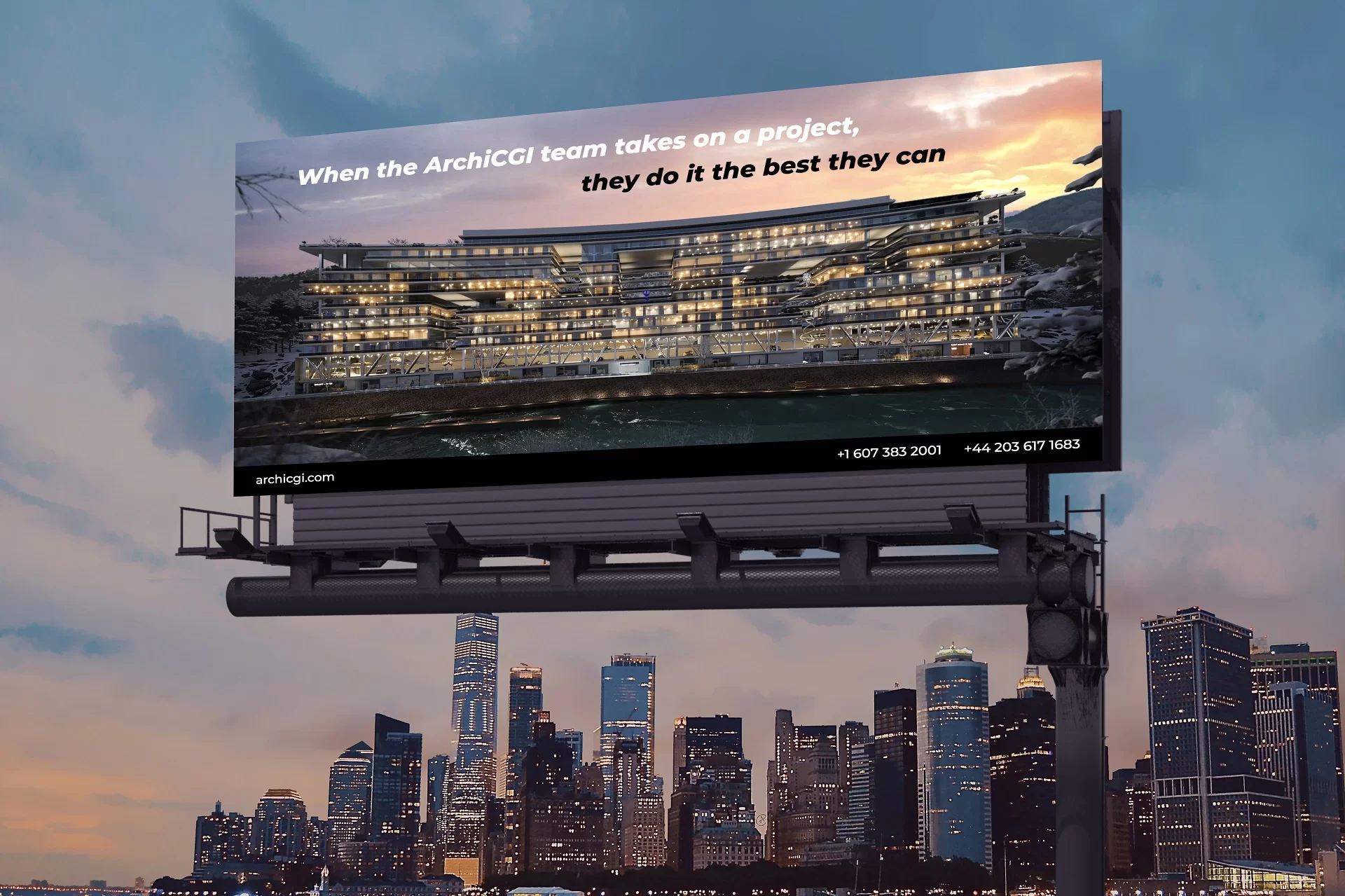 Normally, promotional materials for completed real estate projects are professional hi-res photos. But for unfinished buildings, the only and best solution is using 3D real estate rendering. High-quality CGI looks indistinguishable from real-life photography. This makes it perfect for real estate outdoor advertising. 
3D renderings both demonstrate how beautiful the designs are and showcase all the selling points at the same time. Moreover, CGI can present properties in the best possible scenarios. The 3D visualization can be set in any season, time of day, and weather conditions, maximizing the attractiveness of realty projects.
#4. Show how buying real estate can improve clients' lives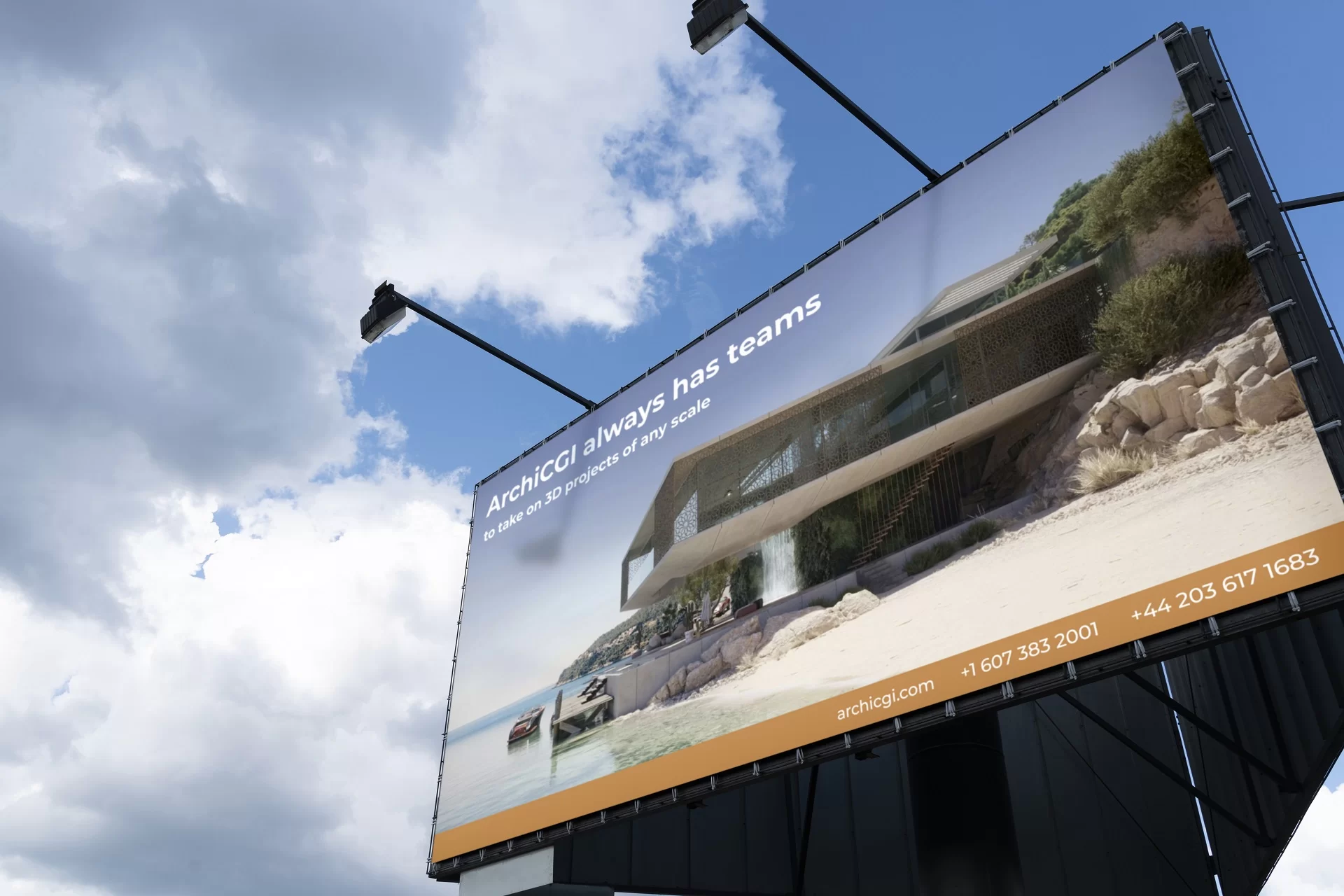 Selling homes involves not just pointing out ingenious architecture. Marketing is aimed first and foremost at how a particular house can make buyers' lives better. Each group of potential buyers has its specific needs and desires. And understanding them is key to successful real estate outdoor advertising.
For example, high-end clients often want to live in luxury with everything civilization has to offer and at the same time enjoy nature in private, secluded places. A gorgeous suburban lakeside mansion would perfectly suit those needs. Advertising should reflect that, focusing on showcasing how this property will fulfill the potential owner's requirements. Such an approach to billboards and other physical outdoor marketing visuals will ensure that clients feel that the property for sale is made just for them.
#5. Be consistent and recognizable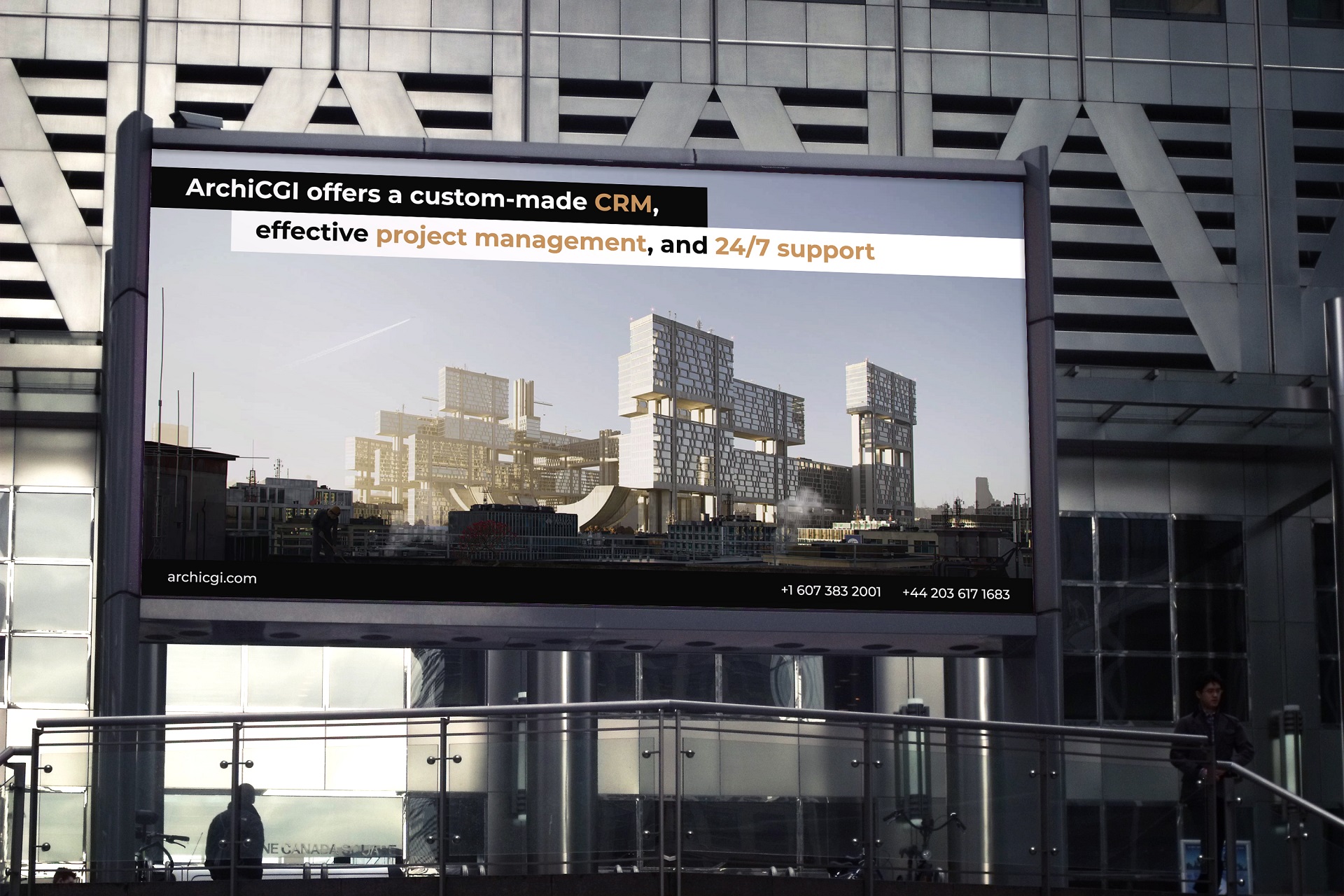 Branding is a crucial component of marketing. It has two major elements: how recognizable the company's promotional materials are and how consistent they keep them. So, how to use branding in real estate outdoor advertising? First of all, adverts should focus on visuals and catchy concise messages. The images must feature easily recognizable and consistent fonts, logos, and slogans. 
After developing a particular style for billboards, the next step is to stay consistent and not move too far away from the formula. This way, customers will eventually memorize that particular real estate company. And when they think it's time to get a new home, that developer will be the first thing that comes to their minds.
Make sure your exterior design project takes your clients' breath away
Selling homes via billboards and other physical adverts is effective, provided realty developers follow proper guidelines. Real estate outdoor advertising should have minimal textual content and focus on stunning visuals. The messages should be targeted at specific groups of people who might be interested in the properties in question. The advertising should focus on how those houses can improve the lives of potential buyers and fulfill their wants and needs. And, of course, the outdoor real estate ads should be placed strategically, in places the target clientele is likely to visit often. 
As modern housing marketing often involves promoting unfinished projects, using CGI is a must. All the while it's important to develop a brand style and stick to it so that customers recognize your business among the competition.
Know where to place the next billboard but don't have beautiful property visuals to put on it yet? Order architectural rendering services today to ensure that your ads will bring clients!
---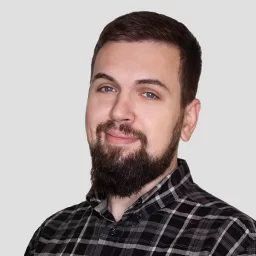 Jimmy Ward
Marketing Specialist, Media Buyer
Jimmy is the senior magician of media and stunning ads. He loves a good joke, his beloved dog Mario and craft beer. But don't be fooled by his smile: Jimmy is ruthless when it comes to lead generation.