3D Architectural Rendering for New York Projects: 4 Case Studies by ArchiCGI
Looking to get 3D architectural rendering for New York project presentations? In that case, it might be useful to start by browsing some examples of CG visuals created for other architects and real estate companies in the area. The first thing you'll probably notice in those is the unmistakable urban atmosphere of New York State cities. With a distinctive blend of architecture from modern skyscrapers to cozy brownstones to the iconic Art Deco buildings, these cityscapes have a very unique and recognizable look. It's especially important to convey that in the renderings if you want to give a successful presentation.
We wrote this article to show you how expertly the CG artists at our architectural visualization studio recreate the cities of New York in 3D. Here, you'll see photorealistic renders we produced for presentations of both commercial and residential architectural designs in New York State. Let's take a look!
#1. Lavitta's Restaurant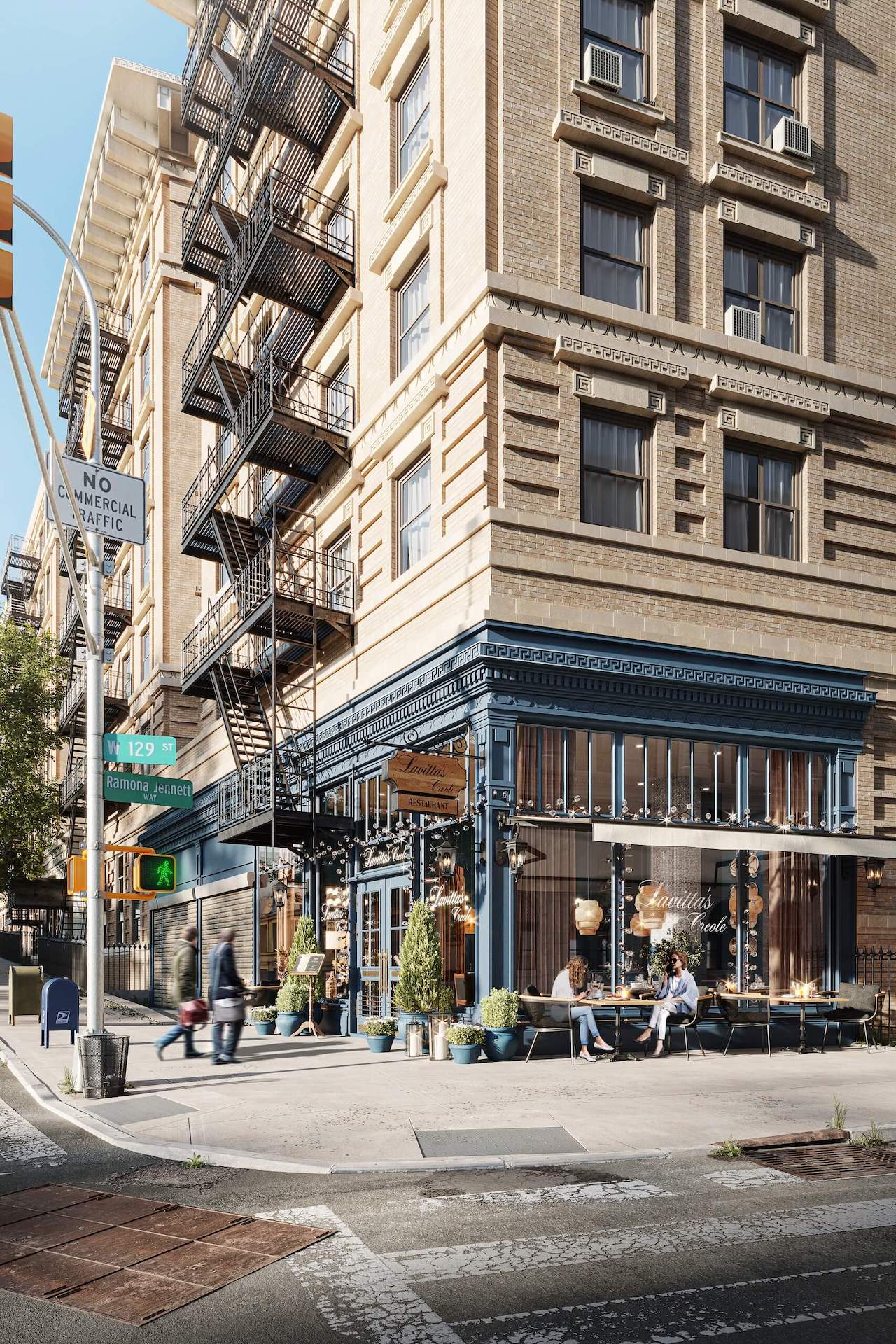 This 3D architectural rendering of a New York restaurant exterior instantly takes you to a busy city street. Here, our 3D artist depicted the classic and authentic design of the place and showed how beautifully it would work with the architecture of the existing building. Overall, the rendering accurately conveys the vibe of the restaurant, which is very elegant but also friendly and relaxed.
Now, let's say a few words about the mind-blowing hyperrealism in this 3D rendering. It is a result of the 3D artist's unparalleled attention to detail in the aspect of the restaurant's surroundings. From the fire escape to traffic signs to bits of grass growing through the cracks in the pavement, everything was meticulously put together to make this corner look as life-like as possible. The combination of those subtle yet meaningful details creates the typical New York atmosphere as we know it.
Apart from exterior visualization, our client also ordered interior restaurant 3D rendering. Our CGI experts made several images, some of which you can see above. The atmosphere of the place is warm and cozy, greatly due to the soothing color palette and abundance of natural materials. To highlight that mood, our 3D artists set the soft morning lighting in a way that would make the space look particularly calm and welcoming.
#2. Apartment Building in Manhattan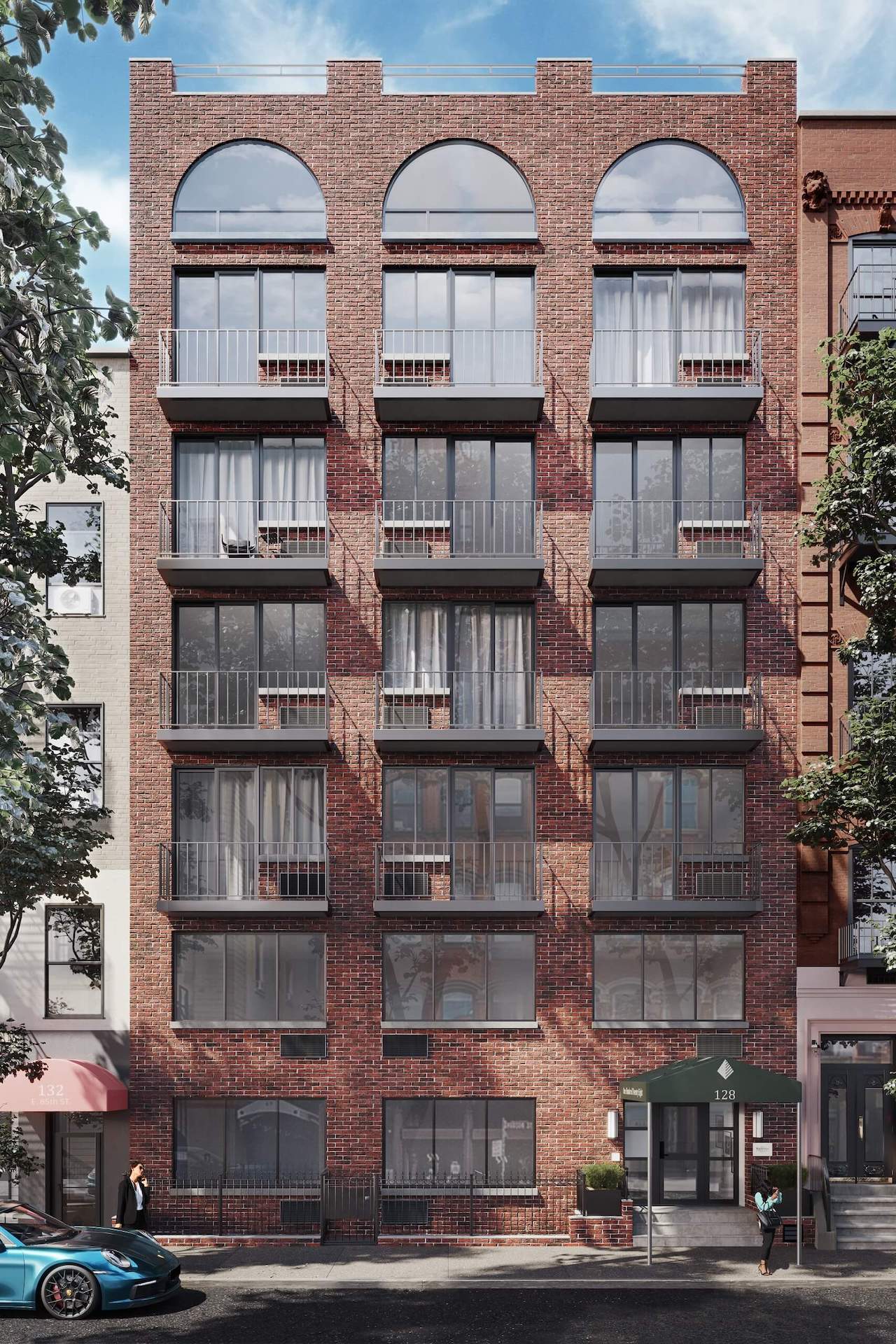 Our CG artists created this 3D architectural rendering of a New York apartment building for a real estate firm. The realtors needed a beautiful image to show the exterior of the place in which they rent out apartments. Even though the agents could just take a photo of the apartment block and use it in the listing, they preferred to go with CGI.
Make sure your exterior design project takes your clients' breath away
Why? First of all, it's quite impossible to capture an angle like this in a photograph, since the street is very narrow. Then, there are also constant visual distractions that get in the way of taking an aesthetic picture. For instance, there might be trees blocking the view of the facade, as well as cars, delivery and service trucks, or people. After all, we're talking about a building in New York — one of the busiest cities in the world. So, this is another great example of a situation in which photorealistic architectural CGI comes in handy.
#3. Eleven Eleven Condominiums
In this project, our client needed 3D architectural rendering for a New York State townhouse pre-selling campaign. The luxurious condominiums are located in Elmwood Village, just steps away from the cultural hotspots of Buffalo, NY. Naturally, one needs high-quality, photorealistic CG rendering to properly advertise this kind of prime real estate.
The 3D architectural visualizations above emphasize the selling points of the Eleven Eleven complex, among which is its location in a beautiful green walkable neighborhood. The overall serenity of each rendering wasn't achieved by chance. Rather than that, it's a carefully curated on-brand look intended to attract the most interested prospects. After all, these visuals will form people's first impressions of the complex. So, our 3D artists put in extra effort to make sure that future buyers would fall in love with these houses at first sight.
#4. Stylish House Interior
Here is an example of how an interior designer used 3D architectural rendering for a New York home renovation project. The images showcase the design proposal in photorealistic quality. That helped the designer's clients not only understand the practical aspects, such as zoning but also feel the atmosphere of the place.
Furthermore, these 3D renderings allowed the viewers to fully appreciate the intricately curated style. Namely, the eclectic mixture of classic elegance, rustic chic, and even some postmodern elements, such as the iconic Mario Bellini sofa. To emphasize the refined, yet cozy feel of the interior, the 3D artist made the lighting soft and subdued. It also helped highlight the beauty and quality of materials used in the design. And the little objects, such as books, candles, and cups of coffee make the space look lived-in and inviting.
Want to learn how much your project costs? See how we evaluate 3D rendering projects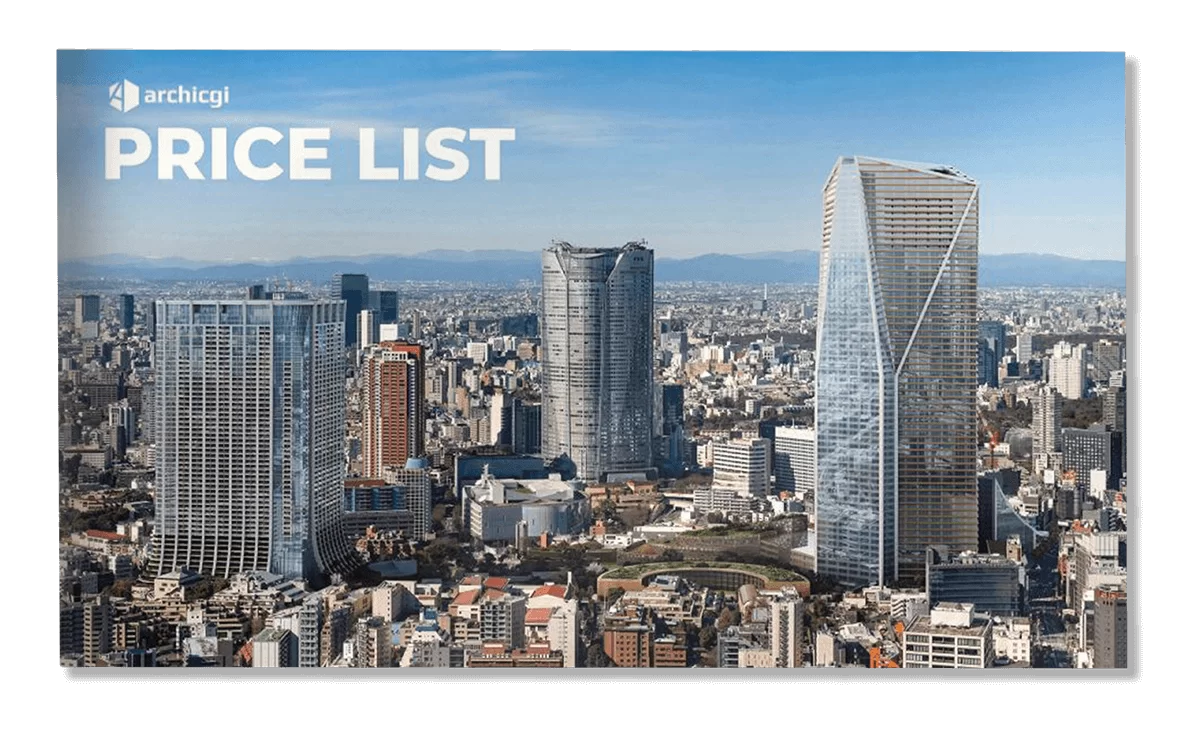 Those were our examples of 3D architectural rendering for New York projects. Hopefully, you found them inspiring and, perhaps, got a couple of ideas for your own next concept presentation. Soon, we will share more case studies about projects in New York and other states. So, stay tuned!
Looking for architectural rendering services to visualize your projects in New York or anywhere else? Contact ArchiCGI and get visuals that will dazzle your clients at your next presentation!
---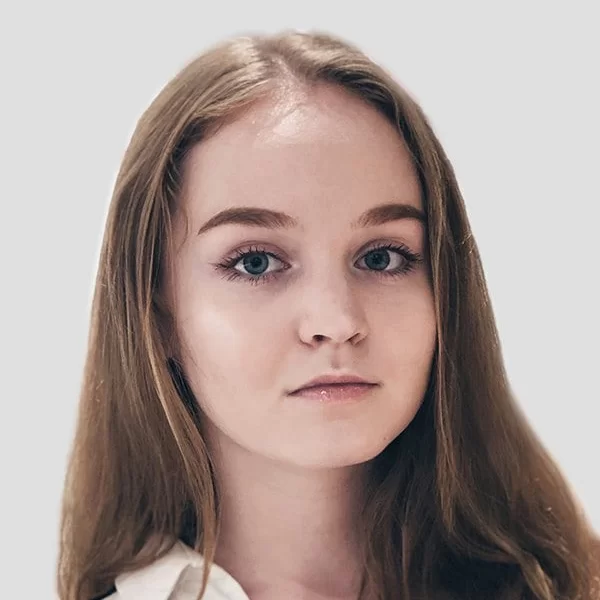 Ana Wayne
Content Writer, Copywriter
Ana is a content writer for ArchiCGI. She has a passion for design and architecture - and for talking about it. Outside of work, she is a fan of sci-fi movies and a street food connoisseur.
Like this project? We've got plenty more! Check out these CGI beauties.