Creative Architectural Rendering: 6 Stunning Examples from Our Studio
Do you have architectural concepts and ideas that demand creative visualization? Whether it be the design itself or the intended atmosphere, angle, or other elements, some works benefit from an unusual, artistic approach. And that's where creative architectural rendering comes in.
It allows you to present your most ambitious projects with a greater visual impact and leave a lasting impression on the audience. Moreover, this kind of CGI works amazingly for social media, as it attracts tons of attention and helps you establish your own style and brand. Plus, it can be a valuable addition to visual materials for architectural contests, presentations, and publications.
For this article, we've prepared some examples of creative 3D rendering produced by our architectural visualization studio. Check them out!
#1. Render with a Captivating Atmosphere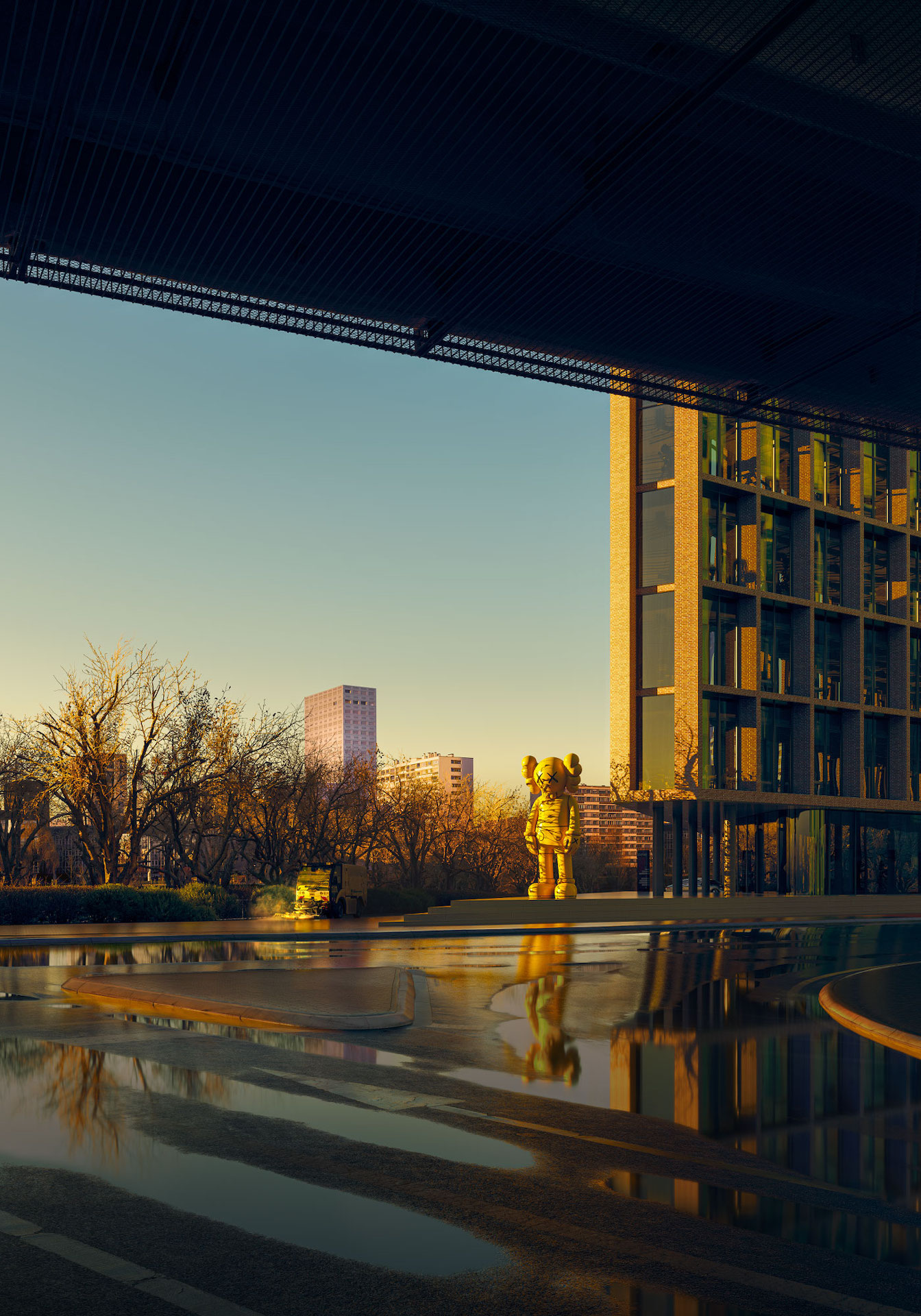 This creative architectural rendering is focused on conveying a dreamlike urban fall mood. To achieve that, the 3D artist who made this image went for a late afternoon setting with golden sundown light reflected in the puddles. And what makes the rendering particularly captivating is the large iconic KAWS Companion figure standing in the distance.
#2. CGI with a Creative POV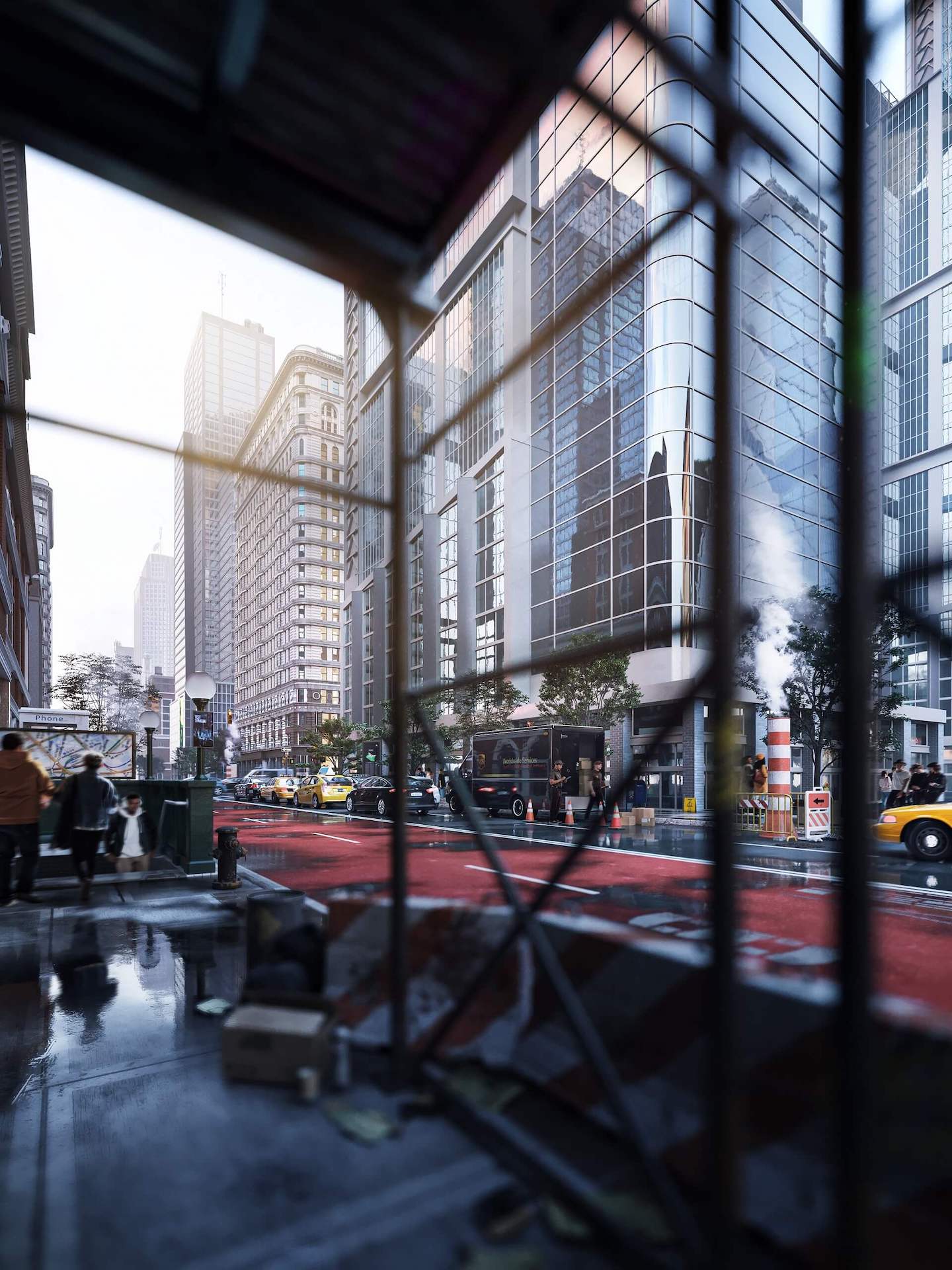 The rendering above is less about showcasing an architectural design and more about immersing the viewer into the atmosphere of an early morning on a busy city street. Here, you instantly notice how the unusual angle makes the image look quite cinematic. The more you look at it, the more storytelling elements are revealed to you — candid details rather than aesthetic embellishments, which adds to the concept of a highly realistic look.
Want to see more renders of striking cityscapes? Check out our selection of 3D high-rise building visuals!
#3. CG Visual with an Unusual Color Scheme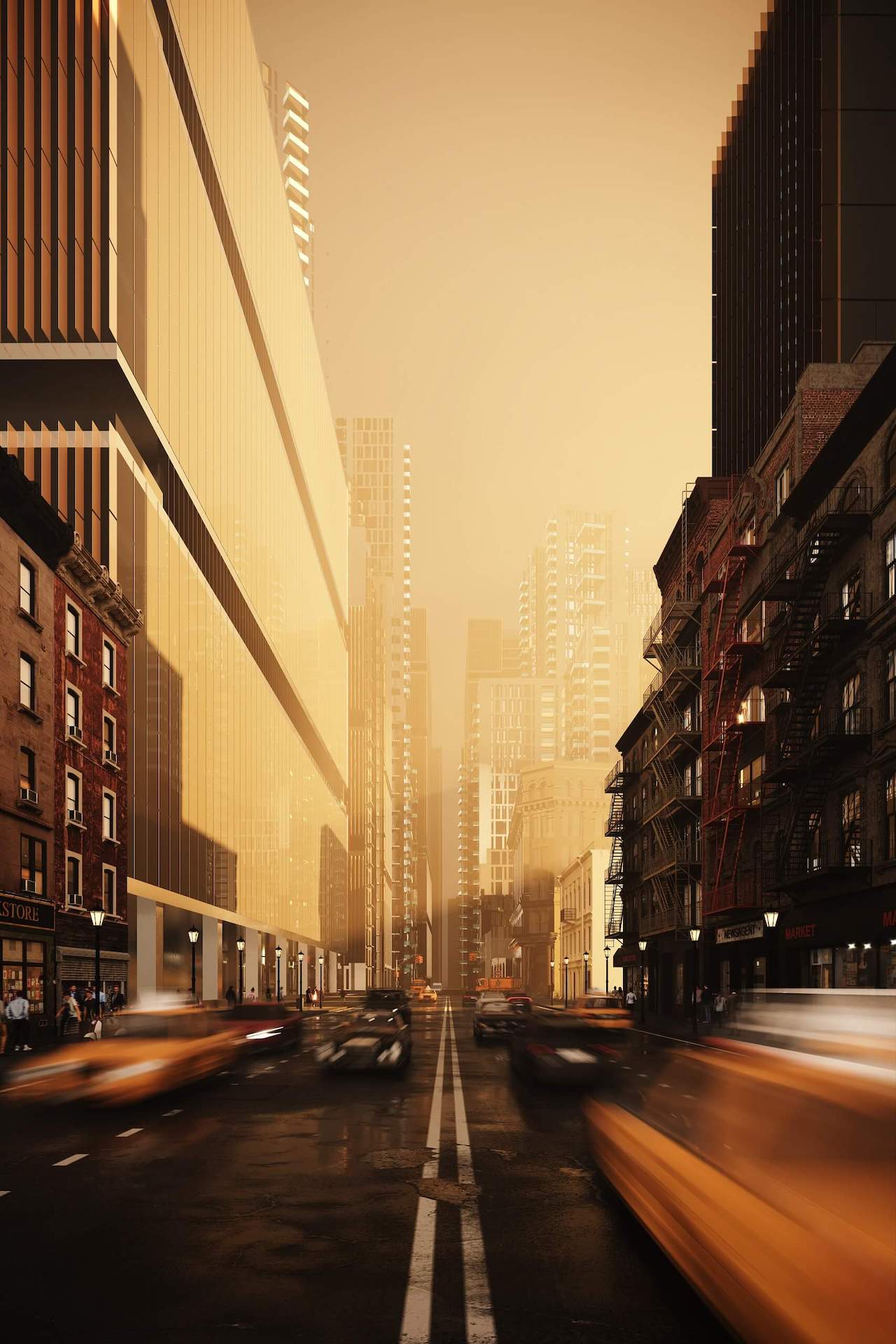 This creative architectural rendering is a real eye-catcher, which is why it took one of the top places in our studio-wide CGI competition. The unique atmosphere here is the result of a combination of many things. First, there is the largely monochromatic color palette. Then, the depiction of old, historic buildings that coexist with glass-clad skyscrapers. And finally, the dynamic movement of cars that adds liveliness to the rendering. Together, those elements create a captivating image that stays in your mind for a long time.
#4. Rendering of a Creative Design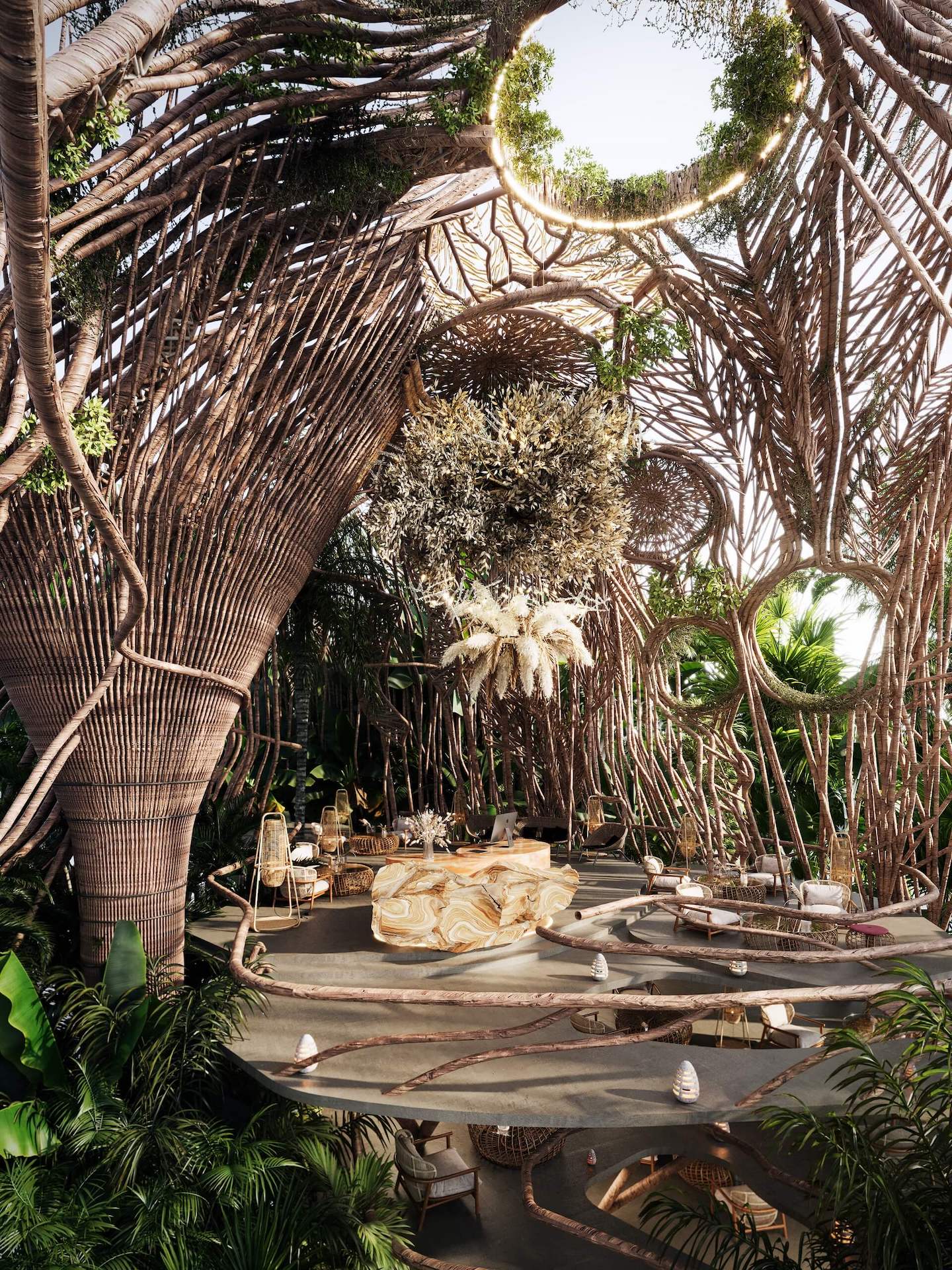 When you have a bold idea, it requires nothing less than a spectacular presentation. In this case, the unique design for a bio-futuristic hotel takes center stage. Visualizing a concept like this one surely calls for a creative approach. That includes everything from picking the right angles to setting the most flattering lighting, to making sure the shapes and materials look exactly the way the author intended. It's a challenging journey, but it always yields the most stunning results.
Want to see more images like this one? See the best of our hotel lobby rendering works!
#5. CG Image for an Artistic Presentation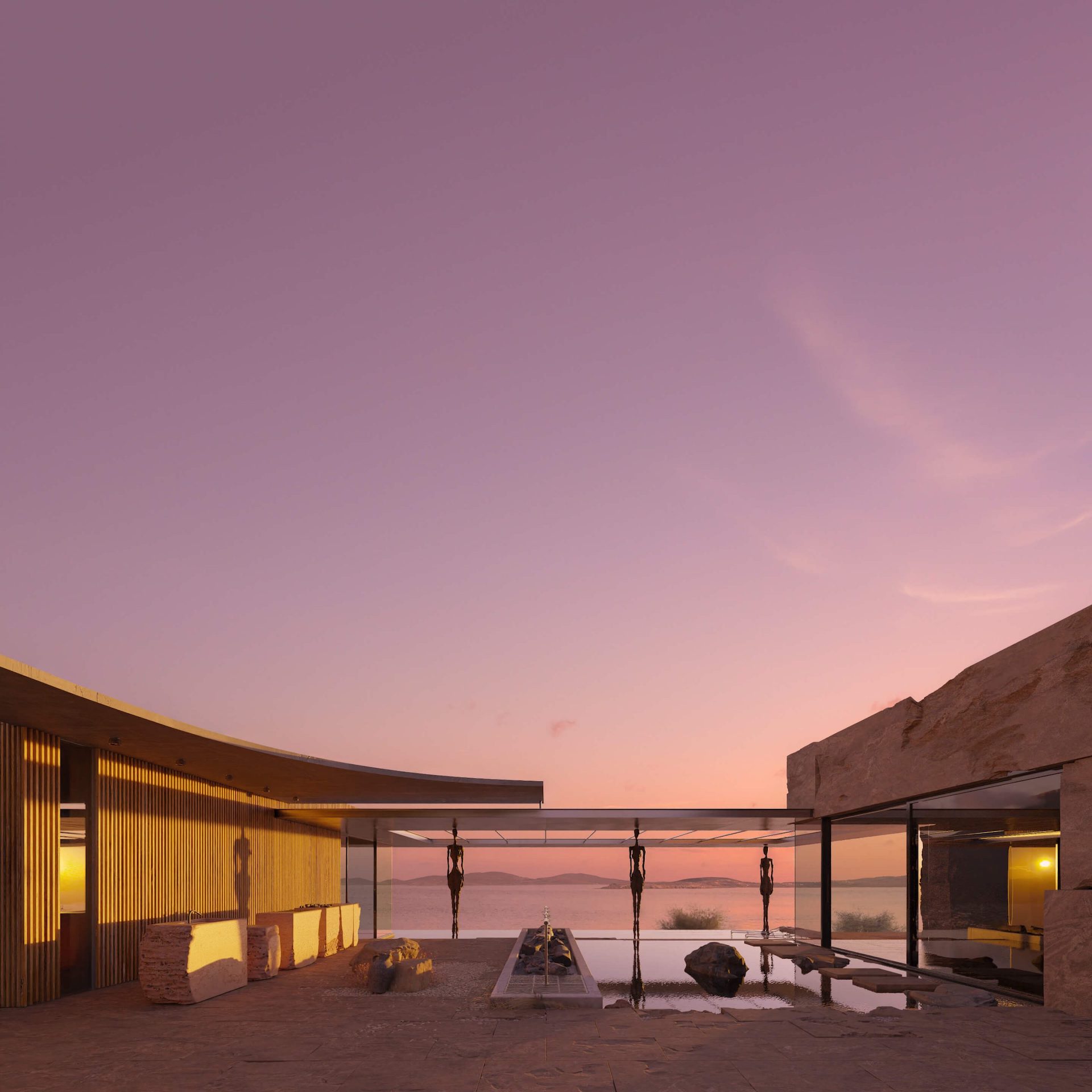 This creative architectural rendering looks absolutely magical thanks to both gorgeous design and a dreamy atmosphere. Here, the 3D artist dedicated two-thirds of the image to the beautiful purple-ish pink sky to emphasize the lightness and airiness of the sleek residence concept. The angle also helps showcase the slender statue columns, making the place look almost like a contemporary version of an ancient temple.
Want to see more images from this project? Check out our case study on the making of these beautiful architectural 3D renderings.
#6. CGI of a Bold Concept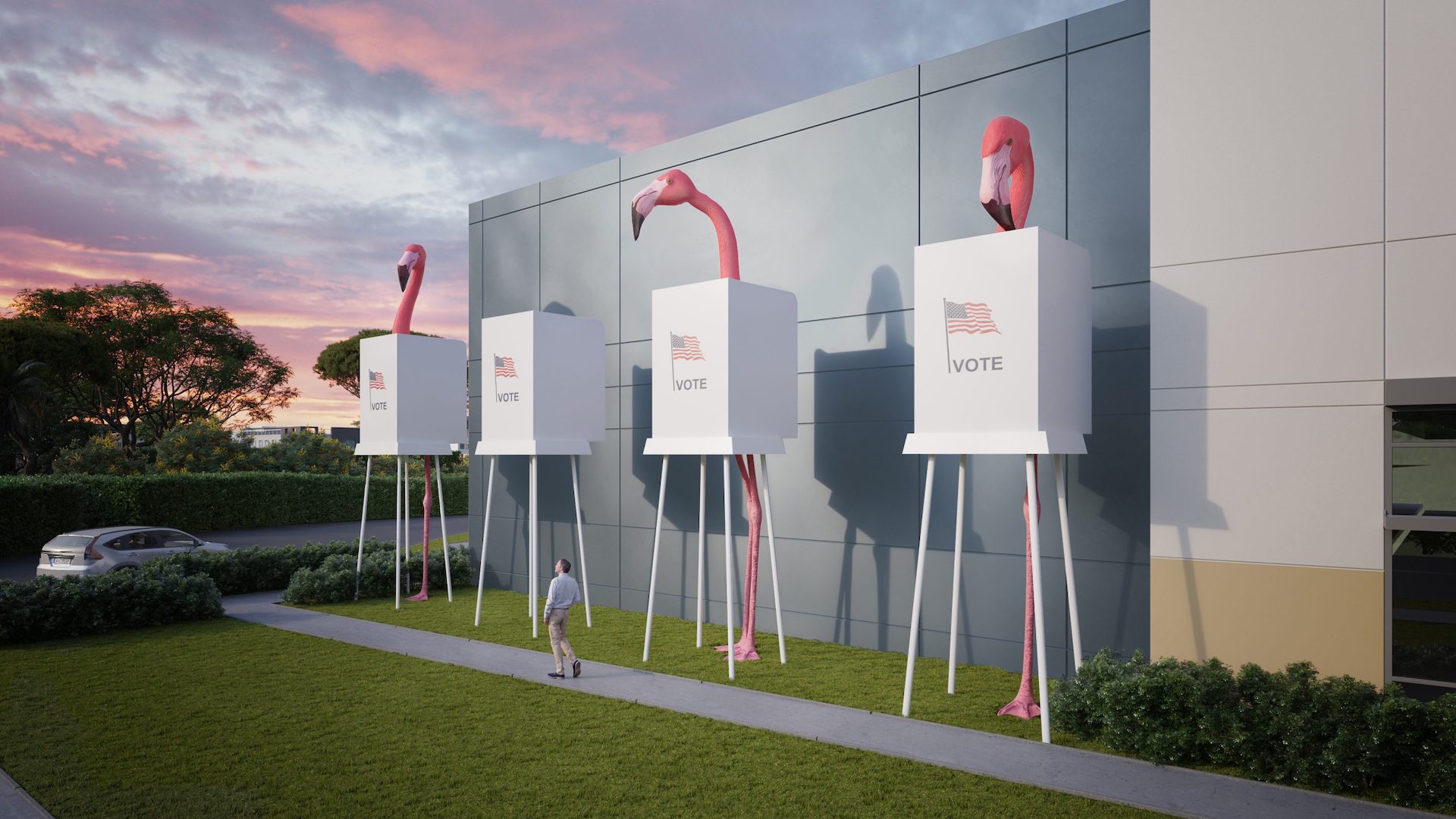 The rendering you see above was made for a public art installation project. Like most creative works of this kind, it is meant to instantly attract attention, and then hold it long enough for people to take a moment and think about the message behind it. This particular render helped the artist who developed this mind-bending concept to see how the art objects would look in their intended surroundings in terms of placement and scale.
Want to learn more about this project? Read our case study on the CGI creation for an award-winning US artist!
Want to learn how much your project costs? See how we evaluate 3D rendering projects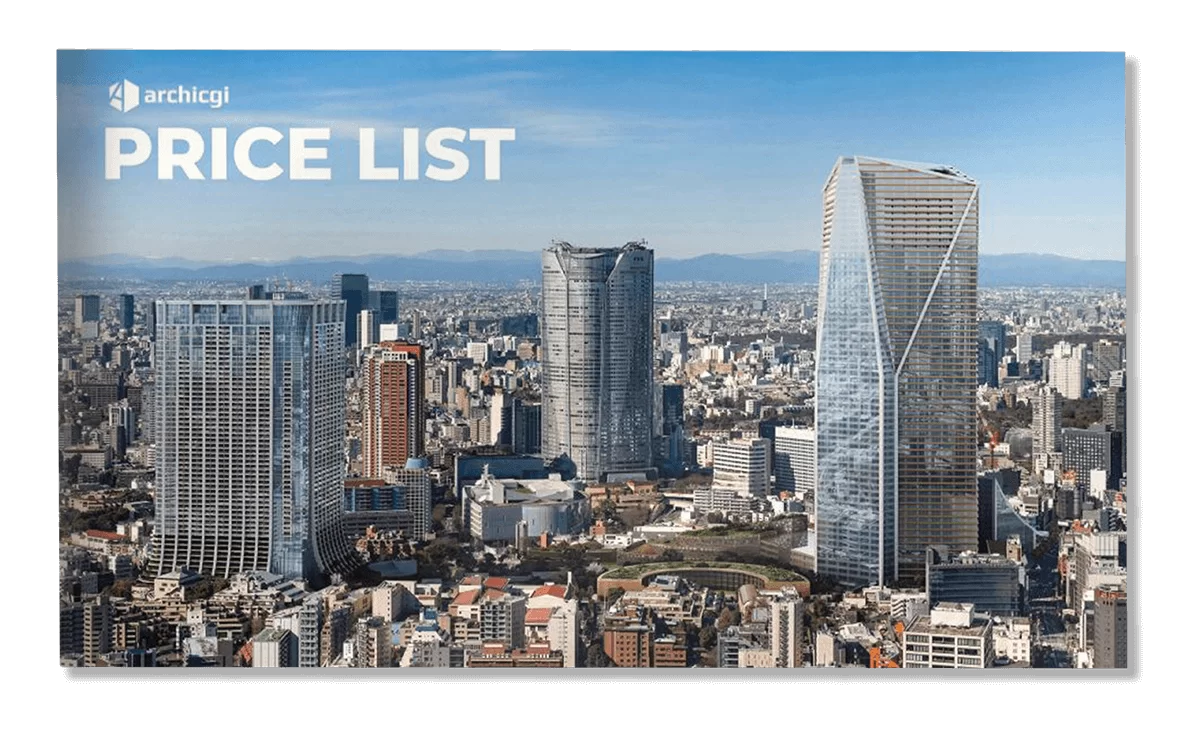 Those were some of our top works that demonstrate the power of creative architectural rendering. We hope you enjoyed this selection and found something inspiring for yourself.
Looking for architectural rendering services? Contact us at ArchiCGI and get a free personal consultation from one of our managers!
---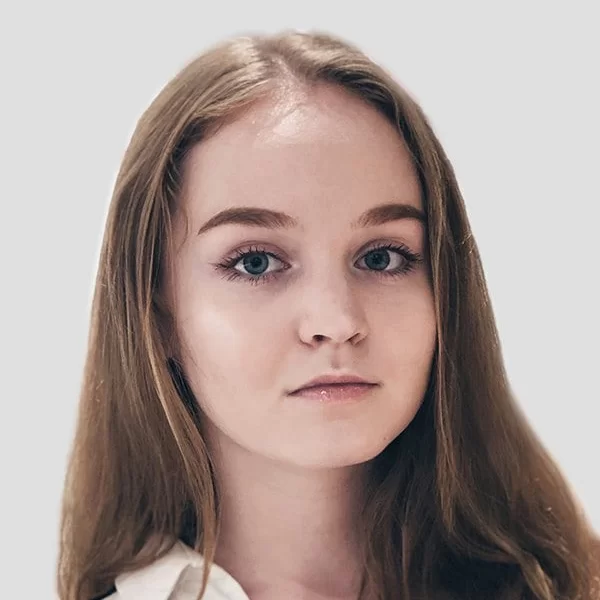 Ana Wayne
Content Writer, Copywriter
Ana is a content writer for ArchiCGI. She has a passion for design and architecture - and for talking about it. Outside of work, she is a fan of sci-fi movies and a street food connoisseur.