Many interior designers are already familiar with the benefits of CGI. This technology has truly taken the industry by storm. That's because 3D rendering for interior design helps the professionals in the field at almost every stage of work. How so? 
3D rendering can present an interior design project before it is brought to life. And unlike sketchy moodboards, CGI can do it in photoreal quality and great detail. Which means that designers can easily help their clients choose the best style for their house or apartment and get the project approval. Moreover, 3D visualization provides design experts with stunning CG imagery for marketing purposes and creating an impressive portfolio.
When choosing a provider of 3D rendering services, a designer needs to make sure that this firm can help showcase a project in full splendor. At ArchiCGI, we understand the importance of it. That is why our 3D artists have knowledge and skills to create stunning CG visuals in any style. What's more, we have a custom-made CRM system with a large library of interior design 3D scenes and models. In this database, designers can look for references or even ready elements for their projects. 
To help our clients browse this library and find items in an appropriate style, we divided 3D models and scenes into 12 categories. Wondering which interior design rendering styles are there? Below, you will see 12 CG visuals. They represent interior design styles that are most frequently selected by our clients. Also, you will find a brief description of each one. All these CG images were made by 3D artists of our architectural rendering company. Enjoy and get inspired for your next projects!
#1. Art Deco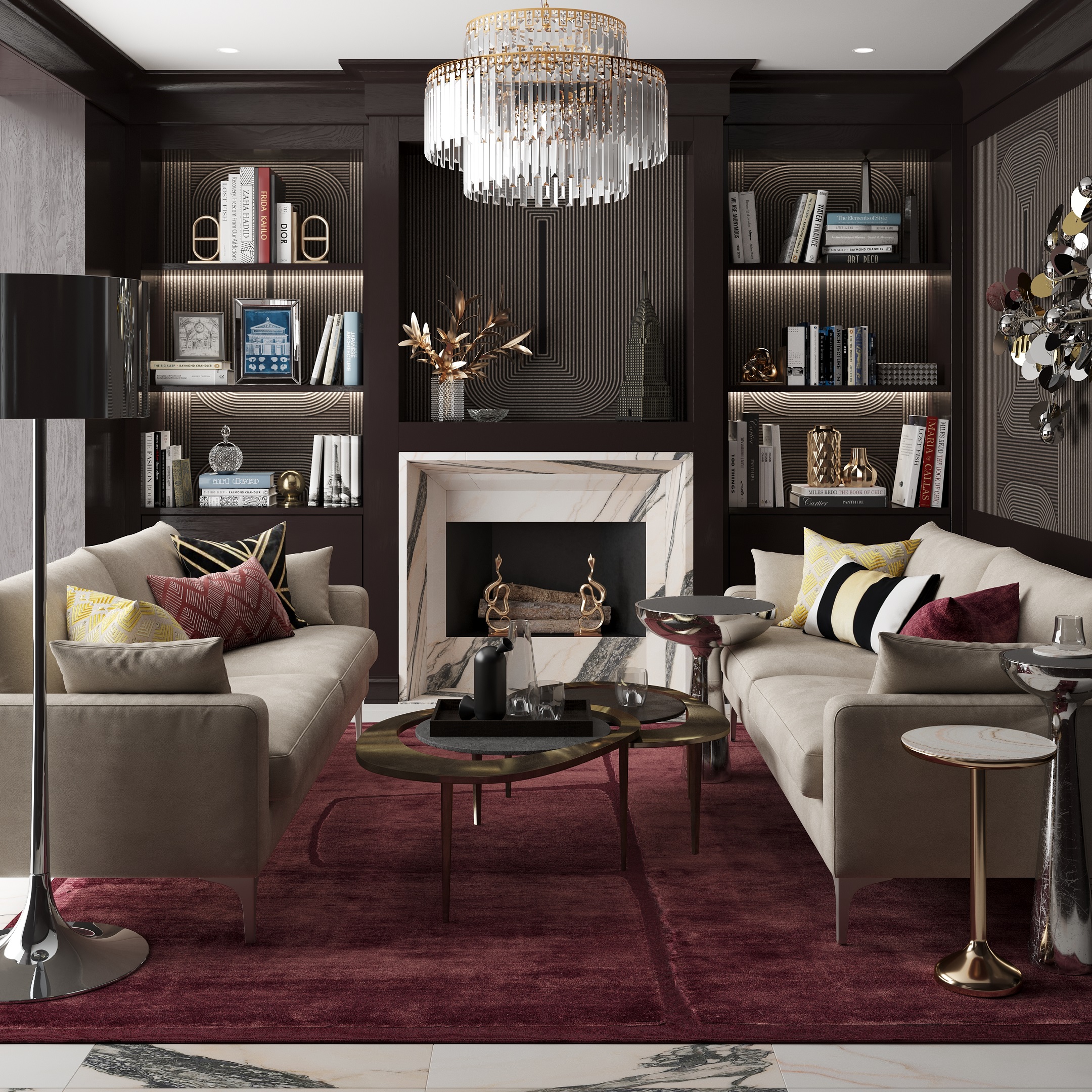 Art Deco is not just an interior style — it is an architectural movement. It originated in the 1920s in France and spread rapidly across the globe. The trend reached the peak of its popularity in the 1930s. One of the most distinctive features of a 3D rendering with Art Deco aesthetics is angular geometric forms, such as triangles, squares, and rhombuses. The colors in Art Deco interiors are bold and bright. The palette consists of deep blues, yellows, etc. Usually, those colors work well in combination with chrome or black. Creams and beiges are also used quite often. Other key features of Art Deco interior design include the usage of exotic materials, woods, animal prints, vintage furniture, marquetry, and contemporary artworks. This style is the right choice for those who want their house to look elegant and appreciate unique accessories. 
#2. Classic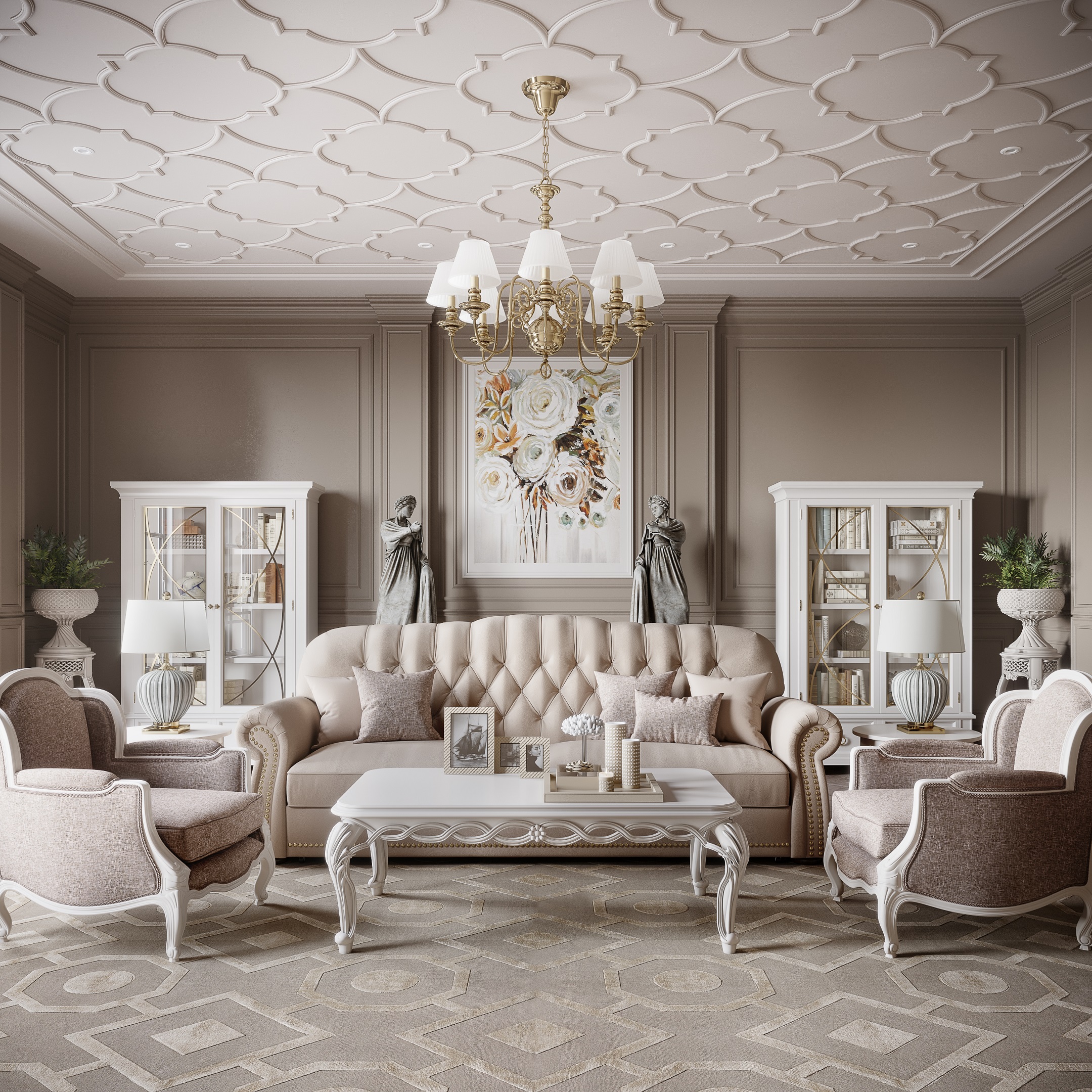 The Classic style was born in Europe in the 17th century. It was influenced by the Western classical tradition, and the 3D rendering for interior design above perfectly illustrates it. Classic interiors are characterized by symmetry, noble materials, and the presence of elements that are reminiscent of the Greek and Roman ages. The colors in such an interior design are usually calm. They include beige, cream, and slightly greening color shades. A great emphasis in any 3D rendering presenting a Classic design is put on lighting. It should establish a welcoming and very harmonious atmosphere. It can be achieved with the help of large chandeliers, elegant lamps, or even a fireplace. This interior design is usually chosen by self-confident and mature people that respect traditions and appreciate classic decor elements, such as statues, large vases, etc.
#3. Contemporary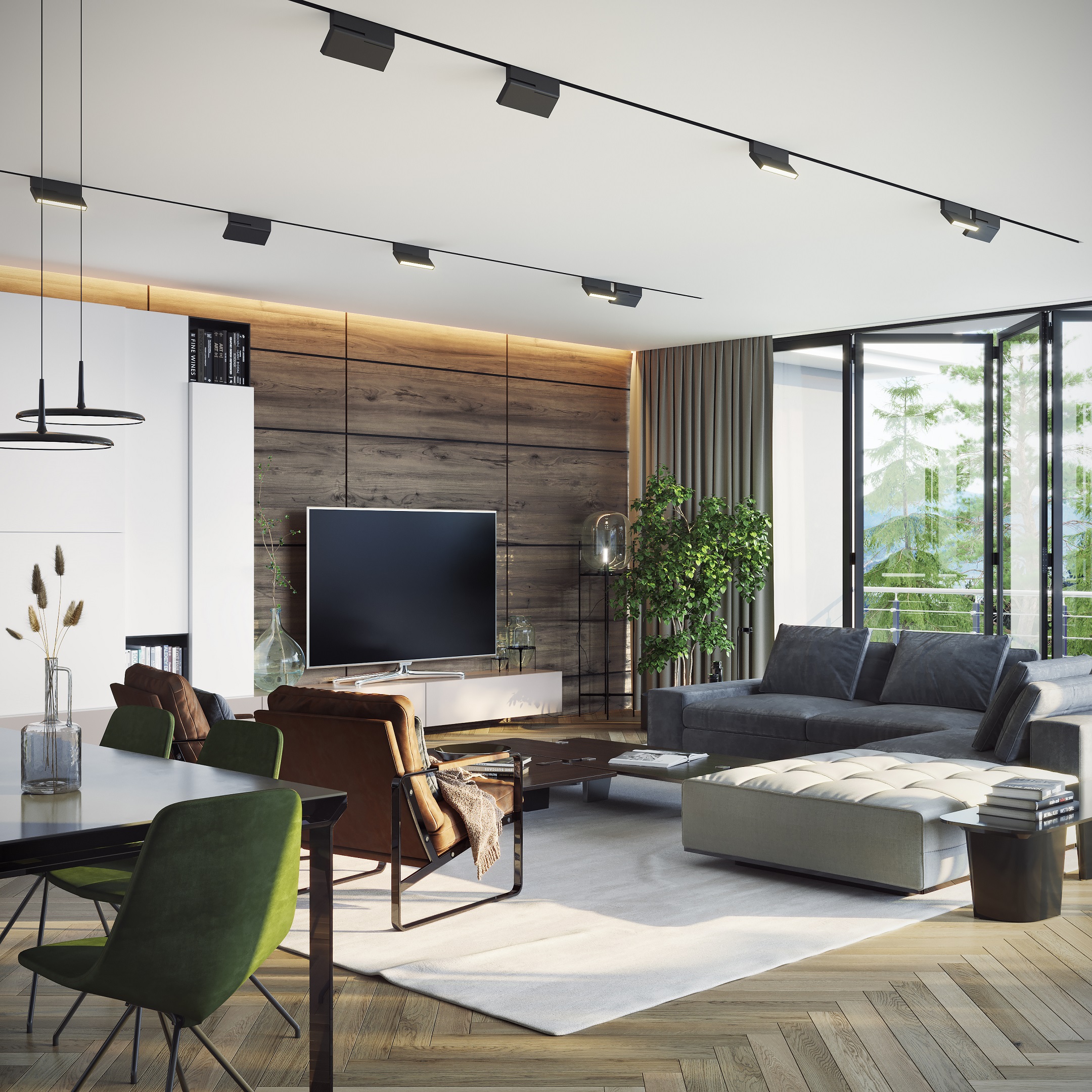 The Contemporary style was developed in the 20th century. It is highly influenced by constructivism and minimalism. One of its core principles is the usage of affordable and functional furniture items. Contemporary interiors are not defined by specific colors. Usually, walls and floors are of neutral shades while furnishings are bright and contrasting. An interior 3D rendering in this style usually makes the viewers focus on the spaciousness of the room more than on decor items. Contemporary interiors are characterized by simple but at the same time bold furniture pieces. This design is loved by people that prefer simplicity, comfort, and functionality for their homes.
#4. French Country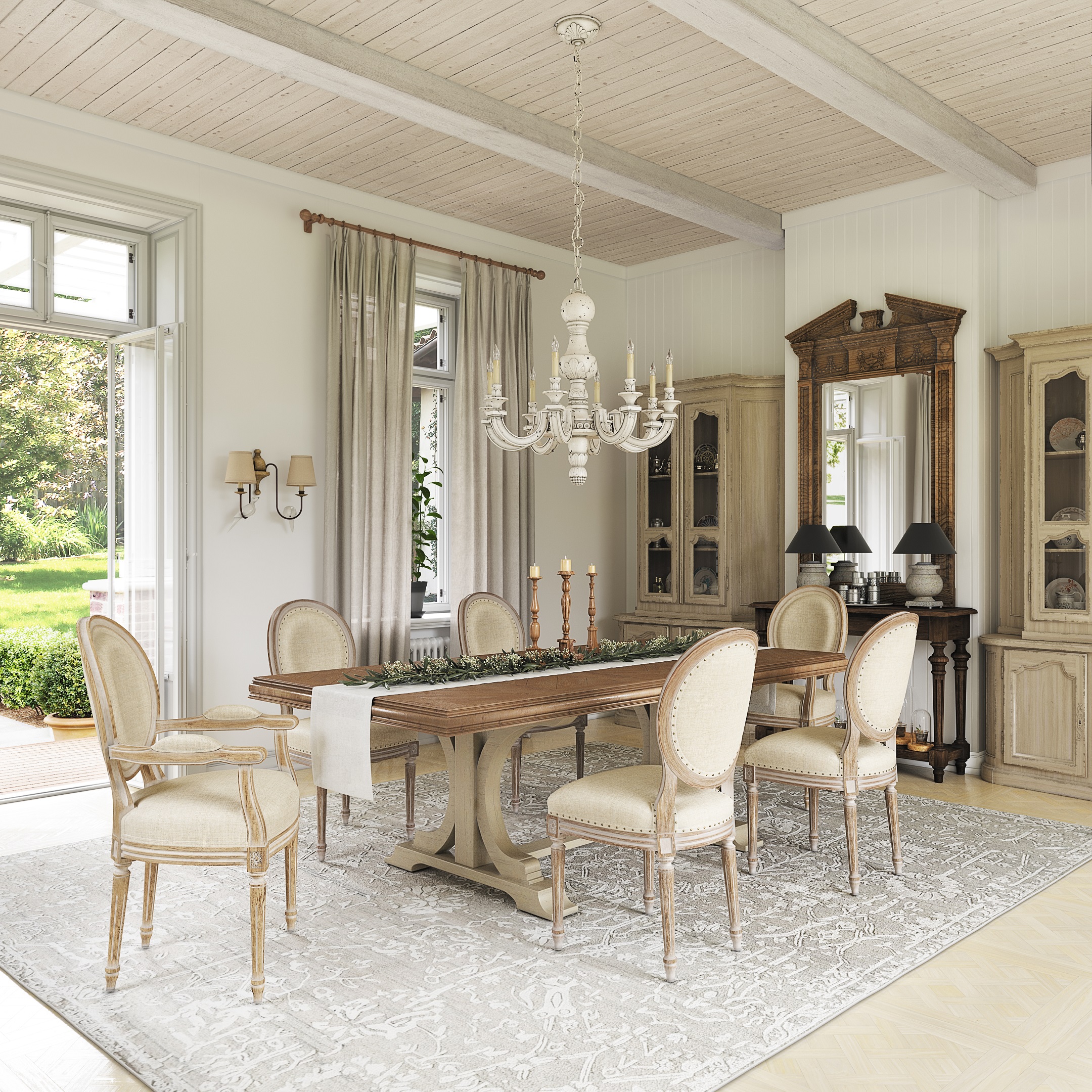 French Country emerged back in the 1600s. This sophisticated style was inspired by country homes and farmhouses of France. As obvious from the 3D interior design rendering above, it is very elegant and sets a friendly and welcoming atmosphere. The palette is warm, with colors such as creams and tans. The furnishings and accessories are usually made of natural materials, preferably of wood. Dried flowers and grasses are essential elements of almost every 3D rendering for interior design created in this style. French Country is a popular choice among people who wish to bring a touch of rustic charm to their house interior.
#5. Industrial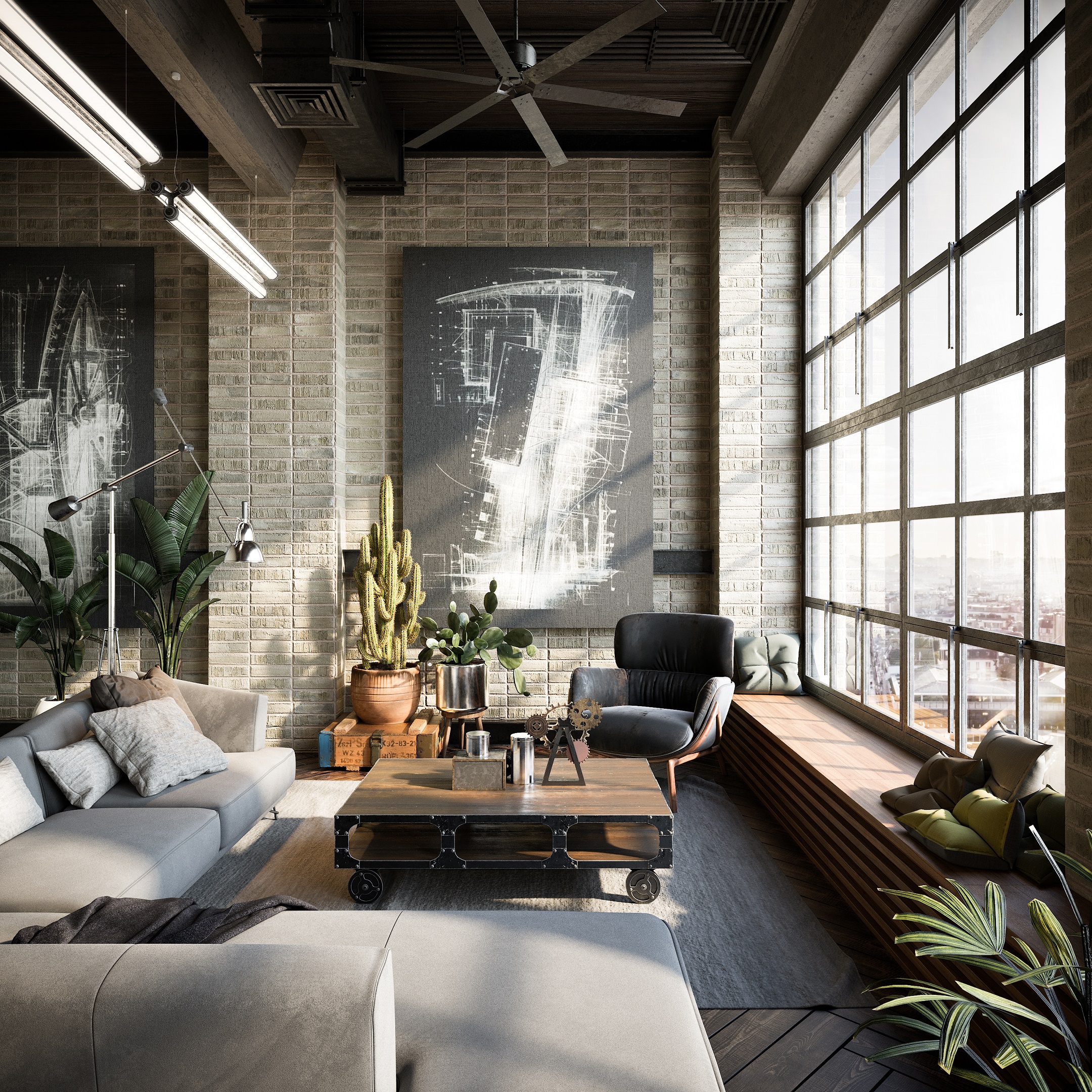 The Industrial style originated in the late 19th century. It took inspiration from the interior spaces of factories and warehouses built in that period. The 3D rendering above is a perfect example of this aesthetics. In industrial interiors, it is acceptable to showcase elements that are usually hidden, such as pipes, beams, pulleys, ducts, and bricks. As a rule, this design presupposes the usage of brown, gray, white, and beige colors. Industrial aesthetics is not for any room. There has to be a lot of space and big windows. Industrial interior design is typically chosen by people that value originality and are not afraid to experiment.
Take your design presentation to a new level with interior rendering
#6. Luxury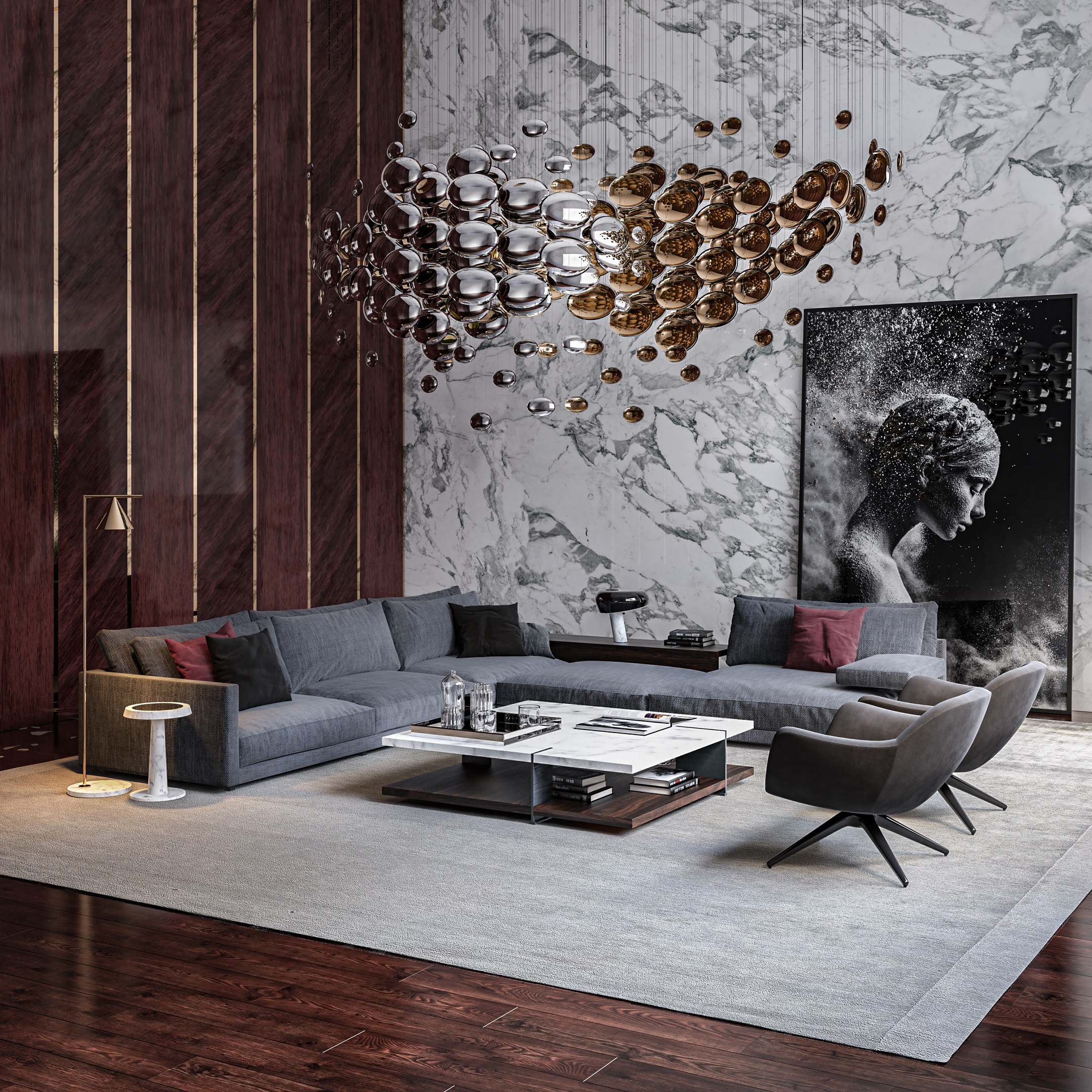 A luxury interior is usually a mix of different styles. But whether a client chooses a design with a hint of classics or modern trends, it should shine with grandness and opulence. A 3D interior rendering that showcases a Luxury design should perfectly depict its color palette. As a rule, it is a combination of neutrals and deep colors. Chic lighting fixtures are a vital element of any 3D rendering for interior design in this style. Also, emphasizing one large central piece is a great way to convey a luxurious vibe. It can be anything from a stunning artwork to a sophisticated staircase. Luxury interior design is usually chosen by people with an exquisite taste who appreciate high-class aesthetics.
#7. Minimalism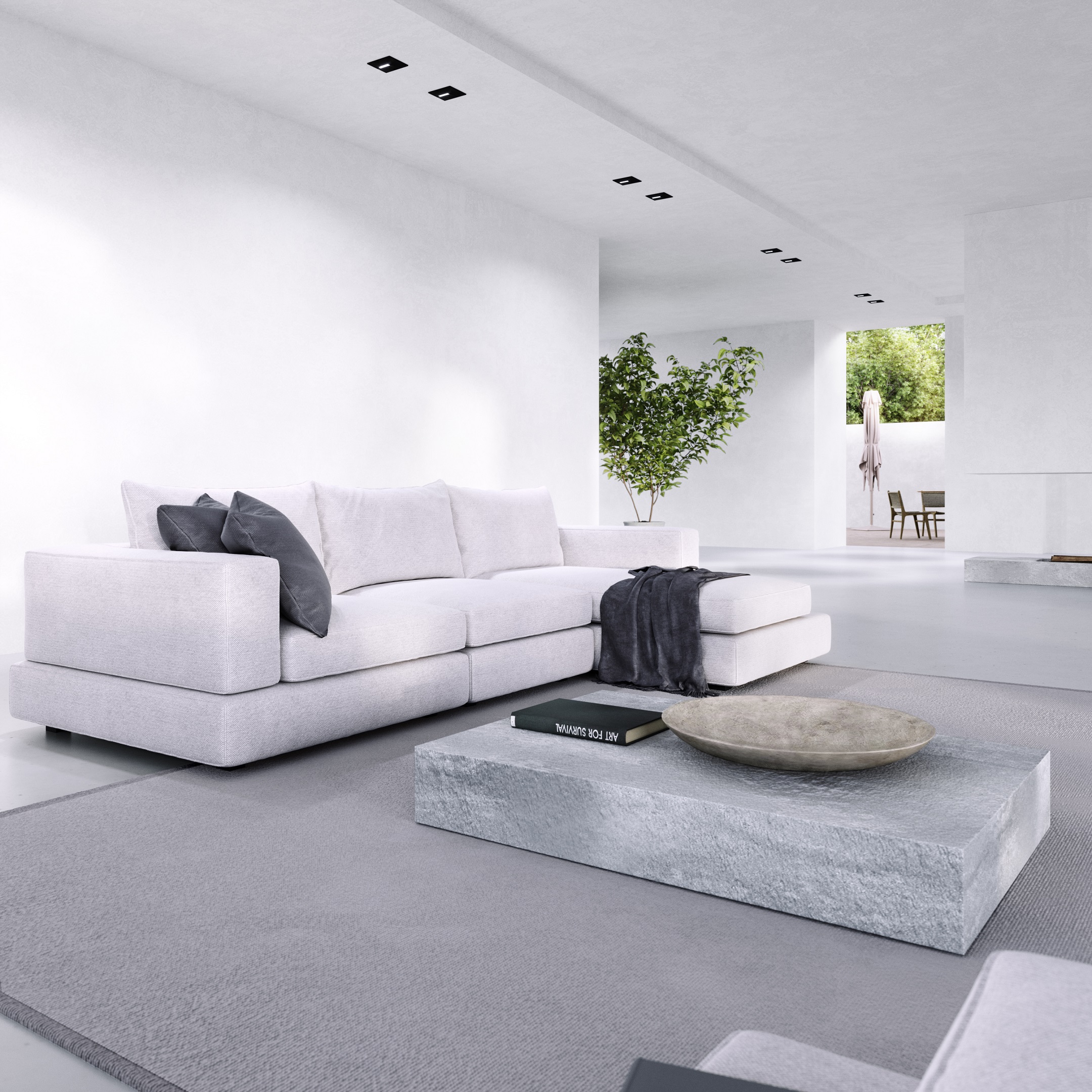 The style of minimalism developed from an art movement in New York in the 1960s. Its two main characteristics are laconism and austerity. To express this vibe in a 3D render for interior design, 3D artists use no more than two basic colors. All of the elements in a CG rendering, such as tables, sofas, or chandeliers, should be of simple geometric shapes. This interior design is all about simplicity, so the fewer furnishings and decor items, the better. This style is ideal for people that live in relatively small apartments since minimalistic solutions make them look larger.
#8. Modern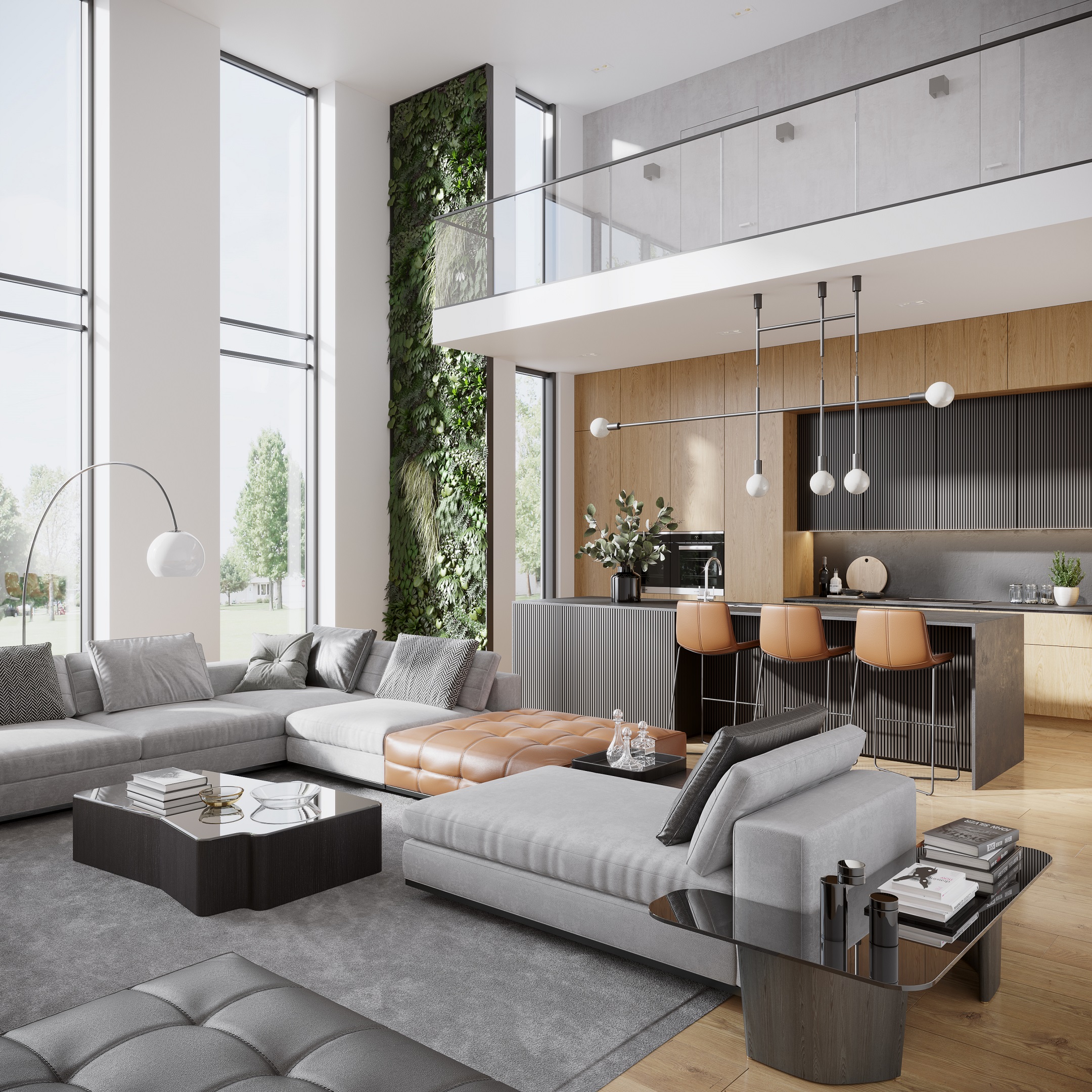 The Modern style was born after the Second World War as a reaction to the technological advancements brought by the Industrial Revolution. A typical 3D rendering for interior design in this style is characterized by monochromatic colors and uncluttered space. It also features modern furnishings with smooth surfaces and clean lines. Natural lighting is essential in Modern interiors, so a 3D rendering for such a project typically depicts large windows. This interior design is most often chosen by people that value simplicity and functionality. 
#9. Modern Country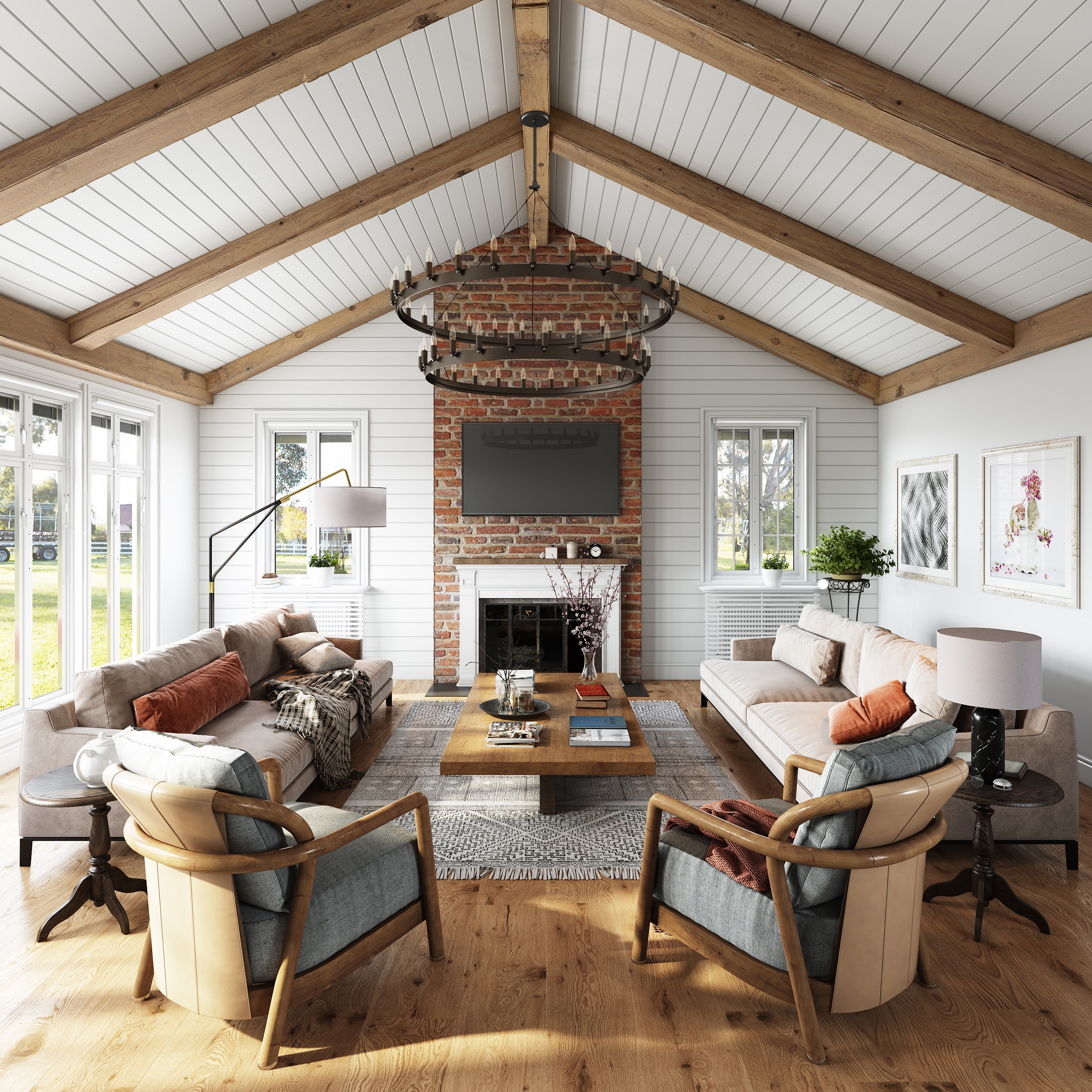 Modern Country interior design can be described as a rural farmhouse with a touch of modernity. The 3D rendering above proves that. The material that typically prevails in a Modern Country interior is wood. Architecture elements such as exposed beams, barn doors, paneling, and decor details like wicker baskets convey a truly rustic look. A 3D rendering designed in this style will always give a warm and welcoming vibe thanks to the neutral colors, such as creams and beiges. Slight imperfection is the heart of such a design. Scratches and dents in wooden surfaces create a feeling as if the furnishings have been used for ages. Modern Country is perfect for people that want the room to be simple, cozy, and also practical.
#10. Rustic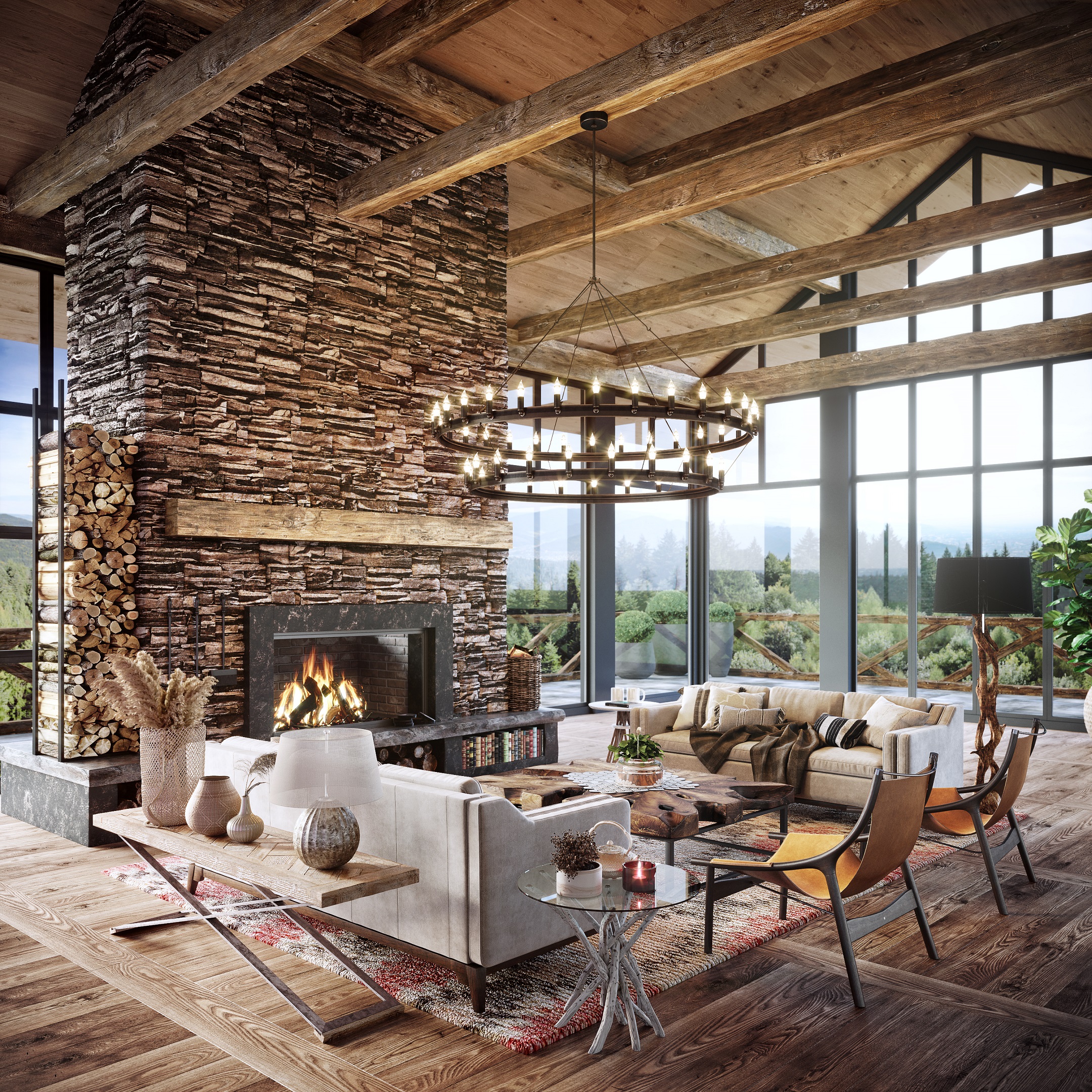 What is old is new again. When it comes to Rustic design, this phrase describes it best. This style has its roots in the 19th century, namely in the design of homes of early settlers in the US who lived far from big cities. This design is all about presenting the beauty of natural materials in furniture items and showcasing their comfort and versatility. The color palette that one would expect to see in a 3D rendering for interior design in the Rustic style is also very natural. It includes earth tones, such as browns and grays. This interior design fits homes located in villages or small towns.
#11. Scandinavian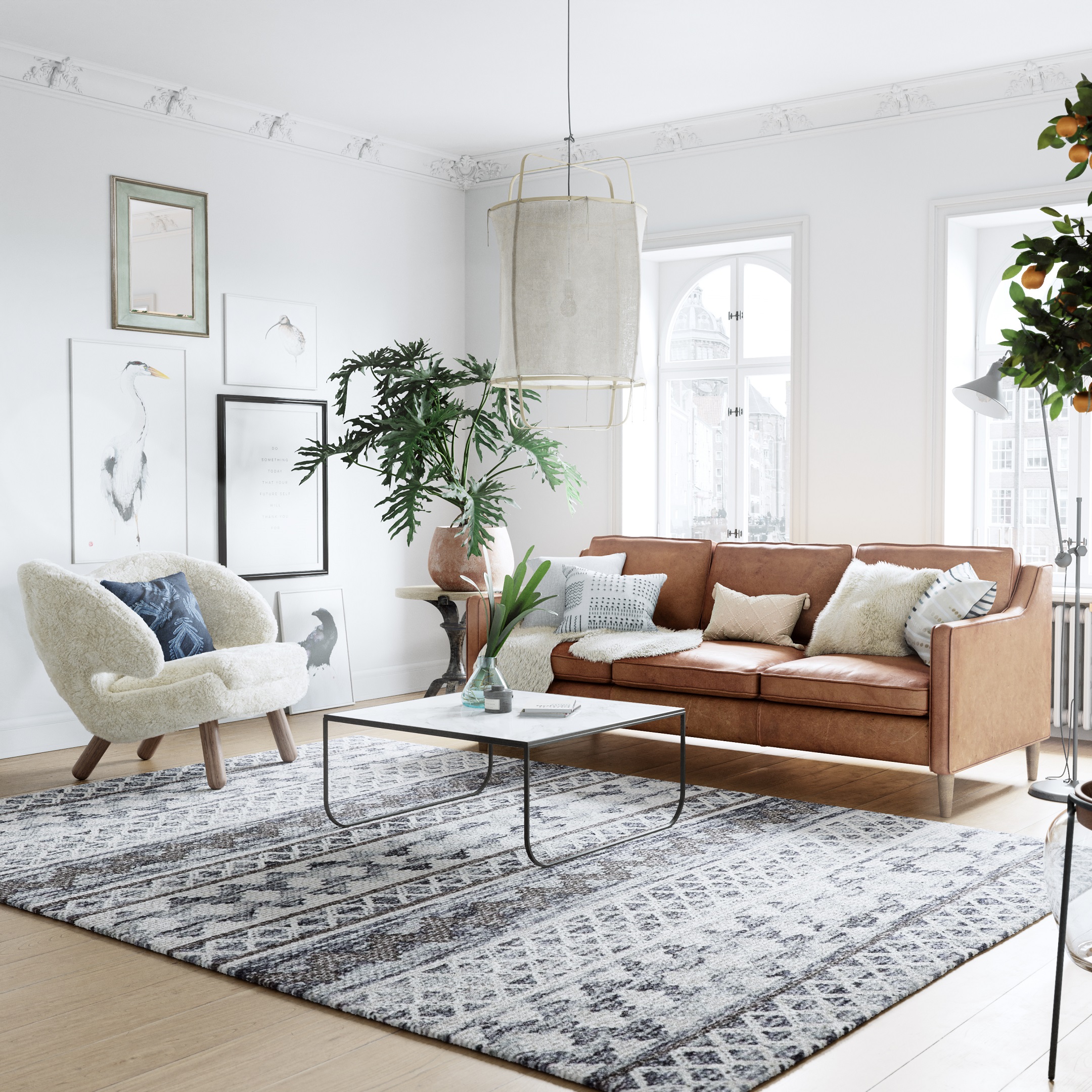 The Scandinavian interior design style appeared in the 1930s. Spaces created in this minimalistic style have much light and keep to a muted color palette. Every element in a 3D rendering that presents Scandinavian design has to be both simple and functional. Typically, the furnishings should be made of natural materials, such as wood and leather. An interior 3D rendering in Scandinavian aesthetics should depict a lot of wooden elements, often used in combination with metal finishes. To give some accents to the interior rendering, 3D artists add natural decor, such as plants and fresh flowers. This interior design can be applied to practically any house or apartment.
#12. Traditional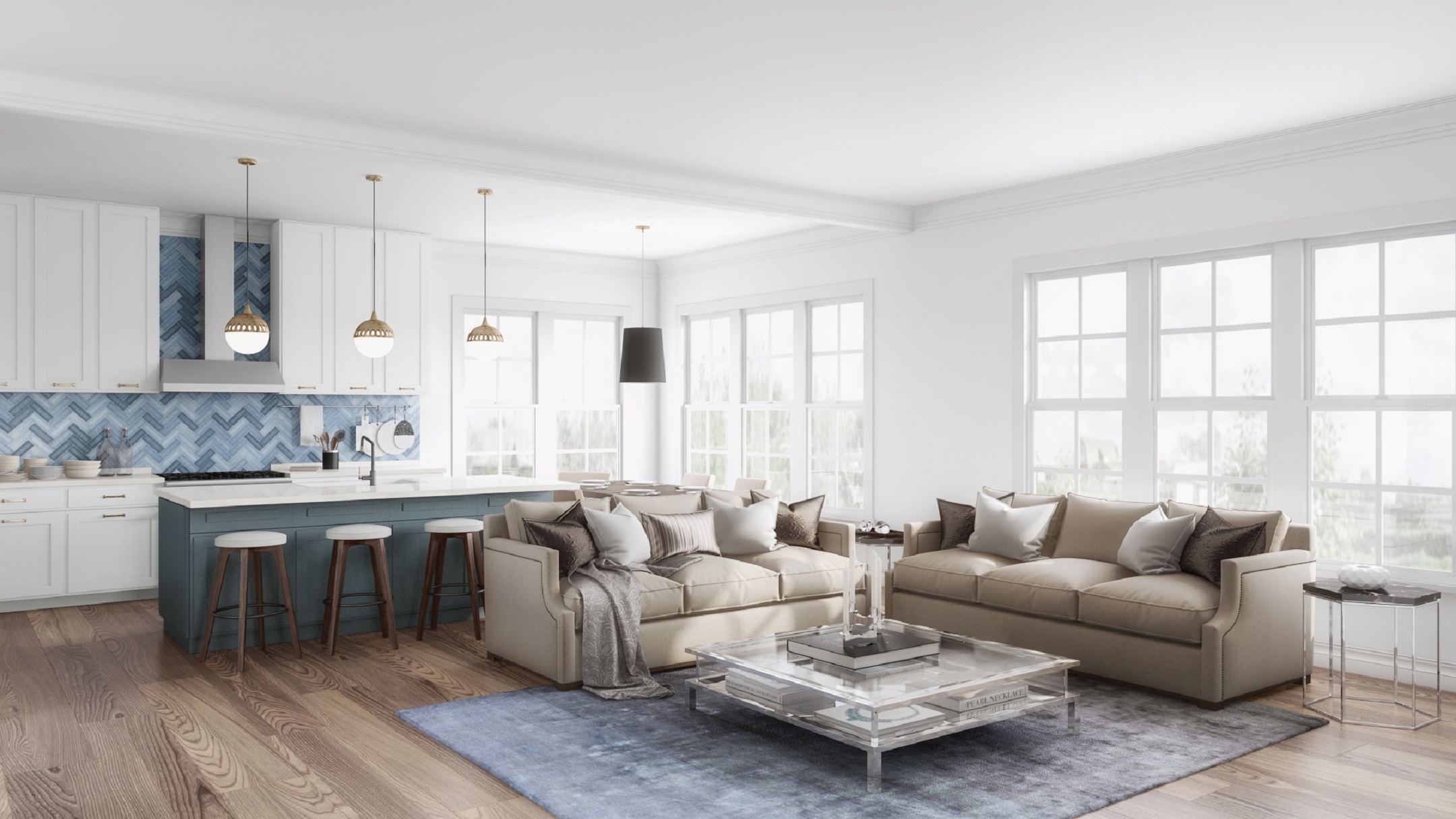 Traditional interior has to be calm and well-ordered. It usually includes European decor items typical for the 18th-19th century. The color palette is neutral, like in the CG rendering above. But in other cases, some design elements can be in red, green, or brown colors and to liven up a room. The Traditional design is an ideal option for people that have a thing for classic art, symmetry, and sumptuous furnishings.
Each of the twelve interior design styles mentioned above has its own distinctive features. And 3D rendering can reflect them in all their glory. Whether a project is in the Modern, Rustic, French Country, or another style, our seasoned 3D artists can deliver high-class 3D rendering for interior design for it. If the option you need is not on the list, do not worry. ArchiCGI can professionally create CG renders in all interior styles, including the most exotic and rarest ones. You name it!
Present your architectural project like a piece of art with AI-powered CGI
Need stunning CG imagery for your design projects? Contact ArchiCGI for top-class interior rendering services and get quality CG visuals to showcase your ideas!
---
Catherine Paul
Content Writer, Editor at ArchiCGI
Catherine is a content writer and editor. In her articles, she explains how CGI is transforming the world of architecture and design. Outside of office, she enjoys yoga, travelling, and watching horrors. 
What is a 3D rendering for interior design?
A CG rendering for interior design is the product of 3D visualization. The latter is the process of visualizing the future interiors in 3D in realistic quality with the help of computer software. After the 3D scene is created, 3D artists use it to produce a 2D image that shows the expected look of a designed space.
How do interior designers benefit from 3D rendering?
3D rendering assists interior designers in preparing show-stopping project presentations and promotional materials.
Which interior design styles are the most popular?
The top picks in 2020 include Scandinavian, Minimalism, Industrial, Traditional, Bohemian, Shabby Chic, Chalet, Rustic, Zen, and Contemporary styles.
Is CG rendering for interior design expensive?
The price for interior design 3D rendering services depends on many factors. The complexity of a project and the required number and format of CG visuals are the main of them. The minimal price is about 200 USD per image.