A 3D walkthrough company is a contractor that provides innovative CG materials for truly amazing project presentations. Designers and Architects can use photorealistic 3D animation to showcase real estate in motion as well as engage viewers within marketing campaigns.
An Architect got a large-scale project for a leading building company that had ordered developing of the shopping mall and the territory around it. He wants to impress his clients at the presentation and find some new ways to visualize his ideas in detail so that his project could look like a dream come true. For this, he chose 3D animation services of a CG company. However, before making this decision, the Architect wants to know more about working with a 3D walkthrough company as he has never done it before. How can he explain his ideas to CG specialists and what information will be the most useful? Besides, the Architect is still not sure about the concept of the video so he doesn't know how to express his vision in a clear way.
The brief is a perfect tool to summarize a task in detail and provide all necessary information before ordering 3D visualization services. Learn how to build an accurate brief for a walkthrough company in order to get a show-stopping CG animation.
#1. Provide General Project Information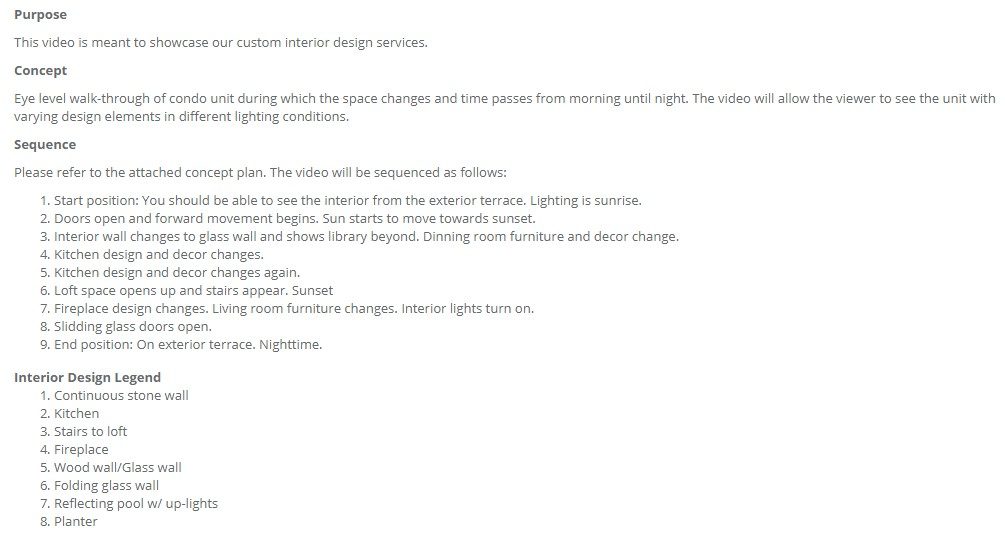 Every 3D walkthrough company asks for general information before starting a project in order to understand what result an Architect or Designer wants to get. This basic data includes the goals of a walkthrough 3D video and its target audience. The more technical elements of the brief are the length and required video format. If it's an architectural walkthrough animation, the 3D Artists need to know about the exact location or preferable environment. Architects and Designers can also add some notes and requirements if they have any, as well as the name of their project before the working process starts.
#2. Send References
As for 3D animation references, the main ones are the same as for static CG rendering – mood and lighting. Architects and Designers should convey the concept they have in mind and specify if it works better with daylight, nightlight, evening or morning lighting. Project drawings are just as important – the most common CAD drawing references are a site plan for architectural 3D animation and a floor plan for interior design video. The other important references are ready-made 3D models of buildings and BIM objects as they allow to skip 3D modeling services and reduce the total project cost.
Additional references for a walkthrough company can be architectural or design sketches, examples of animated videos an Architect likes, 3D renders of a project, images with materials, textures, objects – everything that inspired the project author.
#3. Give Script Information

The major difference between the brief for photorealistic rendering companies and a 3D walkthrough company is a script. If there is one, Architects and Designers can include it on the brief. Alternatively, they can develop the concept during the animation process. The script for a walkthrough video includes camera path, viewpoints, frame transitions, people or vehicles presence, moving objects and other required elements. In this way, 3D Artists of a walkthrough company can turn a walkthrough 3D animation into an immersive storytelling tool.
Take your design presentation to a new level with interior rendering
#4. Determine Environmental Conditions
Environment plays an important role both for design and architectural projects. If the building needs to be shown in his real environment, the 3D Animation Artists will need to recreate the location. In the case of an interior walkthrough animation, the environmental conditions are chosen for the view outside the windows, balconies, and terraces. Moreover, 3D Artists of a walkthrough company use the environment to define the sources of natural light which is crucial for any CG product.
#5. Discuss Post-Production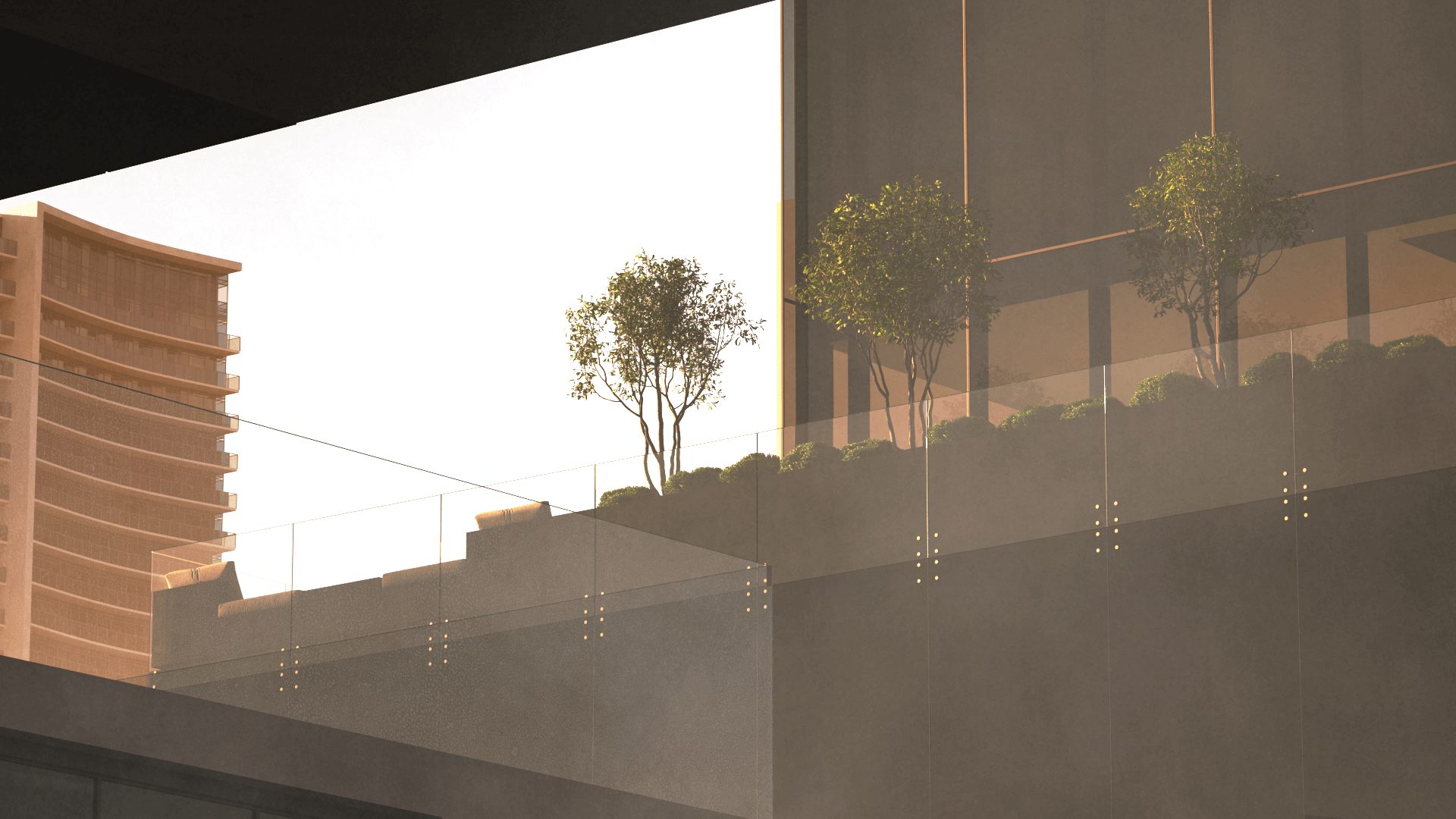 This stage of the process is more diverse for 3D animation than for static CG images, therefore a walkthrough company's specialists need detail specifications. Architects and Designers should indicate whether they want background music, natural or industrial sounds, any specific noises, voiceover or text subtitles. Animated logo, any kind of captions, a location map are all parts of the post-production process as well. Moreover, a 3D animation company allows ordering custom video editing based on specific requirements and examples.
#6. Choose The Final Resolution
The resolution options of walkthrough 3D videos are a little bit different than they are for static 3D renderings. Architects and Designers can choose from HD, Full HD, and UHD 4K. These three variants differ in prices, so it's important to decide what level of quality will be enough depending on the purpose for which a 3D animation will be used. Besides, the final video can be converted in any common multimedia format: avi, mp4, flv, mpeg and so on. It's possible to ask a 3D walkthrough company to provide any project source files and still images in the form of video frames in the required format and resolution.
A 3D walkthrough company is a great source of high-quality multimedia visual materials for architectural and design projects. With the help of such a CG studio, Architects and Designers can get jaw-dropping video materials for presentations, portfolios, video blogs, social networks and even professional events that promote their projects. However, in order to get the most successful result of a walkthrough 3D animation, one needs to know a few details and brief elements for making such an order the most accurate. Using our tips above, anyone can build a complete and accurate brief for a 3D walkthrough company and monitor the implementation of a project from A to Z.
Want to present your design ideas in the most impressive form? Try 3D animation services of our architectural rendering company and get top-notch video materials for successful presentations.
---
Keith Gardner
Senior Project Manager
Keith is a seasoned scrum master who can turn even a team of complete strangers into a well-oiled machine. Outside of work, he is the king of social games and a caring dad for a ferret Tyra.