When visualizing architectural projects in 3D, highlighting their unique benefits is crucial. One of those benefits are amenities. And sometimes, they do not get the attention they deserve. Most renderings will focus on primary architectural elements: a house's facade and entrance, and the main spaces like living rooms or kitchens. But, it's the amenities that make buildings distinctly comfortable, functional, and appealing. So, they deserve to be highlighted and presented in great detail. The question then arises: what particular types of architectural projects can benefit from amenities rendering? 
Our 3D visualization studio works to ensure our architect and developer clients always have stellar imagery to present their projects. And we know for sure how to emphasize every meaningful element of their designs. So, if you wonder how amenities rendering can help you with presenting your concepts, let's dive into it! 
#1. Residential Architectural Projects
With residential architecture, the relevance of amenities rendering cannot be overstated. Amenities enhance the living experience. So, presenting them in the right way is one of the keys to enticing future residents or tenants. Amenities 3D rendering can be of great help here. It conveys unique qualities of specific property features with stunning visual detail. A luxurious swimming pool, an exquisitely designed garden, or a colorful kids' playground – these and similar things may make one dream to live in a depicted property.
Above are examples from one of our projects. A gorgeous outdoor terrace with a swimming pool and a fireplace, as well as a spacious fitness room with a golf simulator, give this place character. Detailed renderings of these amenities make the whole concept look exceptionally comfortable and inviting. 
#2. Commercial Architectural Projects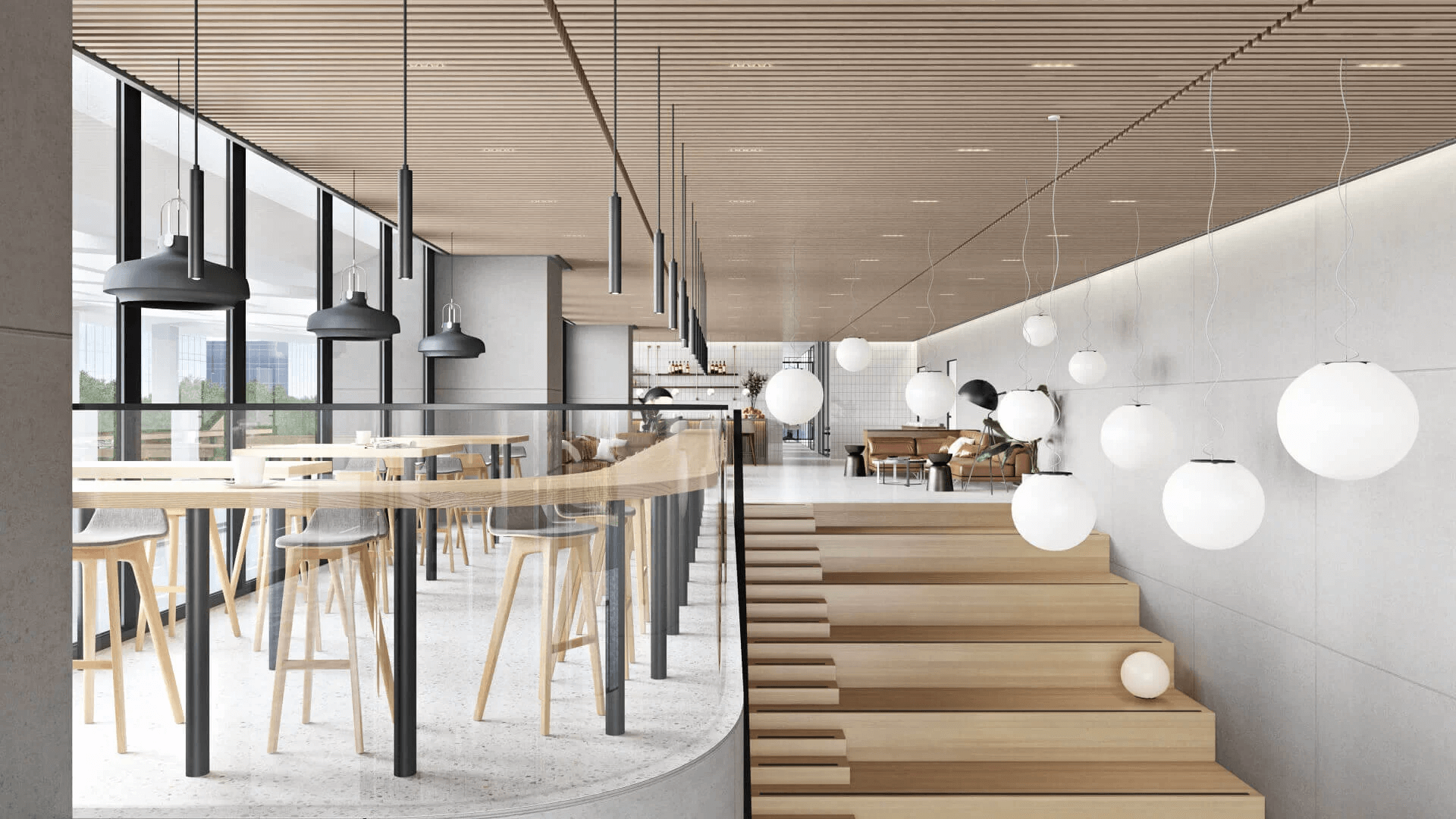 In commercial 3D rendering for architecture, amenities renders are essential. They showcase functionality and visual appeal. For instance, CGI can show designer lobbies that serve as the first impressions for many businesses from beauty salons to malls. One can also visualize conference rooms, coffee shops, gyms, and other amenities in offices and business centers. It's a smart move to emphasize the benefits that make these spaces functional and versatile.
Take a look at the cafe rendering above. The sleek modern design of the place aligns with the energetic atmosphere of a business center. Showcasing this amenity helps to emphasize that people working there will have a cozy space to relax amid a busy day. 
#3. Public Infrastructure and Urban Planning Projects
Amenities rendering finds valuable application here. That's because presentations of public spaces and infrastructure projects should be understandable and appealing. This way, it's easier to win a tender, get greenlit by the investors, or engage with the local communities to get their feedback. 
3D visualization improves presentations of parks, rec centers, streetscapes, and many more. Above, you can see a public recreation zone rendering. Take a moment to appreciate lush greenery, neat walkways, cozy waterside decks, and sup boards in the river. The place looks perfect for relaxation in a big city. This way, the 3D render featuring amenities helps to present the scope of the project, the infrastructure, and the atmosphere in a realistic and compelling way.
#4. Luxury and Hospitality Projects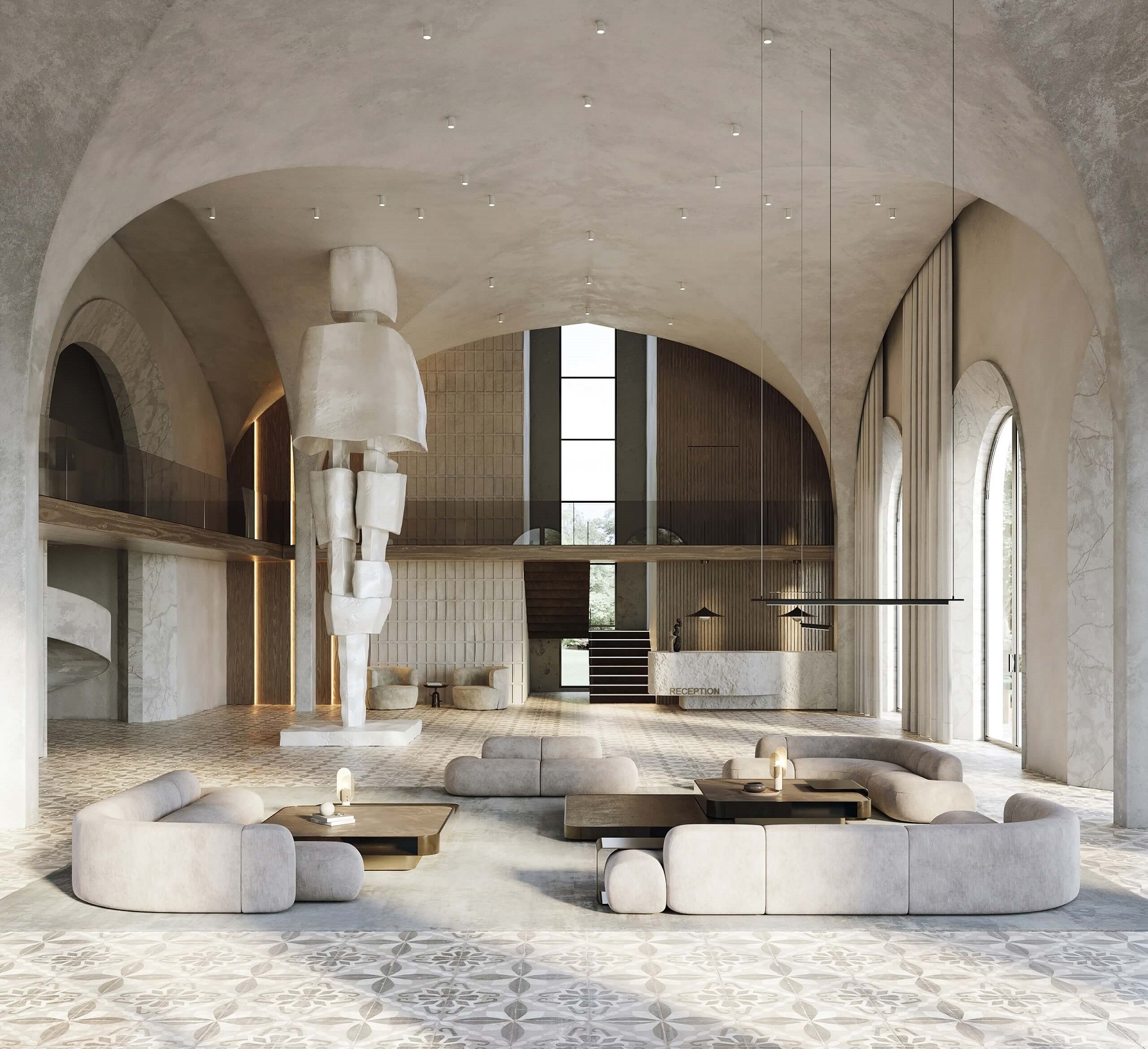 In this case, amenities rendering is pretty much a necessity. That's because it provides a means to highlight elements that elevate the luxury experience. With amenities CGI, one can captivate discerning audiences and create a sense of anticipation.
Resorts can be depicted in stunning detail. This allows potential guests to imagine themselves in a luxurious atmosphere. Spas and wellness facilities renderings can convey the mood of chic, calmness, and relaxation. Restaurants and dining areas can be shown with stylish decor and appetizing food. Simply put, amenities 3D rendering in luxury and hospitality projects help express the allure of the proposed concepts.
For example, the luxurious hotel lobby 3D interior above conveys a sophisticated ambiance at first glance. As you can see, if you need to wow an audience that is not easily impressed, CGI is your best choice. 
In any spaces, amenities are what make staying or living there pleasant and comfortable. Features like inviting halls and lobbies, cozy atmospheric cafes, and well-equipped gyms can make the whole concept stand out. So, if you need to present the project in an enticing way, using amenities rendering is a perfect way to do that.
Want to learn how much your project costs? See how we evaluate 3D rendering projects
See our pricing
Looking for architectural visualization services to ensure your next design looks both highly functional and visually stunning at a presentation? Drop us a line to have your ideas and sketches turned into breathtaking realistic CG imagery! 
---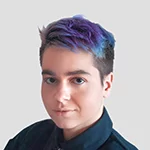 Stacey Mur
Content Writer, Copywriter
Stacey is a content writer and a CG artist. Outside of work, Stacey enjoys musicals, Star Wars, and art talk. A proud Corgi parent.