Outsource 3D visualization is a boon for architectural firms as it allows to present their projects in full glory. Which was impossible before: sketches aren't accurate or realistic enough, while drawings are too schematic and hard to understand — so they cannot help clients envision future buildings. Basically, CGI has brought Architects the possibility to take pictures of the future. This way, it helped solve many problems with client communication, make for a smooth workflow, and allow creating some awesome presentation materials.
Finding visual materials for portfolio used to be a tough job. When most projects are still under construction, and won't be done in the near future — that's a trouble. For this means it's highly unlikely that they'll be ready for a professional photo shooting any time soon. Meanwhile, prospects visiting the site want to see a wide portfolio, showcasing a wealth of relevant experience, names of clients, creative task solutions.
But with 3D architectural visualization, getting an impressive portfolio is a piece of cake. Architects can get photorealistic pictures of their projects for presenting them to clients — and achieve a perfect mutual understanding. Then the same 3D visuals can be used for advertising — for instance, to sell apartments while the building is being constructed. And finally, the 3D visualization project will make a nice addition to the online portfolio. All that an Architect needs to do is to contact a cgi company for outsource 3D visualization services.
So how cgi makes for such effective promotional materials? Let's find out what unique powers of 3D rendering make for impactful visuals.
#1. 3D Exterior Visualization Highlights Project Strengths
Outsource 3D visualization of future housing on plain background shows buildings isolated from surroundings, so nothing distracts the viewers' attention from the main object. In such a way, prospects can thoroughly examine all details of the exterior: windows, doors, arches, columns, materials of facade and cladding, and so on.
Another way of showcasing the exterior design is to put it in context but without buildings around. This way, the 3D visualization is focused on the project, while benefiting from the impact of the landscape and natural phenomena.
Digital 3D models of buildings on plain background are the right choice to highlight the strengths of architectural design. As this type of outsource 3D visualization looks clean, solid and professional, it is perfect for presentations for investors, as well as for meetings with clients.
#2. 3D Exterior Render Showcases Projects in Context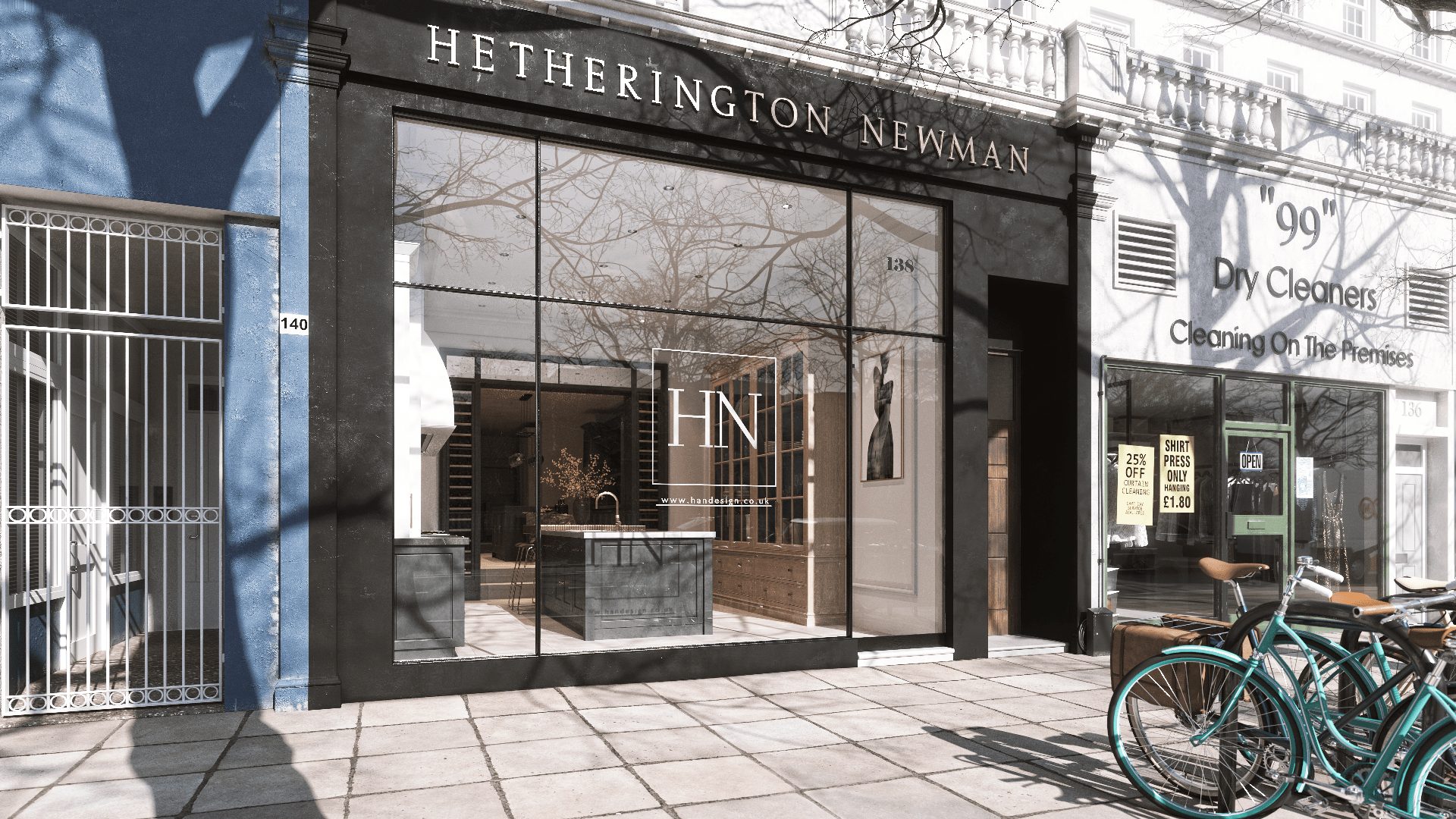 With the help of outsource 3D rendering services, the Architect can present not just a building itself, but also its future surroundings. In fact, modern software allows 3D Artists to recreate any environment in photoreal quality, be it a calm mountain village or a vibrant metropolis.
This way, 3D visuals help clients and investors understand if the design will be in harmony with its surroundings. For instance, it allows seeing whether the cozy wooden cottage fits into the mountain scenery, or whether the new fashion boutique will look advantageously in the historical part of the city.
Make sure your exterior design project takes your clients' breath away
#3. 3D Render Shows Exterior Lighting Scenarios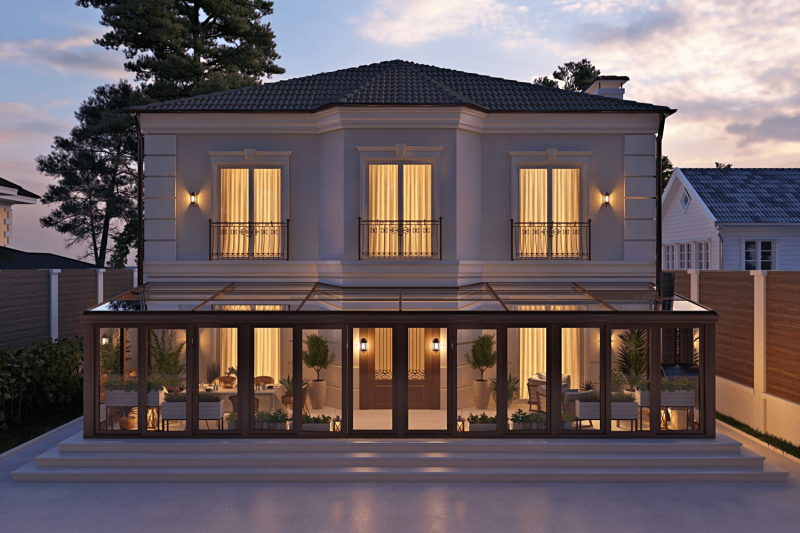 Exterior lighting scenario is an essential part of a dwelling's aesthetics. In fact, color temperature and brightness of light, different shapes of lighting fixtures, as well as their placement, can form a unique style and atmosphere of a house. What is more, lighting system is responsible for comfort and safety of the dwellers. The proper illumination of driveways, paths, and stairways in a yard helps to prevent injuries, especially in the wintertime when the ground is icy.
However, drawings or words can neither paint a clear picture of a complicated lighting system nor prove its importance. The drawings are only good to indicate where the lights will be installed, while describing a complex lighting system verbally is just a waste of time. Listening to the Architect's long explanations, the clients might not understand why choose some complex and costly solution instead of just hanging a few lamps here and there.
But with outsource 3D visualization, the Architect can instantly show the difference. As they look, for example, at photoreal images where tiny uplights and elegant hanging lanterns softly illuminate the terrace and paths in their garden, making the place both beautiful and safe, they will understand that this lighting design is worth its price.
#4. 3D Visualization Displays Benefits of Interior Design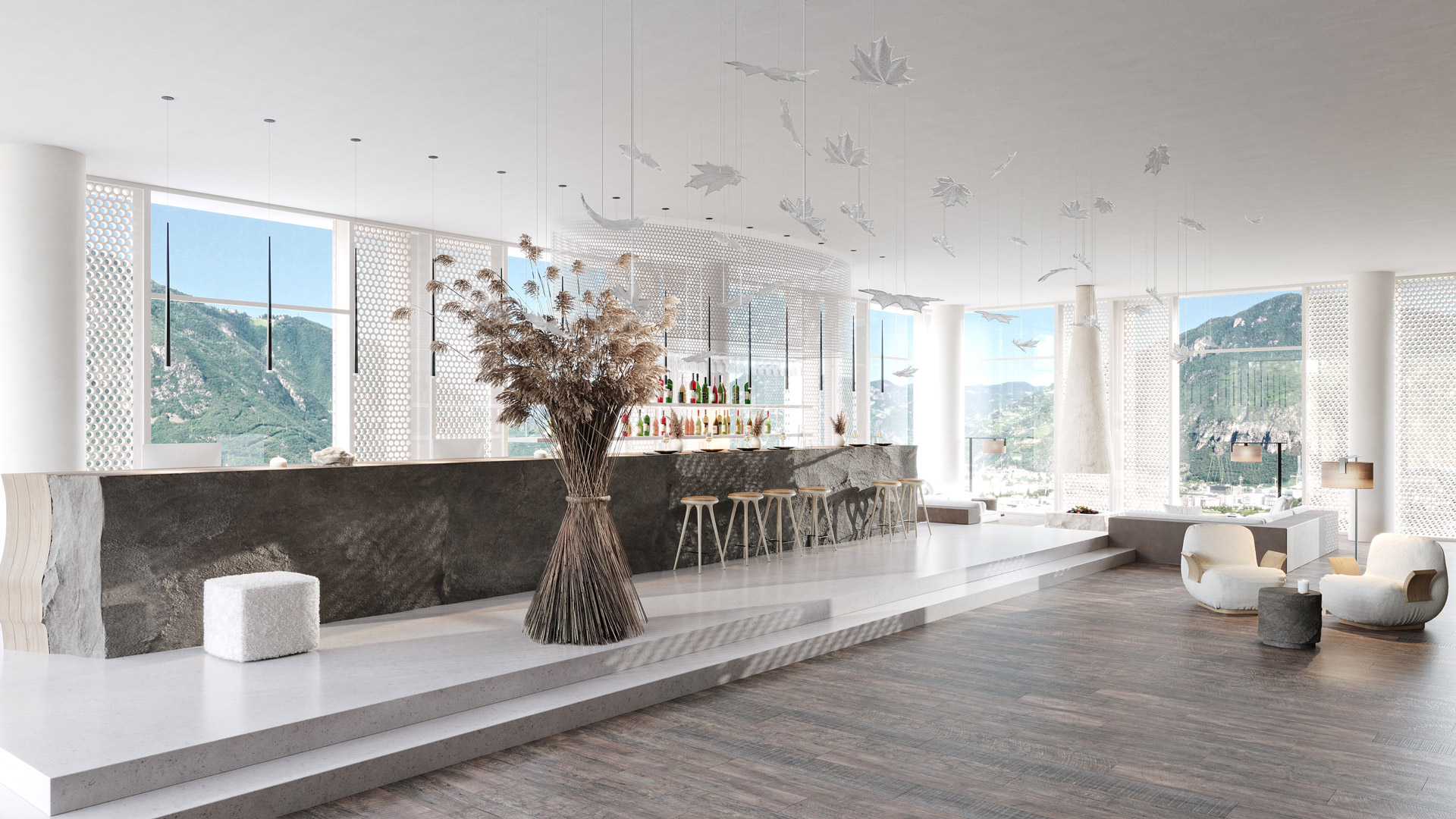 Outsource 3D visualization presents all aspects of architectural design of the house interior — including space planning, prevailing lines and shapes, decorative elements, textures of materials, and color solutions. This way, the viewers will see with their own eyes how uniting the bar and chillout area into one space ensures comfort and functionality. The future owners of the villa will understand at a glance how the place becomes visually larger, and that despite not having walls, it is clearly divided into task areas by a stylish split-level floor.
Photoreal 3D visualization can also showcase the effect of the lines and shapes prevailing in the interior. It is crucial to show, as organic and geometric lines and shapes lend the space a completely different feel. Organic ones are dynamic and "flowing", so they establish a relaxing atmosphere and let dwellers experience connection with nature. As for geometric shapes and lines, they make the whole interior look more strict and organized.
#5. 3D Floor Plan Shows Layout of a Dwelling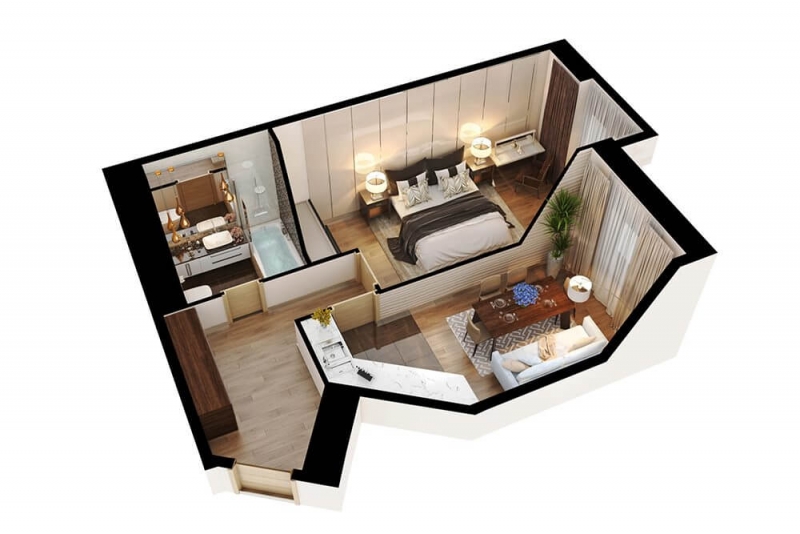 3D floor plan is the type of 3D visualization that displays the future home in section from a bird's eye view. It is a great option to show a house or an apartment on the inside in a compact way.
High-quality 3D floor plan is especially useful for showing how rooms are located in relation to each other. This way, the Architect can easily demonstrate the clients how the rooms will be used and how this specific layout will benefit their everyday lives. For instance, the viewers will see that the outside space can be accessed through the living area but not through the private space like bedroom — which will make both homeowners and their guests feel comfortable.
With outsource 3D visualization, the architectural firms get outstanding promotional materials. In fact, 3D visuals can be used to highlight any aspect of the architectural project. CGI is able to show everything: materials of the roof or walls cladding, exterior lighting system, the whole building in context, architectural design of the house interior, and detailed layout of the dwelling. All the Architect needs to do is choose and order suitable type of 3D visualization at a professional 3D modeling and rendering company, then get the result and just enjoy the impression it makes on the prospects.
Present your architectural project like a piece of art with AI-powered CGI
Want to attract investors and pre-sell properties easier than ever before? Contact our team and get professional outsource 3D visualization services to showcase your architectural design at its best.
---
Jimmy Ward
Marketing Specialist, Media Buyer
Jimmy is the senior magician of media and stunning ads. He loves a good joke, his beloved dog Mario and craft beer. But don't be fooled by his smile: Jimmy is ruthless when it comes to lead generation.