Happy New Year to all our clients and readers from ArchiCGI team! We wish everyone lots of happiness and love, as well as strikingly photoreal 3D architectural renderings and some breathtaking design presentations.
Thank you all for trusting us with your beautiful masterpieces. We feel privileged to be working with such outstanding Architects and Designers, and deal with those creative and challenging tasks you provide us with. And since New Year is a perfect opportunity to sum up our achievements and feel proud for the quality of our 3D rendering services, we want to share our pride with you. We got our amazing team of 217 3D Artists, Modelers and Project Managers to vote for the best 3D architectural visualizations that appeared in our portfolio in 2017. Let's see the winning works!
Best 3D Architectural Renderings For Interior Design From ArchiCGI
All three of those works have been recognized as the most impactful interior 3D projects from year 2017. Shall we have a look?
#1. 3D Visualization Project For A Home Office
We absolutely love these 3D architectural renderings for how clean and classy the concept looks. They are all about sophistication and comfort, and the decor reinforces the drama of black-and-white. The sheen of glass and chrome decor, fresh greenery of potted plants and this amazing artwork on the wall highlight the style. So fresh and edgy – yet so timeless.
The powerful execution really makes the image stand out. The way this pitch black leather catches the light is amazing. Luxurious sofa and armchairs are so realistic the viewer wants to touch this glossy leather probably warmed by the sunlight, and sink into its comfort. The wall window with its extraordinarily transparent fine glass lets in a gorgeous view. Apparently, working at home is not only trendy, but sometimes extremely stylish.
#2. 3D Interior Visualization For A Stupendous Kitchen Studio Design
Meet the next ArchiCGI best 3D architectural renderings of the year 2017 – for a brilliant modern kitchen studio project. So to create a realistic image in the mind of a client, our 3D Artists took great care of every detail. Just look at this exquisite close-up on the dining table! The fine glassware glows in the sun, next to this gold-rimmed refined crockery and luxurious orchids, probably filling the air with their delightful fragrance. The viewer imagines himself sitting by the table with his family, eating a delicious supper, chatting about their day and admiring the stunning view by the wall windows. Isn't it a lovely picture?
And this enchanting cooking area is a catch. Sleek, stylish and incredibly practical – with lots of storage. Which these high-quality interior 3D visualization made so obvious.
#3. Bedroom Interior 3D Visualization For A Magnificent Bedroom
Now these images are quite a spectacle! And the design is a show-stopper. All those delicate curves and moldings, sensual velvet and sparks of gold as if echoing the flames flickering in the fireplace… As real as in a photo. So is there a better way of showing this to a client than with high-quality professional 3D architectural renderings?
Each piece of furniture looks like a masterpiece from the bygone era. The viewer will be entranced by the flow of fantastic fabrics and the comfort they give – in curtains, velvety chairs and the canopy. He will imagine peaceful family evenings by the fireplace, waking up in this fairy-tale bed every morning, chatting to a friend in the golden light of chandeliers and catching his own reflection in a divine huge mirror… Compelling story told with some high-end 3D renders.
Did you like it? Then let's take a look at the best exterior 3D visualizations.
Take your design presentation to a new level with interior rendering
Best 3D Architectural Renderings By ArchiCGI For Exterior Design: Top 3
#1. Photorealistic 3D Renders For a House Design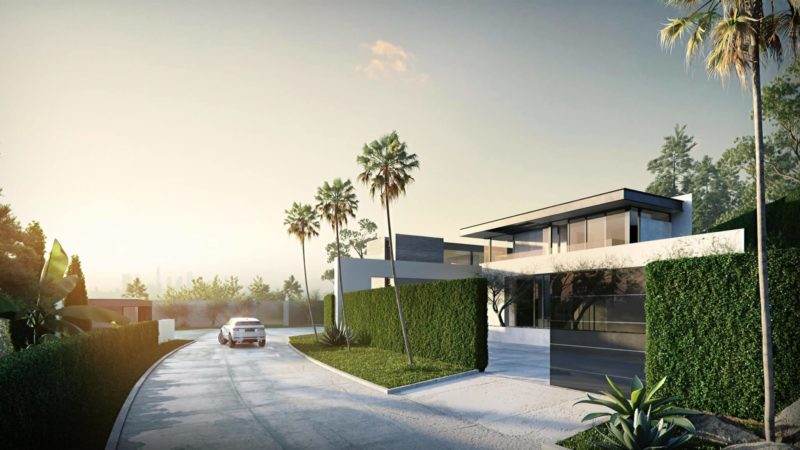 Residential exterior design is a story that an Architect needs to convey. And we are really happy about how this one turned out! The building looks every bit as edgy and sophisticated as the project requests. It's actually more than an image – it's a life story. The main part of the building is hidden behind a large green fence, but the viewer catches a glimpse of its elegant geometry through the gates open to let the car out. Windows glow in the sun that made the sky golden and turned the horizon into a mysterious shiny blur… In a nutshell, 3D Artist did some amazing work with light and textures, not to mention a beautiful composition.
#2. Architectural 3D Visualization For A Marvelous House Project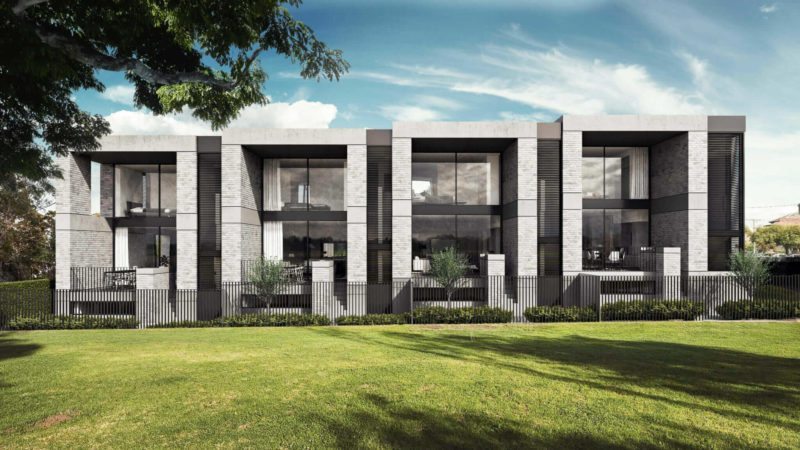 That spectacular house will make any place look cutting-edge and stylish, and our goal was to show that. It is divided into 4 identical parts which look like mirror reflections of each other – with these stunning wall windows, separate stairs and cubic shapes. And with this photoreal 3D visualization, investors will see at once how happy people living there will have breakfast on the terrace – in good company, yet with their privacy protected by solid brick walls. A great place for family living!
As for the execution, one could not miss the fabulous lighting in the 3D architectural renderings. It gives the grass deep warm yellow, which contrasts nicely with the blue sky and offsets the edginess of the black-an-white building. The perspective shows that the building is perfect for a green neighborhood, with its height appropriate and space extremely well-used.
#3. Photorealistic 3D Renders For A House On The Hill
To create this gem, the Architect worked with a difficult landscape and turned it into a competitive advantage. And our task was to show this, as well as many other beautiful features our client incorporated into the design. The chic glow of the glass balustrade, sophistication of layered colors and materials, as well as a perfect symmetry of intricate shapes make for a truly impactful look.
Another captivating thing about the exterior project is how the facade resembles a magnificent greek temple. To achieve that effect, the Architect visually united the windows for two floors under one porch roof held by columns, making it look like a magnificent high-ceiling chef-d'oeuvre from Ancient Greece. What a comfort to live in such a place, surrounded by this stunning forest! And how easily professional architecture rendering can show that.
Best 3D Visualizations For Commercial Interior From ArchiCGI
Now get ready for some amazing photoreal 3D architectural renderings featuring gorgeous designs that our clients asked us to reproduce digitally. Enjoy our three very best works from the year 2017 – for a theme restaurant, dance studio and an office.
#1. 3D Renders For An Extraordinary Theme Restaurant
This Tarantino-themed restaurant project immerses visitors into fascinating atmosphere of the movies the world has gone crazy about. And the task of our 3D Artists was to show the magic of this masterpiece that would induce Tarantino admirers into coming again and again.
And who would refuse paying a visit here at least once? Everything about the design promises a joyful experience: green honeycomb tiling, huge portraits adding character, a cocktail of unexpected accents – whimsically-shaped mirrors, intense yellow of the desert with its cactuses and a dangerous blade of a sword. The restaurant owner will imagine his visitors enjoying the spectacle and their meals in the comfort of plush chairs and soft sofas with lots of bright cushions. High-quality 3D architectural renderings do ignite imagination!
#2. Photorealistic Imagery For A Dance Studio Interior
Designer created this interior for the most graceful creatures in the world – young ballerinas. So every detail about it conveys the sense of elegance and beauty their art evokes: even the curve of a chair and the bouquet of fresh white tulips on the table. To match the project, our 3D Artists created architectural 3D renderings that not merely reflect the outstanding quality of the design with a striking photorealism, but the imagery conveying the atmosphere of a ballet school. There's strive for perfection, simplicity, focus and perseverance, and some exquisite taste. All that is read between lines, of course – in the soft dispersed lighting, astonishingly realistic shine of the wood table and softness of the chairs around it. Well done indeed!
#3. Office Design 3D Architectural Renderings
If there is a perfect office interior for a chef – it's definitely the one you see in the 3D visualizations above. And ArchiCGI 3D Artists nailed this 3D project! For the renders are both strikingly realistic and imposing. The soft golden light that fills the room creates a feeling of tranquility and a sweet comfort. It makes the wood look warm, black leather chairs – even more inviting, and the sparkling pendants – glow like crystals. The interior obviously has an atmosphere favoring quality work, cool concentration and fruitful meetings. Just the thing a chef office needs!
Enjoyed looking at our work? Then check out our 3D visualization portfolio and discover more projects we've done.
But most importantly, let us thank you for the trust you have put in us. We look forward to providing you with more photorealistic 3D architectural renderings in the coming year. May your life be filled with harmony, happiness and joy, and your business – flourish!
Happy New Year 2018!
Get your project estimated in just 1 hour - fill out this brief!
---
Keith Gardner
Senior Project Manager
Keith is a seasoned scrum master who can turn even a team of complete strangers into a well-oiled machine. Outside of work, he is the king of social games and a caring dad for a ferret Tyra.