As statistics show, 44% of people wishing to buy residential properties are millennials. That means they are now the largest demographic looking for their dream homes. And 90.4% of millennials are active on social media. So, using SM platforms is an absolute must for property developers who want to stay on top of their game. But being relevant, increasing engagement, and especially attracting new clients in an over-saturated social media landscape is a challenge for any business. So, which approaches to choose? How should one use social media for property developers to increase visibility, credibility, and sales?
Our architectural visualization studio daily provides development companies with high-quality visuals which shine on their Instagram, FB, and other platforms. So, we know a thing or two about sufficient real estate SMM. Want to learn how to use social media efficiently as a realty developer? Read on!
#1. Differentiate your content depending on the social media platform and your target audience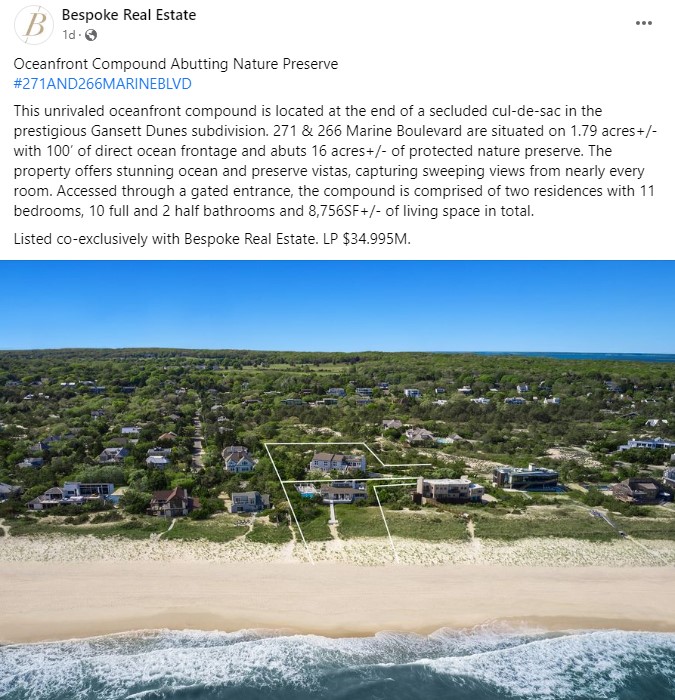 source: Bespoke Real Estate
When you build your social media strategy, the first aspect you need to consider is your audience. Who are they? What is their socioeconomic status? Are you catering to the first-buyer millennials or, for example, the older folks looking for a comfortable home for their retirement days? You will need to differentiate your content depending on the answers to these questions. If your target audience is first-buyer younger people, you should emphasize useful tips and step-by-step instructions about looking for property and making a purchase they won't regret. In case you're aiming toward the luxury segment, you might share information on architectural & interior styles, goods, and service providers relevant to that audience.
The next thing to pay attention to is the social media platforms you're planning to be present on. And the general rule here is the more, the better. However, every platform demands a somewhat unique touch from developers.
1. Instagram 
Instagram is one of the most popular social media for property developers. On Insta, good-looking interior and exterior pictures tend to attract steady engagement. You can use both photos and high-quality photorealistic 3D renders. The latter is especially useful if the property is not finished yet. To attract potential clients through Instagram, you should post at least once per 3 days and keep the quality of your visuals consistently high and on-brand. 
2. Facebook
On Facebook, exterior and interior images also drive regular engagement. Here, you should post at least once a week. Also, remember that hosting any giveaways (with prizes being, for example, a luxury hotel stay) that require likes and shares boosts engagement considerably on both Instagram and Facebook. 
3. LinkedIn
On LinkedIn, images get far less attention. The most popular posts here are about valuable business insights, announcements of new projects, and celebrations of the finished ones. However, in any case, a high-quality picture accompanying the text will go a long way in catching the eye of your potential clients. 
Present your architectural project like a work of art with AI-powered CGI
4. Pinterest
One of the commonly overlooked platforms which can generate a lot of traffic to your website is Pinterest. "Home" is one of the most popular topics here. Unlike other social media typically used by property developers, where images have a short lifespan, on Pinterest, your photos or renderings can circulate for a long time. The vital aspect is to ensure your visuals are Pin-worthy, so always mind their quality and aesthetics. 
#2. Tell a story about what you do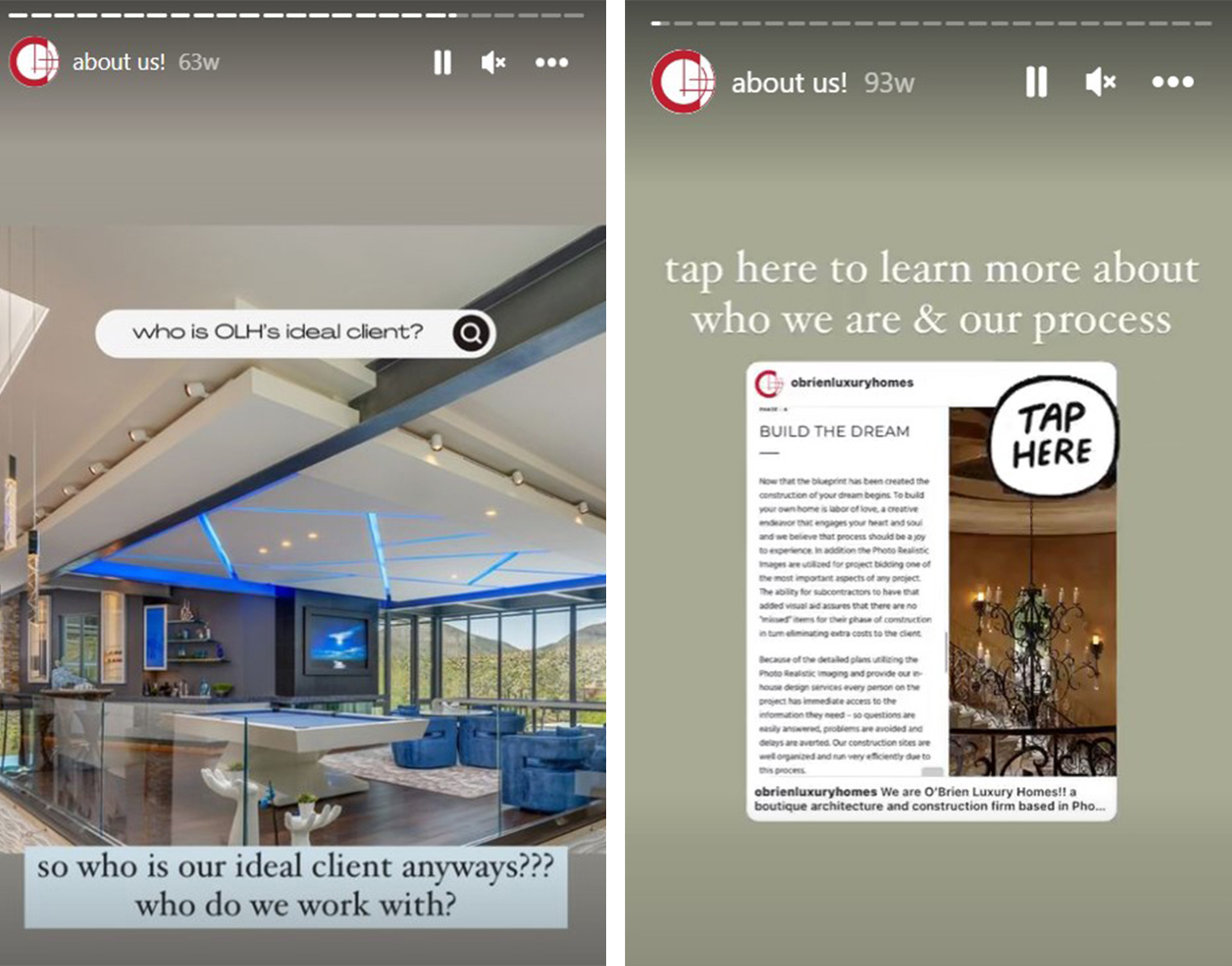 source: O'Brien Luxury Homes
Regardless of the location you're working at, you definitely have some competitors, and most of them offer properties that are no worse than yours. So, the question you should be answering when you use social media for property developers is not "what" you are offering but rather "why" you do so. Why should the prospects choose you over your competitors? Why do you offer these specific properties to this particular audience? And what's the story behind your business?
There's no better way to establish your credibility than through storytelling. Tell a story about your brand and mission. What values do you want to communicate to your customers? What makes your listings special and for whom are they suitable? Think about why you do what you do and what kind of image you want to project.
#3. Share useful information and build relationships with your audience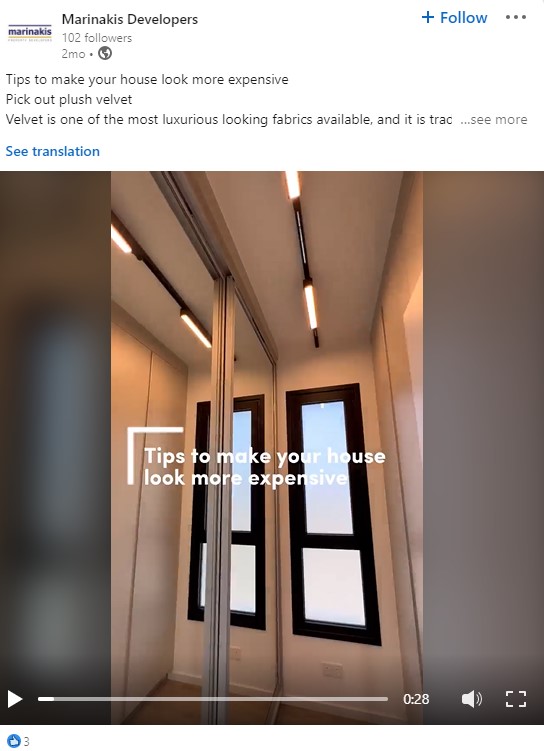 source: Marinakis Developers
Let's be honest, when you scroll through your social media feed, the endless stream of promotional materials created by companies trying to sell something is not what you want to see. A useful workaround is to share valuable recommendations and engage directly with your followers by addressing their actual needs.
Home maintenance, interior design tips, home value maximization advice, checklists on what to pay attention to while choosing a new property, and other types of tips related to home buying and ownership will make good posts and increase engagement. And don't be afraid to be creative and humorous. Nothing is as shareable as a well-placed meme! 
When researching a potential property or developers, people want information. So, instead of simply self-promoting, answer people's popular questions and build your social media strategy around being in constant dialogue with your audience. Hosting Q&A sessions, webinars, as well as other online events, is among the best ways to do so. Another vital thing is ensuring your team answers any inquiries in social media comments and chats quickly, politely, and fully. 
If you consider collaborations with influencers, it could be more reasonable to choose micro-influencers (users with around 100K followers) in your area instead of overpaying celebrities. Look for mutually beneficial collaborations with bloggers who cover topics relevant to property development. These can be experts in the areas of, for example, interior design or home improvement.
#4. Use high-quality visuals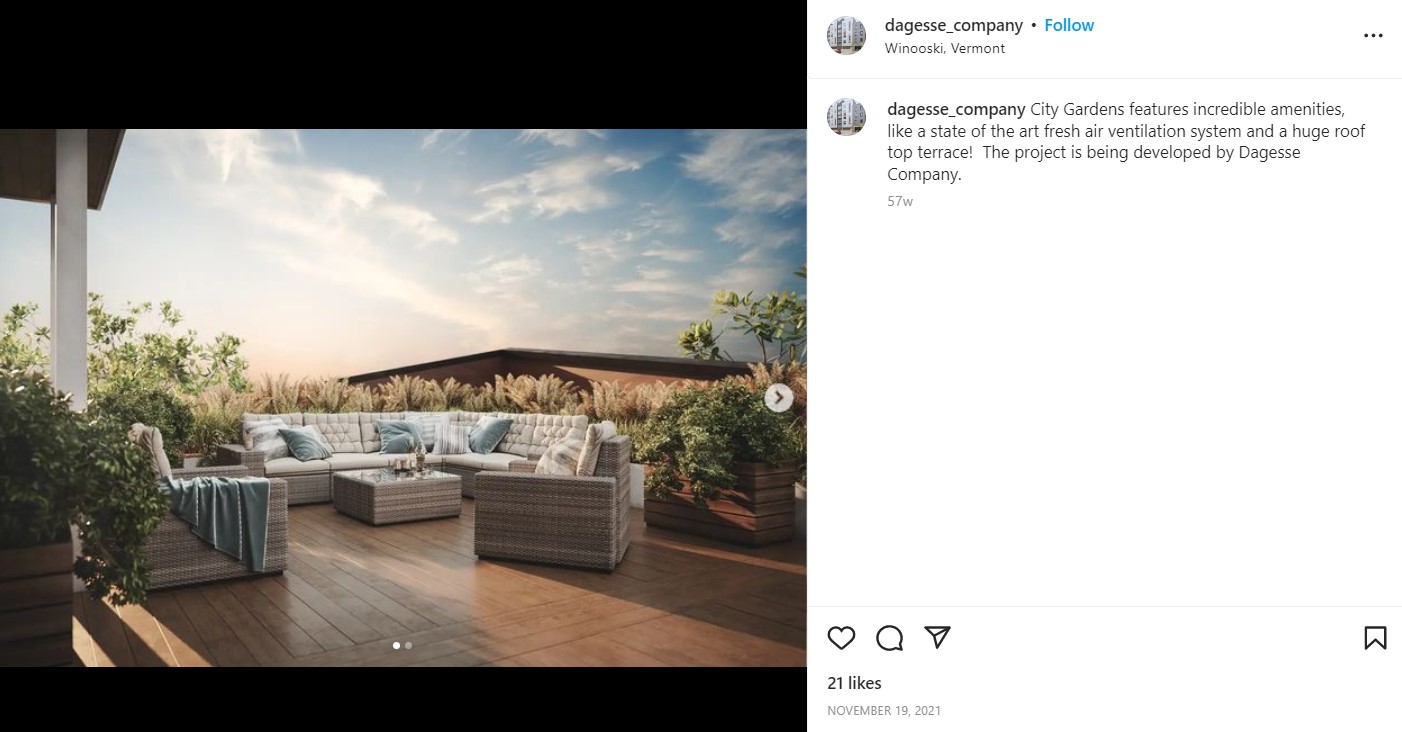 source: Dagesse Co
3D rendering: ArchiCGI studio
The quality of your images and videos is vital regardless of which social media for property developers you're using. For instance, Instagram, Youtube, and Pinterest are incredibly visually driven. So without top-notch visual content, you will lose the competition here regardless of anything else you might be trying.
If your development project is in the early stages, consider using photorealistic 3D visualization. It allows you to showcase the future look of a property before it's even finished. Also, the use of before/after comparisons and other ways of combining 3D rendering and photography can ensure you have a steady stream of high-quality imagery to cover all your social media needs. 
#5. Use paid ads wisely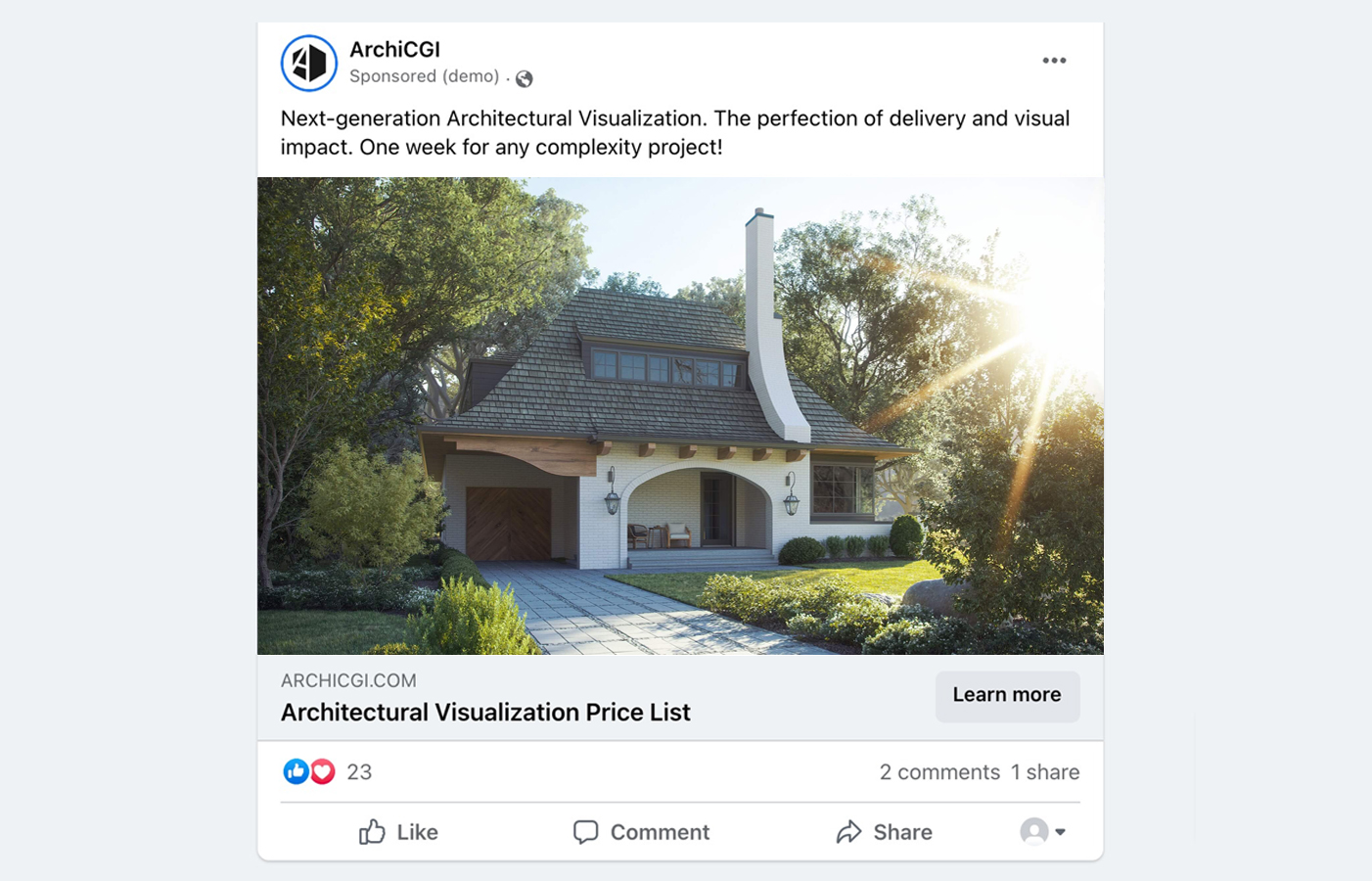 Facebook and Insta advertisements might be a powerful asset to attract potential customers. However, it's essential to bear in mind that FB and especially Instagram ads for real estate require you to use top-notch, preferably interactive visuals that catch the eye instantly and entice the viewers into engaging with them. And, of course, you should use targeting wisely to achieve the desired effect. 
#6. Track your social media performance and adjust accordingly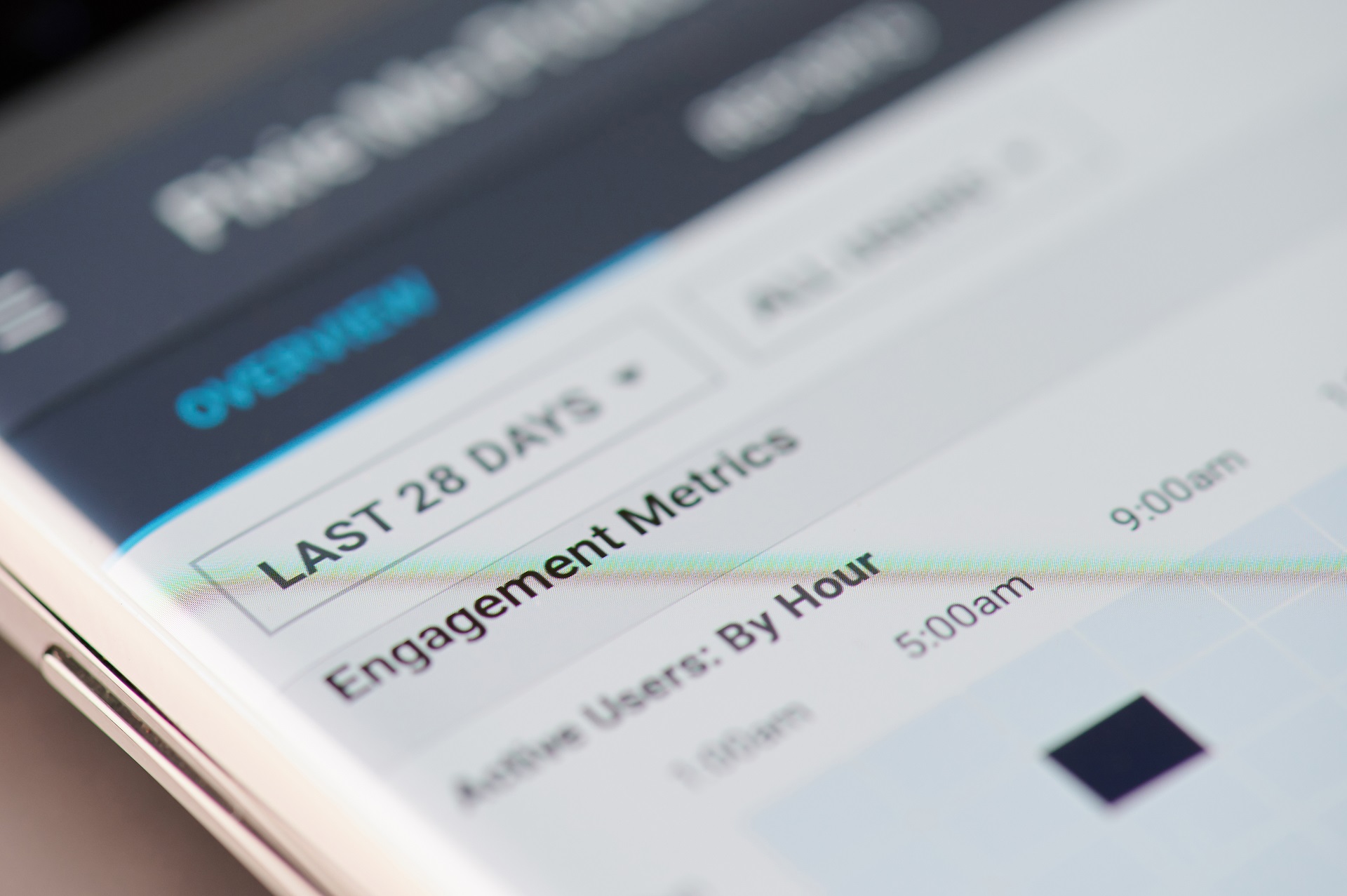 Social media for property developers is only effective when your performance is controlled and thus you can learn from your mistakes. There's an element of trial and error to most social media campaigns. The vital thing is to know when and why something goes wrong and what boosts your engagement and leads. 
Social media metrics can help you track and improve your performance. Both on Facebook and Instagram, they allow you to see how much engagement a specific post or an ad gets so that you can figure out in which direction to head. The use of metrics becomes available once you set up a business account. 
 Building a powerful presence on social media is vital for real estate development companies. Engagement, new leads, and, in the end, a boost in sales – if done right, social media can help with all these goals. We hope the information above will allow you to reach new business heights!  
Get your project estimated in just 1 hour - fill out this brief!
While working on your SMM strategy, remember that you will need top-notch visuals every step of the way. Need professional 3D visualization services for your next promotional campaign? Contact us at ArchiCGI to get stellar CG visuals that will make your social media posts eye-catching and scroll-stopping!
---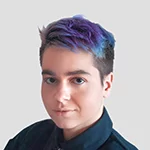 Stacey Mur
Content Writer, Copywriter
Stacey is a content writer and a CG artist. Outside of work, Stacey enjoys musicals, Star Wars, and art talk. A proud Corgi parent.