Photoreal 3D bedroom design is an indispensable tool for interior designers and realtors. As for the former, CG visualization allows them to showcase the expected result of their work in advance. Which leaves no room for misunderstanding with clients on the project approval stage. That's because, with 3D visualization, the homeowners can see their future bedroom interior exactly the way it will look in reality. This way, 3D rendering simplifies working with feedback and secures the deal for designers.
As for realtors, interior CGI assists them in dealing with unfinished and unfurnished homes. Any real estate agent knows that it is hard to convince a person to buy or rent empty properties, not to mention ones that are still under construction. The former spaces look cold and uninviting, while the latter are not even built yet. So, people cannot feel any emotional connection with such properties. But once potential clients see 3D renders of the same places with stylish, comfortable interiors in all rooms including a bedroom, they easily imagine their life there. Which increases the odds of landing a deal for realtors.
That is why many designers and real estate experts work with an architectural visualization studio that provides bedroom 3D rendering services. Visualizing this room is especially important. A bedroom is a place where homeowners reload their body and mind. They need to see that it will be beautiful, functional, and perfect to relax in. With 3D bedroom design, viewers can picture a future interior in detail and understand all its benefits. Want to see for yourself? Check out CG visuals and stories of 6 lovely 3D bedroom designs created by our team!
#1. Modern bedroom design: CGI and a photo of the real-life result
Software used: 3ds Max, V-Ray
The CG design for this bedroom was ordered by landlords who needed to lease the apartment. In the brief, they did not set strict requirements regarding the interior. They just asked us to design a warm, cozy, and comfortable place. The client also noted that since the apartment would be used by different renters, its interior had to be universal so that it could suit many tastes. 
Following this guidance, our 3D artists created a sleek bedroom design that unites features of Modern and Contemporary styles. The team decided that all materials and furnishings should stick to a warm pastel palette. So, they designed the 3D interior in beige, gray, ivory, and muted lilac colors that set a relaxing ambiance in the room. The central object in this space is a large bed that looks very soft and comfortable. Decor elements in the 3D design are very few — just enough to add slight finishing touches. And all of them are very discreet. There are no conspicuous details or bright contrasts that could distract one from having a good rest — everything in this room breathes calmness. 
This 3D bedroom design has already been brought to life in reality. In the slider above, you can see the CG version and then a photo of the real-life interior made according to it. 
#2. CG bedroom interior in French country style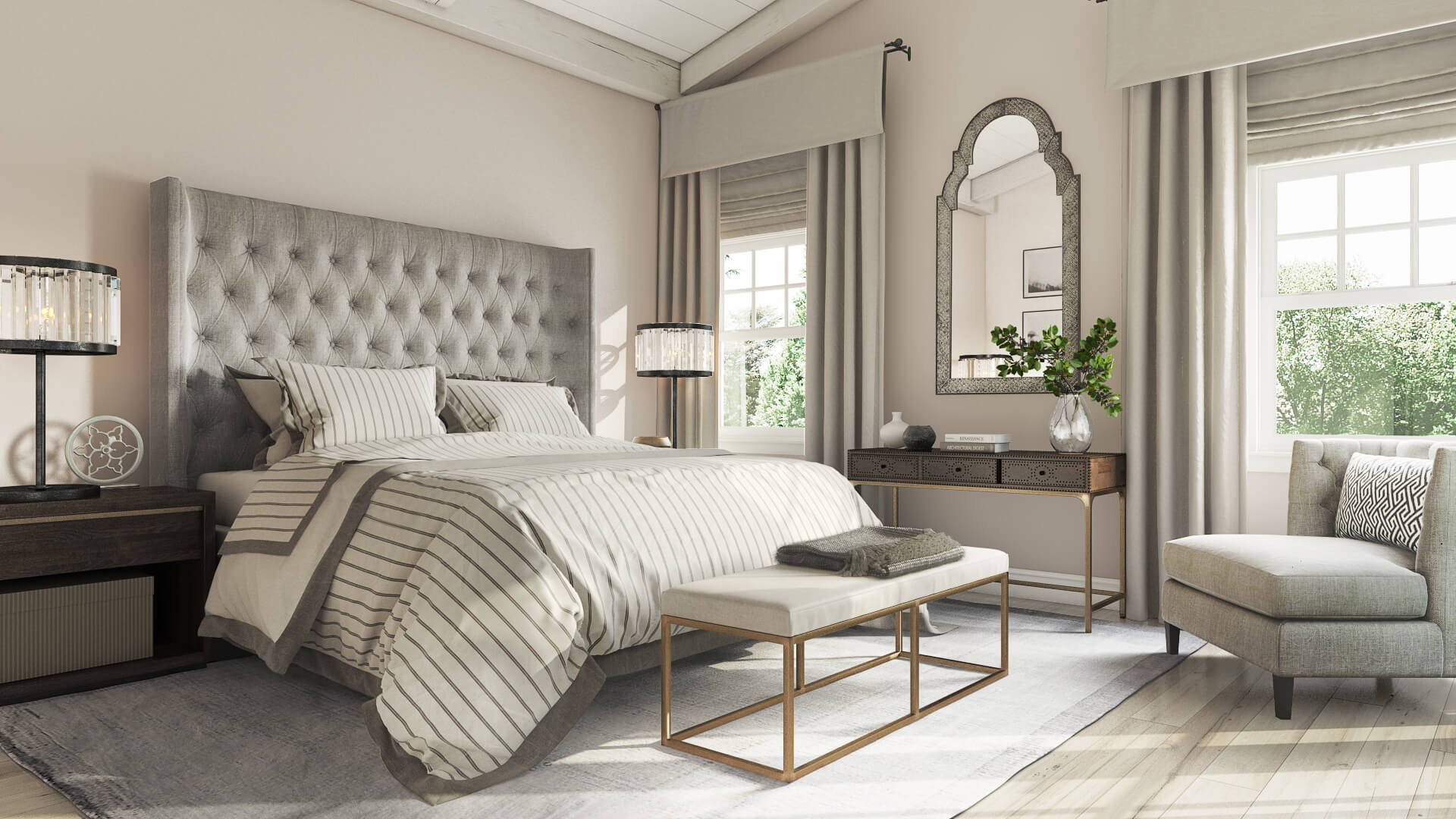 Software used: 3ds Max, Corona Renderer, Photoshop
The 3D render for interior design above was created by the order of our client from the US who is engaged in the design, construction, and property sales. They ordered a 3D design of a bedroom in a two-story house. In the brief, they provided the plan of a room and specified that they want to create a space that feels open and has lots of natural light. Following these requirements, our 3D artist visualized an interior that is a mix of French country and Beach styles. White, ivory, and gray shades prevailing in this 3D bedroom design establish a light and pleasant atmosphere. 
In the CG rendering, the 3D artist used 3D models of Restoration Hardware furniture. This US brand is known for impeccable quality products that never go out of fashion. The artist smartly added stylish decor pieces that add vividness and character to the bedroom. She also managed to convey the spaciousness of the room and put the focus on how much natural light the windows let in. Also, the 3D artist masterfully took care of the delicate nuances. For instance, the camera angle is set in such a way that it is possible to see paintings on the opposite wall in the reflection in the mirror. 
#3. CG bedroom design in Contemporary style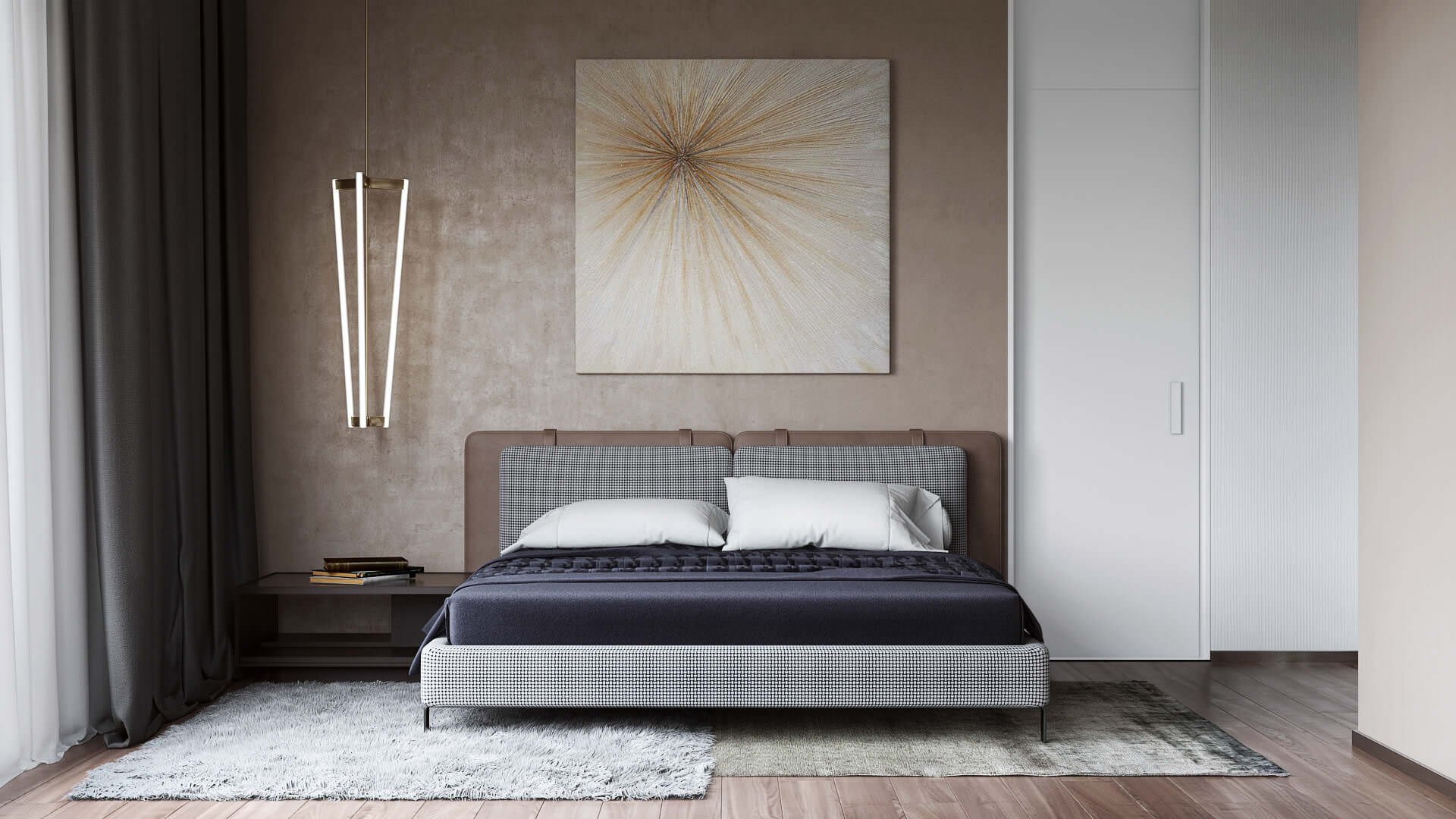 Software used: 3ds Max, V-Ray
This 3D render was made for a client who needed a 3D design for a guest bedroom in a large country house. As the room was supposed to be used by different people, it had to be designed in a neutral style so that anyone would feel comfortable there. Considering this requirement, our team created a universal interior in Contemporary style. 
Every detail in this room, from decorative plastering to curtains and rugs, keeps to neutral colors. Along with clean lines, they assist in establishing a calm, relaxing atmosphere. We paid great attention to selecting 3D models of furnishings for this 3D bedroom design. The chosen ensemble of quality Italian furniture, an elegant lamp, and modern artwork on the wall create a sleek modern vibe. All in all, our team made everything to ensure that any guest staying in this room would feel cozy and comfy. 
Take your design presentation to a new level with interior rendering
#4. CG visualization of a bedroom in Scandinavian style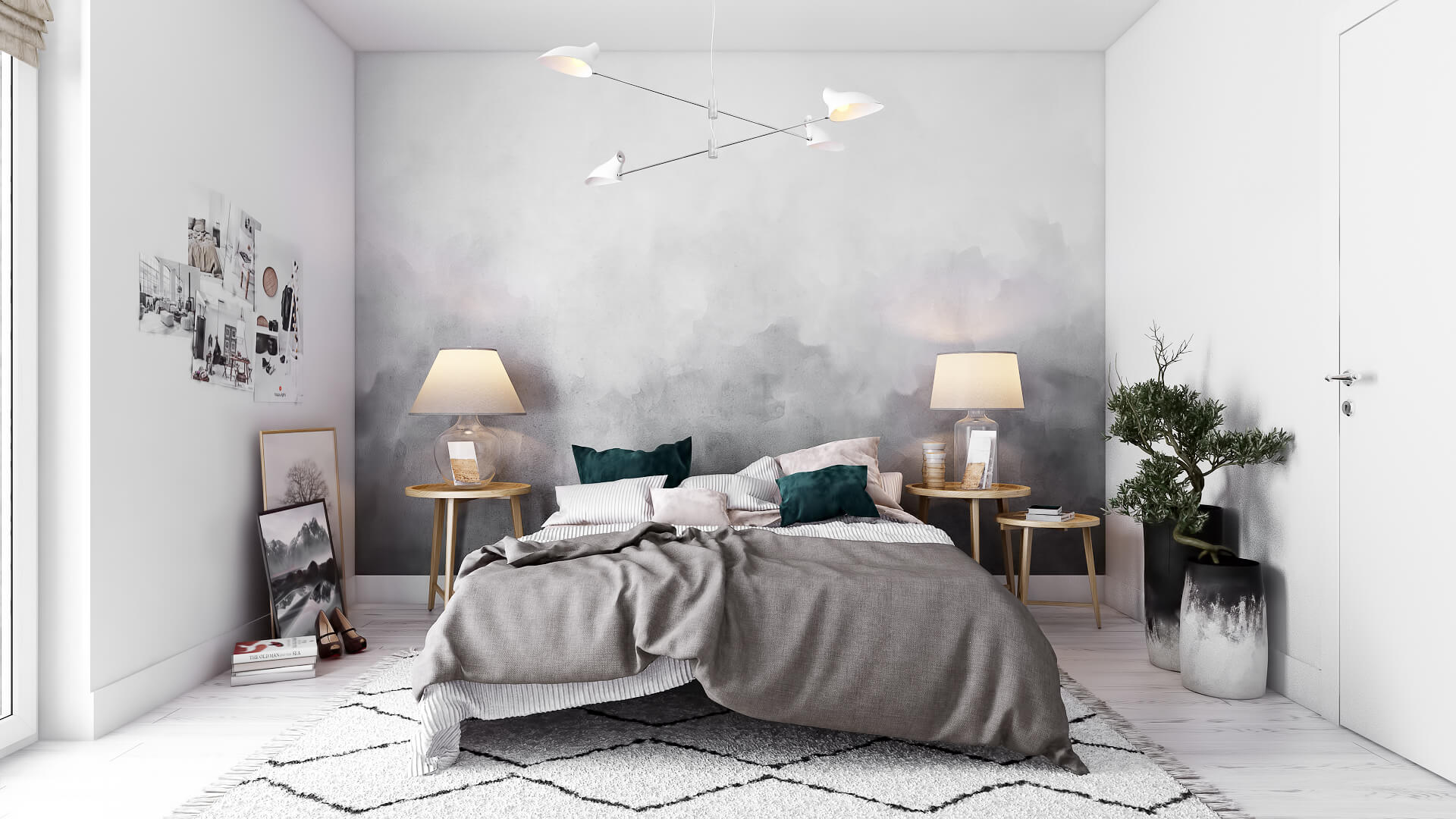 Software used: 3ds Max, V-Ray
For this 3D visualization project, our client provided us with a detailed brief. They have sent us a drawing of the bedroom as well as a reference for style, atmosphere, furnishings, and decor. Our task was to carefully recreate all these aspects of a reference visual in 3D images. Also, the client asked us to ensure that the 3D bedroom design looked lived-in and cozy.
As a result, our 3D artists visualized a modern-looking room in Scandinavian style. The simple layout of the place ensures its comfort and functionality. The combination of grays and whites with accenting greens gives the bedroom an airy, refreshing vibe. Decor items such as plants in stylish pots, books on side tables, photographs, and artworks look very organic in this 3D design. An unmade bed, turned on lights, and heeled shoes in the corner make the viewers feel like the owner has just left this room. These carefully chosen contextual details provide the bedroom with a bit messy yet vivid and homey look.
#5. Minimalist 3D bedroom design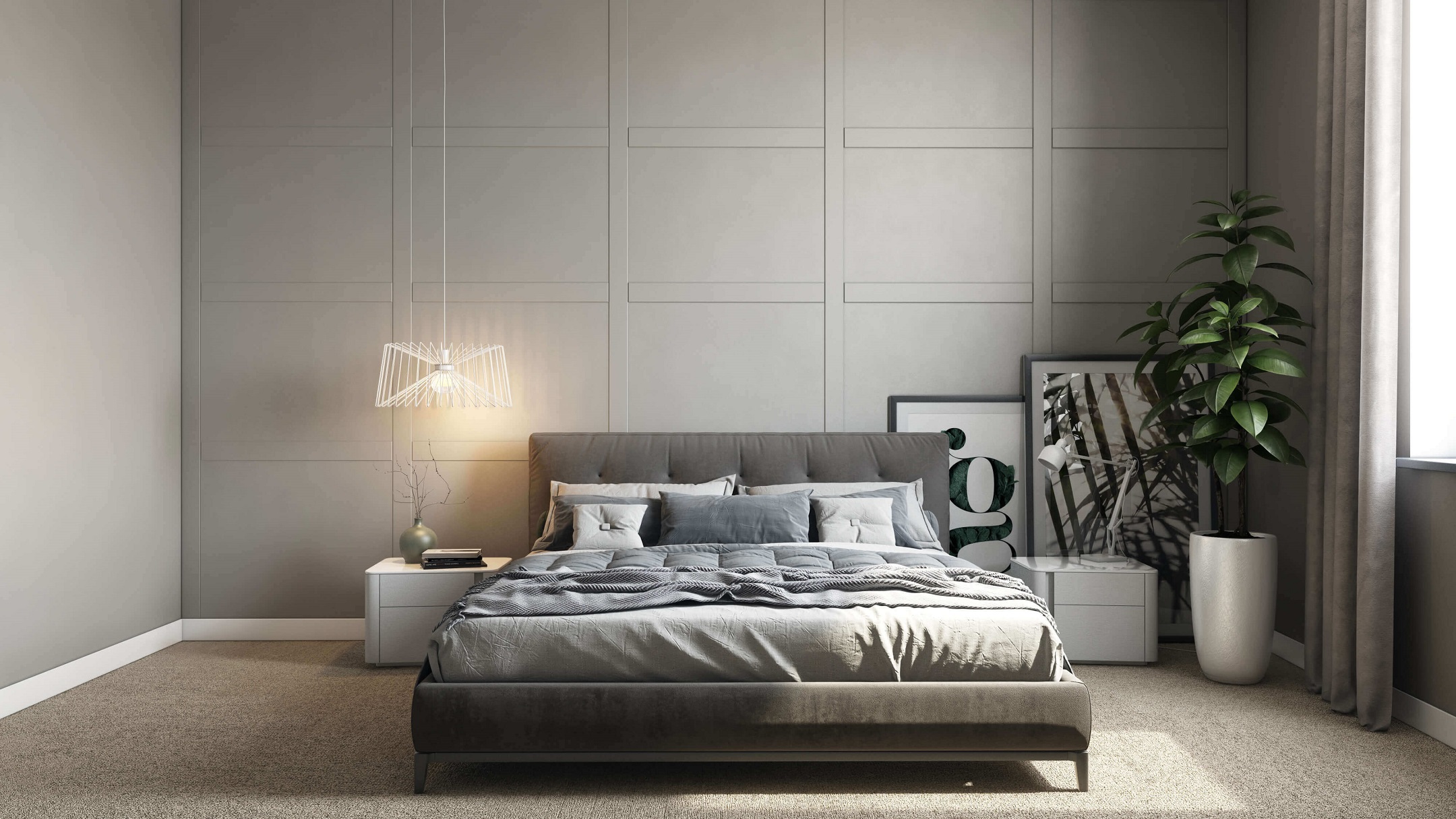 Software used: 3ds Max, V-Ray
This CG bedroom design was made for a real estate expert who needed to presell an unfinished house. The aim was to provide potential buyers with an idea of how their new home would look when it's finished and fully furnished. For this, the client wanted us to develop a simple, modern, and comfortable bedroom design. To help us do it, they provided us with a drawing of the room and a description of the preferred layout. 
Using these materials as a reference point, our artist created a 3D design of an uncluttered minimalist space. Prevailing white and gray colors, elegant furniture, and moderate decor make the room look refined and stylish. As you see, this bedroom design is the opposite of excessiveness. Such a place is great to relax and take a peaceful nap. 
#6. CG visualization for the bedroom design in Contemporary style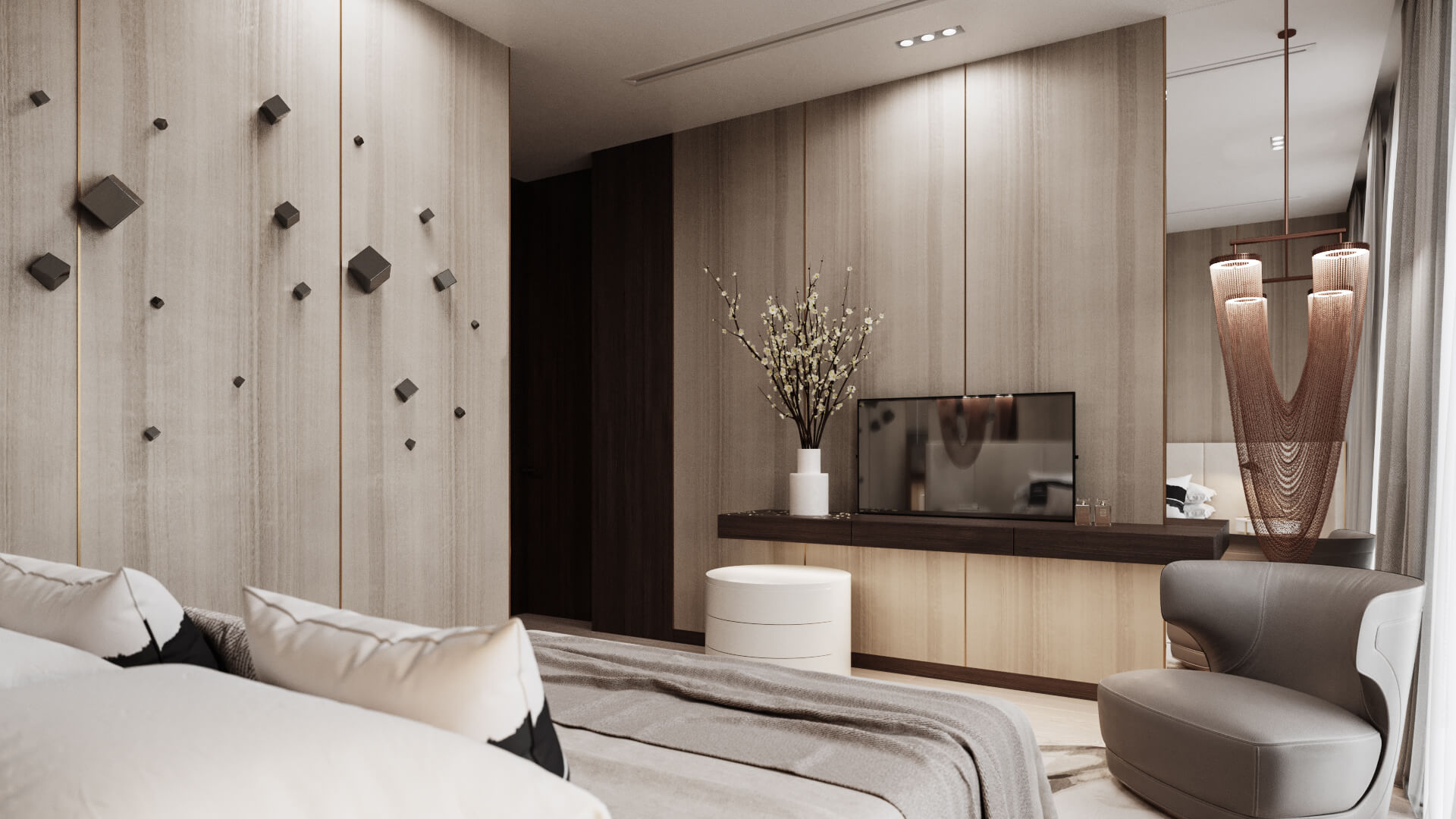 Software used: 3ds Max, Corona Renderer, Photoshop
Creating CG renders for this bedroom design in Contemporary style was a part of a large project for a house 3D visualization. Our client, an interior designer, provided us with a comprehensive brief for the task. She sent us drawings of a room as well as references for all materials, furnishings, and decor items. 
Using detailed information from the brief, our 3D artist masterfully visualized the client's project. She created CG renderings showing a charming bedroom with delicate feminine vibes. CGI showcases how gentle colors, high-quality Italian furniture, sophisticated lighting fixtures, and unusual decor work together perfectly. The photoreal CG visual proves that the design of this space is an epitome of tenderness, elegance, and comfort.  
We hope that these 6 examples of 3D bedroom design convinced you that CGI is a thing worth trying for any designer or realtor. The CG images above illustrate that 3D rendering is a perfect tool to present interior projects and sell unfinished homes. What's more, CGI showcases every detail of the bedroom design — from smart layout to masterfully chosen decor pieces. All in all, 3D visualization allows showing future bedrooms in full splendor. Which often seals the deal for interior designers and real estate experts.
Get your project estimated in just 1 hour - fill out this brief!
Want to easily win your clients' hearts and minds with your bedroom design projects? Contact ArchiCGI for professional 3D interior rendering services and do just that! 
---
Catherine Paul
Content Writer, Editor at ArchiCGI
Catherine is a content writer and editor. In her articles, she explains how CGI is transforming the world of architecture and design. Outside of office, she enjoys yoga, travelling, and watching horrors. 
What is 3D interior design?
3D interior design means visualizing the future interior of a room in computer-generated imagery. This tool helps homeowners, designers, and realtors to plan, see and tweak the expected look of properties before interior design solutions are brought to life.
How to make a 3D bedroom design?
It is possible to create a three-dimensional bedroom design with the help of free apps and tools, online interior design services, or professional 3D visualization studios. However, to use each of these options, one needs to have a floor plan or drawing of a room and specify preferences on furnishings and materials.
Should I use professional CGI services or free apps for visualizing a bedroom design?
It depends on the goal of your design project. If you need to just schematically visualize a future interior, a free app like Room Planner or Homestyler will work for you. But in case you need a highly customized, detailed, photorealistic 3D design of a bedroom, you better opt for professional CGI services.
How to make a bedroom look larger?
To make a small bedroom look more spacious, one should use light tones for the interior and stick to a monochromatic color scheme. It is recommended to choose space-saving furniture: folding beds, built-in shelves, etc. One should also include large mirrors to the interior and avoid excessive decor.