3D visualization technology has opened new opportunities for Architects. Using the high-tech art of CGI, they can showcase architectural projects with previously unattainable impact. Now the Architects can turn their presentation and marketing materials into masterpieces! And with minimum effort — the assets are created by professionals providing 3D modeling and visualization services.
Many Architects still remember the times when they had to spend hours over sketches and moodboards, preparing for presentations. Or how they used to pay fortunes for photos of construction objects for a portfolio. Yet all these efforts were not enough since clients or investors often couldn't understand drawings, and photos are a luxury not that often available. There was a distinct call for a new effective technology to present and promote innovative projects.
That's when 3D visualization technology came into play. Today the Architects all over the world optimize their work using CGI wonders. The development of 3D rendering has gone so far that it's possible to create a spectacular movie about the future design or even immerse the viewer into a project by means of VR. And there is more! Let's check out 5 latest trends of architectural visualization.
#1. Animation
3D animation is a short movie about the future architectural design. It is made of a large number of still CG images, but can hardly be distinguished from a real-life video. In 3D animation, a "walking" or "flying" camera leads viewers through the floors, rooms, and passages of an apartment, or even along the streets between buildings of a residential complex. This 3D visualization technology allows viewers seeing all features of interior or exterior design in motion as well as exploring surrounding landscapes. To better convey the atmosphere and mood inside and outside the place, 3D animations might include music.
3D animation takes presentations of architectural projects to the whole new level. A digital movie can impress the Architect's clients and investors much more than any sketch or drawing. The trick is that the viewers will see the expected result in full glory and get an instant emotional reaction. This way, they won't hesitate to approve the design or to voice their suggestions on corrections.
#2. Virtual Tours
A virtual tour consists of sequential panoramic photorealistic pictures. This wonder of 3D visualization technology allows getting a 360-degree view of a studio, house, or a whole architectural complex — even before it exists. The special feature of virtual tours is their interactivity. Using a mouse or a touchpad, a viewer can move the camera and thus look in every direction. An interactive virtual tour helps viewers to visualize everything so vividly as if they were already standing inside the displayed location. It allows to explore design in detail, taking a closer look at architecture, materials, textures, decor elements, and so on. Just as 3D animations, virtual tours might come with music or text to provide more explanations and to make a stronger impression.
Immerse clients into your design projects with a 3D animation
#3. 3D Floor Plan
While discovering the latest types of 3D rendering, we should definitely mention 3D floor plan – a virtual model of a floor space plan shown from the bird-eye view. This product of 3D visualization technology can present an elaborate design on a computer screen in section. In that way, the audience can see the visual presentation of an apartment's interior and explore it in depth. Unlike 2D CAD floor plans that were used before, 3D floor plan can show an apartment with all the furniture and decor and showcase proportions and heights inside the rooms clearly.
#4. 3D Printing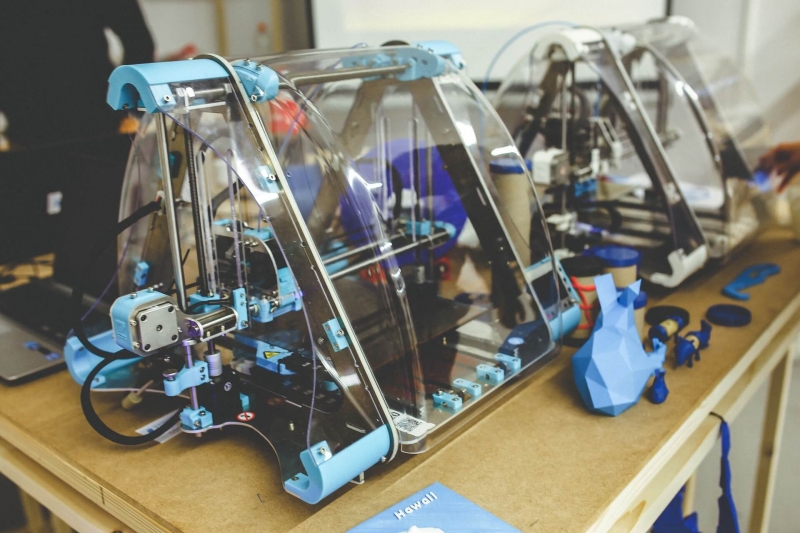 Some years ago, creating physical models for the presentation of architectural projects was neither easy nor fast. This process took days or even weeks, and required lots of materials. Architects mainly made those models manually, usually from wood, paperboard, plastic, and plasticine.
But when 3D printing appeared, it became possible to produce physical models much quicker, easier, and for a more reasonable cost. With CAD drawings, a 3D printer can create a model of even the most complex structure in the shortest terms. After a drawing is downloaded to special software, the printer starts to build a 3D model of a future object according to it. A model is built layer by layer, from top to bottom. Usually, printing a whole prototype of a house can be done within a few hours. As for the materials used for printing 3D models, one can choose from a variety of options including plastic, acryl, hydrogel, metal powder, and many other.
#5. Virtual Reality
Working on an architectural project typically involves a large team of professionals. And it's not always possible to gather all those people in one room because they are in different cities or even parts of the world. VR technology offers a wonderful solution to this issue. It allows everyone related to the project to meet in the virtual reality and to work together. All the team needs to do is to put on special VR headsets connected to computers and get into the common digital space. There, they can see each other's avatars and talk via VOIP. This kind of communication also allows to share ideas by leaving comments in real time. Considering that Architects need to go places and work with clients worldwide, VR is a life-savior. It helps to get things done and saves plenty of time!
3D visualization technology has gifted Architects with a set of amazing tools – and it promises much more in the future. Many professionals in the area of Architectural Design are already using the benefits of 3D visualization technology. They hold meetings from abroad while being on site, work on a few projects simultaneously with no hassle, create physical representations of their most complex designs by 3D printing them, and amaze clients with spectacular animated videos and tours.
Want to use the power of 3D visualization technologies for presenting your projects? Looking for the service with a perfect balance of 3D rendering price and quality? Contact our company and get photoreal exterior and interior renderings that will blow your clients socks off!
---
Catherine Paul
Content Writer, Editor at ArchiCGI
Catherine is a content writer and editor. In her articles, she explains how CGI is transforming the world of architecture and design. Outside of office, she enjoys yoga, travelling, and watching horrors.