In just a couple of years, augmented reality apps skyrocketed in sales and have received recognition from all industries – for a solid reason. They allow something unheard before – almost seamlessly integrating virtual environments in real life with just smartphones, no bulky VR gear or programming that fails to "read" the environment. The primary use is seen in various creative industries: exterior and interior design, product prototyping, creating stunning visual presentations and gaming.
The potential of these mobile applications is immense, especially for architects and designers. If you still haven't installed any augmented reality apps on your Apple or Android devices or still unsure which one to choose, our architectural rendering company has compiled a top 5 best AR apps available today. Mind you that this is not a worst to best list – every presented program has its ups and downs.
Augmented Reality Apps: Top 5 For Architects
#1. Pair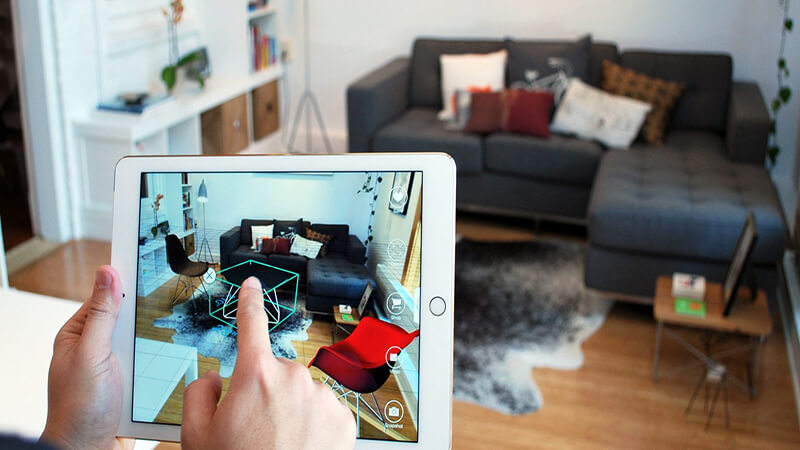 Platform:iOS
Price: Free
Pair is one of many consumer-focused augmented reality apps that allows its users to drag and drop virtual 3D models taken from a large and constantly updated furniture catalog into real world environment. On top of that, this program remembers object positions, letting users walk around virtually "furnished" space and then return to see the items just the way they were left. These functions make Pair stand out among other augmented reality apps for presentations and marketing. On the minus side, the interface is quite unintuitive, sometimes even confusing and navigation is clunky. Another sad thing is that only iOS users can use it. Overall, a good choice for design and attracting customers – but still needs more work and polishing, as users claim. The program shows a lot of potential and we hope that developers fix the issues in upcoming updates.
#2. Augment
Platforms: Android, iOS
Price: basic: $300 /month, pro: $1000 /month, enterprise: custom, calculated after contact
Free student subscription and trial version
http://www.augment.com/buildwithaugment/
Sometimes augmented reality apps are used not purely for architecture, but rather as a jack-of-all-trades. Augment is a good example of one. It's useful for exterior and interior design visualization, marketing and ecommerce. The interface is intuitive and simple – the user just has to search for and pick a 3D model, drag and drop it, edit it and share it with collaborators or post to social media. The item library is enormous and accepts custom 3D models. Besides the AR functionality, Augment can be used for on-site project management and company website integration. The price bites hard, though.
#3. MagicPlan
Platform: Android, iOS
Price: Starter: Free, On Demand:  EUR 3.49/Plan, Standard: EUR 8.33/Month, Business: EUR 16.67/Month
One of the complicated activities for architects is drafting floor plans. With augmented reality apps like MagicPlan this process can be conducted on the fly, saving tons of time. All the user has to do is to point mobile phone's camera at a space, and software will do the rest. The resulting drawings can be saved as a PDF, JPG or DFX format and shared via the Internet with other project collaborators or printed. MagicPlan website also provides helpful tutorials on how to use the app effectively and adapt to the interface.
#4. SmartReality
Platform: Android, iOS
Price: Free download, annual fee after the first year to continue project hosting, fee per addendum/model revision
Augmented reality in architecture is a highly popular way of visualizing exterior and interior design projects. But among competitive augmented reality apps SmartReality stands out in terms of interactivity. Aside from seamless overlaying of 3D objects over real ones, with just a few clicks users can zoom, change size, expose structural layers and move through stages of a project and record the process. There is also a virtual reality version of the app, compatible with Oculus Rift, Samsung Gear and other similar devices – for those who want to use the advantages of VR.
#5. ARki
Platform: Android, iOS
Price: Free
AR can be used for building and construction too, exemplified by apps like ARki. Similar to other augmented reality apps, ARki can overlay 3D models over real objects, but it has a few tricks up its sleeve to make it perfect for construction projects. For example, it also has real-time shadow analysis, physics simulation and material switching functions – great for prototyping. After the project is visualized and customised, the results can be captured either as a still image or a video and shared via social media. Oh, and it's also completely free.
Present your architectural project like a piece of art with AI-powered CGI
Augmented reality apps are the future that architects can not just see, but use today. If you want custom models to use in any of the presented programs, ArchiCGI can provide AR-compatible 3D models and renders. Contact us today for professional architectural rendering services!
---
Irma Prus
Content Writer, Copywriter
Irma writes articles and marketing copy for ArchiCGI. Her dream is that more people discover the power of CGI for architecture. Irma is into neuromarketing, ruby chocolate and Doctor Who series.