3D Architectural Rendering in the USA:
16 Show-stopping Projects
Are you planning to get 3D architectural rendering in the USA? Then it's a great idea to start by checking out some visuals used by other architects across the country. That will help you understand what kind of imagery your clients will expect from the presentations, and set your standards accordingly. It's especially useful to look at examples from different states if you work with clients from various parts of the country. This way, you can get a feel of every state's unique aesthetic, which is crucial for achieving a spot-on look for your visuals.
To help you find inspiration, our architectural rendering company has gathered 16 works created by our 3D artists. Each of these renders helped architects from the USA present their designs successfully. Take a look!
#1. Pedestrian Bridge in New Orleans, Louisiana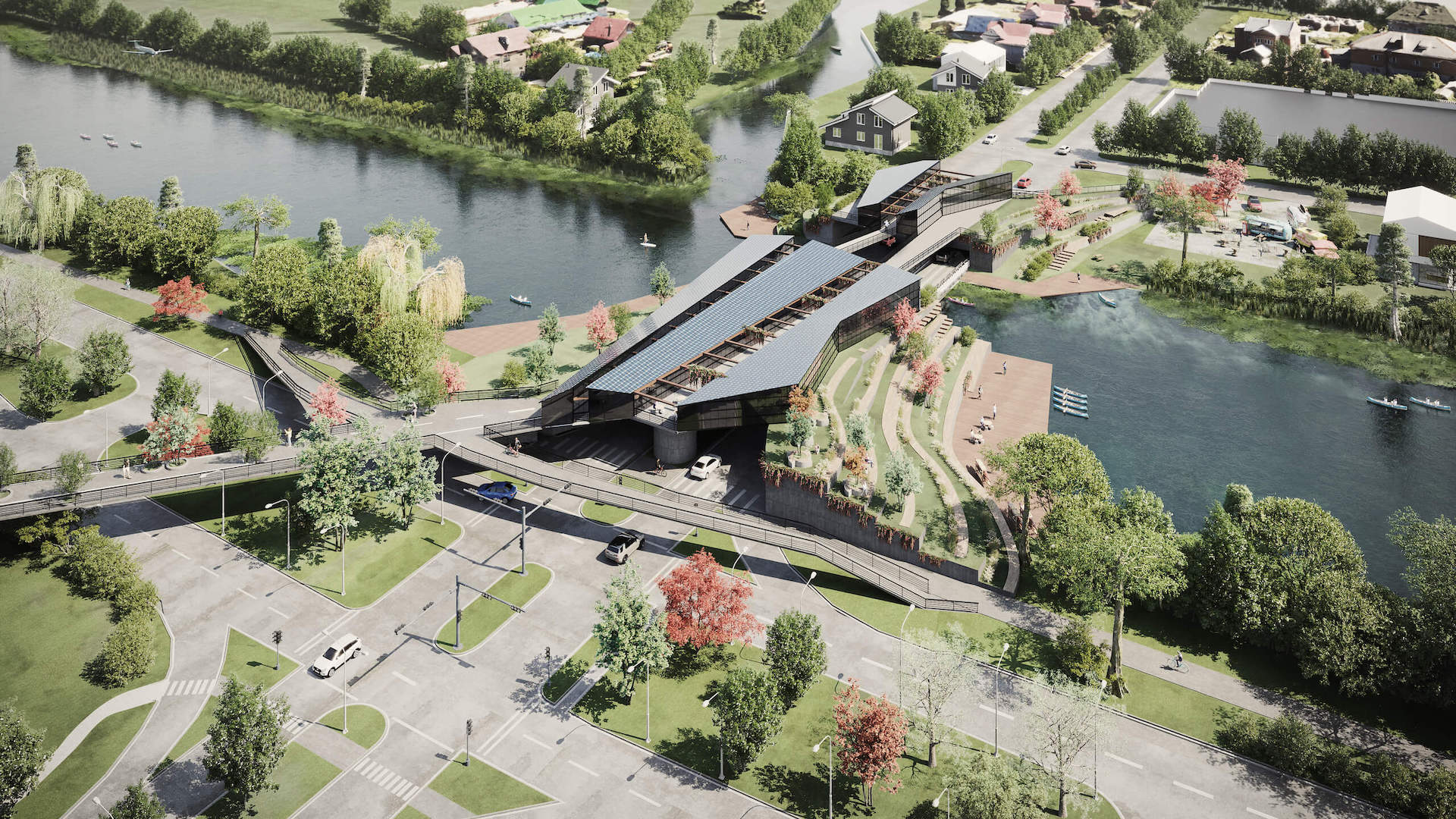 This 3D architectural rendering for a USA project in New Orleans shows the concept for a pedestrian bridge reconstruction. The new structure will incorporate an open-air market space, as well as a public recreation zone. Because of the large scale of this design, the architect wanted an aerial 3D rendering to show the entire bridge, and how it will fit into the existing surroundings. As a result, they got just what they wanted — an image that depicts this ambitious concept with impeccable accuracy, down to the last detail.
#2. Restaurant in New York City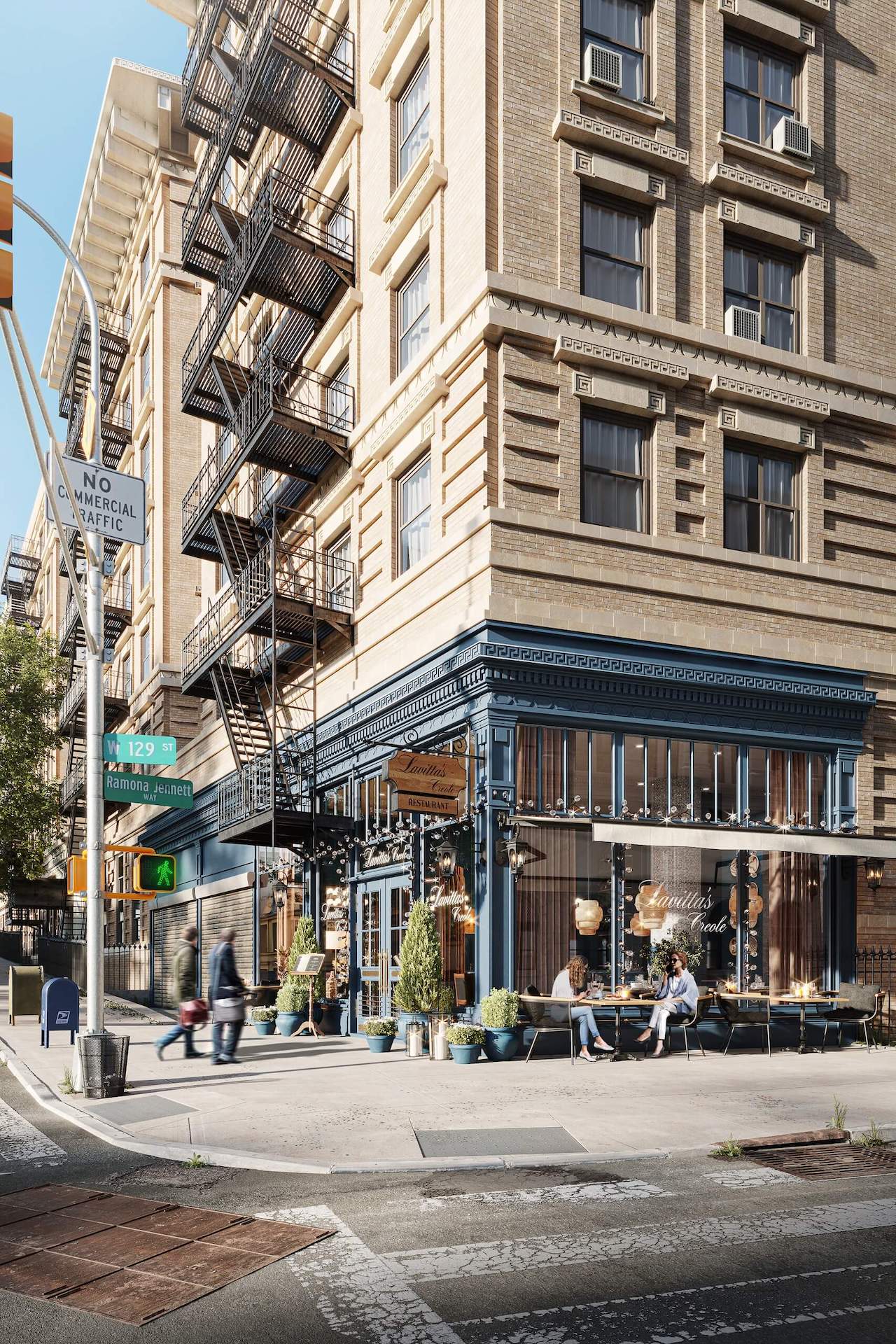 Above you can see the CG visualization created for a presentation of a restaurant exterior in New York, USA. This hyperrealistic 3D architectural rendering is full of details, which convey the instantly recognizable NYC vibe. The place itself is shown in the middle of the day, right at lunchtime. This image is full of dynamic with vibrant colors and people coming into the restaurant, and some sitting at the outside tables. The restaurant looks classic and authentic, which is exactly the feel the architect was going for here. And our 3D artists made sure to achieve that in the rendering. If you want to see more renders from this project and learn how they were created, you can take a look at this restaurant design 3D rendering case study.
Also, if you'd like to view more of our visualizations done for buildings in New York, USA, check out this case study on 3D animation for real estate.
#3. Office Building in Dallas, Texas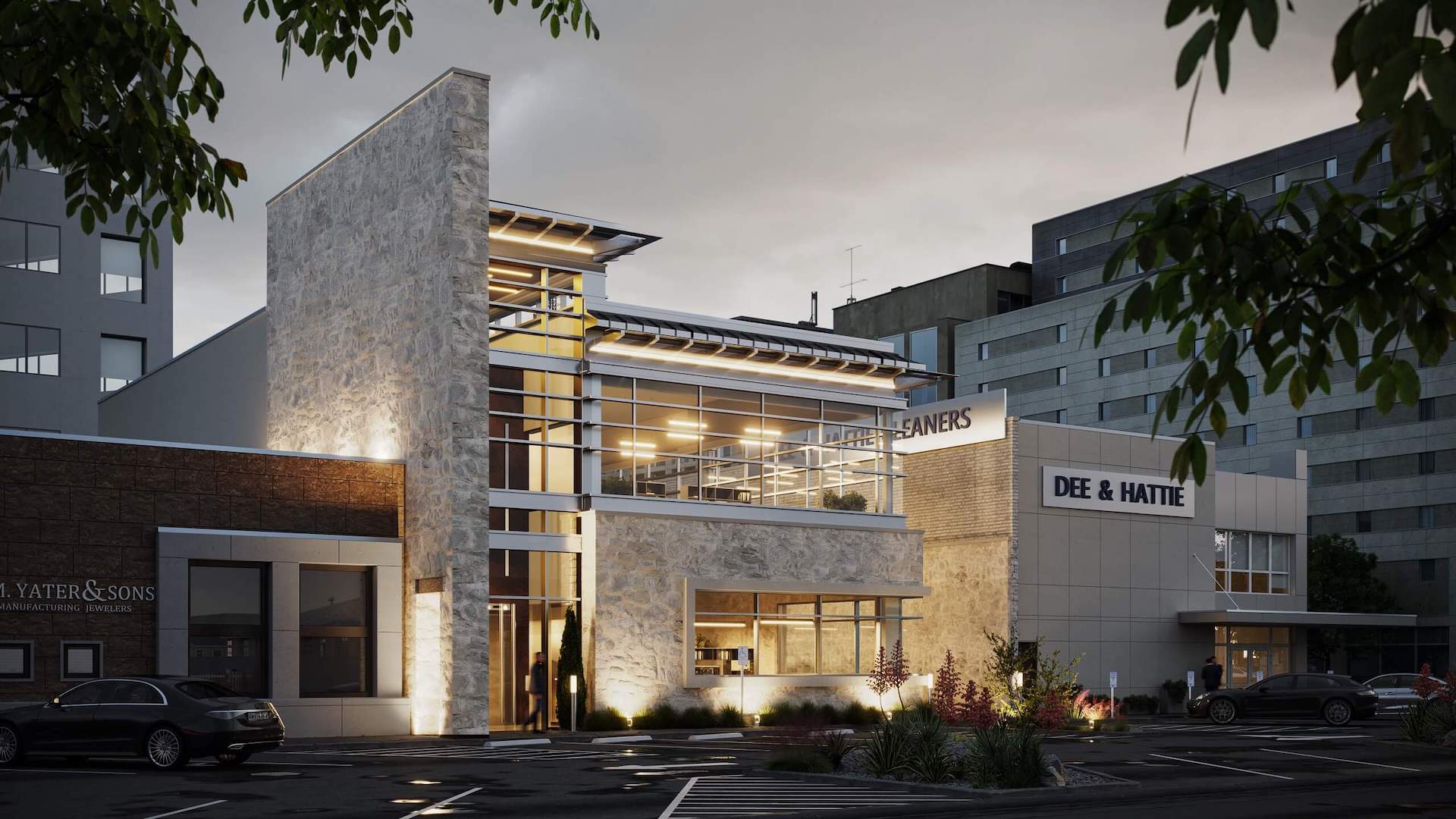 This 3D architectural rendering for a USA project in Dallas, Texas is a visualization of an office building design. The concept is shown in an evening setting, which gives a perfect opportunity to demonstrate the exterior lighting solutions. The overall soft color scheme of the rendering complements the neutral tones used in this sleek and modern architectural design.
#4. Residence in North Carolina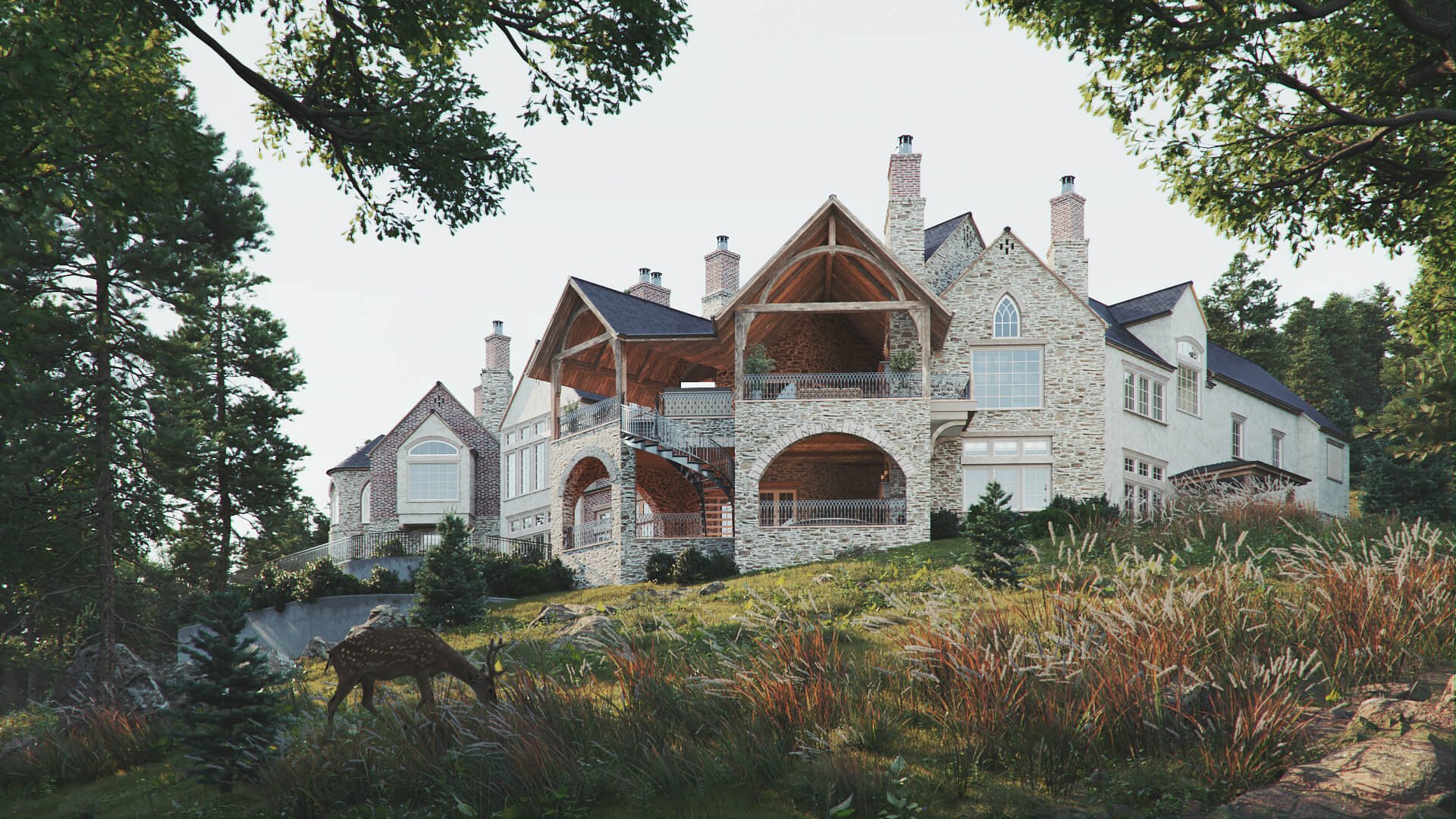 Next on our list, we have this 3D architectural rendering of a gorgeous residence in the woods of North Carolina, USA. Here, the 3D artist worked closely with the architect to accurately realize their vision. One of the main tasks was to convey the charming, dreamy mood of this beautiful place. For that, the CGI specialist set a soft late afternoon lighting and slightly lowered the contrast of the image. The final touch was adding the deer grazing on the grass right outside the house. This fine detail made the residence look truly serene, exactly as the author of the design intended.
Want to see more visuals we created for architects from this state? Take a look at this article on 3D rendering services for North Carolina architectural projects and this case study on 3D house visualization.
#5. Restaurant in Bal Harbour, Florida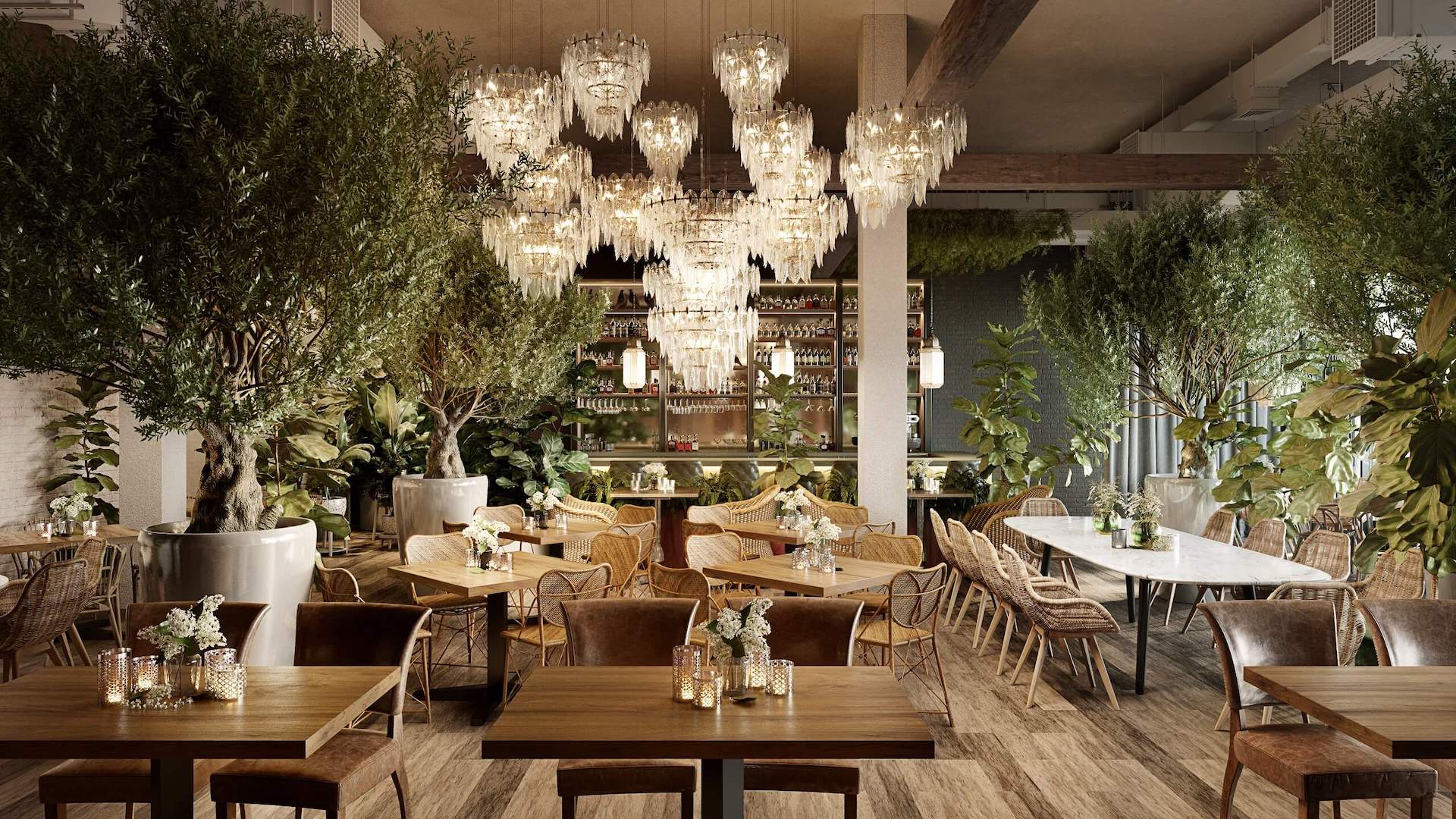 Moving on to the fifth image on our list of the best examples of 3D architectural rendering in the USA, we have this extremely stylish project from Bal Harbour, Florida. It's a 3D visualization of a chic restaurant interior with a focus on natural materials and lots of indoor greenery, which makes the whole place look exquisitely refreshing. Located in the Miami Beach area, this restaurant might just become a new high-end tourist attraction once it's completed.
Present your architectural project like a work of art with AI-powered CGI
#6. House in Maine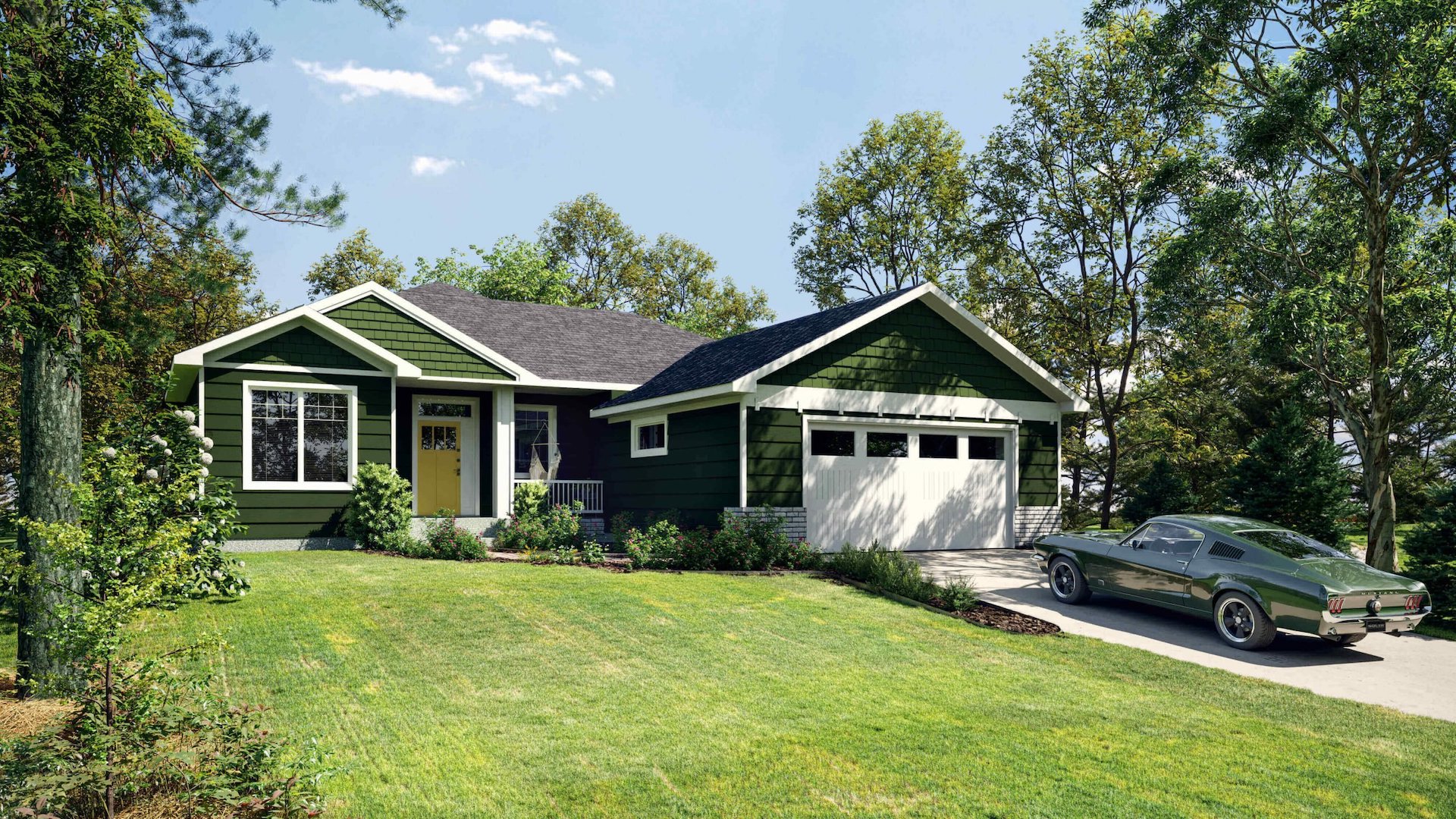 This 3D architectural rendering shows a proposed design for a house located in a suburban town in Maine, USA. The classic-style residence is complete with a classic American car, which adds some personality to the overall look. The vibrant greens of the front lawn and the surrounding trees complement the exterior of the residence. And the calm sunny afternoon atmosphere matches the place perfectly, making it vividly picturesque.
#7. Residence in Utah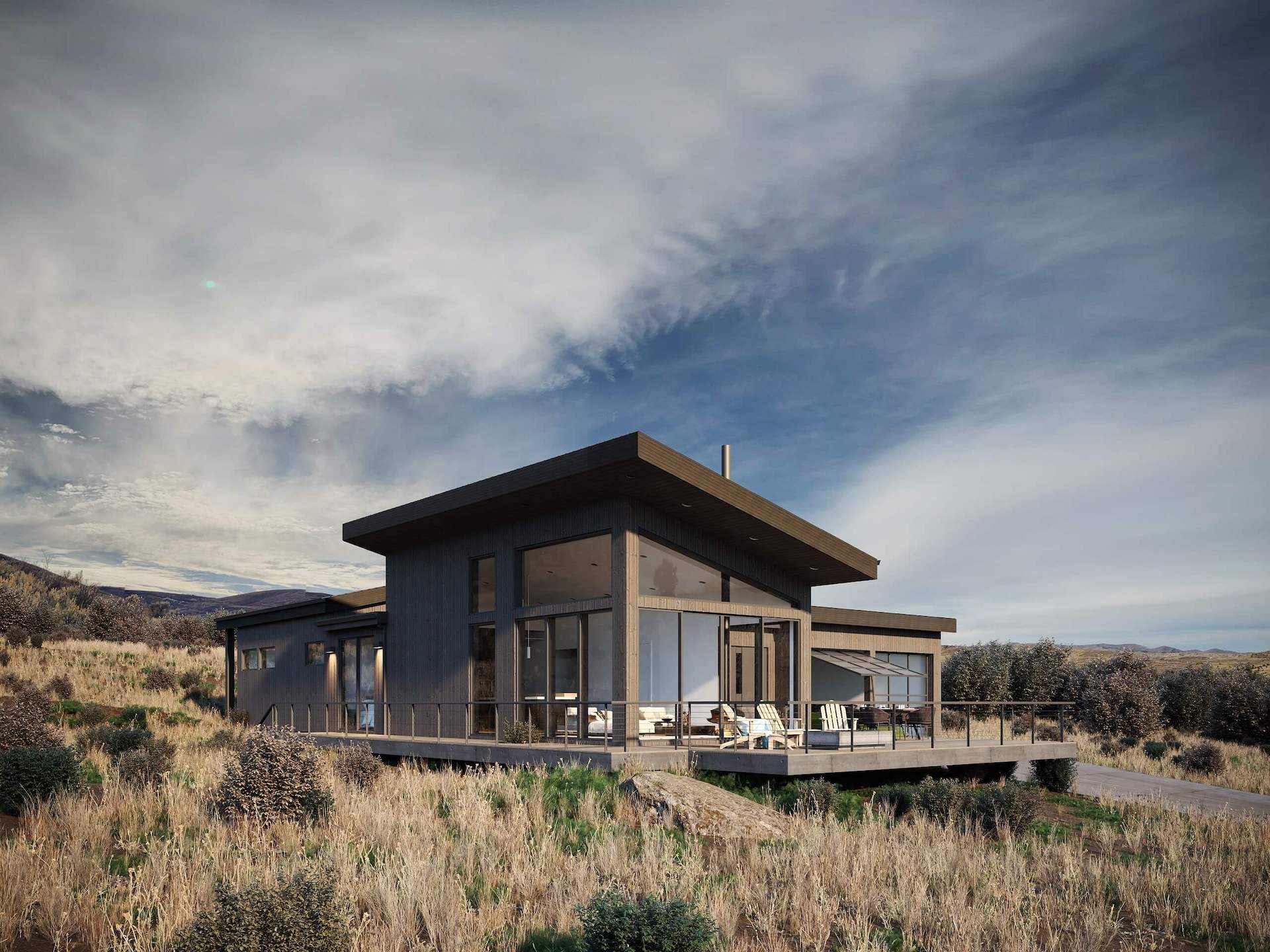 Our studio made this 3D architectural rendering for a USA project in Utah. This contemporary house with clean geometric shapes looks absolutely stunning against the prairie landscape. The subdued tones of the residence exterior and its surroundings work great with each other. And the thin clouds in the sky make this rendering particularly atmospheric, adding a hint of movement to this otherwise still picture.
#8. Apartment Block in Vermont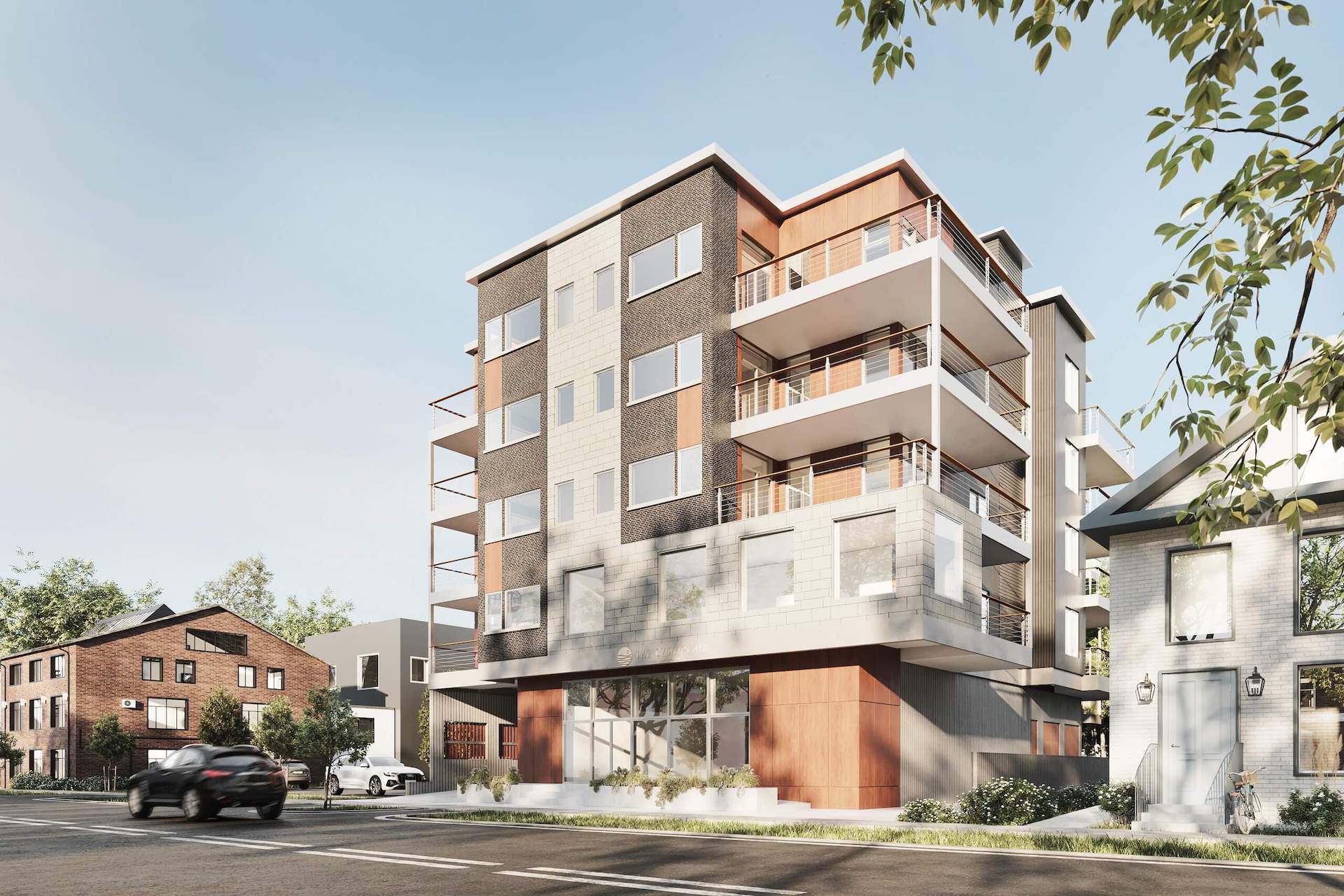 The 3D architectural rendering above was created for a real estate company that developed this sleek and minimalist mid-rise apartment block in Vermont, USA. The developer needed this image, among several others, to start pre-selling the apartments. To show the block at its best, they chose a pleasant sunny day mood for the rendering. And they weren't wrong — the building definitely looks inviting and ready to welcome its first residents.
Want to learn more about a similar project we did for the same client? Check out this case study on CGI for real estate in Vermont, USA.
#9. House in Michigan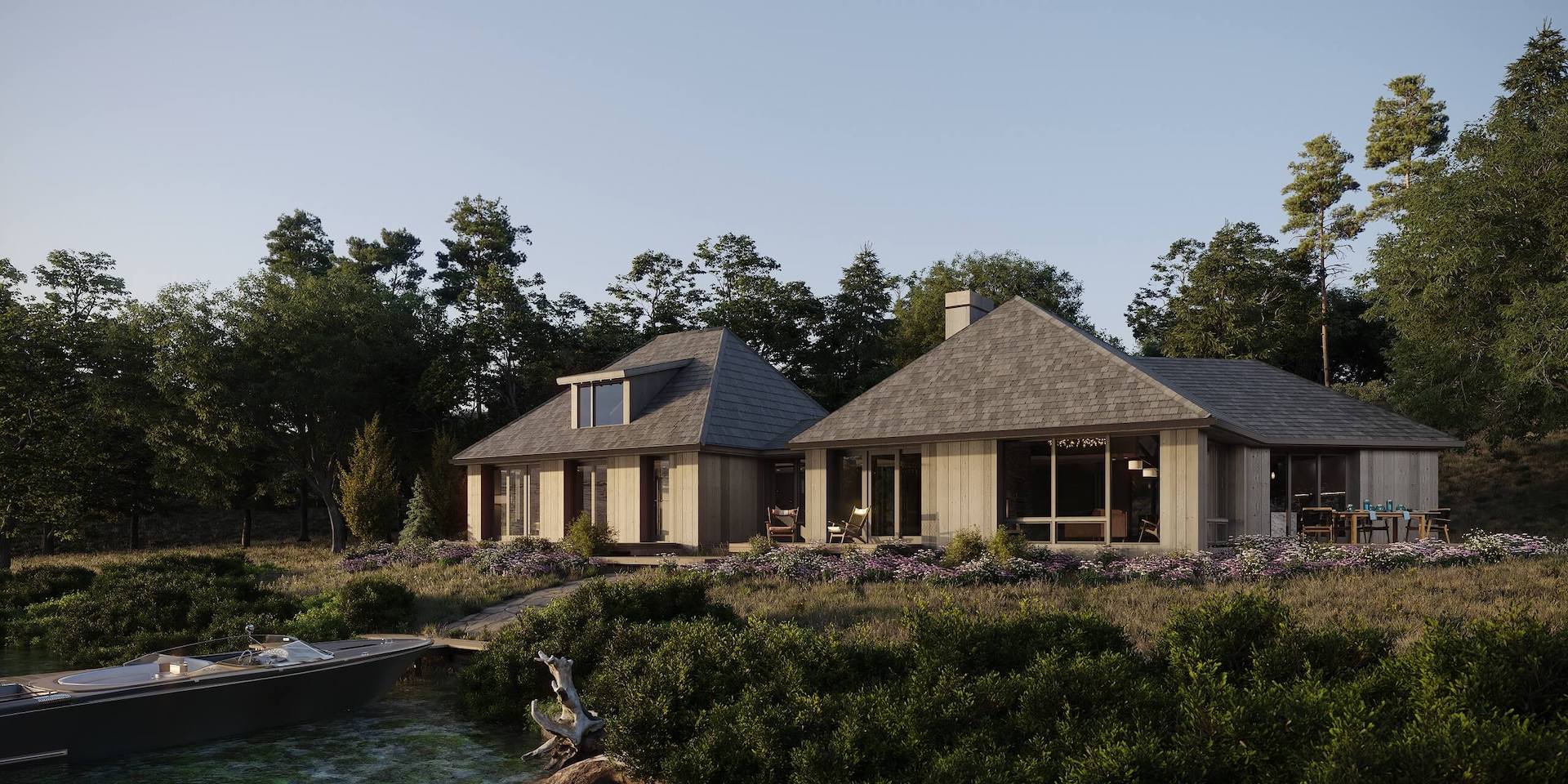 We continue our list of examples of 3D architectural rendering for USA projects with this cozy-looking visualization of a house in Michigan. Our 3D artist did a really great job recreating this reserved but inviting modern design in photorealistic quality. The angle in the rendering shows us just enough of the lake so we can tell how amazing this place is — both as a vacation house and a permanent residence. And the soft sunset lighting fully ties the image together, giving it a calm and relaxed feel.
#10. Veterinary Clinic in Hawaii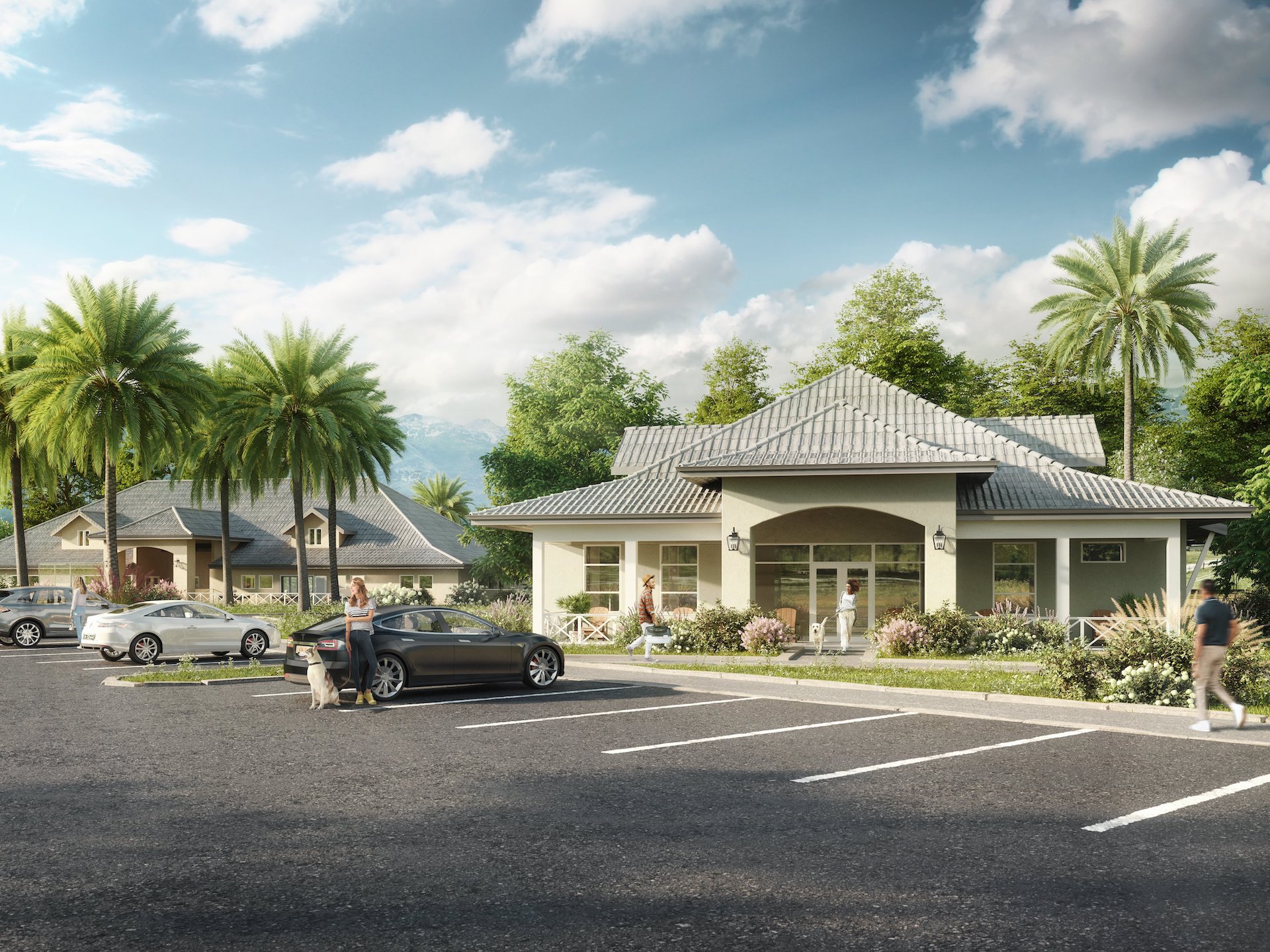 We made this 3D rendering for an architectural firm that developed a remodeling and expansion proposal for a veterinary clinic in Hawaii. The building was designed to look welcoming, and our CGI specialist made sure to convey that feeling in the image. Keeping true to the architects' vision, the 3D artist worked meticulously on every detail from the selection of typical Hawaiian vegetation to the placement of images of people with their pets. That's how we produced this stunning visualization for the clinic that, hopefully, will become reality in the nearest future.
Would you like to learn more about this project? Take a look at our case study on making this 3D building rendering.
#11. Property in Chicago, Illinois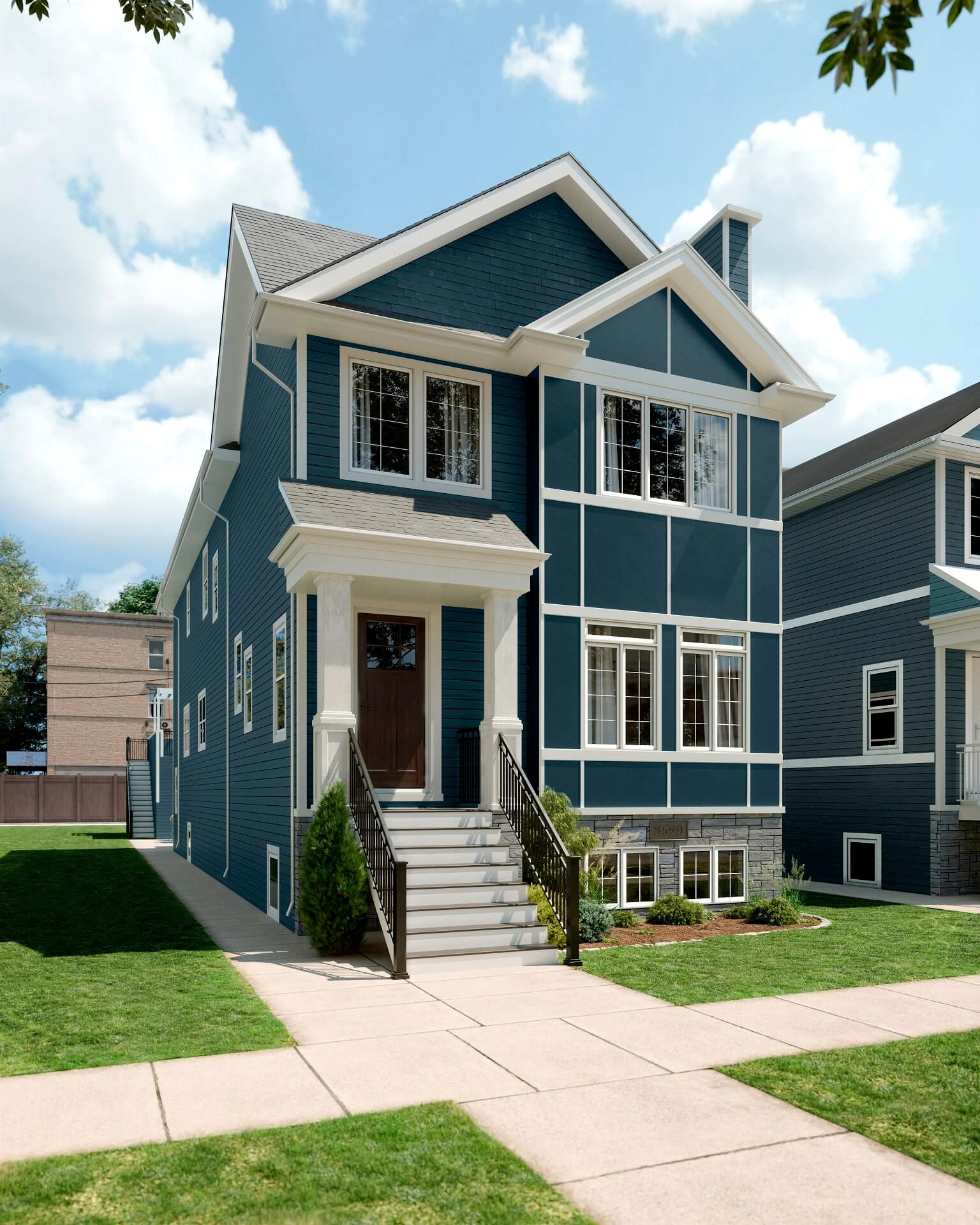 This 3D architectural rendering for a USA project in Colorado was created to help our client, a real estate developer, pre-sell a single-family home. We've made a comprehensive set of photoreal renders showcasing the house's planned exterior, interior, and floor plans. This way, the developer got convincing marketing materials that show every aspect of the property in the best light. Now, the imagery is used across well-known real estate platforms and on our client's website. As far as we know, it already attracted some potential buyers.
If you want to see more of this project and learn how we completed it, check out the case study detailing the creation of the 3D real estate renderings.
#12. Mountain Residence, Colorado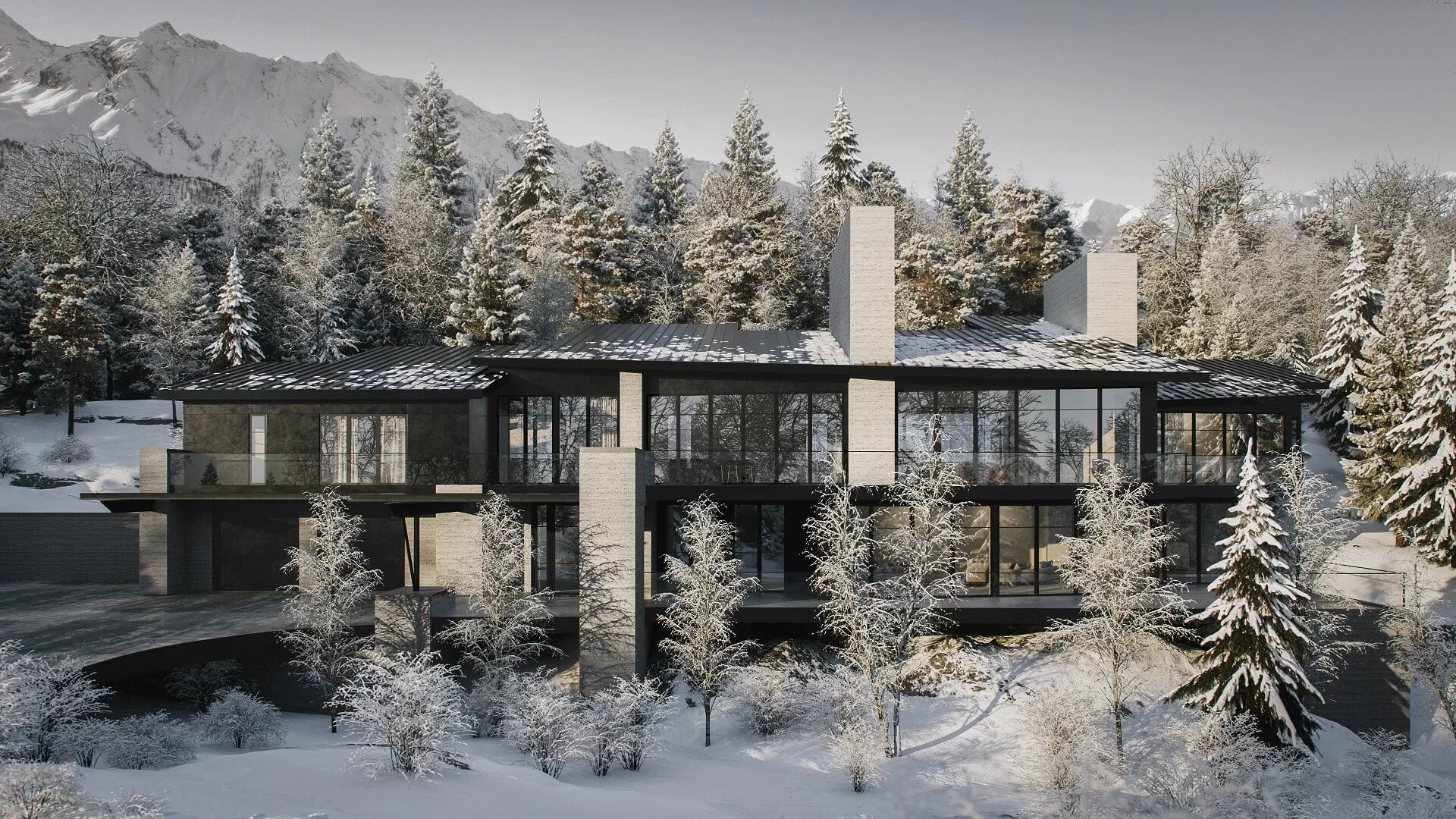 Here, our task was not only to depict the exterior of a stylish contemporary residence but also to convey the tranquil atmosphere of the mesmerizing Rocky Mountains. Our artist did a great job, having recreated both the architecture and the surroundings in great detail. The dreamlike winter setting adds a special charm to the 3D images, maximizing their visual impact. It helped our client, an architect from Colorado, impress the end client at a presentation. 
In case you'd like to get to know more, discover how our work on this residence 3D views went.
#13. Accessory Dwelling Unit in Los Angeles, California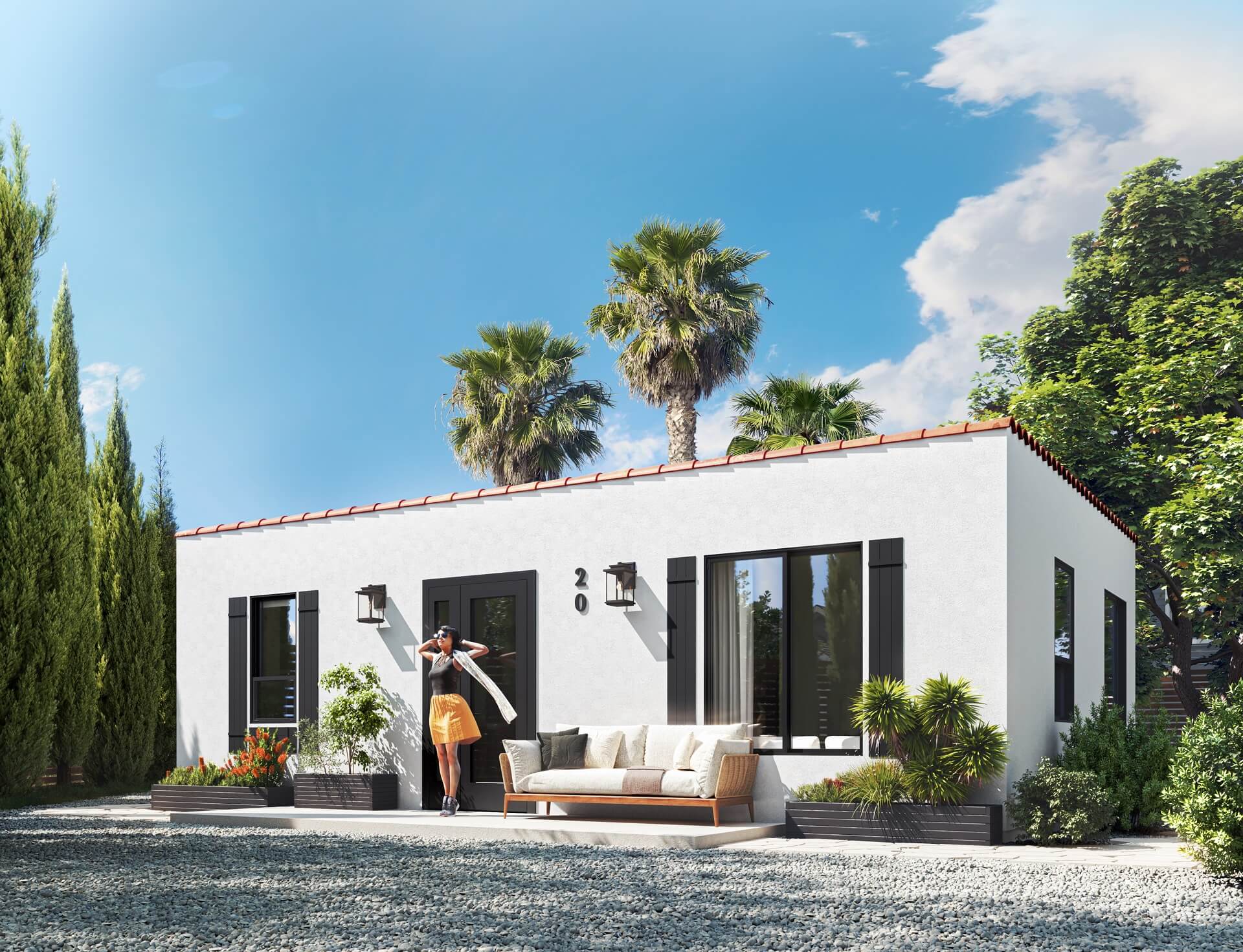 In this 3D architectural rendering for a USA project in LA, we were asked to depict a Spanish-style bungalow's exterior and interior. It was also essential that we convey the relaxed atmosphere of sunny California. To achieve that, our artist carefully recreated the typical Californian landscape and weather. Also, he modeled a 3D character that helped to set the right mood in the 3D image.
In our case study, you can read about this ADU 3D rendering in more detail.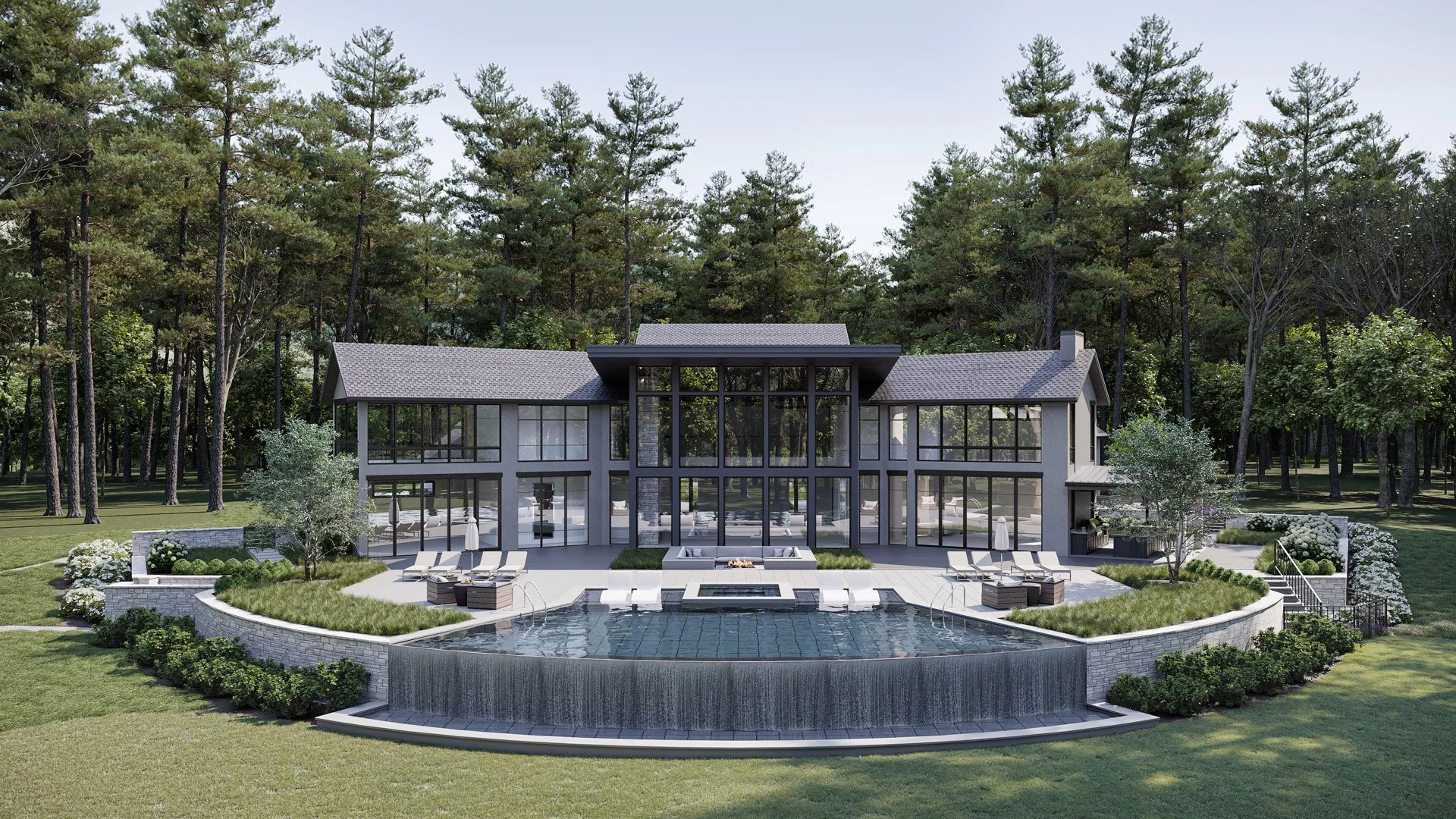 We created these 3D renders for a gorgeous villa designed by our long-term client Mark Shattuck. Mark is the CEO of the Dream Home architectural studio based in the USA. We just love working on his large-scale luxurious designs, and this one is a great example. Here, our task was to visualize a majestic villa with stunning landscape design and plenty of indoor and outdoor amenities.
You can see all the interior and exterior renderings of the villa in the detailed case study.
#15. Mansion in Connecticut
This 3D architectural rendering for a USA project in Connecticut was completed for another masterpiece designed by Mark Shattuck. This time, we were to create exterior CGI and animation for a gorgeous Classic-style mansion. It's worth mentioning that the animation was crafted using the match-moving technique. Essentially, it is blending a real-life video of the location with the 3D model of the future building. The technique is both time- and cost-effective in terms of animation production.
Interested to see more? You can take a look at all the 3D architectural visuals from this project.
#16. Office Building in Pennsylvania
This 3D animation for real estate was created for an office building renovation in Pittsburgh. Our client here was Neymarc Visuals, a well-known creative video production and VFX studio from the USA. They needed our services for one of their engaging advertising videos. And the result of our cooperation turned out to be nothing short of outstanding!
Want to learn how much your project costs? See how we evaluate 3D rendering projects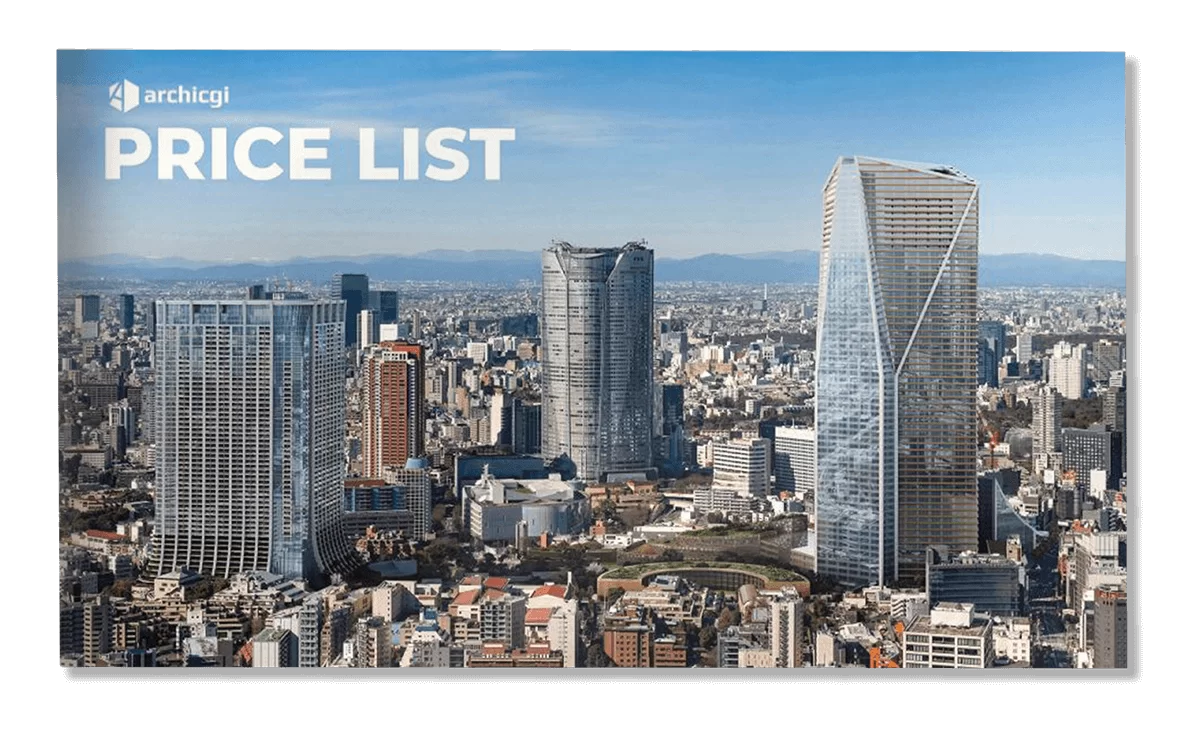 This was our selection of the 16 finest examples of 3D architectural rendering for USA projects in different states. We hope that it was useful for you in your search for high-quality visualization services. As for us, we will continue to create top-notch CGI for architects from the USA and other countries worldwide. And, of course, we'll be sharing those works with you for inspiration.
Looking for professional 3D rendering services? Contact us at ArchiCGI and get ultra-realistic visuals of any complexity for your presentations and marketing!
---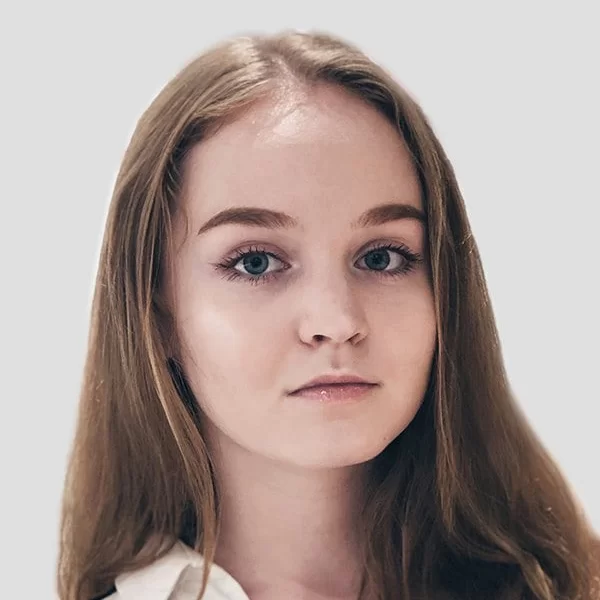 Ana Wayne
Content Writer, Copywriter
Ana is a content writer for ArchiCGI. She has a passion for design and architecture - and for talking about it. Outside of work, she is a fan of sci-fi movies and a street food connoisseur.
Like this project? We've got plenty more! Check out these CGI beauties.